The Grand Carrera
This year, TAG Heuer unveiled the racing-inspired Grand Carrera collection. These new watches feature a new movement, the Caliber RS, which stands for Rotating System.
This new Rotating System marks a completely new way to display time, letting you read small seconds, a second time zone and/or chronograph time effortlessly, intuitively and instantaneously.
"The Grand Carrera is a mix of passion and strength," explains Jean-Christophe Babin, President and CEO, TAG Heuer. It tries to embody all the TAG Heuer values of sport and glamour, of performance and prestige, and it's really a unique timepiece which paves the way for the bright future of TAG Heuer and pays tribute to the illustrious history of Carrera."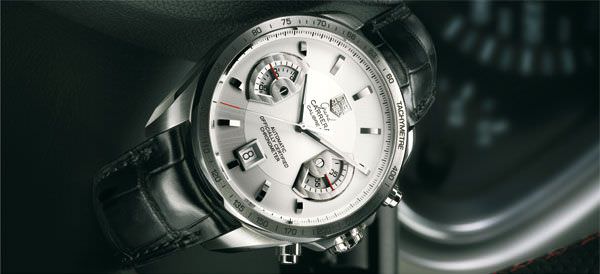 The TAG Heuer Grand CARRERA Chronograph Calibre 17 RS/Two Rotating Systems: Small seconds and chronograph minute counter: This COSC-certified chronograph is 43mm and features screwed-in crown, screw-in chronograph pushbuttons and hand-applied date window at six o'clock. It comes with a black or silver dial equipped with two Rotating Systems decorated with CÔtes de GenÈve and diamond polished facets: small seconds at three o'clock; chronograph minute at 9 o'clock. Available with steel bracelet or alligator strap with solid-steel folding clasp.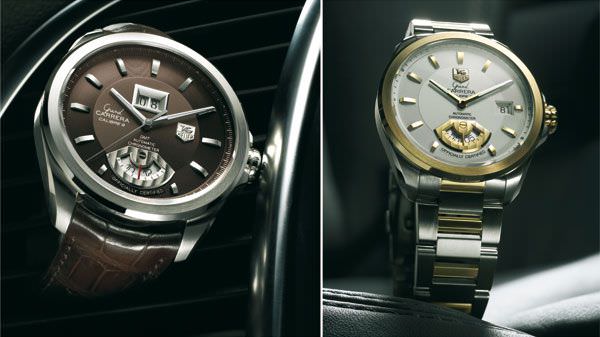 The TAG Heuer Grand CARRERA Calibre 8 RS Grande-Date GMT/Rotating System: 2nd GMT time zone: The 42.5mm case displays a second GMT time zone through the Rotating System. Available with black, silver or brown dial, steel bracelet or alligator strap with solid-steel folding clasp.

The TAG Heuer Grand Carrera Calibre 6 RS/ Rotating System Steel and Gold is also available in an all-steel version.
Two dial options: black or silver with a Rotating Small Second Indicator System plated gold at 6 o'clock with CÔtes de GenÈve and diamond polished facets. This 40.2 mm diameter case timepiece comes on a multi faceted steel and gold or all-steel bracelet with solid-steel folding clasp.


The Grand Carrera is an important collection for TAG Heuer, the standard bearer for the brand to move up in price and sophistication.
"The Grand Carrera strategic plan was to enter a higher price point," says StÉphane Linder, Product Director, TAG Heuer. "We wanted something that claimed proudly this is a mechanical, quality product - there are finishes on the turning disks that give you the feeling of precision and hand finishing. We wanted it to be classic yet avant-garde. We came up with the idea to use a rotating system, which is unique but still very easy to read. It was strategic, but still innovative. We wanted something turning and moving, giving the impression of a mechanical system. The Grand Carrera is easy to understand."

Concept watches
For the past several years, TAG Heuer has turned heads and pushed the limits of watchmaking by working on and introducing concept watches. The reasoning behind these 'out there' watches is similar to concept cars in the automotive industry - do new designs, display them at trade shows, get the word and pictures out there and see what people think. If the public and the press respond positively, the watches get put into development. If the response is negative...well, that hasn't happened to TAG Heuer yet.
"We have been extremely close to racing and cars," explains Babin. "In the car industry, they give their designers a free rein to do concept cars. I thought that if I gave the same kind of freedom and budgets to my research and development people, we could break through with new concepts. I thought they would come up with crazy concepts that might become real commercial timepieces.
"Watches are comparable to luxury cars and I thought it would be a great way to stimulate our people,"he continues."It has worked for us, as several concept watches have come through from concept to marketing - the Microtimer, the Monaco 69, the Calibre S, the Calibre 360, only the V4 is not on the market yet, but we are working on it. When you have no constraints, you have no pressure; you think out of the box and can come up with great stuff. I have to channel the ideas then decide to show them or not, to get feedback from the press, retailers, consumers to make a decision. Many of them will never be seen; they may be put into a drawer and pulled out again later."
The concept watches fuel the entire company and keep a 'cutting edge' air about the company. "The concept watches are a good way to prove our ideas," says Linder. "Our road map is very clear now. We have the best chronographs on the market and the most innovative watch with belts, so we can develop all sorts of watches from these platforms. We have plenty of ideas now, so we have to develop these into products. I am a little frustrated because I have so many ideas and a limited amount of capacity and ability to develop these."






LINK CALIBRE S CHRONOGRAPH


Doing concept watches like these is fun and exciting, but it also puts pressure on TAG to deliver. "Design is great, but we need substance," says Jean-Christophe Babin. "We brainstorm in all directions - movement, design, functions, materials - and we involve all kinds of people to open our minds (science, racing, art, design). We have fantastic momentum and, as far as innovation is concerned, the road is already paved, but that doesn't mean it is easy. Creating is one thing, concretizing is another thing. We are not a manufacture, but we are one of the leading watch companies in the world, so we have to industrialize. Everything builds on itself and the concept watches are the foundation."
In other industries, concept products are just an exercise, rarely really destined for production. For TAG, every watch the company does as a concept is hoped to one day be in the collection.

Women's watches
Though it may seem contradictory, TAG Heuer, traditionally a masculine brand, is becoming very popular with women. Having taken great pains to adapt its most popular styles to a fem-inine customer, TAG has had a great deal of success with women's watches and is focusing on the female customer as a part of its future plans.
"Men are fascinated with cars and motorcycles and moving things, but for women, technology can work but it has to be in design and comfort," says Linder. "If I do something that makes the product easier to use, that's what women want. The technology isn't shown, but it is used to give a practical advantage.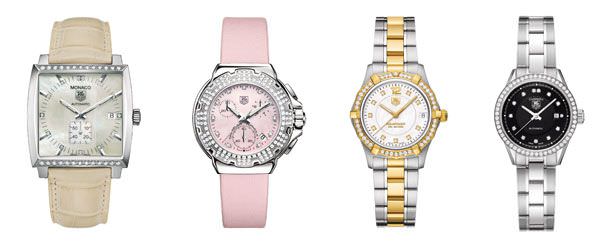 MONACO LADY WATCH, AQUARACER LADY 32 MM, TAG HEUER FORMULA ONE LADY CHRONOGRAPH and CARRERA LADY 27 MM


"We must start to innovate for women, but keep in mind that women don't want the same innovation as men," Linder continues. "It's not easy to do this. We did the Diamond Fiction concept for women, using the beauty of the diamonds to give time, which was very well received by women, because it was like a jewel that told time. The women's business is becoming quite large, so this is a direction in which TAG Heuer needs to move."
TAG Heuer plans to introduce women's watches across its broad range of product. "We have a strong strategy for women, because we have several ranges: Aquaracer, Link, Monaco, Carrera and Formula One," details Anne-Solenn Michel-Kerjan, Senior Brand Manager, TAG Heuer. "We want to really reinforce our positioning in this growing market, giving women watches with strength and beauty. Women have a lot of confidence and are determined, spirited and glamorous. They may not be classical, but they are glamorous. We are working on new graphics and communication, to really separate the strength and beauty image.
"We are targeting women who are independent and have their own minds,"she continues."They want to have authentic, strong, quality products. Women are not looking for complexity, but they want to see new approaches - watches are not just accessories, they want something unique. We did concept watches for men and now we are working on a concept watch for women that we will introduce soon."
TAG Heuer is also working on a new campaign targeting women that will be introduced next year.

Giving back
Certainly one of the most popular brands right now, TAG Heuer is cognizant of the need to help others and the brand has been working with charities to make a difference.
"We have to share some of our privileges with people who might not have the same benefits as we do," says Babin. "We have worked with the Ayrton Senna Foundation, the Tiger Woods Foundation, Save the Children and we are also involved with Maria Sharapova's Foundation. We made our choice 25 years ago to be involved with children's charities, because children are the future of the world."
Two of the most recent charity projects TAG Heuer has been involved with are "Strength and Beauty" (with UNIFEM) and "Dream Machines Driven by Generous Hearts" (ben-efiting Save the Children), both of which have a photographic element to them.
Both feature a limited edition book, with proceeds from the sale of the books going directly to the charity of choice.







For the "Dream Machines Driven by Generous Hearts" event, TAG Heuer brought together racing legends and famous fans of fast cars — athletes, actors, musicians, writers and business leaders from around the world — at the Circuit Paul Ricard High Tech Test Track in Le Castellet, in the south of France, to drive exotic GT cars on the track, see the new TAG Heuer Grand Carrera watches and raise money for Save the Children.
It was an incredible opportunity for these self-proclaimed 'motor heads' to experience the latest and greatest cars. The list of serious GT dream machinery included the Audi R8, the Mercedes Benz SLR McLaren, the Mercedes Benz CLK DTM AMG (limited Edition), the McLaren F1 GTR, the Porsche GT1, the Porsche Carrera, the Porsche GT3 RS, the Porsche 911 Turbo, the Aston Martin DB9, the Jaguar XJ220, the Lamborghini Gallardo Spyder, the Bentley Continental R, the 2007 Spyder Convertible and the Ferrari Enzo.
The limited edition book of photographs of these drivers and the event will be on sale, on the Internet (www. grandcarrera.com), shortly.

The future
TAG Heuer is committed to working in new technologies, new materials and new methods, not just to appear on the 'cutting edge', but also to improve the precision of timekeeping, the readability of timepieces and the reliability of their watches.
"The brand has been pioneering technology throughout its history and there have been a lot of milestones," concludes Babin. "The contribution to watchmaking history has always been there. People expect pioneering from TAG Heuer. The Calibre 360 last year, the Calibre S, the Microtimer and so on - innovation is very important because it is what shapes the brand character and makes us different and better. Besides design, we add technology and innovation. We want to be the most precise brand."

One on one with Jean-Christophe Babin, President and CEO, TAG Heuer





ES: How's Business?
JCB: Business for TAG is excellent. LVMH published in October the third quarter results and the growth has been a record high. TAG Heuer is one of the driving forces behind the growth. The price range where we compete, from 1000 to 5000 Euros, is a stable market segment, but we have been able to post that growth because sports and glamour is very popular right now. It's not just a marketing claim for us; it's substantiated by product innovation. We present new products every year that combine design and technology in a very unique way that is consistent with our brand DNA. We try to go deeper, further and higher in innovative ways.
The most striking innovation this year is the Grand Carrera, which is an outstanding design with disks substituting for the hands. We just started to put it into the stores in the UK and Japan, most of what we have put in the store has already sold out. It looks promising. Before claiming any victory, we should wait for more information. At least the initial public, retail and press acceptance has been very positive.

ES: Are you having fun?
JCB: If I had no fun, I wouldn't be here after seven years. I am having fun, if I had a dream it would be to keep steering the company for the next ten years.

ES: Do you have designers working only on concept watches?
JCB: It's very difficult to keep people only on concepts, because people need concrete things as a reward. So we rotate the people from one to the other. We'll have a team working on a concept, and then they will be reassigned to another product, where the commercial constraints are there, because they have to learn to do both.

ES: How do the feminine watches fit into the TAG Heuer line?
JCB: Design and technology and sport and glamour. The fact that we always combine these is not a restriction for women, it's an advantage. Ladies are more demanding of functions than men. They like design, certainly, but ladies are obsessed with functionality. Women like to have good readability of the date; they want a good balance between weight and size. TAG Heuer is always proposing glamorous design including some technology, which is an attractive proposal for women. We deliver to women all the different lines - the watches are different and designed for women. Too many brands think that women only care about design - at TAG; we know the modern woman needs function as well.

One on one with StÉphane Linder, Product Director, TAG Heuer





ES: How important are concept watches to TAG?
SL: For me, there are two main reasons for concept watches. The first one is internal, when you start the concept watch project; it's much easier to stimulate the designers to work on these projects. There are no constraints of price, technical feasibility, no constraints of quality or reliability, industrialization. The only thing is that we have an idea, a design, and then we do a prototype. It doesn't even matter if it works. The big advantage is that the technicians and engineers work without barriers. There is no one saying 'no, we cannot do that.'
The second advantage is that we present it at the BaselWorld Fair to get some feedback, to customers, journalists, and retailers. This feedback gives us a sense very quickly what people think about it. It's a good way to measure the potential of the concept. First, it makes things happen without killing ideas before they are born, then we can test the ideas, then you move forward.
We would never have even started the V4 without this concept watch program. We would have never been able to convince the top management without the necessary feedback - who would sign on to do such a project? When you do a concept watch, the budget is reasonable. We had such huge interest and amazing response to the concept, so we decided to move forward with it and invest a lot of money behind it. Even so, the probability of success was very small. The Audi TT started the same way - it was a concept, the feedback was great and now it is very successful.

ES: What about technology?
SL: With new technology, you can achieve something that has never been done before, like the belts in the V4. Sometimes new technology can help you to solve problems. Sometimes technology can improve performance. There is a lot of research into ways to remove the need for lubrication. It's very important for me to find new technologies. The mobile phone business has really boosted the research into LCD. There are new types of material coatings to get better hardness. These are things that can really benefit consumers.
There are a lot of things we are looking into with magnets, to find new ideas. New materials are also an interesting area. We tried liquid metal a few years ago. There are many things happening currently. If you look at the Caliber S, all the microelectronics are very exciting. This is a direction we can work on. New technologies bring new possibilities and benefits to the customers.
TAG Heuer is really about innovation - our new, innovative products are very consistent with our brand image. We are avant-garde, so when you buy an Aquaracer, you buy a bit of the brand image and a bit of the dream of the Monaco V4.






Source: Europa Star December-Januar 2008 Magazine Issue