To all watch aficionados and admirers of Patek Philippe, this is a reference you will want to remember: Chronograph Ref. 5170J. It is the ultimate chronograph from the Geneva manufacture, equipped with the very recent movement, the Calibre CH 29-535 PS, totally developed and produced in-house by Patek Philippe. A manual-winding, column-wheel chronograph, this new reference replaces the very famous chronograph Ref. 5070, based on a Lémania calibre, and well known to all collectors.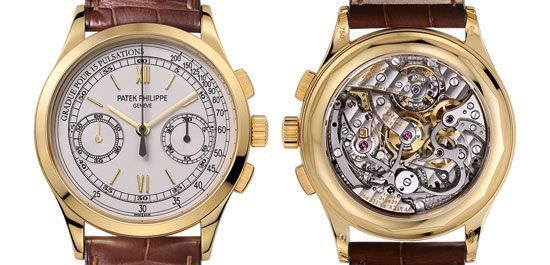 The latest in a prestigious line
With this new and remarkable creation, Patek Philippe completes the collection of its own chronographs, a collection that was started in 2005 with the introduction of the thinnest (5.25 mm) flyback manual chronograph movement ever made. It was also the first chronograph wristwatch entirely designed, developed and fabricated in-house. Produced in the traditional manner in a limited quantity in the haute horlogerie ateliers at Patek Philippe, this very prestigious movement—with its two column wheels, two push-pieces, the possi-bility to store reference times, as well as its many other technical and aesthetic features—created a sensation from its first introduction in a series of ten pieces in an Officer style platinum case, the already famous Reference 5959P.
This offer was expanded in 2006 with the launch of the Reference 5960P, the first automatic chronograph wholly designed, developed and realized by the manufacture. With the addition of the famous patented Annual Calendar mechanism, this new automatic column-wheel chronograph included a flyback function and indicators for power reserve and day/night. With a totally original construction, it also featured a dial that was elegant, dynamic and well balanced with its very characteristic single counter regrouping the chronograph's hour and minute counters. This same movement also equipped, with its single counter, but without the Annual Calendar, the Nautilus chronograph.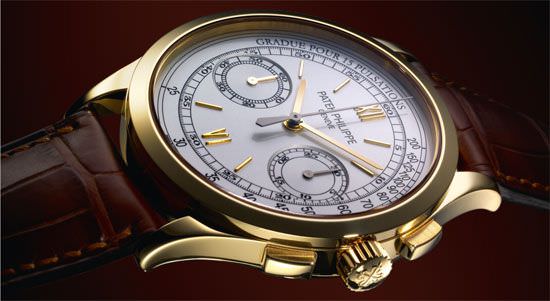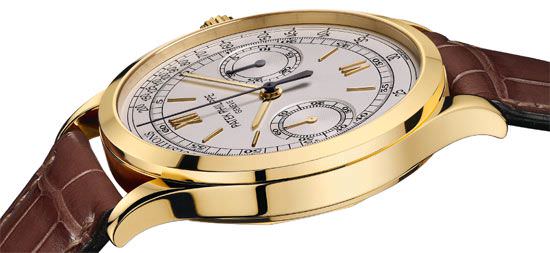 Already a grand classic
The new Chronograph Ref. 5170J has everything for it to become a grand classic. With very pure and clean lines, devoid of additional complications in order to ensure absolute readability, this new chronograph comes in an 18 carat yellow gold case of harmonious proportions (39-mm diameter, 10.9-mm thickness, and 21 mm between the horns), and a design that is evocative of the decade from 1940 to 1950.
This classic look is strengthened even more by a silvered opaline dial, decorated with 'railroad' type minute indexes along its edge, as well as a pulse metre graduated for 15 pulsations. Six classic applied indexes and two Roman numerals (XII and VI) in 18 carat yellow gold are placed around the dial. The delicate hour and minute 'baton' hands are also in 18 carat yellow gold, while the technical aspects of this chronograph are emphasized by a black oxidized 'arrow' chronograph hand, with a counterweight in the centre of the dial.
Against this plain background are two large white auxiliary dials with a blued motif, the small seconds at 9 o'clock with its 18 carat 'baton' hand and an instantaneous jumping 30-minute counter with a 'baton' hand in black nickel at 3 o'clock.

The art of the chronograph
This grand classic with a clear design is the perfect reflection of the movement, Calibre CH 29-535 PS, that ticks away under the dial. Created at the end of 2009, this movement already equips the very recent and acclaimed Ladies First Chronograph. As Europa Star has already described (see issue 6/09), this movement may seem ultra-classic but, under this traditional appearance, it includes six new patents. While these new patents are not revolutionizing the sector, they are actually doing more, in a certain way, by notably improving the substance of timekeeping and by directly contributing to a deeper understanding of the art of the chronograph.
On paper, this movement has, in fact, all the attributes of watchmaking purism applied to the chronograph: column wheel with a polished cap; S-shaped toothed-clutch lever system; elegant and refined chronograph gear bridge; minute counter gear bridge; large four-spoke Gyromax balance with four poising weights vibrating at a frequency of 4 Hz or 28,800 vibrations per hour and Breguet balance spring. The ensemble comprises 269 elements, all harmoniously placed in an extremely small space (29.60-mm diameter and 5.35-mm height).
There have also been notable improvements in terms of energy transmission, reduction of friction, increases in precision and reduction in vibrations or unevenness of the hand movements—all this while offering greater operational reliability as well as providing watchmakers easier access to its various organs in case adjustments are needed.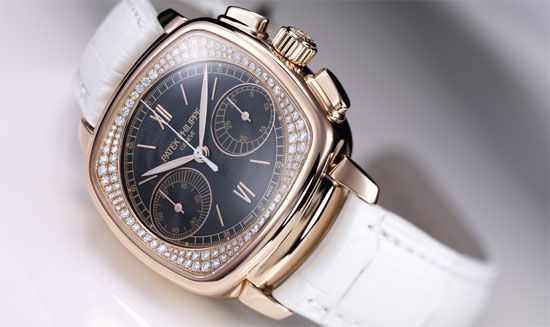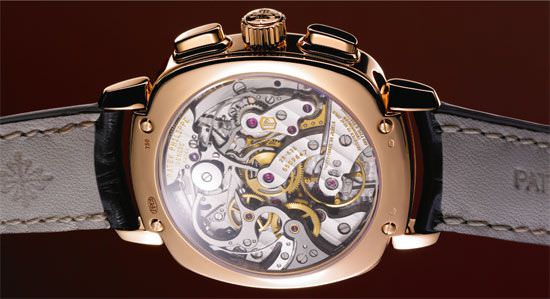 Six patents
One of these patents provides for an improved penetration adjustment between the clutch and the chronograph wheel thanks to a large 'eccentric cap' placed directly on the column wheel. Another patent involves improved synchronization between the clutch lever and the blocking lever, thanks to a finger piece that directly synchronizes both organs. In this way, the watchmaker only has to adjust one point instead of two. This system also elimin-ates jumps of the chronograph hand when time measurements are started and stopped.
A patented system also involves a self-setting return to zero, thus making it unnecessary for the watchmaker to mechanically adjust the minute hammer function. Still yet another patented advance provides separate jewelled bearings for both the second and minute hammers that pivot on the same axis, each with its own spring. This also improves setting.
Last but not least, the tooth profile of the chronograph mechanism has been optimized in order to increase the efficiency of energy transmission and reduce friction and wear and tear on the movement, while also elim-inating the risk of hand jump in either direction when starting a measurement. In addition, this new calibre is, unlike its predecessor, equipped with a sophisticated and instan-taneous 30-minute counter.
This counter, on which the small minute hand jumps from one minute to the next in a fraction of a second, ensures both great working precision and easier reading.
Among the first to be attributed the Poinçon Patek Philippe (Patek Philippe Hallmark), this movement distinguishes itself with its special artisanal finishing that adds as much to the elegance of its form pieces and traditionally worked bridges as it does to the care given to all the surfaces, which are usually hand-decorated. It is truly a spectacular piece that can be admired from the back as well, through the screw-in transparent case back made of sapphire crystal.
To all lovers of beautiful mechanical chronographs, you have reason to rejoice—a classic is born.


Source: Europa Star April - May 2010 Magazine Issue