Girard-Perregaux has been present in Japan since 1992. However, it was in 1998 that Gino Macaluso, a man with great experience in the domain of distribution, most notably with his company Tradema Italy, purchased his Japanese distributor and created Tradema Japan.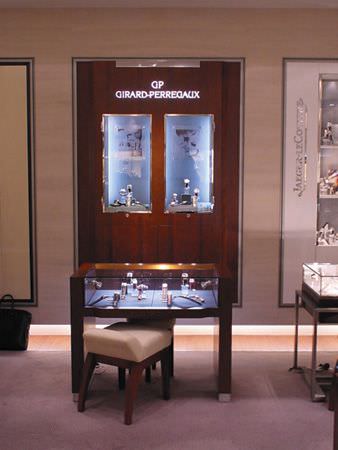 Based in Tokyo, with an office in Osaka, Tradema is managed by Sumio Hagiwara. The company imports, distributes and provides the after-sales service for Girard-Perregaux and Daniel JeanRichard.

Rigorous selection
The products of these two brands are primarily distributed through traditional retail stores, large department stores and various mail-order catalogues that have been rigorously selected, a method that is fairly specific to the Japanese market.
According to Hagiwara, the portion of sales due to a system called 'gaishos', which means selling directly to both individuals and companies alike, is very important. It accounts for as much as 30% to 40% of Girard-Perregaux sales in Japan and, in fact, increased in 2003. This particular channel of distribution is one of the country's favoured methods to sell the most prestigious pieces, especially to collectors. As an example, Hagiwara cites the success of 'Ferrari' watches that are sold directly in this manner.
In quantitative terms, the most prized Girard-Perregaux models in Japan are undoubtedly those of the Vintage line with steel cases. Among the most prestigious pieces, the tourbillons with three bridges enjoy a "very good reputation," but the quantities are limited and are imported only according to the demand.
As in the case of other brands, the last three or four years have seen a growing interest on the part of Japanese women for mechanical watches. "In 1992-93, our clientele consisted of very few, if any, women," explains Sumio Hagiwara, "but this share of the market is constantly growing. Currently, women represent 35% of our customers for exclusively mechanical pieces."
Hagiwara added that the greatest challenge for Girard-Perregaux in Japan is to increase and enhance its image and reputation. "The boom of the mechanical watch began in Japan around 1992. Between 1995-1998, we saw this demand peak. But in 1998, the formation of the large groups changed the landscape. To firmly establish themselves, independent brands like ours were forced to specialize in highly identifiable positions."

Art and passion
The 'position' occupied by Girard-Perregaux can be summed up by a phrase used by Hagiwara. "We sell art," he says. "And, we explain that art is found as much on the inside of a timepiece as on the outside. All our communication is directed towards 'art and passion'. We want to demonstrate that art does not happen by chance but is an important part of our history, of our identity as a manufacturer that allows us to create watches with a great deal of soul. In other words, faced with competition from the large groups, we must forget about marketing. Perhaps we do not occupy a very large part of the Japanese watch pie, but we are there for the long term."
From a logical standpoint, this approach evokes the notions of art and craftsmanship, looking beyond simple technological values in order to address a target clientele who are 'people of culture', those Japanese who appreciate traditional qualities of highly skilled and accomplished craftsmanship. "We make them understand that to wear a watch like ours is an affirmation of their own worth," Hagiwara explains. "It is a brand with a particular distinction. Our independence is our DNA and it gives our products their special nature."


TO BE CONTINUED...
In the forthcoming days, the rest of this lenghty survey will be added to our europastar website.

1. The Japanese watch market in convalescence
2. In Japan, Seiko is also positioned in the haut de gamme
3. Citizen – Classic Outside, Hi-Tech Inside
4. The IWC image challenge
5. Girard-Perregaux: the cultural strategy of an independent
6. The exemplary establishment of Hermes in Japan
7. F-P Journe: Listening to intuition!