When asked about the difference between his two passions, painting and watchmaking, Gérald Genta likes to answer, "In painting, one can dream the impossible, but in watchmaking, one cannot dream of a timepiece that is impossible to make."
The balance between dream and pragmatism epitomizes the image of the work of this exceptional designer. Among his many credits are Audemars Piguet's Royal Oak and Patek Philippe's Nautilus.
Today, Gérald Genta practices his art under the name, Gérald Charles, and he has designed a new collection of watches inspired by one of his favourite sources - Nature. Using materials, especially gold, and precious stones, "like we would use colours in a painting," he has created a smooth and sensual line of timekeepers that remind one of the time-worn stones found under flowing rivers.
"To design a watch," explains Gérald Genta, "is to bring together conscious and unconscious feelings. Nature does not know straight and sharp lines. Rather, it prefers organic forms. And, it is the organic form that best adapts to our body, to our wrist. It is to Nature that I look for my ideas, not in watch catalogues."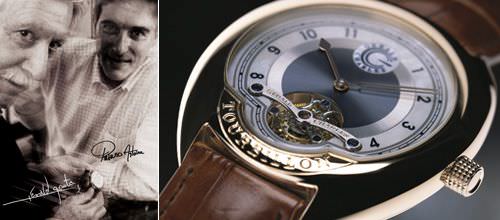 "The watch that
resembles me the most"
Visibly proud to have presented, during the last BaselWorld, his ultimate creation, a tourbillon designed in collaboration with the master watchmaker, Antoine Preziuso, Gérald Genta begins by declaring that "it is the watch that resembles me the most." Actually, we might say that this watch resembles him in two ways. It reunites the two themes on which Gérald Genta has built his career - "an exceptional movement, and a smooth shape." And, it even resembles him physically, as well. This is because, as Antoine Preziuso says with a glint in his eye, he has "given this very airy flying tourbillon the appearance of a normal tourbillon, but with a bridge that protects it and which takes the form of Gérald Genta's moustache."
Contrary to the classic tourbillon, the rotating carriage of the flying tourbillon, which is supported at only one point, has taken on a very airy look. The moustache-shaped bridge is there purely for decorative reasons since it does not support the carriage, which was created by Antoine Preziuso with a great deal of delicacy and elegance. Thanks to the moustache-shaped bridge, the tourbillon blends perfectly into the distinctive and smooth design of the watch. The styling is enhanced by the use of two different styles for the hands. One has been inspired by the hands of the 19th century, while the other is more contemporary, allowing for very easy reading of the time.
"I am asked very often to create watches," explains Antoine Preziuso, "but when I do accept the offer, it is because of my feelings about it. I met Mr. Genta a long time ago and I have a deep admiration for his talent as a designer. I have always wanted to work with him. The movement for this particular watch was conceived as the result of many long discussions. Our goal was to create a piece that would bring together the aesthetic vision of the designer with the technical specifications of the watchmaker."
This is a surprising and welcome creation that comes from the close collaboration of four hands. Will it be a contemporary 'classic'ı Only time will tell.