Michel Faure, marketing director of Audemars Piguet, a very traditional player in the arena of fine watchmaking, states, "In Haute horlogerie, we are the only brand that is offering women something on this kind of scale." Well, let's have a look! Not less than four primary collections are being created at the same time. The Lady Royal Oak collection has been entirely reviewed and redesigned. And, three new collections with names such as Myriade, a cambered square line lending itself to a myriad of stone setting possibilities, Deva, a domed and rounded square piece whose two attaches are shaped like rollers, and Dream, a curved and ergonomic ribbon-style watch.
"More than two years of development were required to complete this project," says Michel Faure, "and in doing so, we called upon all the feminine input and energies of our company. We wanted to create something consciously feminine, and who would be better placed to understand this concept and transpose it into a watch than the women themselvesı We also wanted to come to the marketplace with a global and credible offer, so we spent a lot of time considering the project. The most important thing for us is, and will remain, the product itself. This is why we did not want to race ahead but instead concentrated our energy on the product, above all else."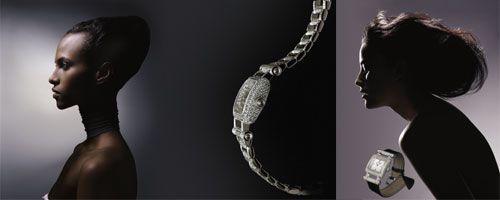 The Lady Royal Oak as flagship line
Thus, the collection Lady Royal Oak has been completely revisited and redesigned. The objective was to achieve a new 'freshness' while still conserving the very special features of the design, a design that can decidedly incorporate new elements without losing its personality or its elegant nature.
With a 'universal' size of 33 mm, the Lady Royal Oak has seen its famous octagonal bezel slightly curved. The polished and satiny surfaces offer new plays on light, and are enhanced by a diamond-set bezel in the jewellery versions. Care has also been focused on the dials. Against the characteristic sky blue or silvered background, the luminescent hands have been tapered and the equally luminescent hour markers take on the form of fine 'navettes'. In the gold, diamond-set versions, the dial is made of natural mother-of-pearl with diamond hour markers. Various bracelets are proposed according to the watch: smooth tan leather for steel timepieces, white mat crocodile leather, sky blue or chestnut for the steel or gold, diamond-set versions and steel or gold pieces.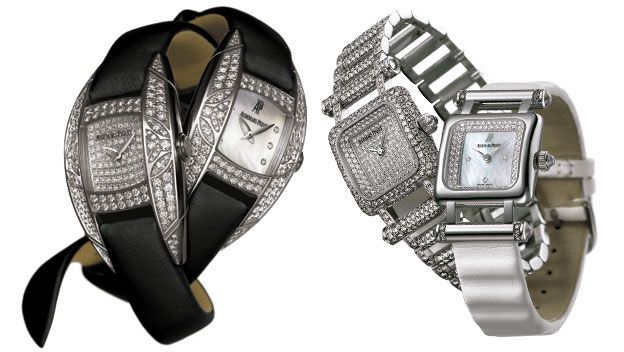 DREAM and DEVA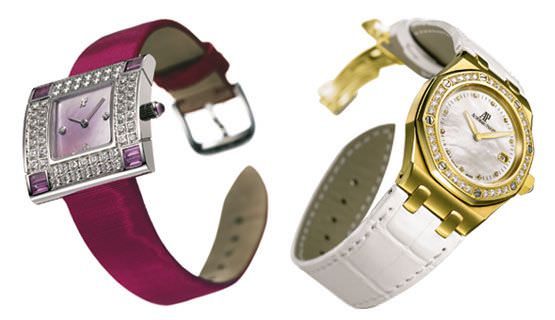 MYRIADE and LADY ROYAL OAK


The jewellery lines
The jewellery lines, Deva, Myriade and Dream, are available in various forms to showcase their femininity. Deva and Myriade play on their square shapes but offer two completely different versions.
In the 18 carat white gold Myriade collection, also square, the 90-degree angles are attenua-ted by a slight curve that emphasizes the very special stone-setting. Two diamonds or two sapphires are set at each of the four angles, and are cut using a specific Audemars Piguet technique. It recreates the rounded curve on the stone's surface, while perfectly taking into account the volume of the piece. Fresh and delicate tones of mother-of-pearl, three diamond appliqués and moiré satin bracelets contribute their ultra-feminine touches to this otherwise vigorous timepiece.
Deva approachs the square differently, softening and lengthening the angles with two rows of cabochons, detached from the case and serving to attach the leather or jewellery bracelet (composed of juxtaposed rows). A sophisticated Deva plays on a combination of curves and angles, covered with stones, which accentuate the shape even more.
The Dream collection breaks with the square shape and proposes a longer form. By lengthening the bracelet, an elongated oval is created, like two parentheses spreading out at their centre, encircling a pastel blue or snow white mother-of-pearl dial.
Perfectly curved to fit the most delicate wrist, the Dream line incorporates a large variety of decorations, from floral motifs to geometric forms, with delicate pavé set diamond sections or completely diamond-set. It is a true jewellery timepiece.

Women of the World
"Audemars Piguet has a rich history in ladies' timepieces," explains Michel Faure, "but it has been a bit cannibalized, if we can use that term, by the success of our small gold jewellery watches in Asia. Europe and the United States have been left somewhat by the wayside. We therefore have to return in force to these markets. Currently, women's watches represent 20% to 25% of our sales. With this new purely feminine offer, we expect to increase this share to 30%."
For Audemars Piguet, this new project should, over the long term, become an autonomous and permanent division within the brand's activities. The investment matches the expectations, and is the reason the brand decided to launch on an international scale. "The original idea and definition of the concept 'Women of the World', the name of the operation, has taken a lot of time," sums up Faure. "We listened to women's ideas and feelings. While working diligently to create our products, we wanted to conceptualize this project, to give it body. We wanted, first of all, to go beyond a simple commercial endeavour in the style of 'Year of the Woman.' We talked to all the women we could. They have been instrumental in creating this campaign. They have thought about it, designed it, written it, and even photographed it…"
The launch of 'Women of the World,' along with its visual aids, represents not only women from all over the world, but it also evokes a "dream of femininity, made of grace and beauty, of generosity, and of the gift of oneself." It is accompanied by a series of promotional activities involving a specific marketing campaign, a book, exhibitions and other events to come.
"We also had to make our distribution network aware of these products," adds Michel Faure, "since it is a network that is rather masculine, and more receptive to the technical aspects of our watches. We had to, in a certain manner, educate them, show them that all the groups of products we propose are of great value to our brand."
Up to now, Audemars Piguet's sales repose on two main pillars: the Royal Oak collection and the complicated timepieces. The 'Women of the World' lines are building a new pillar. To be continued…


Click here to subscribe to Europa Star Magazine.