"Having established himself in Paris in 1911, and disappearing in 1953, Léon Hatot passed through several eras during his rich professional life: the Belle Epoque right after the First World War, then the Crazy Years, followed by the Art Deco period. During the latter epoch, his creativity reached a flowering high point. It also coincided with the historic moment that gave birth to feminine liberation," states Arlette Emch ardently. "This initial period of women's liberation fascinates me a lot," she adds, "and it is this 'liberated' woman that we must find again today. After the Second World War, and during the 1960s and 1970s, women had to really struggle to definitively obtain their rights. And now, after having acquired these rights, we need to rediscover our feminine sensitivity, our passion, our special vision, our freedom to fully be a woman. It is this spirit that is behind the Léon Hatot brand."
While the ethnologist gives us a bit of history on one hand, the marketing director is never far behind. Her analysis is incorporated into the motto of the Léon Hatot brand and its communication that emphasizes "…to be a woman… to be beautiful… to be unique… to be sensual… to be passionate…" And to each of these 'stations' of femininity, corresponds a line of products in the form of watch collections entitled Mae, Zelia, Aimay, Kimay, and Luela, as well as a line of matching fine jewellery.

The 'master's' journey
Born in 1883, entering the watch school in Besançon at the age of 12 years, Léon Hatot completed his education at the School of Fine Arts, before establishing his own watch and jewellery workshop. In 1911, he moved to Paris and soon acquired the Maison Bredillard, a manufacturer and supplier of watch products, jewellery and accessories. Once in command, he started making his own products. Right after the First World War, he fell in step with the Art Nouveau period that was just starting to assert its new aesthetic principles. During this period, the role of women in society was also undergoing profound transformation, and Hatot reflected these changes in his creations, embodying new affirmations, new independence.
Continuing his creative journey after the war, Léon Hatot not only showcased his own work, but also supplied products to the most prestig-ious jewellery houses on the Place Vendôme. His double training as an artist and as a watchmaker allowed him to create unusual and orig-inal pieces from both a design and technical point of view.

A treasure
One of the leftovers from this exceptional creativity, which continued uninterrupted until the Second World War (during which time Hatot ceased all jewellery activity, refusing to collab-orate with the enemy), is a treasure that the Swatch Group was able to acquire a few years ago. During a sale at Christie's in 1999, the group purchased more than 5,000 drawings made by the hand of the French master himself.
The drawings express the virtuosity and subtleness of the design talent of Léon Hatot, with their erudite geometric constructions, interplay of new materials, interlaced floral patterns, matching colours, etc. They have become, in a way, the matrix of the brand's new collections. They embody a heritage of both jewellery and watches that the new teams at the Swatch Group will study and transpose to today's collections.
"These sketches and drawings testify to the values of an era when these creations glorified femininity," explains Emch. "It is this spirit that we want to recreate and offer to the woman of today. Behind this creative act is a passionate philosophy of rediscovered sensuality."
But Léon Hatot was not only an inspired designer of forms, volumes and lines. He was also a trained watchmaker in search of unusual and innovative solutions such as his automatic 'Rolls' movement created in 1930 for which he holds several patents. His double sensibility opens the door to an approach that is not only aesthetic, but that confers proper watch qualities upon the object.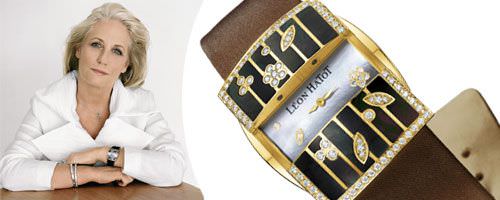 Arlette Emch and the KIMAY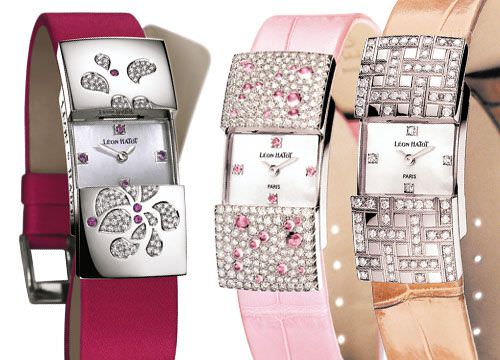 MAE, AIMAY and ZELIA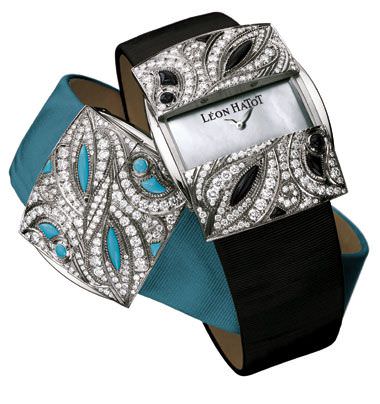 LUELA


The new collections
Five collections have come out of this heritage:


Zelia, the most architectural with the purest lines, proposes wristwatches in white or yellow gold or in steel. The case has a very geometric and constructed look, with squares and rectangles made of diamonds and polished gold, or a composition of stone-set squares with bands of black mother-of-pearl, or even black mother-of-pearl and black lacquer. Rings and pendants in platinum or in white or yellow 18 carat gold, often in an openwork design and set with diamonds, complete the collection.


Luela, whose decorative forms are inspired from Indian printed fabric, is a collection that represents the best of artisanal savoir-faire, of the richness and value of materials. The finely engraved white gold case depicts complex motifs and is set with 156 diamonds weighing 2.17 carats. These diamonds surround eight stones of either turquoise or onyx. The case cover opens onto a dial made of turquoise or pink mother-of-pearl.


Aimay emphasizes softness and curves enhanced by alternating surfaces of diamonds, pink, blue and yellow sapphires. The case cover opens on mother-of-pearl dials.


Kimay draws inspiration from Japan, with its Mystère and Aurore models whose generously sized cases are decorated with veritable small 'paintings' made of black or white mother-of-pearl, yellow or white gold, and diamonds. The cases open with a simple click to reveal large rectangular dials decorated with engraved mother-of-pearl or floral designs.


Mae is inspired from floral patterns, as was the artist, Léon Hatot himself during all of his artistic life. The cover of the case in fresh colours, scintillating diamonds and pink sapphires opens to mother-of-pearl dials set with sapphires.

The basic characteristics
These watch collections are completed not only by a corresponding offer of rings, pendants and necklaces, but also by exclusive and superb jewellery suites that enrich the basic characteristics of the brand. Among these characteristics are the 'secrets' of the covered cases, veritable paintings that open onto concealed dials, and the special signature; a 'Coup de Foudre ©' diamond decorates each of the brand's creations. Cut into 57 facets in order to reveal either eight arrows or eight hearts according to the viewing angle, the 'Coup de Foudre' is the 'hidden symbol' of the brand. It should also be said that Léon Hatot, always looking for quality, favours hand-setting the stones.
"All of the design is done in-house," affirms Arlette Emch, who underscores not only the value of teamwork but also of having assembled a young talented team in order to revitalize this wonderful heritage to the maximum.
With entry-level watch prices at about CHF 5,900 and an average of around CHF 15,000, Léon Hatot expects to proceed with its "still small production" (no numbers were made available to us) in a "very pragmatic manner." What this means is that the brand will concentrate on a limited number of markets, which are primarily Japan (the first market opened), Switzerland, France, the Middle East, parts of Russia and the United States (currently in Beverly Hills). The company will also distribute its products through the Swatch Group's own Tourbillon boutiques, as well as through a few selected retailers.


Click here to subscribe to Europa Star Magazine.