Although Mr Frédérique and Mr Constant successfully merged early in the 18th century, it wasn't until 1988 when Peter Stas and Aletta Bax launched their first watch collection in Geneva using the Frédérique Constant name that it became a part of modern watchmaking.
From the outset, the Frédérique Constant concept was to produce high quality watches at an affordable price. Design, workmanship and the traditional art of the watchmaker were all essential elements and the brand's first collection of six watches, the Classics, were equipped with Swiss mechanical movements and assembled by a local watchmaker.
In 1998, after just ten years of existence, Frédérique Constant had established workshops in Geneva with a workforce of eight to carry out their design, assembling and control. By then, the brand's collections could be found throughout Europe, including Russia and other Eastern European countries, the Middle East and the Far East. Annual production figures had reached 25,000 pieces.

Systematic growth
Today, Frédérique Constant is to be found in more spacious premises in another section of town, but with production figures having reached 43,000 watches a year (41,000 Frédérique Constant and 2,000 Alpina, the company's recently launched second brand), Peter Stas is already on the lookout for a larger location to ensure their future expansion and production.
"We have seen tremendous growth in the company and 2004 was no exception," Peter Stas, the brand's CEO acknowledges. "We enjoyed a 34% growth for the year. We are now in 45 countries and in 2004 we had growth figures of 33% in Asia and sales doubled in France and tripled in Italy, which can be attributed to the fact that now we have better distributors and a better follow-up in our production.
"For 2005 we've budgeted for a 25% increase. We are still under represented in the United States, which is obviously a growth area for us along with France and China. In all the other countries, we anticipate an increase in sales of around 20%."
Acknowledging the vast potential of the Chinese market, Peter Stas revealed that Frédérique Constant watches are now in 25 outlets in China and the brand is selling as many watches in one month there as they sell in a year in Switzerland.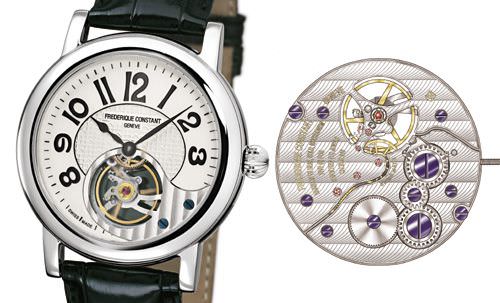 HEART BEAT MANUFACTURE
Stainless steel watch equipped with a mechanical Calibre FC-910 movement. Hear Beat aperture at 6 o'clock, convex sapphire crystal, screw-down sapphire case back, black Arabic numerals, leaf hands, bridges with Côtes de Genève decoration, 48-hour power reserve, water-resistant to 50 metres.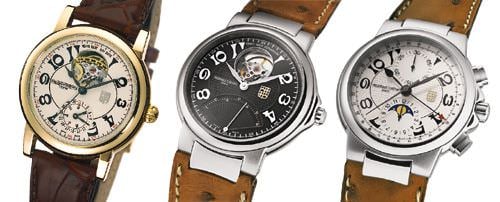 HEART BEAT DAY-DATE
HEART BEAT RETROGRADE
HIGHLIFE MOONPHASE CHRONO



The collections
There are three basic Frédérique Constant collections: High Life, Persuasion and Classics. High Life accounts for 25% of the brand's sales, Persuasion 35% and the Classics 40%. Overall, 40% of the brand's watches are equipped with mechanical movements and 60% are fitted with a quartz movement. Not surprisingly, the 40% of mechanical watches account for 65% the brand's turnover. Alpina, the company's other brand, produces technical sports watches of which 85% are equipped with mechanical movements.
The Highlife Collection is the brand's flagship collection and comprises various groups: Alure, Round, Moonphase Chrono, Heart Beat Day-Date, Heart Beat Retrograde and the new Heart Beat Manufacture. The particularities of the collection are: mechanical movements with complications or ultra-flat models with quartz movements, a smooth, rounded design with convex sapphire crystals, water-resistant to 100 metres and specially designed Arabic numerals are on all the dials.
At the 12 o'clock position, the Heart Beat group of watches have an aperture through which the balance wheel and the hairspring can be seen functioning. The movements of the Heart Beat Perpetual and the Heart Beat Day-Date were created in conjunction with Dubois Dépraz and the Heart Beat Retrograde in collaboration with Agenhor.
The Heart Beat collection was launched in 1994 and at BaselWorld 2004, the Frédérique Constant launched its Heart Beat Manufac-ture Calibre FC 910, with an aperture at 6 o'clock. The research for this model began in 2002 and was developed by a Frédérique Constant team of eight specialists from and in cooperation with the École d'Horlogerie de Genève, École d'Ingenieurs de Genève and the Horloge Vakschool Zadkine. The result is a highly accurate timepiece that is 100% Swiss Made and is constantly sold out.
The Persuasion Collection is made up of Carree, Moonphase Carree, Business Timer, Chronograph and Automatic and a Heart Beat version. The distinctive feature of the collection is that they all have a luxurious appearance but are sold at very reasonable prices. The watches are equipped with either mechanical or quartz movements and all the models feature large Roman numerals.
The Classics Collection, the best selling and longest selling watches by Frédérique Constant, are round, rectangular or tonneau shaped and have an elegant opulent look. The collection comprises the Slim Line, Art Deco, Automatic, 18 carat Rose Gold, index Automatic, Arabic Automatic and Carree models and, once again come with various mechanical or quartz movements.

Alpina
Frédérique Constant's second brand, Alpina, was launched in 2003 and began slowly due to the vagaries of the various economies around the world and the added effects of the SARS epidemic. Since then however, it is slowly beginning to grab the attention of sports watch enthusiasts.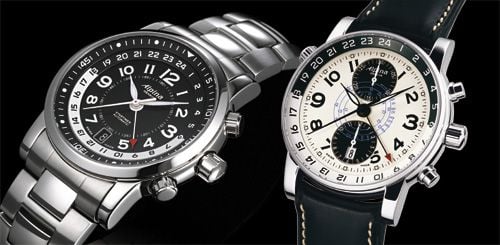 ALPINA STARTIMER AUTOMATIC
Stainless steel watch equipped with an automatic AL-550-1 movement. Hours, minutes, seconds, date, GMT, internal revolving bezel for 24-hour day-night system, black enamelled dial, 60-minute counter via internal revolving bezel, Arabic numerals, sapphire crystals front and back, water-resistant to 100 metres.

ALPINA STARTIMER GMT CHRONOGRAPH
Stainless steel watch equipped with an automatic AL750 movement. Hours, minutes, seconds, date, GMT, 24-hour day-night, mechanical chronograph functions, white enamelled dial, tachometer, Arabic numerals, sapphire crystals front and back, water-resistant to 100 metres.


The brand has sold around 2,000 pieces of its Heritage, Startimer and Avalanche collections. These technical sports watches are robust automatic chronographs that offer a touch of nostalgia in their design, but include fine movements with a date function. The Startimer, a particularly handsome timepiece, has an internally revolving bezel on one of the chronographs with a GMT function, along with an automatic model with a GMT function. The Heritage collection also has an elegant 18 carat gold version of the chronograph with an automatic movement. All the watches are water-resistant to 100 metres with the exception of the gold Heritage, which is water-resistant to 30 metres.
Although the dominant sales are of the Frédérique Constant collections, the attractive, evocative look and the sporty appearance of the Alpina watches has already found quite a few admirers and given the excellent quality/price ratio the brand has much potential in today's demanding market.
In 2004, Frédérique Constant introduced a special collection for Austin Healey for its international 5-day rally that takes place every four years. The watches were produced in 18 carat gold (99 pieces) and stainless steel (888 pieces) and are equipped with an automatic Valjoux chronograph Calibre. This year, there will be another Limited edition to commemorate the 25th anniversary of the Dutch Healey Cup.
With the promise of new watches for BaselWorld, not to mention the updating of watches in the Classics collections – improved cases, better hands, more sophisticated models – redesigning that is undertaken every three or four years, Frédérique Constant looks to be consolidating its position as one of the leading brands in the mid-price range.
As Peter Stas underlines, "We will not be increasing our prices, but we will be offering even better value for money via the improvements and the re-defining of some of our models."



Click here to subscribe to Europa Star Magazine.