Gérald Genta is establishing itself more and more in the sector of timekeeping research and innovation. This innovation involves highly complex dials, difficult-to-make cases, larger sizes, unusual uses of colours and materials, and surprising bracelets. The brand's 'haute couture' approach is based on the deepest respect for the traditional art of watchmaking. Gérald Genta is therefore developing complications that are, above all, considered to be useful. The 'show off' is left for the exterior. The movements are based on Girard-Perregaux calibres, which have been specially and elegantly decorated and contain addit-ional plates. Over time, however, the brand's stated goal is to develop its own house movements. In keeping with its reputation for innovation, Gérald Genta still favours displays that are retrograde, jumping and sectorial, which the brand uses in playful ways.
In this respect, one of the latest models is the surprising Octo Minute Repeater, featuring a 42 mm case, jumping hour hand, retrograde minute and minute repeater on an automatic movement. Each dial is unique with coloured ceramic decorating engraved plates. In the same spirit, Genta is also presenting an Arena Retro Chronograph with jumping hours in titanium, and, with its pioneering efforts in hybrid movements, is offering a 'concept watch' with a tourbillon and jumping hour retrograde on one side and an LCD display on the other!!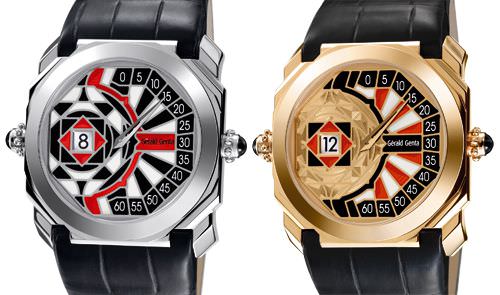 Octo Repetition Minute


Gradual evolution of design
While Daniel Roth's watchmaking is more tradit-ional, the brand is nonetheless evolving from a stylistic point of view. The famous and immediately recognizable large case is still there, but it may be made even bigger or elongated depending on the needs of its different models. In this way, Daniel Roth is losing some of its stiffness and gaining a lighter feel.
For example, the Athys 108.Z is limited to 35 pieces (old IWC movements probably intended for the Portuguese models, found in the company's stocks) and features a small seconds hand at 9 o'clock with three branches allowing it read sectorial and continuously, with one hand taking over from the other.
This touch confers on the watch a welcome originality that is permitting the brand to move slowly towards a refreshed and younger type of watchmaking. The Athys is a prelude to the launch of an 'entry-level' product (at Daniel Roth, this means a price still in the range of 18,000 Swiss francs) that will feature a simple and flat watch to be launched in the near future.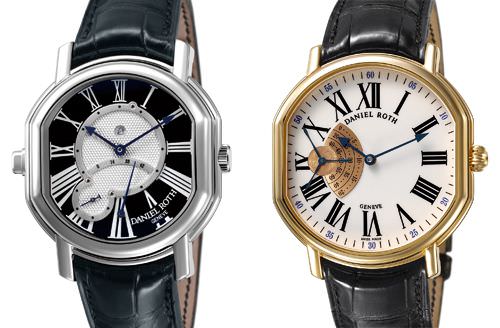 Ellipsocurvex Minute Repeater Power Reserve 308.Y & Athys 108.Z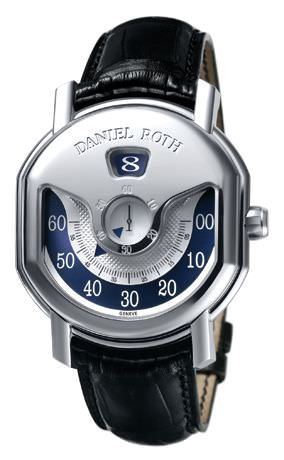 Ellipsocurvex Papillon Limited Edition 318.Y


A strange 'Papillon'
The calm transformation of Daniel Roth becomes even more spectacular with the recent introduction of the Ellipsocurvex Papillon. A 'cover' encloses the top of the watch with a window displaying the instantaneous jumping hour hand and a smaller window at the centre for the small seconds. The minutes appear in a large 'smile' that opens from 3 to 9 o'clock. These 'pseudo' retrograde minutes are 'revolutionary' minutes displayed by two hands, each taking over from the other. This movement is based on a Girard-Perregaux calibre that is entirely finished in-house, including decoration, hand chamfering, and the Côtes de Genève pattern.
Finally, the new Ellipsocurvex Minute Repeater Power Reserve timepiece affirms the stylistic evolution that is taking place at Daniel Roth.
While the basics remain untouched (notably the case and decentralized hands), the displays have changed with the power reserve indicator placed in an arc between 8 and 4 o'clock and the small seconds hand placed off-centre at 7 o'clock, which gives the dial a very particular appearance. A small detail is that a chime indicator at 12 o'clock warns the wearer that he should not set off the minute repeater manually. (This is an elegant way to avoid certain 'accidents' that might happen when both are set off at the same time.)
Thanks to these subtleties and aesthetic refinements, Daniel Roth intends to slowly attract a more non-traditional clientele, while remaining firmly anchored in the circles of prestige mechanical timekeeping.


Source: April-May 2005 Issue

More...Click here to subscribe to Europa Star Magazine.