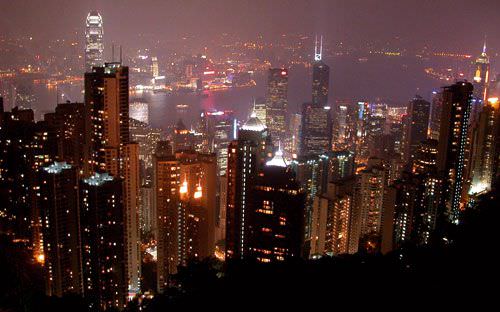 The Hong Kong Special Administrative Region (SAR) comprises 1,042 square kilometres of land and 50 square kilometres of water and includes more than 200 islands. The estimated population of Hong Kong is 6,900,000, with a labour force of an around 3.5 million. Unemployment is currently at 6.7%. Chinese and English are the official languages of the SAR and the population is broken down to 95% Chinese with 5% of other nationalities.

The economy
Hong Kong has a free market economy that is highly dependent on international trade. Natural resources are limited, and food and raw materials are imported. Gross imports and exports, including re-exports to and from other countries, exceed the Gross Domestic Product (GDP) in value.
Hong Kong has extensive trade and investment ties with China, a fact that existed even before it reverted back to Chinese administration in 1997. It is now integrating its economy much more with China since manufacturing there is more cost effective than in Hong Kong whose re-export business to and from China is now one of the major growth areas.
The Hong Kong GDP growth averaged a healthy 5% during the years leading up to 1997, but then suffered two recessions, one in 1998 due to the Asian financial crisis and the other in 2001 and 2002 because of the global economic downturn. Although the Severe Acute Respiratory Syndrome (SARS) outbreak also battered Hong Kong's economy, a boom in tourism from the mainland because of China's easing of travel restrictions, consumer confidence and a positive rise in exports, has resulted in the resumption of strong growth over the last couple of years. Today, the per capita GDP is similar to that of the most important economies in Western Europe.
Hong Kong's major exports are electrical machinery and appliances, textiles, apparel, footwear, watches and clocks, toys, plastics, precious stones and printed material with its leading partners: China (44%), USA (17%) and Japan (5.3%).
In 2004, imports totalled US$ 276 billion, consisting of raw materials and semi-manufactured products, consumer goods and foodstuffs from China (43.5%), Japan (12.1%), Taiwan (7.3%), USA (5.3%), Singapore (5.3%) and South Korea (4.8%).

Hong Kong's watch & clock industry
Hong Kong is considered to be the second largest exporter of complete watches and clocks in terms of both value and quantity. In 2004, the value of these exports was US$ 5,855 million, a 9% increase over the previous year. For the period January – June 2005, exports were US$ 2,682 million, an increase of 1% over the same period in 2004, which bodes well for this year.
Over 60% of exports are battery powered (quartz) wristwatches in all shapes and forms - analogue, digital, metal and plastic, fashion to classic styling, stone-set and sports watches. Additionally, Hong Kong also exports a variety of clock and watch parts and components – such as assembled movements, watchcases, metal bracelets and straps.
Despite these important exports, Hong Kong manufacturers import large quantities of watch and clock movements from Switzer-land, Japan and the Chinese mainland, along with core components such as quartz, crystals and integrated circuits.
Being a very competitive and labour-intensive industry, in particular at the low-end segment, an ever-increasing number of Hong Kong watch manufacturers have relocated their production facilities to the Chinese mainland where labour costs are dramatically cheaper. Nevertheless, many of these companies maintain facilities in Hong Kong for higher value pieces with a 'Made in Hong Kong' label.
As the demand for quality products has increased, many companies have now acquired the ISO 9000 certification to strengthen their quality control systems. In addition, the industry has created the Hong Kong Watch Grading & Certification System, which provides watch manufacturers with facilities for quality testing of their products to international standards.
Bob Chong, the Managing Director of the Chung Nam Watch Company and Chairman of the HKTDC Watch & Clocks Trade Advisory Committee, said that this year there had been a 3% growth in the industry in value, not quantity.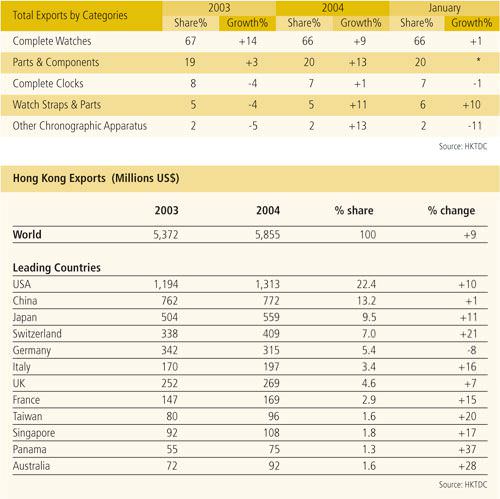 Chung Nam has been manufacturing watch parts in China for more than 25 years. To overcome many of the local problems , the company has its own training programmes and because of the regular power cuts (4 to 5 days a week), they have installed their own generators.
"We were obliged to do something about these problems because of our production delays," he acknowledges. "We produce between 300,000 and 400,000 stainless steel bracelets a month, slightly more watch cases and between 600,000 and 800,000 complete watches a month.
"Our company's strategy is to have higher value parts and components using our own technology. Ours is a labour intensive industry so we must invest heavily in machinery, quality controls and the finishing of the products."
Bob Chong admitted that today it is difficult to ascertain the exact amount of watches that are now made in Hong Kong since many of the Hong Kong companies now manufacture and distribute directly from China. There are some re-exports and watches are still being exported from Hong Kong. But the only obvious outcome is that, on paper, the real export figures from Hong Kong are decreasing.


TO BE CONTINUED...
In the forthcoming days, the rest of this lenghty survey will be added to our europastar website.

Market Focus Hong Kong: Part 1
Market Focus Hong Kong: Part 2
Market Focus Hong Kong: Part 3



Source: October - November 2005 Issue


Click here to subscribe to Europa Star Magazine.