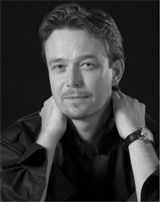 Peter Speake-Marin


Peter Speake-Marin (pronounced Speak-Marine) was born in England in 1968. "I went to a technical school with the intention of making jewellery, but discovered art and mechanics which included watchmaking. I loved it, somehow it spoke to me. It had everything that I enjoy doing and the aspect of watchmaking appealed to me since you can do it anywhere.
"So I came to Switzerland in 1987 to study at the WOSTEP School in Neuchâtel where I specialized in wristwatches. Having completed the course I returned to the UK and joined the after-sales department of Watches of Switzerland, firstly in Oxford and then in London – both for six months – then went to work for Somlo Antiques in the Piccadilly Arcade in London's West End."

Antique watches
Taken on to oversee the antique watch section at Somlo, Speake-Marin set up two workshops and a large team and stayed seven years specializing in the repair and renovation of watches by many of the old masters, such as Graham and Bent.
"Everything collectable passed through our workshops, and I stayed because of the variety of the watches we had to work on. However, when in 1996 I was offered a job at Renaud & Papi in Switzerland, I was ready to move on and work on modern complications.
"I worked at Renaud & Papi for four years and during that period I bought watchmaking machinery for myself as a form of insurance for the future, which is how I began to make my own pieces. I had all the equipment and with it I made my first piece, a pocket watch. It has all the elements you will find in the various models of my current collection. But at that time, it wasn't my intention to make a commercial watch, it was purely for me."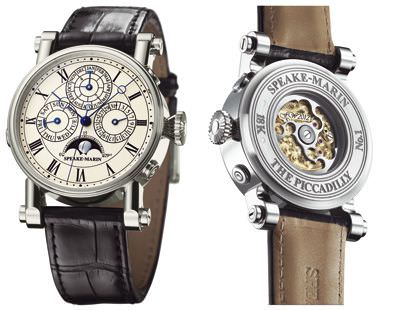 Quantième Perpétuel in a Piccadilly-style 18 carat white gold case.


Going independent
As Peter is talking he is carefully unwrapping and polishing the pocket watch to show me. It has a wonderfully antique appearance, bold with well-defined lines, yet it is clearly modern in both concept and finishing. Out of one of the beautiful wooden boxes he designed for his watches with the Speake-Marin name in metal running vertically on the inside border of the lid, he begins to lay out on one of his workbenches the various models in his collection.
He informs me that with all the various conjugations of the watches there are forty different models: a handsome hours, minutes and seconds model; the Serpent with hours, minutes and seconds and a snake-like hand indicating the date; a quantième perpetual and the Vintage Tourbillon. Each of the watches has its own character and complications, but they all have a certain modern antique appearance, a Speake-Marin look that makes them quite different from any other brands or collections of complicated timepieces.
Having made the decision to start his own company, Peter began by making four minute-repeaters for other watch companies. At the same time he began to prepare his own collection, working at least twelve hours a day, seven days a week for two years without a break.
"The first three years were horrible," Peter states with a wistful smile. "I couldn't continue like that, it messes up your life. But I had the motivation to continue and develop my own pieces because I was getting feedback on what I'd been doing and people liked it. That is when I decided to concentrate on my own watches. I showed my first collection of ten watches on the AIHH stand at Basel in 2003 and by 2004 I had sold 100 watches to people in the UK, the USA in New York and California, Japan and France. By last year, I had developed my own small network for distribution and managed to sell 150 watches and this year I'm hoping to produce 250 pieces."
For BaselWorld 2006, in addition to producing his own watches, Peter Speake-Marin has created a second watch for Harry Winston (the first was in 2005) – a 44mm self-winding tourbillon in Zalium® called the Project Z3.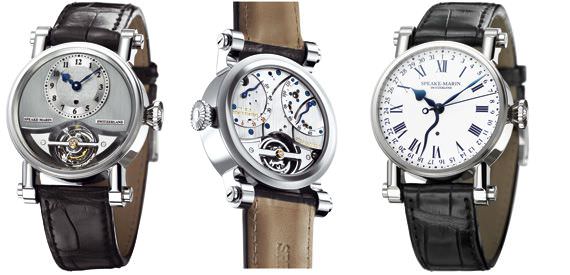 Vintage Tourbillon in a Piccadilly-style platinum case & Serpent in a Piccadilly-style stainless steel case.


Quality - the byword
"After working in after-sales in the UK, I saw where the wear and tear was and what needed to be repaired. So I bore that in mind when I was designing my own collection, hence, for example the larger lugs and crown. What I make is made to last and the watches won't go out of fashion.
"I know that some people have steered away from my watches because they have a 38 mm diameter. So I am now adding a 42 mm range since today's market still demands large watches. I'll have new 42 mm models at BaselWorld this year and a whole new series will then begin to evolve."
Speake-Marin watches range from 12,000 Swiss francs to 450,000 for a 42 mm unique piece in 18 carat white gold featuring a tourbillon, a minute repeater and a perpetual calendar with moon phases. The watches are all beautifully made … made to last both technically and in terms of fashion – style and colour. The brand name is not yet on everybody's lips, but bearing in mind the originality of the watches and their eye-catching quality, it shouldn't be too long now.
"We're spreading the word, we're still babies that are beginning to walk, although we now have more and more contacts. My goal is get to the point where I have a production of 800 to a 1,000 watches a year and to do that, ideally I need to get into the American market, with good distributors and retailers.
"I don't want the company to get too big, it would compromise the quality of my work. And that's what I do, I make quality watches. I certainly don't want to get to the point where I have a Board of Directors. Obviously I need to earn money for stability, but I'm not in this business to make money. I love the creative part, the drawings, making the prototypes and finally the watch. However I find it quite inspiring that people want to buy my watches, that's what it's all about I suppose, the pleasure of creating something other people want!"


Source: February - March 2006 Issue