"After all these years, the distinctive international enthusiasm for Universal Genève has never weakened,†explains Vincent Lapaire, the brand's General Manager.
Having joined the brand in 2003 after a career in both finance and watchmaking, his first task was to analyse the overall situation of Universal Genève and then travel the world for a year explaining the validity of his approach and meeting the brand's partners and shareholders. That approach was one of team spirit both within and outside the company, a situation where he could create and improve products in cooperation "with peo-ple that I have chosen, whom I know and admire.†These "people†are dedicated to the brand whether they are direct employees, craftsmen, retailers and watch collectors.
The first collection under the Lapaire banner was presented at BaselWorld 2005 and it stopped many people in their tracks since it was clear that Universal Genève had turned a page to reveal watches that were worthy of the name they carried and clearly repositioned the brand in that illustrious group of Swiss manufacturers that honoured watchmaking with the joys of mechanical movements. Nevertheless, the attractive new ladies' collections will continue to be equipped with quartz movements.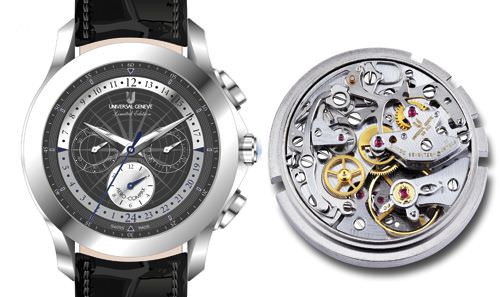 The result is that since last year, Universal Genève has turned the corner and developed a network of several thousand contacts, all of whom appreciate Lapaire's philosophy and determination. There was a rapid change in demand and several thousand of the new collections were sold. However, Vincent Lapaire wants to develop slowly, but surely, producing the watches first before trying to sell them – as opposed to orders first then having the problem of trying to meet the orders.
The new collections have done well in Spain, Portugal and Italy, but Vincent Lapaire wants to develop the brand in Switzerland, its home but also renowned as being one of the world's most difficult markets to conquer. To do this he has made the brand accessible, not too expensive with prices for every pocket. Prices range from 2,000 Swiss francs for a simple three-hand watch to 4,500 for a chronograph and 20,000 for a complication in 18 carat gold.
For those of you who missed last year's creations, check them out on www.universal.ch,; but as a foretaste of what to expect when you visit BaselWorld this year, here's the Okeanos Aero-Compax, a stainless steel 3-counter chronograph 24 Hours and its UG 82.1 hand-wound movement, one of the brand's latest models.
As Vincent Lapaire concludes, "We are working relentlessly to restore Universal Genève to the radiant status it deserves!â€


Source: Europa Star April-May 2006 Magazine Issue