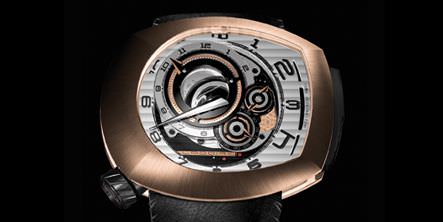 Among the newcomers that are working in contemporary timekeeping, with its innovative forms, unusual function displays, and exclusive movements, Ladoire has set the bar very high right from the beginning. This is seen in terms of quality, of course, as well as in the originality of its 'Calvet/01/RGT' movement, and in its prices. The first model—the Roller Guardian Time (RGT) in gold and titanium—will sell for 128,000 Swiss francs (the first deliveries start in March 2009).
Even though the first Ladoire watch is now arriving into a rather turbulent marketplace, the project was obviously started a number of years ago, and the company Ladoire was founded in 2007. Today's difficult economic environment will undoubtedly complicate the task of these newcomers but, as founder Lionel Ladoire says, "The crisis forces us to question ourselves and to be ultra-convincing." At this price point, which seemed almost commonplace as little as a few months ago, the number of collectors who can afford or who are willing to purchase such an avant-garde timekeeper may very well diminish. (Just how many major collectors are there in the world? A thousand, perhaps two thousand at most?)
Yet, the Ladoire team that created the Roller Guardian Time certainly does not lack either conviction or enthusiasm for their project, not to mention a few solid arguments in their favour.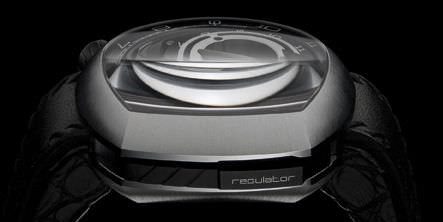 Roller Guardian Time (RGT) in gold and titanium


A big pebble
The RGT certainly offers very imposing dimensions (56 mm from 9 o'clock to 3 o'clock and 45 mm from 12 o'clock to 6 o'clock, with a thickness of 16.3 mm) yet it resembles a pebble, soft to the touch and comfortable on the wrist. The case is composed of three modules—bezel, middle case, and case back—which allows for a combination of materials, namely an alloy of gold and titanium. One original detail is the position of the crown at 8 o'clock (which in no way hampers wearing the watch). By placing the crown on the left side, it frees the right side of the watch for a rapid corrector used for the second time zone, which has been perfectly integrated into the case, as has the leather bracelet, whose width at the attachment point decreases up to the very original and imposing double clasp.
The great care given to the design and finishing of the watch can be credited to Lionel Ladoire, a man descended from four generations of jewellers, and a highly trained and experienced jeweller himself. From his particular sensibility - at the crossroads of patrimonial art, contemporary culture (he is a rock drummer), and technological evolution - is born a timepiece that is opening fresh new avenues in the art of watchmaking.
Lionel's inspiration can be clearly seen in the anti-conformist face of the RGT. Except for the GMT function, the RGT has no hands. The indications of the hour, minute, and seconds are read using three discs mounted on ceramic ball bearings. The largest of these discs displays the hour. Minutes are read between 4 o'clock and 5 o'clock, while the seconds are located at 3 o'clock. This new-generation regulator display is completed by a GMT second time zone hand that can be corrected in hour intervals using an instantaneous corrector.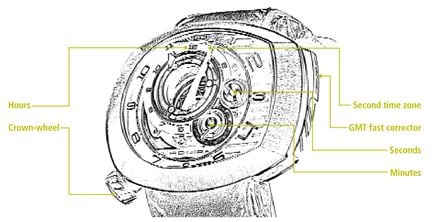 A promised movement with a great future
At the centre of the hour disc, a well-like opening reaches down to the bottom of the movement, exposing a spider engraved into the platinum. It is on the back of the watch, however, that we can best admire this new movement, which is credited to the ingenuity of Philippe Ruedin, from ASXP Engineering. Before setting off on his own independent path in 2003 to create his own calibre, this engineer worked at Ronda, Patek Philippe and Richemont.
Ruedin's basic movement, the AS XP 1300, was developed in collaboration with Hautlence and MCT, which placed it in its first model (see article in Europa Star 6/08). Ruedin used this basic calibre for Ladoire, but added an automatic movement and a micro rotor (like some of Patek Philippe's movements) embellished with two parts, inserted into a lovely architectural unit made up of circular bridges treated with black ruthenium. The overall effect is one of a spider's web (a motif that is also engraved on the barrel). The off-centre movement is driven by an independent escapement bloc obtained from Precision Engineering in Schaffhausen (a unit of Moser & Cie). Its frequency is 18,000 vibrations per hour and it has a power reserve of 44 hours. Another interesting detail is that the profiles of the teeth are identical. The real difficulty in creating this apparently remarkable movement resides in the different physical and industrial constraints linked to this type of display.
All the component parts for the RGT have been manufactured in Switzerland by a network of companies (the brand's website, www.ladoire.ch,; provides more information in this regard) for Ladoire, who has named this network 'Helvet Manufacture'. This is a form of a 'fragmented' manufacturing facility used by other avant-garde brands such as MB&F, for example.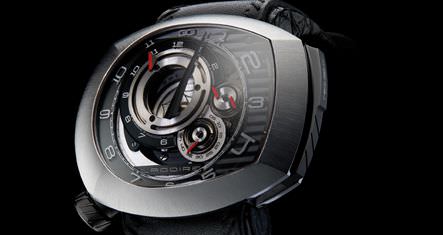 Distribution
The first watches will be delivered this spring. Richard Piras, an associate of Lionel Ladoire in this adventure, explains that, "The business plan has been established with extreme care, with total mastery over costs and development. Since well before the crisis, the goal for 2009 was fixed at 60 pieces, and as of today our order books are already half full. We can therefore calmly continue along our way, especially since the French investment group, Aurinvest Capital 2, recently acquired a minority interest in our company for 950,000 euros."
As for distribution, Ladoire intends to work exclusively with agents and distributors. The network has already been established in Southeast Asia in collaboration with Yafriro (Hong Kong, Thailand, Malaysia, Singapore, and Indonesia), in Russia (Bridg), and in Italy (Tempo Prezioso). In the near future, sales points will be opened in France, Switzerland, and probably the United States.
Ladoire will be present during the BaselWorld fair at a private event on Clarastrasse, very near the main show.


Source: Europa Star April-May 2009 Magazine Issue