Originally, the word Skagen came from the name of a small picturesque fishing port located in northern Denmark and known for the many painters who lived there. Very close to Skagen, at the tip of Grenen, two opposing currents, one from the North Sea and the other from the Baltic Sea, confront each other. The turbulence produced by this confluence results in new waves that flow counter to the other currents.
Is this perhaps one of the reasons that Charlotte and Henrik Jorst, co-owners and co-designers, named their watch brand Skagen? Symbolically, the image is relevant since Skagen represents, beyond the meeting of a man and a woman, the confluence between Danish design and mass marketing.







Three million watches per year
In reality, we often forget that the Skagen brand sells more than three million watches per year, a considerable number produced in a rather low-key manner. As Charlotte Jorst says with a smile, "I often have the impression that we pass under the radar. Skagen is a phenomenon and for the moment, no one in the watch industry really realizes the importance that we have attained."
Skagen distributes its three million watches in more than 60 nations, including its most important markets of Southeast Asia, Japan and Europe as well as markets considered more marginal such as South Africa and Iran, for example. In all these highly divergent markets, Skagen has succeeded with a completely original approach, which Charlotte Jorst likes to call 'conservative fashion'. This involves a mix of very plain Nordic designs, ultra-flat forms, surprising quality and an unbeatable price. The average cost of a watch is US$100, while a titanium timepiece costs US$130 and a piece with a Swiss movement is only US$175.






'COLOURS OF SKAGEN'
For ladies, soft blues, sandy pinks and warm browns remain transparent and ethereal. Wearable jewellery-like inspired bands from tank link styles to a signature patterned mesh and new flat sphere design add layers of creative innovation. For day or night, the timepieces are made with CRYSTALLIZED™ – Swarovski elements. Suggested retail prices: Euros 105 to155.
For men, coloured glass treatment on cases paired with both link and leather straps. Adding to the collection is a new round case design with a combination of shiny and brushed steel on genuine brown and black leather straps. Suggested retail prices: Euros 135 to 175.


American dream
This success story began in 1989 when Charlotte and Henrik Jorst finally realized their American dream and emigrated from their native Denmark to live in the USA in order to create their own business. Their idea was to introduce Danish design to a larger number of people—to popularize the simplicity of forms, the purity of style and the quality of fabrication that are the cardinal principles of this school. Little by little, and very quietly, their ideas began to catch on. "Everything started in our small apartment in New York. In the beginning, we had to go door-to-door but finally the idea succeeded. Bloomingdales opened its doors to us. That was our big break. It is perhaps surprising," continues Charlotte, "but everywhere we introduced our brand, it was accepted and sales took off quickly. Just to give you one example, we started quietly in Britain at the beginning of 2009 but, in the very first week, we sold 370 watches."
Today, the brand's headquarters are in Reno, Nevada where it employs 75 people. On a global scale, there are more than 160 employees. Skagen is present in more than 5,000 retail stores and has two flagship stores in Denmark as well as independent concept stores in Tokyo, Taipei and also soon in Nagoya and Korea. (In addition to watches, Skagen also creates and distributes jewellery and eyewear.)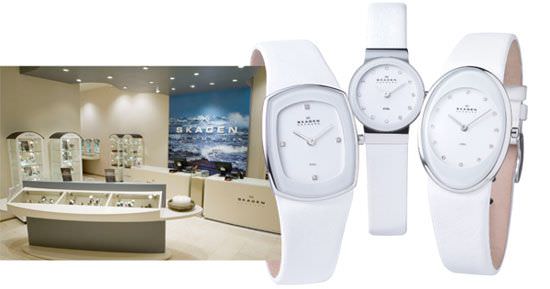 'LOVE BLOSSOMS'
Love Blossoms women's timepieces are grounded in crisp white with small glimpses of pastels and shimmering silvers. Modern style and femininity are fused from tone-on-tone combinations, mother-of-pearl dials, mirrored borders, genuine leather straps and feature accents made with CRYSTALLIZED™ – Swarovski elements. Styles feature a range of elegant case sizes and shapes. Suggested retail prices: Euros 95 to 115.


Surprising longevity
The most surprising element in this phenomenon is the longevity of certain products. Even though the collections are changed fairly often, without ever deviating from the brand's minimalist style, some best selling watches have been in the Skagen catalogue for 18 years. "Moreover, we are among the only ones to offer a lifetime guarantee for our watches, of unlimited duration," says Charlotte Jorst.
Designed by Charlotte and Enrik, Skagen's different collections are always characterized by simple forms and pure lines, and—despite the recent trend for thick spectacular watches that Skagen has never adopted—by a certain reserve as well as the refinement of its nearly-always ultra-thin cases. The colours, undoubtedly drawing inspiration from the Danish natu-ral setting at Skagen, are always soft, with pastel shades. Extreme care is also given to the bracelets where the two designers favour flexible links that have become over time one of the symbols of the brand. The current difficult economic situation, combined with a form that clearly marks a return to stylistic simplicity, should help even more to spread the word about the phenomenon of Skagen.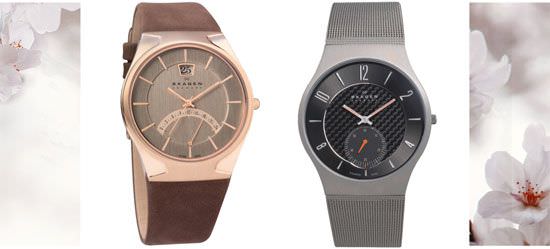 'COLOURS OF SKAGEN'
For men, coloured glass treatment on cases paired with both link and leather straps. Adding to the collection is a new round case design with a combination of shiny and brushed steel on genuine brown and black leather straps. Suggested retail prices: Euros 135 to 175.

'CARBON FIBRE' MEN'S TIMEPIECE COLLECTION
The Carbon fibre Collection has been incorporated into the brand's best-selling titanium timepieces and is structured around the unique material known for its great strength while also remaining lightweight. The combination of ti-tanium with carbon fibre makes a dual-offering of strength, durability and uniqueness. Suggested retail prices: Euros 145 to155.


Source: Europa Star December-January 2010 Magazine Issue