Europa Star learned earlier about the creation of a new manufacture, small in size, certainly, but very well designed and organized—the Manufacture Armin Strom, in Bienne (see issue 5/09). The fruits of this investment (with the backing of Armin Strom's new major shareholder Michel, an industrial family that also supports the arts) are now being harvested in the form of a lovely manual winding calibre, the ARM09 (standing for Armin-RéserveMarche09).
This manual movement is equipped with a power reserve of eight days and responds to two requirements: a movement that not only meets strict criteria for quality and chronometry, but also one that is intrinsically 'beautiful'. In other words, a movement whose architecture offers optimal visibility of the mechanism. "We wanted the house movement, however technical it might be, to perfectly reflect the visual identity and the design choices of the brand," explains Serge Michel, the young president of the new entity. At his sides, Armin Strom agrees. Rightfully, so since he has built his entire reputation on being the undisputed master of the skeleton watch.







Classic and modern architecture
While the ARM09 movement is very well balanced and perfectly visually designed, it also meets the technical criteria that Claude Greisler, the constructor who joined the team three years ago, has made his sacred duty—and pleasure—to develop. Certain technical characteristics are, in this regard, very illuminating. One example is the innovative manual winding mechanism whose ratchet wheels turn towards the dial, thus offering a direct view of the gear train as it begins to move. The winding is carried out using two barrels (each includes a pull spring with a total length of 1.8 mm and a blade width of 0.88 mm). Mounted in series, these two barrels are made of a brass that was specially developed in order to facilitate the gearing of brass on brass. They transmit their impulsion to the wheels that were also specifically developed for this project. Their pinions are hardened to the core and their teeth are polished, while the specific shape of each tooth has been precision cut using CNC technology.
The pallets and escapement wheel are in solid gold, notably for reasons of friction and the gold screw balance comprises four braced steel adjusting screws to regulate the moment of inertia. The calibre also includes a curved Breguet balance spring (the balance spring comes from Precision Engineering, increasingly being used by small high performing brands).
The ARM09, whose differential power reserve is eight days, beats at a low frequency of 2.5 Hz or 18,000 vibrations per hour (a combination of high inertia and low frequency—a guarantee of good operational results). This calibre also comprises 146 component parts and 34 jewels specially developed for Armin Strom. Its diameter is 36.6 mm and its thickness is 6.2 mm (16 1/2''').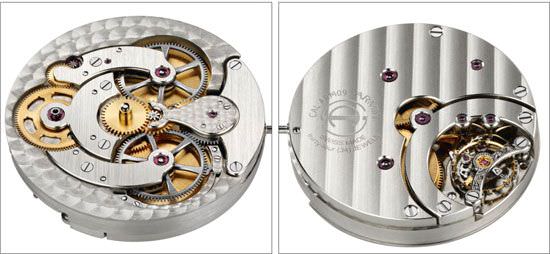 A matter of positioning
Having established a reputation for the aesthetic quality of the brand's timepieces, Armin Strom could do nothing less for the finishing of its first in-house calibre. A decoration atelier was installed in the same locale to provide hand chamfering, CÔtes de Genève pattern, trimming, circular-graining and even hand engraving—one of the specialties of Armin Strom. All of this attention offers each movement, besides its very rigorous architecture that is both modern and respectful of tradition, a level of finishing in keeping with the high aesthetic criteria of the brand.
For Serge Michel—this is his first major adventure into the world of watches—this movement must, above all, help position Armin Strom more precisely in the watchmaking hierarchy.
Situated between the large integrated manufactures and the renowned historic brands, Armin Strom wants to be recognized for what it is today—a high quality brand that, from an aesthetic point of view, is unlike any other and that, beyond its visual identity, can offer an exclusive particularity: an in-house movement produced entirely at the brand's own manufacture. This initiative is even more encouraging since we know that the years to come will see much more tension in the domain of the movement. Armin Strom has certainly chosen the right road to follow.


Source: Europa Star April - May 2010 Magazine Issue