The story of LOCMAN, the independent Italian watchmaker is unique, in the true sense of the word. For a start, its name is always and everywhere spelt out in capital letters, which is unusual among the world's dial names. And it is based on an island … the Isle of Elba, the third largest in Italian waters, renowned for its crystal clear sea, fabulous little beaches, its Etruscan, Roman and Medici remains, and for hosting Napoleon's enforced stay from 3rd May 1814 until his escape on 26th February 1815. Elba became a part of the Kingdom of Italy in 1860.






It was here that Marco Mantovani, the founder of LOCMAN, was born 48 years ago, and where he still lives with his wife Gloria and family and also works, overlooking the Marina di Campo, where the sandy beach is the longest on the island. Fifteen years ago he set up his firm's HQ, technical laboratories, case materials research, quality and production managements, its logistics department and warehouse in this magical place. He is now the island's largest employer and a prominent events sponsor.
Marco has even set up a fish restaurant, Kontiki, next to his office, to entertain his visitors and show them new products after their ferry trip from the Tuscan mainland port of Piombino to the glorious ancient deepwater island port of Portoferraio, and their visits to his four monobrand stores dotted around the island.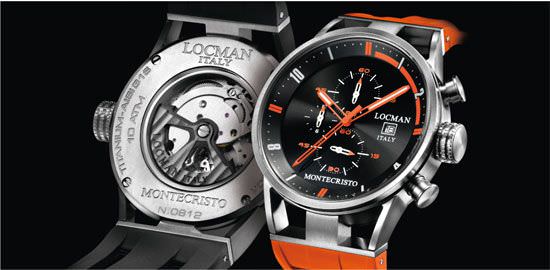 MONTECRISTO


LOCMAN has workshops in Milan, working on its own designs (Marco: "It is the island, its nature and the sea that inspire my designs"), around remodelled ETA movements, under the direction of his sister Caterina, with 30 em-ployees. In 2010, the company will be producing over 250,000 wristwatches and also a range of clocks, with a turnover around ¤ 25 million. In unit terms, LOCMAN might well be the third largest watchmaker in Italy. Caterina also adroitly handles its international media re-lations, advertising and marketing campaigns.
LOCMAN timepieces are now available in most world markets, with over 500 points of sale in Italy and more than 1,200 elsewhere. It has established a flagship store in Florence, of course (in the elegant Palazzo Tornabuoni), and also has an office in New York. Unusually for an independent maker, LOCMAN set up a watchmaking school in 2006. It was at its Scuola Italiana di Orologeria that the Montecristo model was developed, as the brand's first mechanical watch. This automatic piece, named after a small island off Elba, also comes in a quartz chronograph version.
Special attention has been devoted to the adjustable straps on the Montecristo watches. This reflects the fact that Marco started life in the trade as a watch strap designer. He persuaded himself to go into manufacturing after a visit to the Basel Fair in 1986, noting what Breitling was up to.
Innovation in design is now one of Marco's hallmarks. The dials of the ever-cheerful Tuttotondo range reflect the bright Mediterranean colours all around his island home, which he enjoys on his afternoon fishing trips, and his evenings have inspired the darker Stealth collection. The latter are cased in a combination of titanium, carbon and stainless steel, mounted on 'breathable' rubber straps; the latest addition is the slim and elegant Stealth Total Colour model. All model prices start from just ¤ 235. Not bad for 'Made in Italy' designs at their best, and for a still young independent maker definitely going places wherever he sees a market for his Elban timepieces.


A paperback edition of Michael Balfour's latest book, CULT WATCHES: THE WORLD'S ENDURING CLASSICS, is now published (Merrell. London & New York, £18.95).


Source: Europa Star April - May 2010 Magazine Issue