A
fter having re-vitalized a sleeping Concord, making it the spearhead of a type of watchmaking in search of new frontiers, but even before seeing the ripened fruits of his revolution, Perriard took on another task: to give new life to a TechnoMarine that had become too commonplace.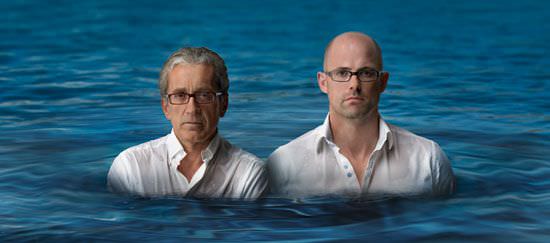 Christian Viros and Vincent Perriard

First, let's take a small trip back into history. At the moment of its launch at the end of the 1990s, TechnoMarine made a huge splash by combining two conflicting worlds: the plastic watch and the diamond. The times were also in a crisis mode—another bubble had burst, not what we are seeing today but that of the Internet, whose bubble crashed and burned in March 2000. At that time, the intuition of TechnoMarine's creator, Franck Dubarry, turned out to be quite profitable: in difficult times, people need colour, gaiety and whimsy. From this standpoint, TechnoMarine came at the right time by creating a watch that was unconventional, iconoclastic, and...affordable.
But after having been a trendsetter, opening the way to many followers, TechnoMarine coasted (very well) on its reputation, without however having succeeded in revitalizing itself. Although times were changing, TechnoMarine was not changing with them. With renewed prosperity, the colours, joy, and plastic began to lose their attractiveness. Franck Dubarry thus decided to sell the company. Under the impetus of Gilbert Hoyon, a business leader from a different world than watchmaking, the buyers of TechnoMarine—Financière Chronos—convinced Christian Viros to come out of his semi-retirement. Named as president, the former wonder boy, who had presided over the spectacular renaissance of TAG Heuer, let Gilbert Hoyon go, and brought in Vincent Perriard.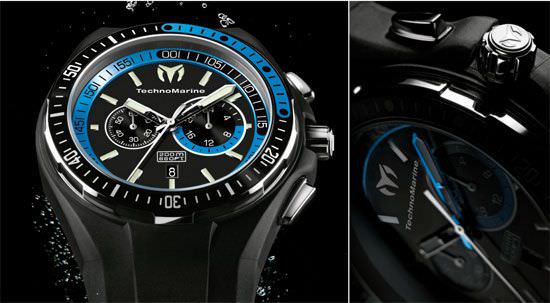 A new face for TechnoMarine


Word of the day: disrupt!
This happened in May 2009. The reason Perriard accepted this challenge, beyond his admiration for the marketing talents of Christian Viros, was that the current economic crisis was well underway, and the two men understood that the price segment in which TechnoMarine was active—between 500 and 3,000 CHF—had been left barren by the frenzied move upmarket by most of the watch industry players, and that this vacancy offered interesting opportunities. In addition, according to their analyses, the players who were left in the mid-range had nothing "sexy, hip or cool" to offer to consumers, explains Perriard.
Seizing upon the word of the day from Christian Viros, to be "disruptive", and remembering that the best way to confront the competition is to make it "irrelevant", Vincent Perriard set about making a number of upsetting changes to the sector. Bringing in new talent (15 people out of a total of 75 have been hired since his arrival, including new directors for products, sales and production) and entrusting mandates to teams of external designers (among others, Mijat, White, Cédric Bellon), he developed a three-stage strategy.

Three-stage rocket
The first stage, BaselWorld 2010, will show an entire facelift, but only a facelift that does not touch the framework of the brand's offer. The existing hundred or so references have thus been "crushed" and replaced by 115 new models. While great efforts have been undertaken as far as the dials (now three-dimensional), the hands and the bracelets (the 'Goldorak' moulded plastic has been replaced by soft silicone), the total interchangeability (bracelet, middle case) of TechnoMarine's chameleon watches has been carefully conserved and even improved.
The second stage will happen at BaselWorld 2011, where the "disruptor" will announce "a real fireworks display". His idea, that he talks about with great relish, is to bring an "enormous amount of visibility" to the brand by "redoing what Dubarry did in the beginning. In other words, beyond the product, create a phenomenon by combining two contradictory worlds and thus filling an empty space on the chessboard of watchmaking."
Promising to "create a clash by turning the world upside down," he wants to give the world of timekeeping what Hennes & Mauritz offers to the field of fashion: limited series, with limited price tags, but clothes signed by well-known and respected names in the industry. In this way, like H&M offers clothes signed by Karl Lagerfeld or Stella McCartney from time to time, Perriard wants to occasionally offer TechnoMarine watches for less than 3,000 Swiss francs that are signed by various great names in the industry. Which ones? For now, mum's the word, but contacts have already been created and are extremely encouraging, he assures us. In the same spirit, he is also preparing special—but always affordable—TechnoMarine timepieces signed by the great names in show business, with proceeds going to an appropriate charity.
The third stage of this rocket is the creation of new collections, from scratch, whose first indications will be shown confidentially at BaselWorld, and carry the code name, Project X. In this case, the goal is to create "cult watches" that, by trimming margins, will demonstrate, for a few thousand Swiss francs, how TechnoMarine can create what others produce for a few tens of thousands of francs. What disruptive chaos this may create, and Perriard is already rejoicing. Project X will be accompanied by two other new propositions of very affordable collections, starting at around 700 Swiss francs.

Filling an empty space at the retailer
If this progressive strategy is oriented towards the consumer, it is also, according to Vincent Perriard, a "blessing" for retailers. In trying to democratize the luxury watch, even the haute horlogerie timepiece, TechnoMarine wants to fill an empty space. "We want to renew relations with well-informed retailers who have nothing in their line-up that is both consistent and has a strong content, all with an affordable price. Our TechnoMarine collections by 'x' will create an extraordinary buzz. They will generate traffic. They will attract a public that would have never crossed the threshold of some stores."
From a distribution point of view, TechnoMarine has immense possibilities. The brand is still totally absent from such key markets as China, Japan, Singapore, Italy and others. "With a new logo, new cool and funky communication, a new complementary offer, one that does not take the consumer hostage, we are already interested in many markets that were pre-viously closed to us. We offer the possibility to have major rotation. It is quite simple," he adds, "Last week, we opened 17 new markets, yes, 17 in one week. Well, I know that this is just the sell-in, and now we have to sell out…"

The king of buzz
Whatever happens, whether he wins his bet or not, the buzz created by the hand of an expert has already started. You have probably heard of the hyper-realistic and troubling video (is it real or is it fake?) that appears on YouTube, which shows robbers filming themselves in a jewellery store, where they scornfully leave watches of the big brands, and instead race for the TechnoMarine. "Some people loved the video but others did not appreciate it at all, saying that we were crazy. OK, perhaps we are crazy, after all," muses Perriard.
But the 'crazy guy' has good reason, personally, to win his bet. He accepted the offer made by Christian Viros because it was not about being a 'good little soldier' but about being an 'entrepreneur' and one who is directly involved in the results of his actions.


Source: Europa Star April - May 2010 Magazine Issue