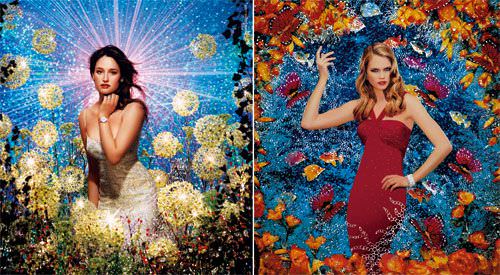 In an enchanted luminous floral décor, amidst a kaleidoscope of form and colour, sylph-like young ladies, ethereally backlit, emerge from the décor in a Klimt-like manner modelling a watch and jewellery. The setting is surprising given that we are looking at the latest Piaget advertising campaign, a brand hitherto associated with more understated, traditional settings.
Conceptualized by the Saatchi & Saatchi advertising agency and created by Pierre and Gilles, two world-renowned contemporary French artists, this eye-catching campaign takes a more modern, flamboyant marketing approach than the conservative secret garden theme used over the last couple of years.
"Our objective with this concept was to create an audacious and extravagant campaign that moved Piaget away from the classicism of the past and yet maintained a link with the secret garden theme," explains Philippe Lepold-Metzger, Piaget's CEO. "In addition, during the nineteen sixties and seventies, Piaget had an imitable style and identity that was instantly recognizable with links to art and famous artists such as Andy Warhol, Dali, Hans Erni and Arman, who created unique pieces for us.
"By working with Pierre and Gilles, we have re-established our historical links with the art world in an original setting and, to accompany this new campaign, we have created a new collection called Possession. Built around a universe of colour and flamboyancy there is a logical synergy between the jewellery, an aesthetic collection of rings, pendants and earrings which we have had for some time now, and the new watches."
With that, Philippe Leopold-Metzger opened an elegant black case, took out the watches and handed them over for a closer look. The watches are in 18 carat yellow or white gold and are an endless variation on a theme – a ring within a ring. A flat gold ring set with a single or several diamonds, on what is actually the watch's bezel, can be rotated around the watch at will, whilst the dials are anthracite, silvered, diamond-set or an elegant pink and are decorated with three looping, inter-connected Arabic numerals - 3, 6 and 9. The name Possession is engraved on the watch's caseband. The various colourful or plain straps are interchangeable via a small simple spring clip that even I could use and each watch comes with a second strap. As anticipated by Piaget, the combinations of white and yellow gold, diamonds and colourful straps gives the collection a very youthful appeal.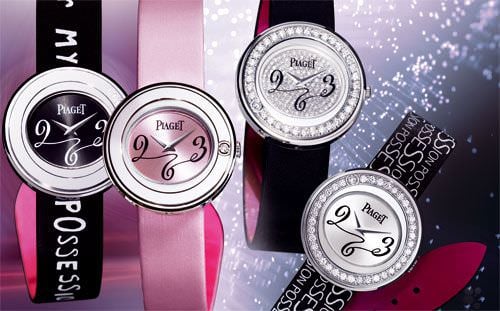 18 carat gold watches set with a single diamond on the rotating bezel. Anthracite and pink dials, interchangeable satin straps.

Left: 18 carat white gold watch with a diamond-set rotating bezel (37 diamonds weighing 0.9 carats) and a diamond pavé dial (164 diamonds weighing 0.7 carats), interchangeable satin strap. Right: 18 carat white gold watch with the rotating bezel set with 37 diamonds (0.9 carats), silvered dial and interchangeable satin strap.


Having admired the pieces for a while, Philippe Leopold-Metzger then asked what I thought the retail price was. Trying to evaluate them was not easy, the only real clue was that if the boss was asking the question, they were certainly less expensive than the brand's normal price structure. Consequently, I proffered a low figure of 6,500 Swiss francs for the white gold model with a diamond-set bezel that had Philippe Leopold-Metzger spluttering, "At that price I could close up shop!"
Nevertheless, the watches are not overpriced considering that they are entirely produced in the Piaget manufacture – which includes the quartz movement. The starting Swiss franc price for the white or yellow gold watch with a single diamond set in the bezel is 4,550; the model with the bezel completely diamond-set is 8,650 and the model with the diamond-set dial and bezel retails at 14,700. The most expensive model has a white gold diamond-set bracelet as well as a diamond-set bezel and dial and retails at 37,700. Given the originality of the model, the excellent workmanship and the original design along with the fact that these are Piaget timepieces, we're talking about an excellent price/value ratio.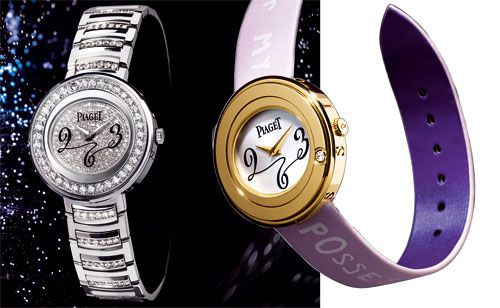 18 carat white gold watch and bracelet set with a total of 333 diamonds (2.9 carats). This model can also be worn with an interchangeable satin strap.

18 carat yellow gold watch with a single diamond set in the rotating bezel, silvered dial and interchangeable satin strap.


"It was important for us to create a watch with an aggressive price and our doubt was that people would think that it was rubbish," Philippe Leopold-Metzger explains. "However, we laun-ched the Possession Collection in Japan in July and thankfully the results have been excellent."
The European launch of the Possession Collection is scheduled for mid-October in Europe and will be available in the Piaget boutiques and in many of the 436 European retailers. The rest of the world will follow later, giving a potential total distribution of 824 retail outlets plus 46 Piaget boutiques.
Vive la jeunesse!


Source: October - November 2005 Issue

Click here to subscribe to Europa Star Magazine.