In March 2004, the Canadian enterprise, ABR Mining, took over the majority of the capital of the famous jeweller, Harry Winston, which was up to then owned by the Winston family. ABR Mining, which has been exploiting three diamond mines in Canada for the last ten years, was looking to expand its mining activities into the cut diamond trade. On the Winston family's side, they wanted the resources necessary to better develop the brand's activities.
The agreement between the two entities was thus concluded based on these objectives. ABR Mining now holds the majority stake in the brand, with Ronald Winston remaining as Chairman of the group and strongly involved in product development and strategic planning. A new management team has been put into place.

Watch division is strategic
Over the last ten years, the Harry Winston watch division has become strategic for the brand, currently representing between 35 and 40 percent of turnover.
Today, Harry Winston Timepieces directly manufactures its cases and bracelets through its wholly-owned subsidiary Hartec, as well as its dials, made by Les Cadraniers de Genève, which it owns jointly with FP Journe and De Witt, the latter a minority shareholder. The brand also develops and assembles its own products, including quality control and logistics.
"We don't want to move too fast," affirms Gianluca Maina, "but it is true that, over time, we want to become a true manufacture. Today, we use principally Girard-Perregaux movements, and sometimes calibres from La Joux-Perret (formerly Jaquet), but we already develop our own additional mechanisms, especially our retrograde indicators with the Geneva watchmaker Jean-Marc Widderecht, as well as special projects such as our latest tourbillon, developed with the watchmaker Peter Speake-Marin. Our idea is, of course, to create our own movement. But, there is the question of critical mass, of quantity…"
Supplementary proof of this ambition: Harry Winston will soon begin construction of a new manufacture at Plan-les-Ouates, close to Geneva. Comprising two wings, one for administration and the other dedicated to production, this manufacture will permit the brand to regroup all of its facilities that today are to be found in various locations. This move will certainly give a new momentum to the watch division.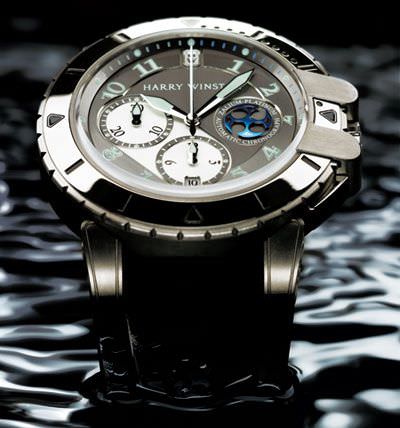 PROJECT Z2 DIVER
Zalium® case (44 mm) , self-winding chronograph GP 31C6 movement with unidirectional rotating bezel in platinum. Slate grey dial, 12-hour and 30-minute counters, date aperture at 6 o'clock, movement running indication by means of the 'Shuriken' at 3 o'clock, glare-proof sapphire crystal screw-down and indexed caseback, black rubber strap with Zalium pin buckle, water-resistant to 200 metres.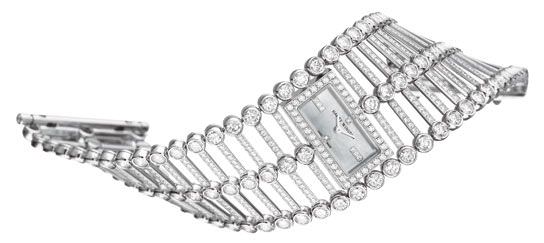 SIGNATURE LACE
Rectangular 18 carat white gold case set with 64 diamonds (0.84 carats), equipped with a quartz movement with corrector on the caseback. Mother-of-pearl dial set with 8 diamonds (0.84 carats), sapphire crystal, 18 carat white gold bracelet set with 557 diamonds (20.71 carats), water-resistant to 30 metres.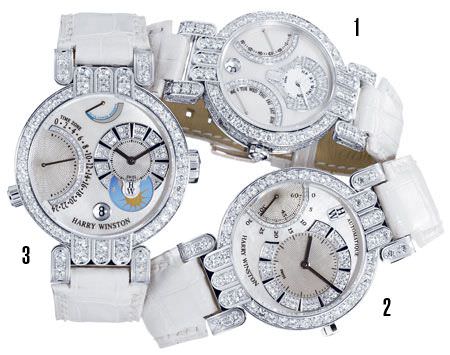 1.EXCENTER BIRETRO
18 carat white gold case (34 mm) set with 189 diamonds (3.83 carats), equipped with a self-winding GP3106 movement with a HW2837 module featuring an open-worked 22 carat rose gold rotor and diamond-polished toothing. Off-centre hours and minutes at 12 o'clock, retrograde displays of seconds at 8 o'clock and days at 4 o'clock. Mother-of-pearl dial with white gold appliqués set with 68 diamonds (0.25 carats), sapphire crystal front and back, crocodile leather strap with white gold buckle set with 29 diamonds (0.19 carats), water-resistant to 30 metres.

2.THE EXCENTER
18 carat white gold case equipped with an automatic GP3106 movement with a HW2811 module. Bezel and bracelet attachments set with 50 diamonds (2.90 carats), mother-of-pearl dial, counters set with 81 diamonds (0.27 carats), sapphire crystal, crocodile leather strap with folding buckle, water-resistant to 30 metres.

3.EXCENTER TIMEZONE
18 carat white gold case (39 mm) set with 54 diamonds (3.11 carats), equipped with a Jaquet 7060 mechanical movement with a HW2821 module, 5-day power reserve, gear train with no backlash, for greater precision of the hour and minute display (world first). Mother-of-pearl dial, counter set with 60 diamonds (0.14 carats), date at 6 o'clock, day/night indicator indexed to the first time zone set below the hour and minutes ring, power reserve indicator at 12 o'clock, second time zone on a 24-hour, retrograde counter on the left of the dial, screw-in push-piece at 8 o'clock for setting the second time zone. Sapphire crystal front and back, crocodile leather strap with 18 carat white gold folding clasp, water-resistant to 30 metres.


A true watchmaker
Yet, with more than 3,800 pieces produced per year, of which 48 percent are technical watches, it is quite clear that Harry Winston has already come a very long way for a 'jeweller'.
On a qualitative level, Harry Winston has been able to establish itself little by little as a 'veritable' watchmaker, one that is inventive, innovative, and that has created certain models that have nothing to envy of the largest 'legitimate' watch brands.
One has only to think of the latest piece in the Opus collection, the Opus V realized for Harry Winston by the young Félix Baumgartner, which is without a doubt one of the most innovative mechanical watches to see the light of day over the last few years.
"We are taking a small break," explains Maina, "and this year, we will not be presenting an Opus model. We must say, however, that it is difficult to be as radically innovative as the Opus V, but we are working already on a new Opus for 2007. There are other creative adventures, as well, such as the series of watches made of 'zalium', an alloy created by Ronald Winston himself. The Z1 and Z2 models have already sold out."

Haute Joaillerie still the core business
"Having said this," adds Mr Maina, "we are not forgetting that our core business is haute joaillerie. And, in this domain, too, we still have a lot to do in the way of integrating our mechanical pieces into our ladies' haute joaillerie timekeepers. The demand is there. Women are increasingly attracted by mechanical watches. In this sense, there is a correlation between the 'forever' aspect of a diamond and the long-term durability of the movement…"
This convergence between jewellery and watchmaking is one of the major directions that the brand's management is following. This effort is also reflected in its communication and marketing. "We have to unite two cultures," adds Maina. "Our great diamond specialists must acquire a watchmaking culture, and our great watchmakers must acquire a jewellery culture. We need to create new synergies within the company."

Openings to come
On a business level, one of the company's priorities is developing the network of Harry Winston boutiques, which are the only stores permitted to sell the brand's jewellery. Today, there are nine stores around the world, located in Taipei, Tokyo, Osaka, New York, Los Angeles, Las Vegas, Miami, Paris and Geneva, while new openings are planned for the end of 2005 and 2006 in Hawaii, London and Hong Kong. Further openings will follow at the rate of two to three per year.
As for the brand's watches, they are sold through a network of 140 sales points throughout the world, managed by subsidiaries (Dubai and New York are managed from Geneva via the Harry Winston headquarters), or distributors (Hong Kong, Taiwan, Japan, Italy), or directly by the Geneva headquarters, which now employs 80 people, compared to only ten in the year 2000.
An impressive road rapidly covered, along which, without doubt, Harry Winston will continue. Haute Horlogerie must be more and more aware of Harry Winston.


Source: October - November 2005 Issue

Click here to subscribe to Europa Star Magazine.