Since 1974, RenÉ Attias has led two lives. In the first, he is a recognized watchmaker and designer, who practices his art at the crossroads of technology and watch design. Among his most notable achievements are the participation in the creation of the French brand, Younger & Bresson, the launch of his own brand, Kamatz, and the collaboration with Breitling. In his second life, RenÉ Attias is an aviation buff. He obtained a flight certificate in 1975, followed by a professional pilot's license in 1980, and has been a flight instructor since 1986.
Where these two lives intersect, it was only natural that Attias should create a new brand called Navitec.
In the beginning, Navitec specialized in navigational chronographs. Highly regarded by pilots is his onboard professional chronograph, the Navitec T1, designed to facilitate the reading of time and elapsed time. One innovation, in particular, has been responsible for its success. Its graduated and interchangeable technical bezels allow for the easy calculation of the 'basic factors' (BF) of an aircraft, including flight speed expressed in units of time over a given distance, thus simplifying the calculation of the estimated time of arrival (ETA). The graduated bezels thus provide a great service to pilots.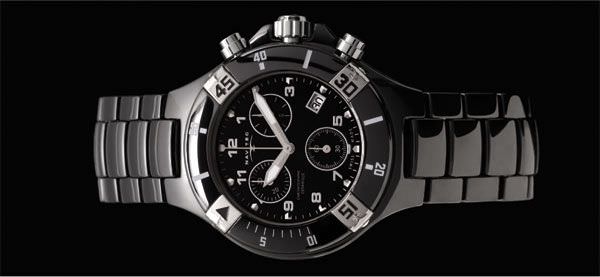 TANGO CÉRAMIQUE NOIR


From technique to fashion
When RenÉ Attias' son David joined Navitec, the two men decided to "transform their navigational chronograph into fashionable timepieces". This resulted in the birth of the Tango Charlie line of watches that combine technical functions—they also have the graduated interchangeable bezels—with refined cases in steel, gold, or ceramic, with or without diamonds.
"Don't they say that an airplane flies better when it is beautiful?" says RenÉ Attias with a mischievous smile when asked why he is now selling his products to the public.
Composed of five basic models available in more than 60 versions, Navitec's Tango Charlie watches are delivered with five interchangeable and graduated bezels (60-minute chronograph; VS 80-90; VS 100-110; VS 120-130 and VS 140-150 that permit estimated flight times or estimated times of arrival for different types of aircraft flying between 80 and 150 knots, or even on ultra light aircraft flying between 80 and 150 kilometres per hour). The basic bezel is, depending on the option, decorated with four cavaliers in gold, steel, steel and diamonds, or in gold and diamonds.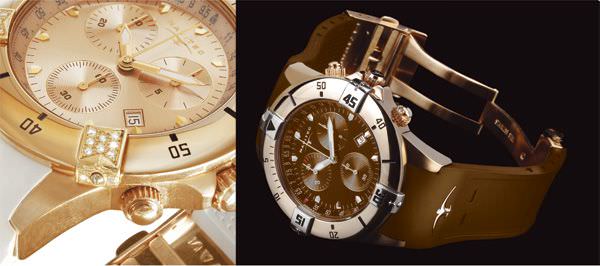 TANGO CHARLIE ROSE DIAMONDS and TANGO CHARLIE ROSE CHOCOLAT


The Tango Charlie Rose, for example, perfectly integrates a rubber strap with its rose gold case and bezel. The recent Tango CÉramique Noir introduces, as its name indicates, ceramic for its case, 60-minute bezel, and bracelet. Set with diamonds, in the 'Rose' and 'Diamond' versions, the Navitec nearly loses its technical identity to become a delicately feminine timepiece.
As a talented designer, RenÉ Attias has created forms that are both pure and slender, with rounded horns, screw-in and protected crowns, as well as metal bracelets or rubber straps that work well with the cases. All the current models are equipped with ETA quartz movements (a question of precision and re-liability), but automatic mechanical calibres should soon see the light of day.


Source: Europa Star December-Januar 2008 Magazine Issue