www.worldwatchweb.com - The Peter Tanisman brand, which launched in the watch industry in 2008, stands out in the market with timepieces designed like jewellery.

Founder of the brand, Peter Tanisman has had a passion for beautiful objects since his childhood. He grew up in Istanbul where he gained his experience working in his father's workshop and then with the goldsmiths and jewellers of the famous Grand Bazar. He settled in Geneva almost 30 years ago and made a name for himself making jewellery and watch boxes for the industry's big brands. At the same time he started to sketch watches and dream about his own brand. His meeting with Alain Cao, watchmaking expert, was a determining event. The rest was to follow shortly after with the creation of the brand in October 2008 and the first timepieces - seven models in five different versions - that were presented on the market.


Signs of distinction
The main characteristics of Peter Tanisman's timepieces are that they have a highly studied design and a multitude of original features. Round, square or rectangular, the cases, which are made in-house, all have their own personality. Cut off corners, surface treatments and interestingly placed crowns, and in particular, bracelets and integrated indexes make a noticeable difference. The 12 and the 6 of the feminine Hera are outlined against the open worked case, conceived to be slipped on a galuchat strap.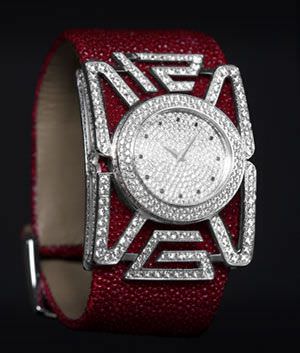 "Hera"

The Novateur model has a rubber strap with Arabic numerals moulded on to it that fit into the bezel like a puzzle. The dials, with their graphics and colours which out do each other in subtlety, are mostly noticed for their patented hands: circles, squares, triangles, wheel shapes and spiders. Peter Tanisman's distinctive watches are equipped with Swiss Made quartz or mechanical movements, some of which are duly decorated and can be admired through sapphire crystal case backs. The manual winding mechanical mechanism of the Graphica appears under a sophisticated dial constructed on two levels.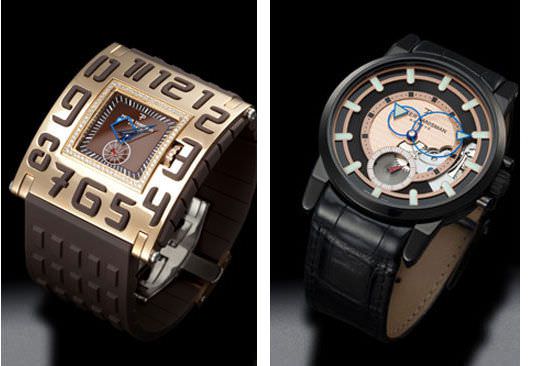 "Novateur" and "Graphica"

Personalised Carrousel
Nominated in the "Ladies' Watch" category at the latest Grand Prix de l'Horlogerie de Genève, the carousel timepiece is a rectangular watch, slightly curved and conceived to delight the ladies. It consists of a mobile cylinder, which is fun and can be personalised with a choice of materials, gem settings, engravings, miniature paintings and so forth. The choice of decorations is limitless. The presentation model is in red gold, is set with 552 diamonds (12.76 carats) and is equipped with an automatic movement and calendar.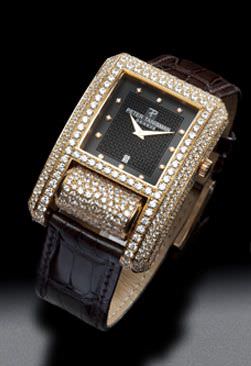 "Carrousel"


HIGHLIGHT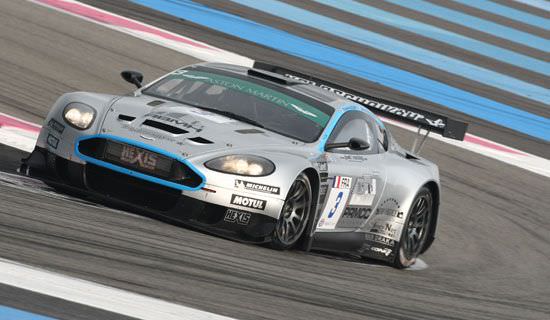 An Aston Martin in Peter Tanisman's colours
Close to his stand at the GTE, Peter Tanisman will be exhibiting an Aston Martin DBRS9 in the brand's colours following the recently signed agreement with Thomas Accary. This official Aston Martin racing car driver drives a DBRS9 on the circuits of the European Championship GT3 FIA. In 2010 he will be ambassador for the watchmaking brand. It is fortunate that such an ambassador, who will be wearing the colours of the brand, is also a friend. His victories include the titles of Vice Champion in 2008 and 2009.

Peter Tanisman will be exhibiting at The Geneva Time Exhibition from January 17th to 22nd at Geneva's International Conference Centre (CICG), 17 rue de Varembé (near the United Nations), from 8:30 to 20:30. Stand G1.
For further information: www.geneva-time-exhibition.ch

www.peter-tanisman.com
Contact:[email protected]