Founded in 1860 by Jacques Didisheim in Saint Imier, Juvenia finally established itself in La Chaux-de-Fonds where it remains today. One of Switzerland's leading exponents of luxury watch design, Juvenia is also one of the few Swiss watch companies to have manufactured watches without interruption since its creation.
Today, the brand is in the hands of the Hong Kong group Asia Commercial Holdings Ltd., which has two main activities: a retail distribution network and a chain of retail stores in China; and Juvenia.
"The retail network in China is called Time City," explains Martial Leuba, the brand's CEO. "These are high class stores and represent various prestige Swiss brands such as Vacheron Constantin, Cartier, Omega and, naturally, Juvenia our own brand. We have also opened a Juvenia boutique in Shenyang in December of last year and we will be opening others in Shanghai, Beijing and Hong Kong later this year.
"As to Juvenia, we are in the process of developing the brand in the Far East in general. We opened a subsidiary, Juvenia Hong Kong, in October 2003 and our present marketing strategy is to reinforce our position in the markets where we are strong – the Far East and Middle East – and to attack other markets at a later date.
"Because of the high image of the Juvenia brand in the Far East, our product strategy remains the same as in the past – to offer products only in gold, stainless steel or steel and gold," Leuba concludes.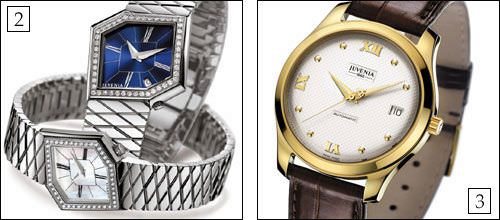 1. MYSTèRE
18 carat gold skeleton watch set with 48 diamonds. Equipped with an extra-thin mechanical movement chased and decorated by hand, it has sapphire crystals front and back and is water-resistant to 30 metres.

2. EXCENTRIQUE
Stainless steel curved case equipped with a quartz movement. Silver blue, or mother-of-pearl dial, painted Roman numerals and indices, asymmetrical hands, water-resistant to 30 metres. Available with or without diamonds on the bezel, date aperture on the men's model.

3. RETRO AUTOMATIC
18 carat rose gold case equipped with an automatic movement. Silver dial with raised Roman numerals and eight indices, date at 3 o'clock, transparent caseback, crocodile strap, water-resistant to 30 metres.


Source: Juvenia Press Release

www.juvenia-swiss.com
Contact: [email protected]

(Please Credit europastar.com)