Walca SA is celebrating its 30th anniversary. The specialist for custom-built private brands is one of the market leaders among Swiss private-label watch manufacturers. The anniversary is being commemorated with an exceptional donation to the Château des Monts watch museum in Le Locle.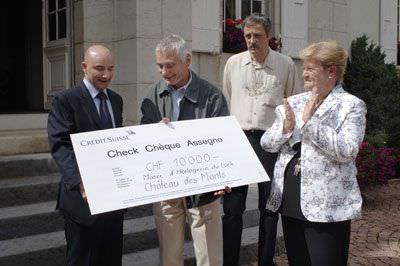 Presentation of the giant cheque to the curators of the Château des Monts watch museum in Le Locle – from left to right: Romeo F. Jenny - Managing Director Doxa SA, Gérard Triponet - President, Pierre Buser - Curator, Dora Huguenin - Vice-President.

The year 2006 sees the 30th anniversary of Walca SA, whose headquarters is in Biel-Bienne, Switzerland. The company was founded in 1976 by Peter P. Jenny and is specialized in the manufacture of custom-built watches for private brands, especially wristwatches in the middle and upper price segments. "In three decades we have developed into one of the most important Swiss watch manufacturers in the private-label sector," says Peter P. Jenny, President of the Board of Directors. Walca employs a staff of 50 in Switzerland. The Far East is taken care of by the branch in Hong Kong, founded in 1994.

An all-round company in the watch trade
Walca SA maintains an all-encompassing infrastructure and its own design department. From concept, design and creation right up to full production, the watch manufacturer offers everything to its customers. Watches are developed in collaboration with customers, from prototype to series-production-ready timepiece. "This complete and individual service, plus our technical support and our watchmaking skills are decisive factors in our success," affirms Peter P. Jenny. In keeping with this, the slogan of Walca SA is 'Innovation, Discretion and Reliability'.

Homage to the art of watchmaking
The Jenny family has been active in the watch trade for several generations. Apart from the primary business of manufacturing private-label watches, the tradition-rich brand Doxa has belonged to the group since 1997. Founded a century ago in Le Locle by Georges Ducommun, Doxa is distinguished by its spirit of innovation and top-quality Swiss watchmaking artistry. In homage to the founding history of Doxa, the Walca and Doxa staff together with guests invited from home and abroad visited the Château des Monts in Le Locle. At the beginning of the 20th century, Doxa founder Georges Ducommun acquired this venerable building as a home. Today a watch museum, it belonged to the family until 1954.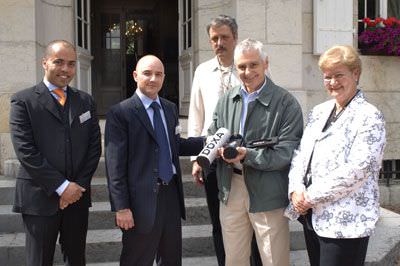 Presentation of the Doxa Diver's Chronograph Automatic Sub600 T-graph (Limited Edition) to the curators of the Château des Monts watch museum in Le Locle – from left to right: Rick Marei - Marketing Manager Doxa SA, Romeo F. Jenny - Managing Director Doxa SA, Pierre Buser - Curator, Gérard Triponet - President, Dora Huguenin - Vice-President.

Romeo F. Jenny, Managing Director of Doxa SA, presented the watch museum curators with a Doxa diver's chronograph from the world-famous SUB collection, and made a donation of money in the form of a giant check. "This gesture is a way of emphasizing our close connections with the art of watchmaking", declared Peter P. Jenny.

Source: Walca SA

www.walca.ch

Contact: [email protected]