Miami Vice, as a large-scale feature film, liberates what is adult, dangerous and alluring about working deeply undercover. To help reflect the new modern style of both Miami and Miami Vice, the film opted to include two IWC timepieces, the IWC Portu¬guese Chrono-Automatic and the IWC Aqua¬timer Split Minute Chrono-graph.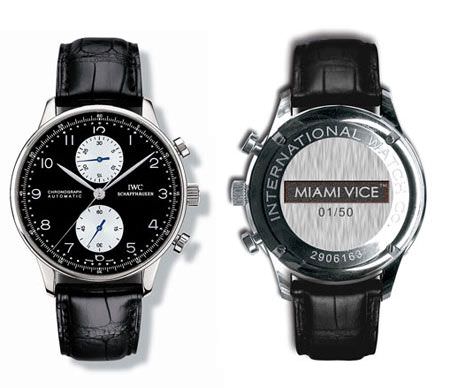 IWC Portu¬guese Chrono-Automatic

Academy Award® winner, Jamie Foxx, as urbane and street smart Ricardo Tubbs, was suited with the IWC Portuguese Chrono-Auto¬matic for most of his daytime scenes. With its large sleek dial, black face and silver sub dials, this watch proved to be the perfect fit in helping Miami Vice transition to its new modern look and feel.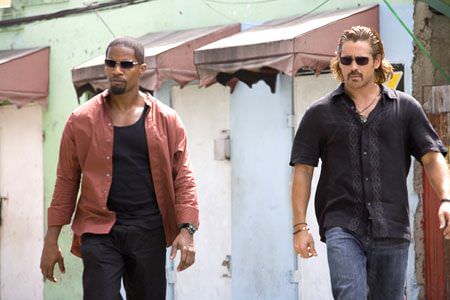 Jamie Foxx and Colin Farrell as Ricardo Tubbs and Sonny Crockett

For most of the film's night time scenes, Jamie Foxx, as Ricardo Tubbs, wore the IWC Aquatimer Split Minute Chronograph. With its luminous elements, clearly laid-out dial and the lightweight tita-nium case and bracelet, the Aquatimer was ideal for the sweltering days and nights on set as they shot in exotic locations such as Para-guay, Uruguay and the Dominican Republic.

About International Watch Company:
Founded in 1868 in Schaffhausen, Switzerland by the American F. A. Jones with a pioneering spirit, IWC is one of the world's most successful watch manufacturers. IWC sets the standard in techno-logical development and highly sophisticated precision watch mak-ing. Their excellence has earned them many cele¬brity devotees who wear their IWC watches to complete a film-character's attire.

About the film:
The cocaine cowboys of the '80s are gone, but Miami's Casablanca allure, the underco¬ver cops and the attitudes of Michael Mann's cul¬turally influential television series have been enhanced by time in the feature film version of Miami Vice.

Ricardo Tubbs (Academy Award® winner Jamie Foxx of Ray, Jar-head) is urbane and dead smart. He lives with Bronx-born Intel ana-lyst Trudy, played by British actress Naomie Harris (28 Days Later, upcoming Pirates of the Caribbean II and III), as they work under-cover transporting drug loads into South Florida to identify a group responsible for three murders.

Sonny Crockett (Colin Farrell of S.W.A.T., The New World) [to the untrained eye, his presentation may seem unorthodox, but proce-durally he is sound] is charismatic and flirtatious until - while un-dercover working with the supplier of the South Florida group - he gets romantically entangled with Isabella, the Chinese-Cuban wife of an arms and drugs trafficker. Isabella is played by the Chi¬nese actress Gong Li (Raise the Red Lantern, Memoirs of a Geisha).

The best undercover identity is oneself with the volume turned up and restraint unplugged. The intensity of this case pushes Crockett and Tubbs out onto the edge where identity and fabrication become blurred, where cop and player become one - especially for Crockett in his romance with Isabella and for Tubbs in the provocation of an assault on those he loves.

Miami Vice, as a large-scale feature film, liberates what is adult, dangerous and alluring about working deeply undercover… espe-cially when Crockett and Tubbs go to where their badges don't count. Miami Vice stars Colin Farrell, Jamie Foxx, Gong Li, Nao-mie Harris and Ciarán Hinds and is written and directed by Michael Mann, who also produces along with Pieter Jan Brugge; Anthony Yer¬ko¬vich serves as Executive Producer.

Source: IWC North America and Bismarck Phillips Communication & Media

www.iwc.ch

Contact: [email protected]
(Please contact europastar.com)