The watchmaking brand Cecil Purnell chooses the Jura to establish its technical and manufacturing hub. Fusion of three passionate men for watches, this name is already well-known in Asia, Middle East and the United States.

Three entrepreneurs with one unique passion. Jonathan Purnell and Stéphane Valsamides travel worldwide as the brand's ambassadors, while Marcel Lachat performs in his workshop aiming at the perfection of the complicated movements and their finishes. Their complementarities allow Cecil Purnell to forecast an annual production of several hundreds of pieces and to be able to meet with each specific, mechanical request.

To pay tribute to his forefather Cecil Purnell, infatuated with complicated watch movements, Jonathan Purnell, the visionary, decides to perpetuate his grandfather's admiration for the watchmaking art and mechanical marvels. Stéphane Valsamides, the purist, brings his visions of perfection. Having travelled worldwide for other well-known brands, they have both built up an excellent network of contacts and are familiar with the specific requests of demanding clients. Marcel Lachat, the gold finger watch-maker, who detains the know-how in the art of watchmaking and secrets of complicated mechanisms, gives them the possibility to realize their visionary pieces and collections.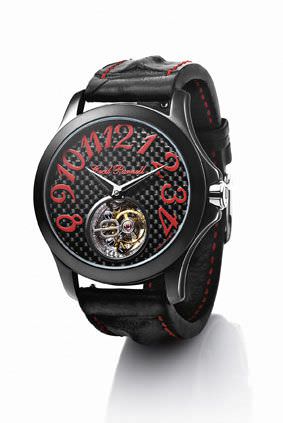 Carbon Fiber (Sporty Collection) –Ref. 20230PVD.11BR

Classic, sporty, high jewellery or in special limited editions, Cecil Purnell's timepieces have a strong design, easy to recognize, a case which can take a large variety of fine dials, with a cut-out opening at 6 o'clock for the pleasure of gazing at the beauty of the movements of the tourbillon's heart and a segment of their interior treasures. The sapphire crystal back of the case allows you to appreciate its careful and fine finishes, such as "Côte de Genève" design, blueing of the screws, beading and subtle, minute filing. Produced traditionally, the materials used are noble ones and from the best origins, either in stainless steel 316L, PVD, pink gold RN18 or white gold (150). The same criteria apply to the dial's mother-of-pearl and the selected diamonds set on high jewellery watches.

These symbols of "Haute Horlogerie" are tested in the workshop for a full period of 15 days, in 5 different positions, before being brought out to their aficionados and ready to conquer new markets. Furthermore, it goes without saying that Cecil Purnell perfectionist efforts contribute to the highly technical reputation of the art of Jurassic watchmaking.

Tribute to Cecil Purnell

Like a dedication to perpetuate the memory of a dear departed relative, the brand Cecil Purnell owes its name to Jonathan Purnell's grand-father. Almost a century ago in the
neighbourhood of Besançon, while recovering from the martyrdom of ill treatments during the war, Cecil Purnell falls in love with the art of watchmaking, its fascinating techniques and mechanical marvels.

The man, curious and passionate for its magic, settles down in the "Vallée de Joux" nurtured with a special interest for Abraham Louis Breguet's tourbillon movement, supreme symbol of interior sophistication and incomparable mastery.

From Cecil Purnell nothing more than a strange, faded, black and white photograph
survived. His grand-son decided to devote his passion, inherited from his ancestor, and build around his name more than just another history of a watchmaker : collections of watch models bearing the excellence strictly loyal to an open-minded perfectionist.

This touching tribute also implies the duty to offer to as many people as possible the values of the best and to also hoist the colours of the brand's reputation to the firmament of "Haute Horlogerie"…


Source: Cecil Purnell (TàG Press +41)

(Please credit europastar.com)