Glam Rock gives the distribution of its watches to Binda Group (Breil, D&G Time, Wyler Genève and other brands) for the Italian and North America markets.
The agreement reflects the development strategy of Glam Rock brand based on the market internationalization through collaborations with local selected distributors and on the brand consolidation in the fashion-luxury segment thanks to strategic targeted agreements in the markets where the brand is already present.

Consistently with the brand positioning, starting from September, Glam Rock watches will be distributed by Binda USA LLC through important department stores and high-end specialty stores in USA and Canada.
In Italy, where Glam Rock is already present in about 200 prestigious jewelleries and watch boutiques, thanks to this agreement, the distribution channel (up to now directly run by Glam Rock) is entrusted to Binda Group starting from September.

"As a result of Italian creativity but born in the USA, Glam Rock has immediately imposed itself in the international boards" says Enrico Margaritelli, Glam Rock's President. "Since the beginning, we have highlighted the brand fashion-luxury identity through consistent and targeted decisions about the product characteristics – addressed to a sophisticated consumer – and the selected distribution. Binda Group represents a precious ally to promote Glam Rock growth in the strategic markets like Italy and North America are.
I believe that its dynamism and enthusiasm are the most important conditions to face the most ambitious product and market challenges".

"The present distribution agreement represents a further important step in the process of strengthening our presence in the Italian and International market" states Marcello Binda, Chief Executive of Binda Group "We have chosen Glam Rock because we share the same view that considers innovation as main contribution to the success of a brand. Like the other Group's brands, Glam Rock is dynamic and innovative and therefore has a strong appeal both in Italy and abroad. The product can satisfy – thanks to technical excellences and high care for details – demanding fashion consumers' expectations. Besides it is the ideal complement to our product portfolio in the haute de gamme market segment, where we already are present with Wyler Genève watches".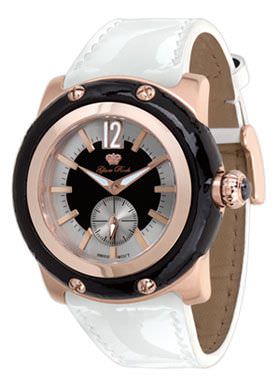 Glam Rock watches feature a price range from 400 to 3000 euro and are positioned in the fashion-luxury market with an offer of timepieces addressed to a demanding consumer that shuns homologations and cares for details and fashion trends. The brand expresses a chic and bold lifestyle through evolving collections that will soon be completed with new product lines.

GLAM ROCK watch concept was born in Miami in 2005, by Enrico Margaritelli and Isabelle Maujean, in response to a marked tendency in the luxury market for combining design, technical, functional and aesthetic elements.
The greatest care is taken in making Glam Rock timepieces, assuring excellent quality in each minute detail and boosting the personality of each unique watch. The glamorous look can be easily modified with a swift change of a strap or bezel, allowing a watch to evolve with seasonal fashion trends while also respecting the strict rules of the watch tradition.
The first Glam Rock watch collection, inspired by the sparkling and lively Miami lifestyle, introduces a sophisticated and elegant mood through refined unisex timepieces.
In June 2006, when Glam Rock can already count on its commercial offices in Italy and USA, Glam Rock watches are introduced in Italy, as an European preview. The opening to the Swiss and Spanish market have followed soon.
After only 9 months from the beginning of the distribution, Glam Rock takes part of the prestigious Baselworld. After the fair, Glam Rock is launched in important markets like Middle and Far East, Latin America while confirming its increasing presence in Europe.


Binda, one century years old Milan company (owner of Breil Milano, Breil Tribe and Wyler Genève brands) was born in 1906 in a small village of Lake maggiore, where innocente Binda, an enterprising twenty-year-old, opens a small watch store in Besozzo.
In year 1932 begins the sale and distribution of Wyler Vetta watches, thus marking the fundamental steps of the watch history.
The year 1935 gives birth to Breil brand that, after the new launch in 1994, thanks to the famous claim of its well knwon advertising campaign reaches a great success while getting the leadership in the market. In 1997 Binda becomes distributor of Seiko and Lorus, two of the most familiar brands worldwide. The year 1999 marks a further success: sport watches become one of the lines distributed in Italy by Binda thanks to Nike Timing.
In 2000 they begin producing and distributing internationally D&G Dolce & Gabbana Time under license agreement and in 2001 the first Breil jewel line is launched. It is the first important step toward the creation of a Breil life-style.
In 2003 there is the presentation of the first leather Breil collection, followed in 2005 by the production of D&G Jewels and Trudi Jewels, besides the opening of a subsidiary in Miami, one in Germany and one in China. In 2006 it's the launch of Breil Milano fragrance line. In 2007 Breil Milano Eyewear and Paris Hilton Watches further enrich the brand porfolio.
Binda Group currently distributes its products in more then 50 countries and is present with its subsidiaries/production units in USA, Spain, Portugal, Germany, China, Switzerland, Hong Kong. It totally employ 350 people. The total turnover in 2006 was 253 milion Euro.

Source: Glam Rock
www.glamrockwatches.com
Contact:[email protected]

(Please credit europastar.com)