M
ohammed Abdulmagied Seddiqi, is the Chief Operations Officer of Ahmed Seddiqi and Sons, and he works closely with his father and his uncle. His grandfather, the founder, is recently retired. Dubai today is one of the fastest developing countries in the world and International Editor Keith W. Strandberg caught up with this family business to find out why it is growing so quickly.







ES: How's business?
MAS: Our peak season is October to May. It is really only July and August that are slow. We've expanded a lot recently. The overheads are more, the responsibility is more, more showrooms, more stock, more employees. Business has been improving steadily. The President of Dubai has really been pushing the city and that helps us to have better business. The security is very good. It all helps, it's like a full package and it helps business.
Ahmed Seddiqi and Sons has 34 showrooms in the U.A.E., ranging from multi brand stores to single brand boutiques. The Dubai Mall is an exciting project currently in the works, estimated to be the biggest mall in the world with 12 million square feet. By mid-2008, we expect to have several points of sale here.

ES: What is the secret of your success?
MAS: Trust. The trust we have had with our end consumers for the past 50 years. We have multi-generational customers shopping here. Loyalty and service is also very important. We are classic, yet still quite modern. The way we work with our customers, the relationship we have with them - we want to keep our customers loyal and treat them as friends, not just as customers. We want to build up the knowledge base here, so people learn about the watches and appreciate them.

ES: What do you do differently from other retailers?
MAS: We have our own after-sales service based in Dubai and our staff regularly travels to Switzerland to get their training. We always have staff on the move to get all the necessary training for the company.
We try to have the maximum number of models from the brands available all the time. Apart from great service, we try to have the full collection available, as Dubai is a very big tourist destination. We have our employees go to the fairs, so they know what is new and what is hot. If a customer comes in, we like to have the knowledge to deal with them. We want to give them the extra information and service they can't get anywhere else. These are the small things that make a big difference to our customers.

ES: What is your relationship like with other retailers?
MAS: We have a very good relationship with everyone. There is competition, but my father and my uncle always had the concept of being like a big family and supporting everyone else. It's all neutral, which is good.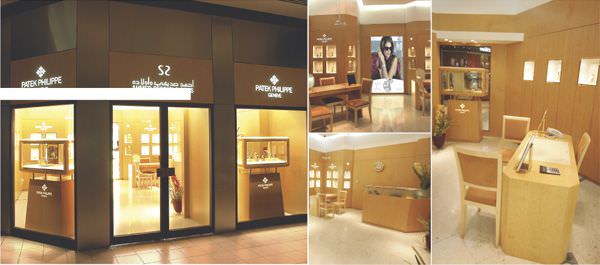 ES: What do you like about your job?
MAS: I love watches, first of all. It's not because we've been in business for so long, I just love watches. I like to go to the showrooms in the evenings to stay in touch with the customers, to know what they like and what they don't like, so I can order better. Sometimes, I just talk to my customers for hours about watches.

ES: What don't you like?
MAS: I really enjoy everything. I don't like the fact that I can't spend more time with my wife and sons. When my wife realizes I am busy, she comes to the showroom to see me.

ES: What is the biggest challenge facing your stores right now?
MAS: The biggest challenge is to follow up with the customers as the showrooms are expanding. We have customers spread out all over, and it's hard to stay in touch with them personally. Now that we are opening more showrooms, we have to have dedicated staff and that means more training. I get along well with my staff. As long as there is no tension, they will listen and learn more.

ES: What is the biggest challenge facing the watch industry right now?
MAS: There are so many watch companies right now, the challenge, apart from being creative, is that you have to have a good history behind you. Companies such as Patek Philippe or Audemars Piguet don't have any worries, but the new companies are trendier; they might hit the market for two to five years, then they are over. That's a bit scary.
We are working with some new companies, but we already have so many brands. We have almost 50 in total, and it's enough to handle all those brands.

ES: How do you market your stores?
MAS: We have our marketing department. We have corporate advertising in magazines and on billboards, as well as co-operative advertising with the brands. We don't do any television advertising, we used to do it before but we don't anymore. We concentrate on magazines, newspapers and billboards.

ES: What do your customers look for in a timepiece?
MAS: We have many different types of customers. Some are looking for a talking piece, which they can show off to their friends. Other customers want to buy a watch as an investment or pass it to the next generation. Some people go for the trends, because they saw someone with this watch on and they want it as well. Then, we also have some collectors who just like to have everything. It's a nice mix.

ES: How important is security?
MAS: We had a big robbery last year, we were hit in two showrooms in the same day. The Dubai police were able to catch them in less than a week and we were able to get all the products back. We have improved security and increased it because of these incidents. The police have increased their security in the malls as well. We don't have armed guards. Our store doors are open the whole time, from 10 to 10. It is important to have the door open all the time, people are used to this kind of system. They feel welcome.

ES: Are you optimistic about the future?
MAS: Yes, I am. Dubai is growing, the watch industry is growing, the models are getting better, a lot of people are appreciating watches more and more, compared to five or ten years ago. I think the future is looking very bright.

ES: What is your favourite watch?
MAS: I love the Patek Philippe Nautilus, but I still don't have one because I have given priority to my customers. I don't mind waiting, good things are worth waiting for.

Many thanks to Mohammed Abdulmagied Seddiqi for taking the time to speak with Europa Star.