T
he rattle and purr of engines, groaning suspensions, a smell of petrol that hangs in the air, a scent of castor oil drifting along an earth road, a reassuringly stubborn gearbox. The Mille Miglia is all this. Most of all, though, it is an event that travels back in time. An event which, year after year, brings a country together.
Yes, the Mille Miglia does one thing and it does it well. At a time of widening generation gaps and polarising causes, bringing people together is no small task, but the race has been accomplishing exactly that since it was first run in 1927.
The Mille Miglia in 1950. Fraught with danger, the race was popular with Italians from its earliest editions. After a more than twenty-year hiatus, it was re-established in 1977 as a test not of speed but of regularity.
Some might say that only the super-rich can drive classic cars worth millions flat-out through the Italian landscape, leaving a trail of carbon emissions and arrogance in their wake. This stereotypical view of vintage rallies is as misguided as the belief that electric vehicles are the solution to global warming. The Mille Miglia is anything but that – something I can confirm, for having taken part.
The Kiss of Death: in this famous photograph from 1957, the Mexican actress Linda Christian kisses her beau, the Marquis de Portago, for the last time. Moments later he was killed, along with his co-driver and nine spectators, when a tyre on his car burst at 150 mph.
Thanks to Chopard, which has been sponsoring the race since 1988, I had the immense good fortune to participate in this historic cavalcade, regularly swapping my navigator's seat for the Bakelite steering wheel of a to-die-for sports car as we sped through Italy's timeless vistas.
A race through time
Since 1927, the legendary Mille Miglia has brought the entire country together. Raced on open roads, it forms a thousand-mile (mille miglia) loop the length of Italy. At the starting point in Brescia, 443 cars congregate behind carabinieri whose motorcycles clear the way, signalling that red lights and traffic laws are no longer a concern.
The Mille Miglia is not just about the cars. It is about the Italians themselves. This is their race. At every point along the way, entire families set up chairs and folding tables by the roadside, wave flags and, more often than not, open a bottle of grandpa's limoncello in honour of this almost century-old event. Children might even be given a day off school for the occasion.
Our car: a 1950 Fiat 1100 Coupe with Pininfarina bodywork.
There is something uniquely heartwarming about the excitement and exhilaration the event generates. Tiny villages, dots on the map that are unlikely to feature in any travel guide, come to life and it dawns on me that the Mille Miglia is no ordinary car race. Restaurant owners haul tables onto the pavement, mayors hand out local produce to competitors, farmers stop their tractors in ditches to watch these wheeled time capsules peel by until late into the night.
Elegant carabineri clear the way for competitors... and willingly pose for photos.
From the time the Mille Miglia was created, the greatest names jostled for victory, but as the number of fatalities mounted and drivers risked all, the decision was taken that the 1957 race would be the last. Twenty years later, in 1977, it was revived not as a test of speed but as a regularity race, open to cars made between 1927 and 1957, or which competed during those years. They are another reason the event creates such a sense of unity: a vintage car stirs memories among older spectators and holds little ones in awe.
The sight and sound of these beauties, our Fiat among them, triggers emotions and takes us back to a time and place - Italy in the 1950s - that we imagine bathed in innocence; the embodiment of an era of elegance.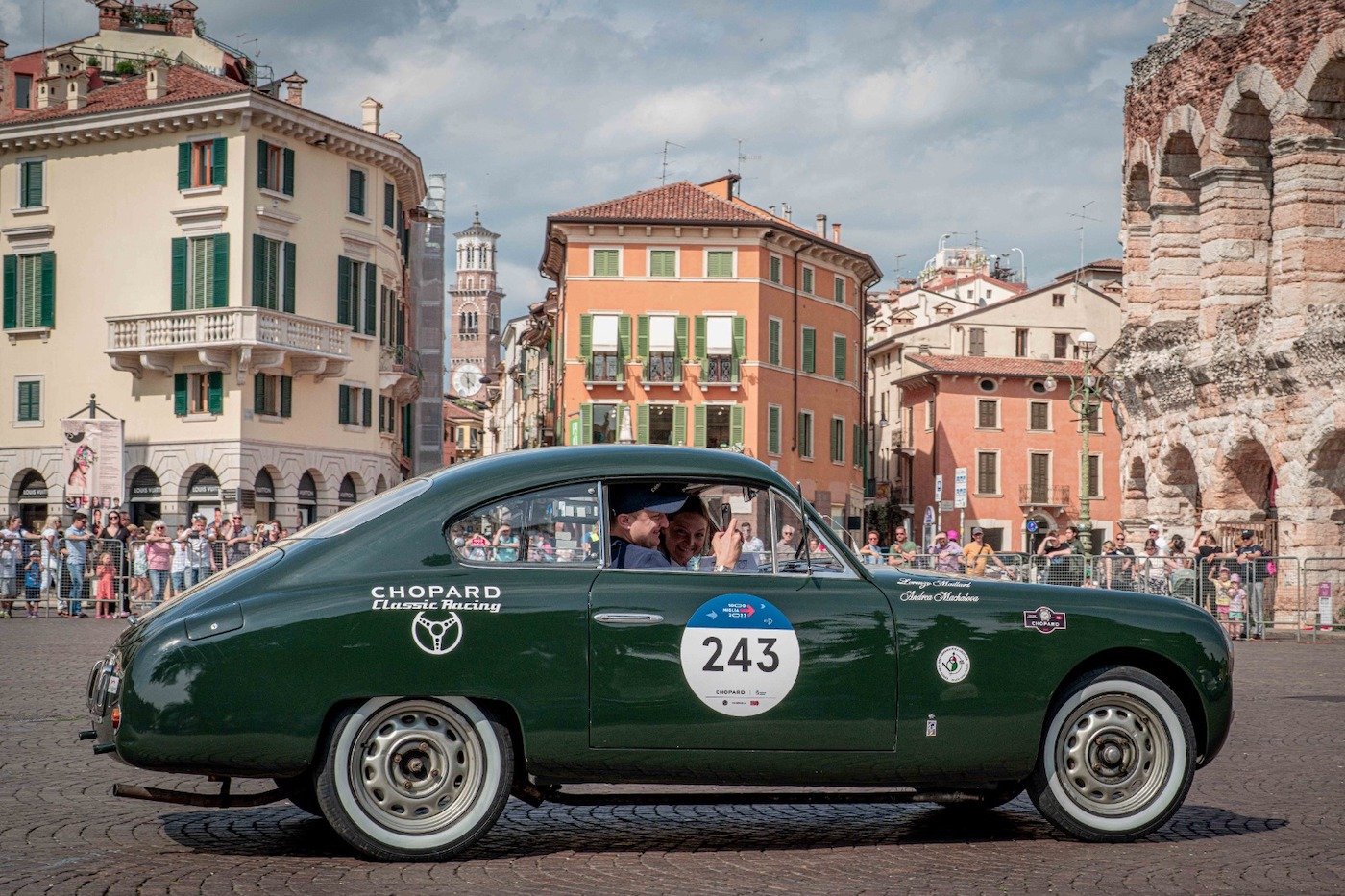 A grand old lady
But more about our car – this is, after all, a celebration of automotive culture. Chopard generously provided us – Andrea Machalova, a respected journalist and talented co-driver, and yours truly – with a 1950 Fiat 1100 Coupe with Pininfarina bodywork. Reminiscent, in its looks, of the legendary Lancia Aurelia B20 GT, it was designed to be both elegant and relatively affordable in a country still struggling to recover from the Second World War.
Its valiant four-cylinder engine powers a body that is all sleek curves, riding on white-rimmed tyres, while its racing green colour is more Albion than Italian. A surprisingly well-balanced chassis makes for a relatively comfortable ride and its non-synchronous four-speed transmission gives it character.

For the past 73 years, this fine old lady has been eating up the miles without a murmur, and didn't so much as bat a wing mirror at this latest episode in her long career. Unfazed by our occasionally clumsy gear changes, sudden braking and some unpredictable body rolls, she kept us moving to the pleasing if not melancholic hum of her engine.
She was, put simply, our very own nonna: endearing, charming and with a lifetime's experience, navigating the twists and turns of the circuit with poise and grace.
Karl-Friedrich Scheufele and Jacky Ickx at the starting line in Brescia.
The humility of a true friendship
There is nothing opportunistic about Chopard's connection to this historic race. This close-knit partnership came not out of a desire to sell more watches but from the enduring friendship between Chopard co-president Karl-Friedrich Scheufele and racing legend and gentleman driver Jacky Ickx. I had the pleasure of talking with them before the start and our discussion led me to see, through their subtle relationship, exactly what makes the Mille Miglia different from any other race: its capacity to bring people together.
Both men are seasoned drivers, each in his own way. They met, almost by chance, in 1989 and teamed up at the wheel of the now legendary metallic raspberry Mercedes-Benz 300 SL Gullwing. Jacky Ickx laughs as he recalls dozing off in the co-driver's seat – a sure sign of the absolute confidence that reigned almost instantly between the two.
After more than a dozen races side by side, they are part of what they call, in all modesty, "a family affair". A "family" that also encompasses the race's organisers, as Karl-Friedrich Scheufele observes: "The idea didn't spring from some marketing opportunity. It originated purely and simply in the affection I immediately felt for the race and its characteristic charm."
Watch and race forever entwined
For 36 consecutive years, Chopard has celebrated its partnership with the Mille Miglia, not least through the now iconic collection named after it. The models have evolved over time but each retains strong design features and functions that are inspired by the automotive world: think of the chronograph with tachymeter scale, the dashboard-like perlage on the dial or the tyre-tread pattern of a rubber strap.
Chopard introduces at least one new model to its Mille Miglia collection for each edition of the race. The cherry on the cake: every driver is presented with their very own watch. Thanks to this generosity, regular participants have seen their collection grow with timepieces that symbolise the spirit of each year's race.

Four new chronographs have joined the collection in 2023. The historical nature of the partnership is captured in their palpably vintage, automotive-inspired design, for example the compact 40.5mm case, mushroom pushers, soldered lugs and dial colours inspired by the livery of early twentieth-century race cars.
In addition to the Mille Miglia Classic Chronograph, Chopard has released a very special version of its larger (44mm) Mille Miglia GTS Chrono as a 100-piece limited edition: the Mille Miglia GTS Chrono Limited Edition Italy.

Today, it would be difficult to image the Mille Miglia without the presence of Chopard, and equally hard to think of Chopard without picturing the evocatively named collection.
The Mille Miglia creates an energy, a spirit I had not imagined and which I found deeply moving. Its heart and soul are rooted in the cheers and waves exchanged between drivers and onlookers, the shared enthusiasm of grandmothers and grandchildren as they watch the cars stream by, the humility of the friendship between Messrs Scheufele and Ickx, or simply the connection between Italians.
This energy might have shaken the springs of our Fiat's seats; it also made me realise the importance of togetherness and confirmed my love of a country, Italy, where time appears to stand still.