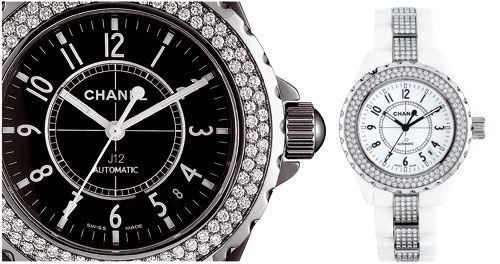 J12


This credo was followed to the letter by Jacques Helleu, Creative Director at Chanel, when he launched the first Chanel timepiece in 1987, aptly entitled "Première". This undertaking, following the basic codes as decreed by Coco Chanel in her time, has been rigorously followed and has given birth to a collection of remarkable watches that has gradually built up what today seems to be true watchmaking legitimacy.

Code: black and white
Contrary to many other brands from the world of couture and fashion, a profound sense of consistency is at work here. Black and white reign, as Coco Chanel indicated when she declared, "I said that black goes with everything. White also. They have absolute beauty. It is the perfect match."
This 'perfect match' is found at work in the J12. Seven years were needed to create it, obtainable finally thanks to the use of ceramic, the only material capable of providing such brilliant and inalterable black and white.

Code: pearl
Another code is the pearl. "With a black sweater and ten strands of pearls, she revolutionized fashion," declared the couturier Christian Dior in homage to Chanel. Purity, perfection of form, classicism, extreme simplicity, discretion... these represent the formal elegance that we find intact in another of Chanel's flagship models, the Mademoiselle watch. It is a classic square enclosed by a supple bracelet of cultured pearls.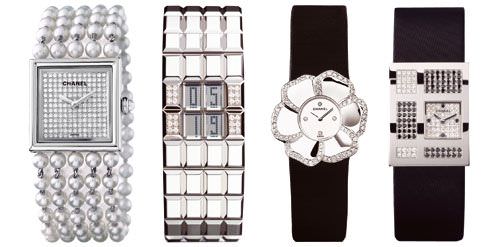 Mademoiselle, Chocolat, Camélia and 1932.


Code: matelassé (padded)
Coco Chanel had a weakness for the 'padded' look, another house 'code', inspired by the short jackets worn by stable boys. She used it in all its forms, in clothes, in handbags. It was re-interpreted by Karl Lagerfeld who, during a fashion show created an effect of 'chocolate bars'. In the same vein, Jacques Helleu created a watch that made a sensation: the Chocolat. The first jewellery watch with a digital movement, Chocolat offers perfectly integrated geometric lines between the digital display and the shape of the timepiece, right down to the hour markers themselves, which have been entirely redesigned.

Code: camellia
Everywhere she went, Coco Chanel had herself surrounded by beautiful camellias, her favourite flower. Round, with a nearly geometric evenness of form, the camellia, by its simplicity, perfectly matched her conception of fashion. She used it everywhere, recreated it in all materials. Quite naturally, then, this motif turns up in the brand's watches, in the appropriately named Camélia collection. The first jewellery watch by Chanel, this watch is available today with its outline set in diamonds, and its petals entirely covered in diamond and sapphire pavé.

Code: Art Déco
In 1932, Coco Chanel created her first collection of Haute Joaillerie: rings and bracelets are formed from several very graphical squares, playing on the famous contrasts of black and white. Jacques Helleu took inspiration from this to create a collection called 1932. These watches are both discreet and spectacular at the same time, with their white gold cases set with black or white diamonds on black satin bracelets, and its dials made of white mother-of-pearl or black lacquer, or even set with alternating black and white diamonds.

The Chanel watch collections demonstrate consistency and rigour, thus allowing the brand to create more than just an image, but also a codified universe.


Source: October - November 2005 Issue

Click here to subscribe to Europa Star Magazine.