With the introduction of a unique piece, the 'J12' Tourbillon Haute Joaillerie, displayed in the new white stand at BaselWorld, Chanel reaffirms, with much panache, its own specific approach to timekeeping, an approach that is at the crossroads of watchmaking values and jewellery extravagance.
When Chanel launched the 'J12' in 2000, the watchmaking 'hardliners' looked askance at this piece, seeming to say "not bad for someone who comes from the world of haute couture" while at the same time not expecting this type of thing to endure.
Well, the 'J12' not only earned its stripes as a veritable and iconic timepiece, with a design that lent itself to a series of variations, ranging from sport – the Superleggera – to jewellery versions without diluting its identity, but it also successfully made audacious inroads into the inner sanctum of Haute Horlogerie. The 'J12' Tourbillon, mounted on its ultra-fine (2 mm) platinum plate and endowed with its carriage made of optical glass, was among the most beautiful tourbillons of the year, and the most innovative in terms of the unusual materials it employed.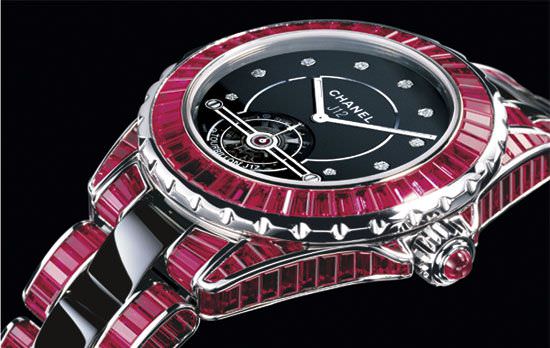 J12 TOURBILLON HAUTE JOAILLERIE


The unique piece presented this year seriously affirms Chanel's double nature: the tourbillon stands out against the dial, constituted of two black ceramic plates with a thickness of 0.3 mm, and decorated with nine diamonds for indices. Surrounding the dial, 598 baguette-cut rubies are set in the bezel, the case, and the bracelet. It's enough to make your head spin.
Another piece to discover, more purely jewellery in nature, is the 'Première', which, in celebration of its 20th anniversary, has a case that draws inspiration from the famous Chanel 'No. 5' perfume bottle. It is also pavé-set with 34 baguette diamonds and comes with an elegantly subtle bracelet made of woven gold strands decorated with 194 pearls.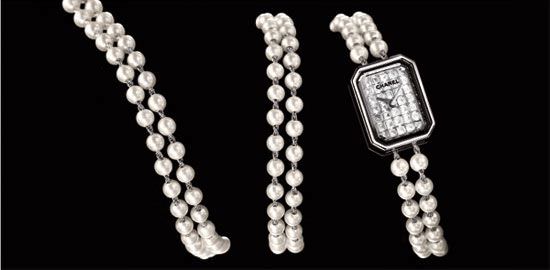 PREMIèRE


Source: Europa Star April-May 2007 Magazine Issue