T
o honor this seminal movie, Jacob & Co. has expanded the Opera collection to include the Opera Scarface, playing "Bolivia" from the movie on the integrated music box. Jacob & Co. worked with Universal Brand Development to create this unforgettable timepiece.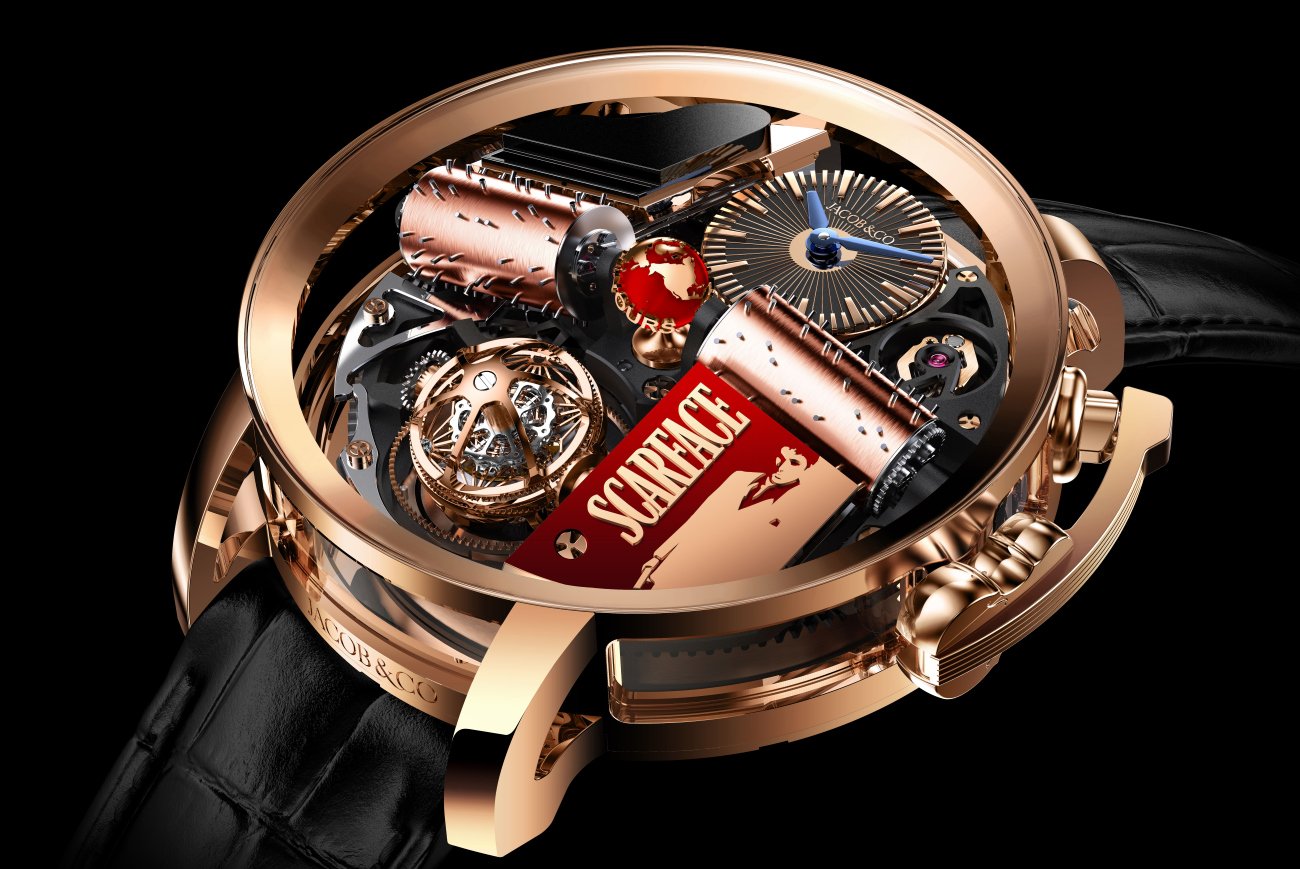 Just a press of the pusher at 10 o'clock and the 120-note music box plays this memorable music, while the entire dial rotates 120 degrees under the domed, anti-reflective sapphire crystal. The time display always stays in the correct 12/6 position thanks to an ingenious, and patented, differential system.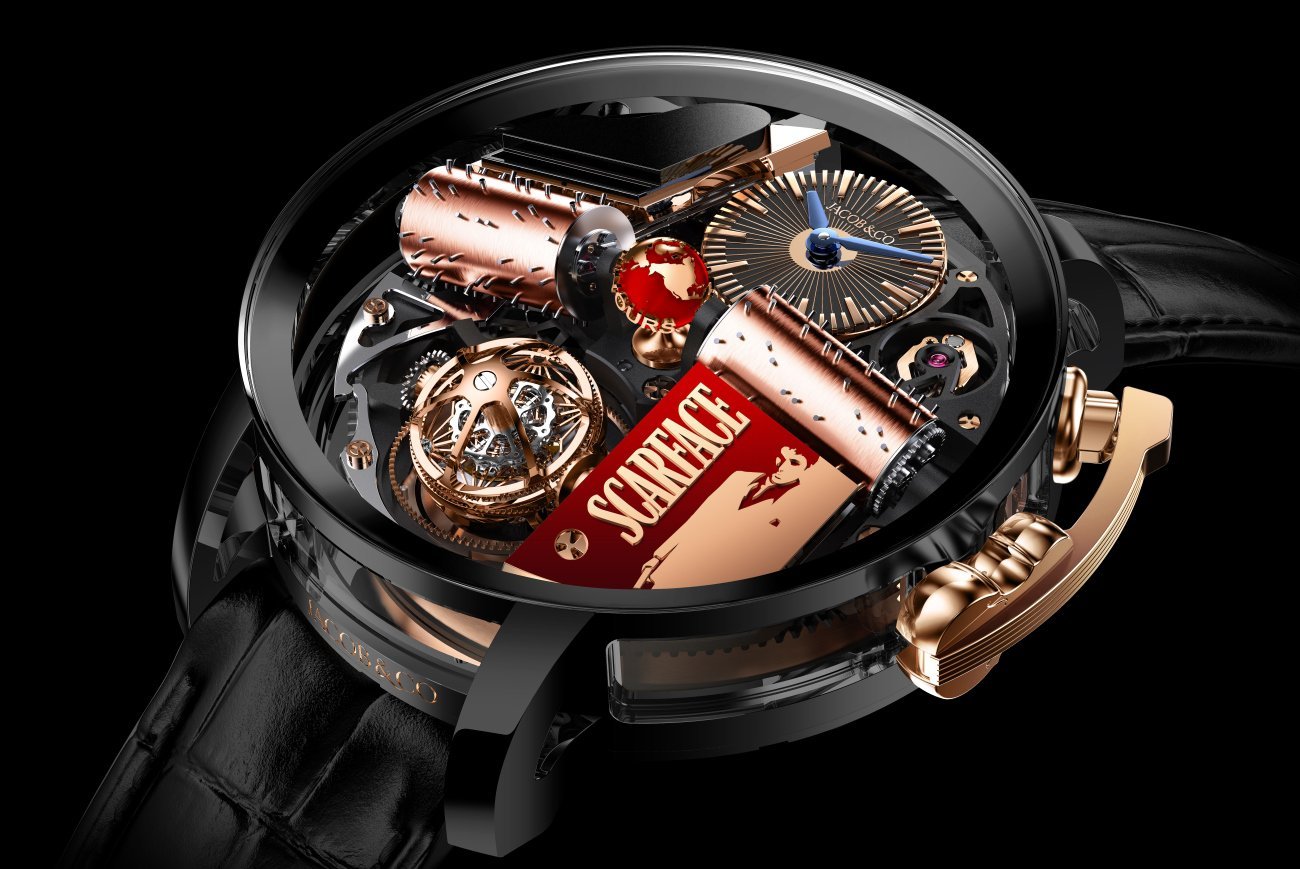 Also on the dial is an 18K gold, black-lacquered piano, whose keys move while the "Bolivia" music plays, and, prominently displayed on the dial in 18K gold, is the Scarface logo name plate.
Sitting in the middle of the movement is the 18K rose gold "The World is Yours" globe, taken straight from the entrance hall of Tony Montana's Miami mansion.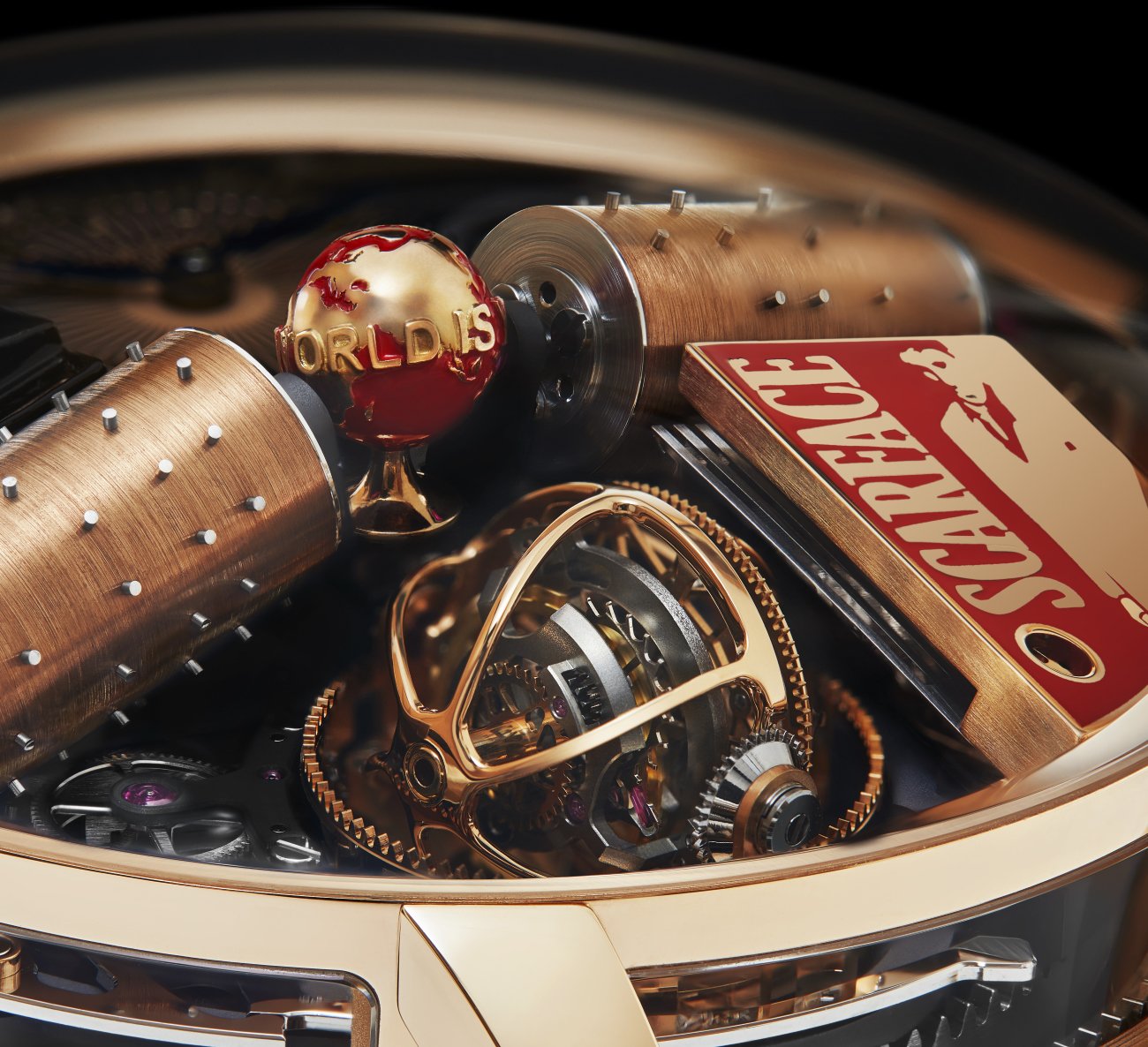 Powering this timepiece is Jacob & Co.'s signature triple-axis tourbillon movement, wound by the 18K rose gold violin-shaped crank on the side of the watch. Comprised of 658 individual parts, the movement is ultra-complex, with a tourbillon that turns in 24 seconds on one axis, eight seconds on the second axis, and 72 seconds on the third. The power reserve for the movement and the music box function are separate — the watch has a power reserve of 42 hours, while the music can be played three times before you have to wind it again.
The Opera Scarface comes in two versions, 18K rose gold and black DLC titanium. Each version is limited to 88 pieces.
The crime drama movie Scarface, starring Al Pacino, made its debut in 1983 and has since become a cult movie.

©️Universal City Studios LLC. All Rights Reserved
The Opera Collection
The original Opera by Jacob & Co. was the first luxury timepiece to combine a high watchmaking tourbillon with a two-comb, two-cylinder music box. The Opera Scarface now joins the collection.
As the movie one sheet for Scarface reads: "For one brief moment, the world was his..." And now, the limited-edition Opera Scarface by Jacob & Co. could be yours.
Explore the Europa Star archives - Join us as a Club member
New: 40'000 pages added, since the year 1950!
Our data base contains over 100,000 pages and 70 years of fully searchable back issues, up to the most recent publication. A treasure trove for all knowledgeable professionals and aficionados.