F
or centuries, we read the time from hands that revolve around a dial or move through apertures. It took a French designer, Gautier Massonneau, aided by his associate and general manager Volcy Bloch, to envisage another way of reading the time. He launched the brand Trilobe in 2018.
This son of architects and interior decorators, a graduate of Paris Dauphine University and the Ponts et Chaussées who worked in the world of infrastructure financing, was by no means predestined for a career in watchmaking. But when he began to dream of creating his own watch, he looked more closely into the question and chose to do things the other way round: to make time revolve, and not the hands. These he replaced by a series of rotating rings indicating the hours, minutes or seconds, which advance counter-clockwise.
Gautier Massonneau
The first movement – based on an ETA movement – to drive a Trilobe watch was developed by Jean-François Mojon, the founder and owner of Chronode. He designed a module able to adapt the movement to accommodate an off-centre time display. Le Cercle des Horlogers subsequently developed the X-Centric calibre, the self-winding movement with a micro-rotor which now equips all Trilobe watches. Launched in 2020, it was designed by Gautier Massonneau, who took his inspiration from brutalist architecture, and was then developed exclusively for Trilobe in Switzerland by the specialist movement company.
The Nuit Fantastique Dune model won the Petite Aiguille prize at the GPHG in 2022.
Assembly and casing-up are done at the Trilobe workshop on rue de l'Opéra, in Paris. While he needed the Swiss know-how, Gautier Massonneau insisted on grounding his brand in France: now, the movements are graced with the inscription "Paris – France". For the moment, Trilobe offers three collections: Les Matinaux, which inverts the normal codes of time-reading with eccentric rings and a trilobe for an indicator; Nuit Fantastique, a reference to a short story by Stefan Zweig, and Une Folle Journée, launched in 2022, with 3D rings beneath a dome. This model owes its name to the subtitle of The Marriage of Figaro by Pierre-Augustin Caron de Beaumarchais.
At Watches and Wonders in 2023, the brand presented a version of its Une Folle Journée model with rings set with diamonds. The circles were entirely redesigned to accommodate 150 RJC-certified baguette diamonds, inserted, Mystery Set-style, in a rail.
Une Folle Journée Diamant
"It was really difficult technically, because lightness was crucial," explains Gautier Massonneau. "Our rings are usually made in titanium, but with the weight of the diamonds, that didn't work. We had to use an aluminium, silicon and magnesium alloy, which weighs half as much. It's a very supple alloy which makes gem-setting more complicated. To set the 150 baguette diamonds, you have to count 300 hours, whereas in gold it would take two-and-a-half. We worked with a workshop on rue de la Paix. Each figure representing the hours is hand-painted on a diamond by a miniaturist painter based in Lyon." (Editor's note: Philippe Jacquin-Ravot, the creative director of Manufacto).
The brand that was launched on 17 December 2018 in Paris and produces around 600 timepieces per year has already been nominated five times for the Grand Prix d'Horlogerie de Genève, and even won the Petite Aiguille prize in 2022. We interviewed its founder.
Europa Star: In 2014, you were dreaming of buying yourself a beautiful watch and decided to create it with a 3D printer. Were you already thinking of launching a brand?
Gautier Massonneau: No, it was a totally selfish act. My dream watch at the time was Zeitwerk by A. Lange & Söhne, but I was 25 years old and it was beyond my means. I didn't know a thing about watchmaking technology, but I liked 3D printers and thought it would be easy to make a watch with one. How wrong I was (laughter)! I succeeded in failing miserably and that's how I got my foot in the stirrup. I realised there was room for people with a more artistic, quirkier vision of watchmaking. I quit my job in infrastructure financing in Dubai and came back to France to start up my venture.
The trilobe is an architectural motif. Why did you choose this name for your brand?
My parents are architects and this architectural form, which you find all round the Mediterranean, came about with the construction of a mosque that became the cathedral of Cordoba (editor's note: built and extended between the 8th and 10th centuries). It's a shape found in Umayyad architecture to decorate door arcatures, which were usually round. The shape was then used in Gothic architecture. You find these motifs as far as India. The symbol is a nod to my parents and anyway, I thought it was a bit pretentious to put my name on the dial.
Les Matinaux
Time goes backwards on your watches. Why?
Yet it's quite logical: in the western world we read from left to right, so if your head is immobile and time passes, the text or figures move from right to left. Everything is reversed, everything is eccentric, nothing lines up. You create beauty by breaking with habit. It's a conscious decision.
What made you show the time without hands, using a system that is not very legible at first glance?
Several things. The first is that I have an anti-utilitarian vision of reading the time. You can read the time quickly on your mobile phone. We invite our customers to take their time: you can't just see the time on our watches, you have to read it. It's a bit coercive. What I want for people who wear a Trilobe is to admire it. Once you know how it works, your eyes soon get used to it. What interests me is to try to put some poetry into our relationship with time; the technical aspect is just the means for realising my vision.

Do you consider your watches as art objects?
They happen to show the time, but they're little pieces of art on your wrist. We need more soul.
Why this off-centre reading of the time?
I like classical architecture, but asymmetry is beautiful too. And the fact of creating an eccentric time display, quite apart from the technical difficulty involved, because watchmaking is very concentric, creates a form of beauty.
What was the most complex issue facing you in creating this movement?
Rather than having hands floating in space, we have three discs, including the hours and the minutes discs, the entire bases of which are in sliding contact with something, and that requires energy you don't usually find in a conventional watch. The watchmakers had to use a more powerful mainspring barrel, which meant the movement had be re-engineered.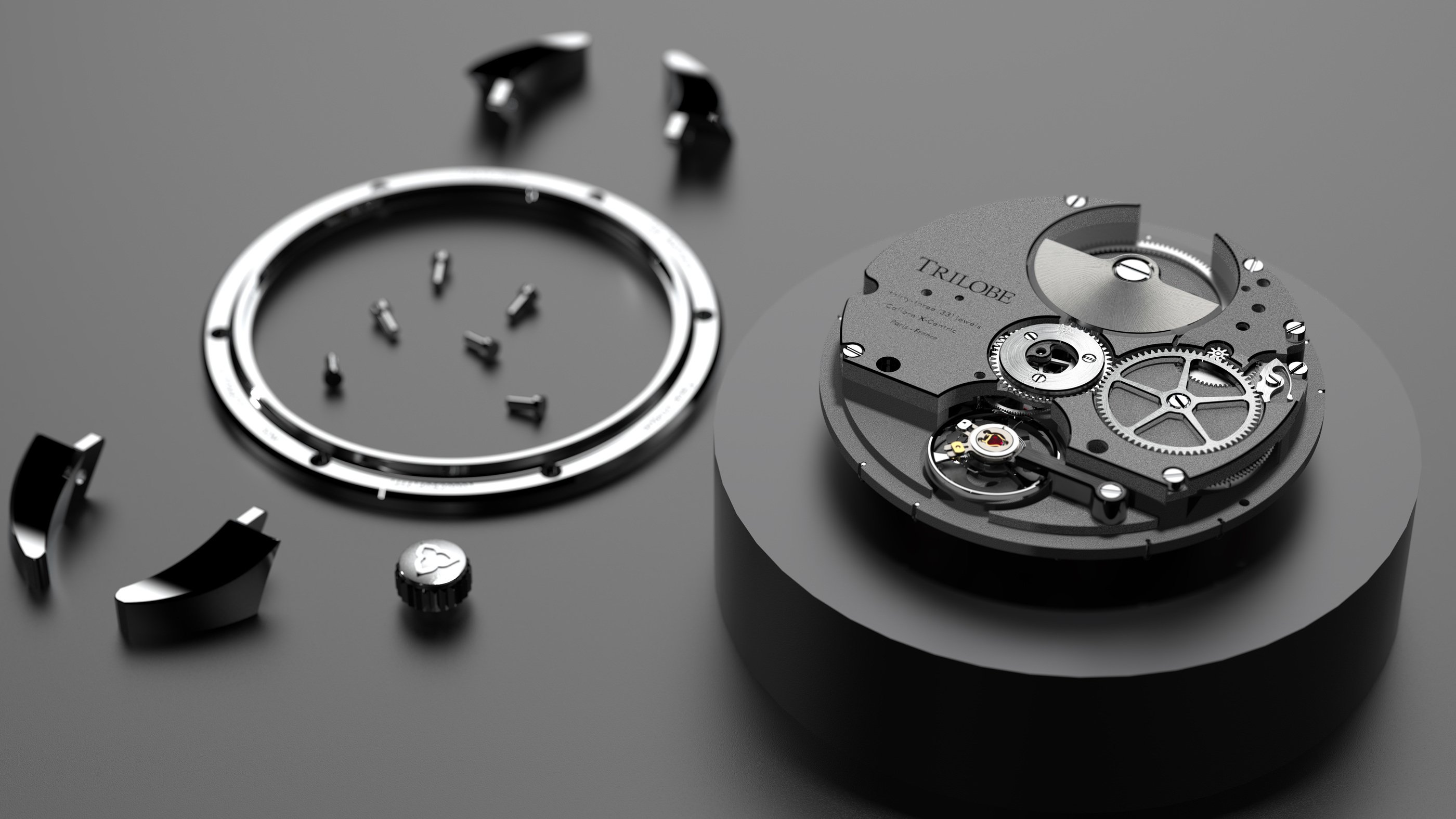 Is the Secret model, the dial of which is customised and indicates a precise moment by means of a starry sky, a way of emotionally binding the customer to you?
Absolutely. What is luxury? For me, the taste of a Beaufort cheese sandwich at the summit of a mountain is the ultimate luxury. This watch doesn't tell the story of a man who went to the moon: it tells your story. It's a highly personal object and that's why we call it Secret. Customers choose a date, a place and a time from which we determine and reproduce on the dial a starry sky that corresponds solely to them. It's a luxury for yourself first and foremost, not for others.
Have any surprising secrets been confided to you?
There are lots of watches about weddings, engagements and births. But we also hear some quite amusing stories, like these that the owners have given us permission to tell. One man climbed K2 in the 2000s and wanted his watch to mark the moment when he arrived at the summit, at such-and-such a time and on such-and-such a date. Another sailed solo round Cape Horn in the 1980s. He felt incredibly proud and wanted to immortalise the memory of that special moment on his watch. Another customer asked us to show a precise date on Jersey in 1870. He was a fan of Victor Hugo and wanted to conserve the date, place and time when the writer wrote his favourite poem. We've only made one divorce watch (laughter).
The Secret editions, part of Les Matinaux and Nuit Fantastique collections, are an invitation to immortalise a precious moment in a poetic way.
Your maxim is this phrase by René Char "Impose your luck, hold tight to your good fortune and go towards your risk. By watching you, they'll get used to it"...
Yes, that's the maxim we're trying to live by with this brand. When we came along with our first watch, people looked at us as if we were from outer space. Nobody understood it or knew how to read the time from it, but with time and our explanations, they appropriated it. It took pugnacity and sacrifice, because at the beginning we took a beating. That's why I made this maxim my own.
How was the brand financed?
We needed an initial spark to get started, so we called on family and friends. We were approached by investment funds, but we weren't working on the same timescale: I wanted to create a brand and that takes time. Secondly, I believe in a brand that doesn't lose money. You have to earn your living to develop, invest and produce and the best way to raise funds is to sell. We've sold everything for the next twelve months. Which is also a problem, because when you're an entrepreneur you want to sell, but we can't because production can't keep pace. Luckily, our customers understand that they're going to have to wait several months.
Did success come right away?
No. We launched the brand in Paris in late 2018 right in the middle of the French strikes, the yellow vest demonstrations, then there was Covid… Business plan-wise, things could have been better. But people had time to inquire about independent brands during the lockdowns and that really worked to our advantage. Since 2021, we've been picking up steam.
How did you get the idea of making time move instead of the hands?
My parents always told me that when you're faced with a problem, you should change your frame of reference. For example, if you're facing a maths problem you can't solve, stand on a chair and you'll see it differently. It doesn't work all the time, but it can make something click. I said to myself: why not immobilise the indicator, which is usually the hand? So it's time that has to move. By doing that, I liberate time.
Apart from the aesthetic complexity of your watches, do you intend to produce any watch complications?
Yes. We're developing lots of projects in fields you wouldn't expect to see us and by next year we'll have launched our first complication. It's ready now, but we prefer to wait. We're in no hurry.