V
alérie Messika grew up surrounded by precious stones. Her father, the highly respected diamond trader André Messika, introduced her to diamonds from an early age. Without even realising, the young Valérie learned to recognise a quality stone.
After graduating in communication, Valérie Messika took a replacement position in the watch and jewellery marketing department at Chanel. The year was 1999: the end of the century and what could have been the beginning of a career in luxury and beauty for Valérie. But family ties are strongest. Her father, a diamond trader since 1972, was looking to the future and wanted to introduce his daughter to the business. Valérie Messika didn't say no and learned about the world of diamonds in the best possible way: with a master.
Valérie Messika with her father, André, and her brother, Ilan

©Gil Hayon
In 2003 André travelled to Israel to become a sightholder*. This was also the moment Valérie Messika chose to sketch her first jewellery designs, positioning herself in what was then virgin territory. Valérie had no desire to become the next Tati Or selling low-priced jewellery nor even try to break into the circle of prestige jewellers. Instead she wanted to create the kind of edgy jewellery she would wear herself; affordable jewellery that women could wear day and night. And so it was that in 2005 she launched her namesake brand: Messika.
Valérie Messika launched her namesake brand in 2005, driven by the desire to create the kind of edgy jewellery she would wear herself, positioned at affordable prices.
In July, in Paris, Valérie Messika presented Beyond the Light, a high jewellery collection inspired by Ancient Egypt that was designed and crafted around exceptional diamonds. The pièce de résistance - the Akh-Ba-Ka set - incorporates 15 diamonds that were all cut from the same 110-carat rough, christened the Tender Diamond. One, a magnificent 33-carat stone, adorns a collar necklace that interprets the Egyptian winged scarab symbol.
Akh-Ba-Ka is the centrepiece of the Beyond the Light high jewellery collection, inspired by Ancient Egypt and designed around exceptional stones.

©Chris Colls
The rough, found in the Karowe mine in Botswana, which is owned by the Lucara Diamond mining company, was purchased by one of Valérie's brothers, Ilan Messika, for their father's company just before the 2020 lockdown. When Ilan showed Valérie the 15 remarkable stones it had yielded, she decided to acquire them all. "I wanted to challenge myself by using these 15 diamonds in the same set," she explains. "This was quite an achievement. Not all the stones had the same cut; some were unusual, more intricate shapes. Sometimes, though, the unexpected can give rise to the most beautiful creations."
How did a brand that no-one saw coming succeed in making its mark in the very select world of high jewellery? Valérie Messika takes us through the Messika story.
Europa Star: Your father is a well-known diamond trader. When you grow up with diamonds, do you develop a less "dramatic" attitude towards them?
Valérie Messika: There's still a lot of emotion involved but you are less in awe, that's for sure. You have a more relaxed attitude. My appreciation of diamonds comes from a family bond. A little girl's admiration for a charismatic father with a passion for his work. I used to follow him into his office, looking for something to do, and he would sit me in a corner with some diamonds and tell me to sort the best ones. I would balance them on my fingers and imagine they were rings. When I started to design my own jewellery, it was always with the intention that the mount should disappear from view, as though the diamond were a tattoo on the skin. Well they do say the first ten years are the formative ones!
So you already knew how to differentiate between diamonds of different qualities?
Yes. I looked at so many diamonds through a loupe that I became obsessed by details.
"My appreciation of diamonds comes from a family bond. A little girl's admiration for a charismatic father with a passion for his work."
You could have entered the family business but you chose to create your own brand instead.
With a degree in communication, logically I could have gone into advertising. When I was young, there was a show on French TV that I absolutely loved called Culture Pub that was all about advertising. I've always been fascinated by the power of a logo, of storytelling or a well-chosen slogan, and I was convinced I'd work in that field. But I'm my father's eldest daughter and just after me I have a disabled brother, so I could feel the weight of succession on my shoulders. My father asked me to give him one year of my life during which I would learn the ins and outs of his profession. We travelled the world together. We went to India and Antwerp. He took me to meet his clients on Place Vendôme, bankers and employees. I shadowed this passionate entrepreneur and expert until the day, two years later, he told me how the role of a diamantaire was changing, and that if he wanted to survive he would have to move up the diamond chain and leave for Israel, which had become one of the most important diamond exchanges in the world.
Valérie Messika

©Alexandre Lasnier & Arnaud Juhérian
Is that when you decided to create your own brand?
Back then, diamond jewellery seemed rather fusty. The only time I heard friends talking about diamonds was to show off their engagement ring. Having studied marketing and communication, I knew there had to be room for a cool, young jewellery brand. One that would almost be competition for fashion brands, with prices between €500 and €5,000. The idea was to come up with a fabulous diamond ring for the same price as a fashion accessory; to occupy a niche for casual diamonds that a woman could buy in exactly the same way she might buy herself a nice handbag. My father encouraged me, knowing I'd never be able to spread my wings in his shadow. By leaving, he set me free. When I started out, I didn't know the first thing about jewellery-making or gem-setting, and it's thanks to this innocence that I was able to imagine pieces, such as my memory form bracelets, that pushed the boundaries of what was technically feasible.
"When I started to design my own jewellery, it was always with the intention that the mount should disappear from view, as though the diamond were a tattoo on the skin."
Did Messika come about because you couldn't find jewellery that matched your way of thinking?
I couldn't find anything that really appealed to me, although things were changing. The jewellery Lorenz Bäumer (read our interview here) was making for Chanel was much bolder than anything I'd seen before. I also liked Victoire de Castellane's work for Dior. She imagined this enchanted world with an interesting message. Tati Or had opened a store on Rue de la Paix. The Leclerc supermarkets were introducing Manège à Bijoux jewellery counters. Things were happening and it got people talking.
Having only ever worked with diamonds, in 2020 you introduced colour.
Before lockdown, I was designing pieces with discs not in gold but cut from hardstones such as malachite, onyx or turquoise. The collection came out after lockdown. They're talisman jewels. Every stone conveys a message: "Be authentic", "Be passionate", "Be unique". We even asked customers to fill out a questionnaire so we could see which stone suited them best. It was a fun thing to do, after what was a pretty miserable time.
Messika campaign with Kendall Jenner

©Marin Laborne
What did you take away from your time at Chanel?
Working for a company with such a powerful legacy taught me a lot. Growing up, I was always hearing about Gabrielle Chanel, her apartments at 31 Rue Cambon, her suite at the Ritz, her tastes, her symbols and lucky numbers; the whole storytelling about a woman who was completely disruptive for her era. I thought to myself, if ever I create a brand, I want a strong message behind it. I'm lucky in that this message wrote itself, through my father's story. I've always stood by this positioning with its focus on the diamond and expertise passed down from father to daughter. I create jewellery so that women can feel more beautiful and a little bit more confident in themselves. It's not a power game. Jewellery isn't a logo. Messika is that spark of light that stays with you everywhere you go. Messika jewellery is worn by women of all ages, with very different tastes and styles. I make timeless jewellery that is a homage to the diamond and to female beauty.
Do you source your diamonds from your father?
The majority of them.
Is yours a family firm?
Yes, 100 per cent.
You must have had offers for the business?
Several. I'm not saying I wouldn't sell a minority stake, no more than 20 or 25 per cent, as this would accelerate growth but I would never betray myself by selling to a large group.
"I knew there was room for a cool, young jewellery brand that would almost be competition for fashion brands, with prices between €500 and €5,000. Casual diamonds that a woman could buy in the same way she might buy herself a nice handbag."

The Move bracelet, with its diamond that slides along a gold rail, is your signature design. How did the idea come about?
Initially I imagined a bracelet that would be like a cage containing three diamonds. Then I had the diamonds move. Then I changed the number of diamonds. I've played around with the design over the years.
It would be impossible for your atelier in Paris to fulfil all your production needs. Like most Place Vendôme jewellers, you must collaborate with independent workshops. Where are they based?
We work with ateliers in Besançon in eastern France, in Italy, Portugal and one in India. That's all. Everything relating to prototypes and high jewellery is done by our Paris atelier. We could never have expanded so quickly without the amazing people, thanks to whom we have a solid production tool that has grown with us.
Your first high jewellery collection in 2013 broke with the philosophy of jewellery for every day. Was this a natural development for the brand?
Yes, although I was nervous about it. Starting out with fine jewellery would have been too intimidating, but once the brand started to make a name, and knowing that I could source amazing stones from my father, I thought why not try? Right after my second daughter was born, the Messika store opened on Rue Saint-Honoré. I finally had a flagship where I could show the full extent of my collections. That's when I decided to create a high jewellery workshop. My father sent me stones and they became the starting point for my designs.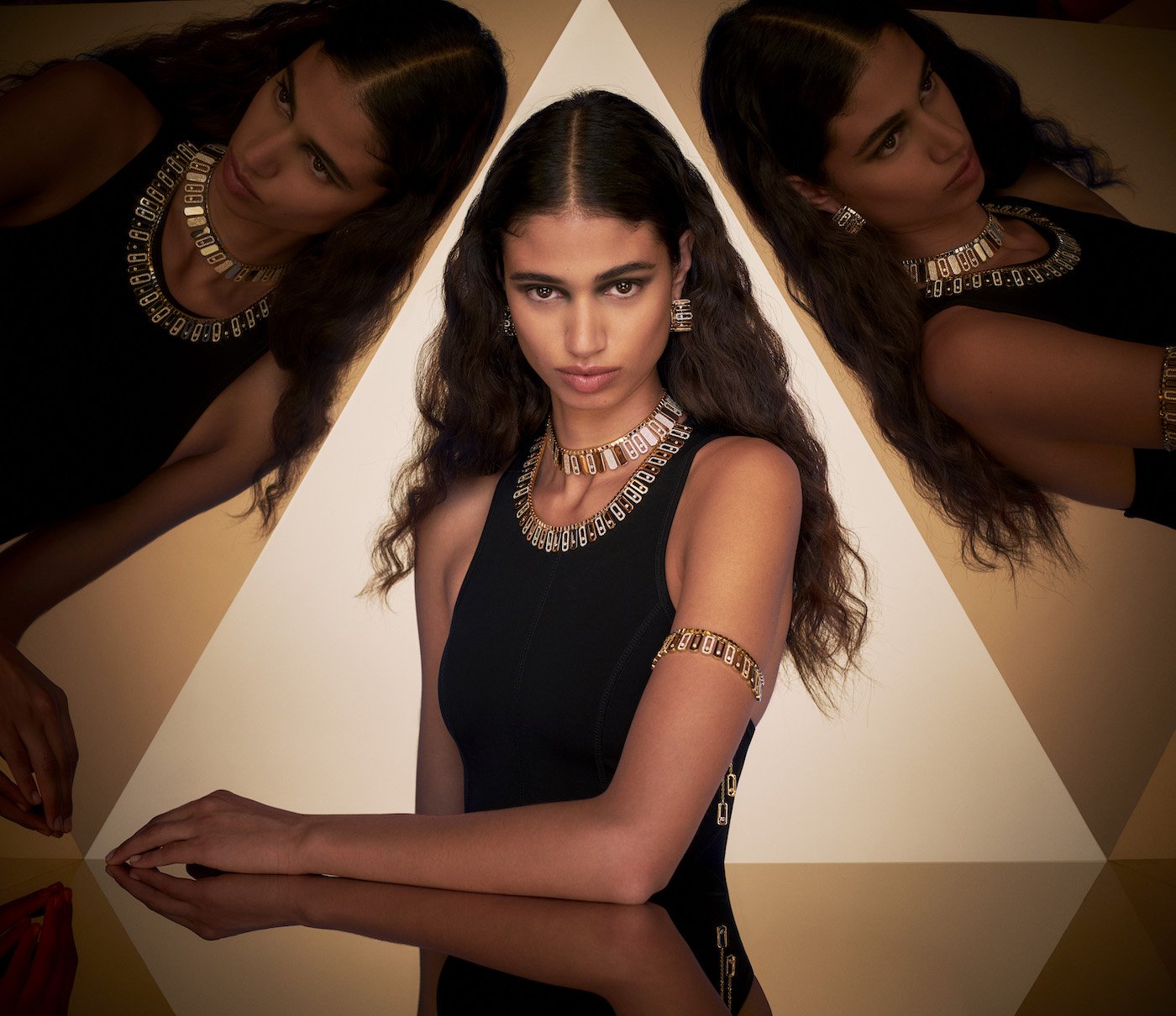 It's impossible to make jewellery today without considering sustainability and social responsibility. Do you plan to join the Watch & Jewellery Initiative 2030 that was launched by Richemont and Kering?
I'd like to, yes. You have to take these issues seriously. I'm a mother to two young daughters. The world has changed. There's a before Covid and an after Covid. As a brand I'm aware that I have certain responsibilities but the teams have to be involved, too. We're already doing the minimum but the aim is to go a lot further. We especially want our jewellery to be 100% traceable. I can't claim that's already the case but I am working on it. I think the jewellery sector is more sustainable than the fashion industry. An item of jewellery can be transformed, polished, passed on. It doesn't lose value. Diamond prices are increasing. Jewellery is not a throwaway item and mines are under more and more scrutiny.
How do you explain Messika's popularity among millennials?
I don't like to think in terms of demographic but it is an interesting question as millennials, who aren't typically jewellery buyers, helped Messika blossom in what is a very traditional environment. We came along with modern, affordable designs and communication that borrowed from the fashion industry, all of which appealed to millennials. I was young at the time, 29 years old, and wanting to design the kind of cool jewellery I would wear myself. It just happened naturally.
"We came along with modern, affordable designs and communication that borrowed from the fashion industry, all of which appealed to millennials."

According to Forbes, Beyoncé saw your Glam'Azone double ring in a display at the Royal Monceau and you gifted her one. That would be the start of quite a journey. Can you tell us more?
I can't claim to be successful because I'm talented. I'm successful because I have a small amount of talent, because I launched Messika at the right time and also because the planets aligned. In 2015 Beyoncé and Jay-Z were staying at the Royal Monceau in Paris. Through her stylist, I learned that she'd seen my ring and loved it. At first I thought it was a joke, then I decided to send her one as a gift. I didn't have much to lose and there was always the chance of one day seeing a photo of her wearing it. A couple of days later people started sending me photos from Beyoncé's Instagram that showed her pointing at the Mona Lisa, and there was the ring! Obviously it wasn't tagged Messika, that would have been free publicity, but I decided to issue a press release saying Beyoncé was a fan of a French jewellery brand called Messika and that she had worn one of our rings while visiting the Louvre. The news went viral. Stylists in Los Angeles, where Beyoncé has a huge influence, heard about it and from there more and more celebrities became interested in the brand.
Is that how you came to co-design a capsule with Gigi Hadid?
Not at all. We had an advertising contract. But the fact Beyoncé wore Messika helped and probably made Gigi want to work with us.
In the Apeshit video that Beyoncé and Jay-Z shot inside the Louvre, she's wearing your Persian Drops diamond necklace and earrings. How did that happen?
That was crazy! I'd already struck up a good relationship with Beyoncé's team when they asked if I would loan the jewellery. I had no idea she was going to shoot a video with it. It was all hush-hush. All I knew was that the jewellery had to be delivered to the George V hotel and I couldn't send a guard over with it. I called my father and asked him what I should do. He said to trust her. The jewellery was returned the following lunchtime and Beyoncé's stylist told me I was in for a big surprise. Then on Sunday morning I saw that photo of Beyoncé, again in front of the Mona Lisa, wearing a pink suit, my earrings and my necklace. I couldn't have imagined a scenario even half that wild! Beyoncé is such a superstar she could have chosen any brand she wanted. It was an enormous gift. Some things you don't control. All you can do is thank your lucky star.
"On Sunday morning I saw that photo of Beyoncé in front of the Mona Lisa, wearing a pink suit, my earrings and my necklace. It was crazy!"
*A sightholder secures diamonds directly from the mining company at events known as sights. This privilege is reserved for a handful of the most experienced dealers. Sightholders then offer the diamonds to potential buyers or brokers.