W
hat makes a design truly an icon, recognisable at first glance? Its lines, its proportions, its details. Such is the Hermès Kelly bag with its crisp trapezoid shape, two side straps, swivel clasp, padlock and bell-shaped key-holder. An expert eye will spot them, be amused by them, in the high jewellery imagined by Pierre Hardy, Creative Director of Jewellery at Hermès since 2001. Playful, delicate, refined, the Kelly bag is deconstructed to give each element a new life and impart meaning to the collection.
The exhibition opens on a muted note with the AlphaKelly in recycled silver. The signature anchor chain meets the padlock and key motifs in a double ring, double bracelet, choker and sautoir. Simplicity elevated.

The coveted bag then lends itself to rose gold – also recycled – and becomes the Kelly Chaîne. The clasp of a cravat necklace sparkles with discreet diamonds; a single bracelet is paved with 368 diamonds while a double bracelet is adorned with 41 diamonds on its clasp; there is a delicate choker and even body jewellery that cascades from throat to hips. A liberating chain.
Next, the Kelly Clochette which alludes to the padlock, key and its bell-shaped ('clochette') holder, first in white gold as a bracelet, a double ring whose two parts are joined by a delicate chain, and an elegant, playful sautoir which the wearer can fasten in multiple ways. The blush of rose gold warms a mesh bracelet lavished with 224 diamonds, a pair of mismatched earrings resplendent with 130 joyful diamonds, and a double mesh necklace that flows like silk.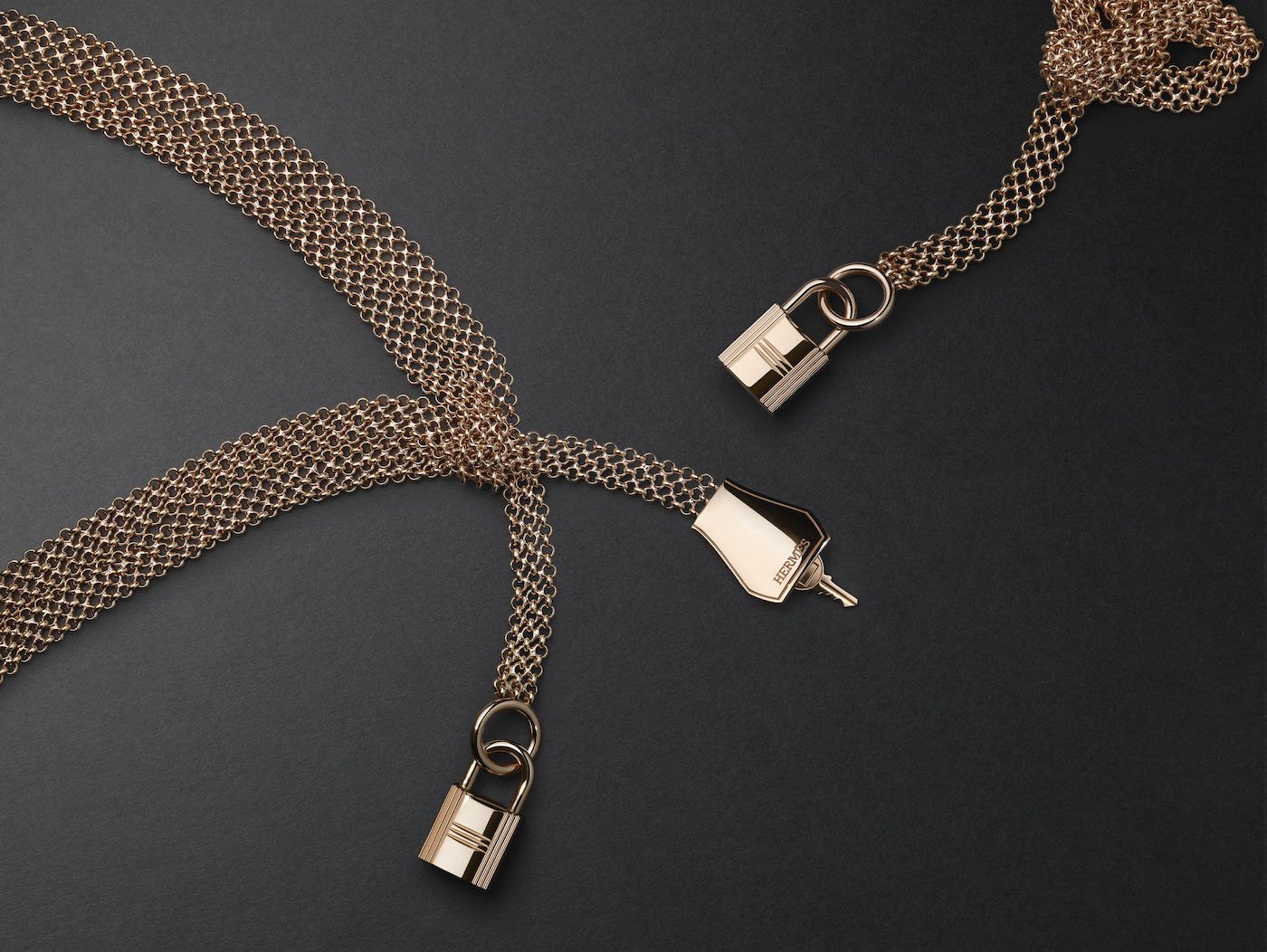 Out of the blue come two Précieux Kelly sautoirs in silver and rose gold or rose gold with diamonds, both infinitely adjustable. Their diminutive Kelly bag pendant is Pierre Hardy's Lewis Carroll-esque play on proportions.
The collection becomes even more of an enchantment as the Kelly Gavroche reveals its charm. The prolific creative director pays tribute to the 'Gavroche' scarf that is worn rolled and knotted around the throat. Now a necklace, two icons become one marvellous object. Fully paved with diamonds, the side strap fastens with all the delicacy of silk. A total of 1,771 baguette and round diamonds (74.32 carats), all graded F for clarity, adorn what is a standout piece within the collection.

It takes experienced gem-setters a full 200 hours to achieve such a degree of fluidity, a further 190 hours for the jewellers to create the sinuous knot and 100 hours of polishing to perfect this magnificent illusion.

A pair of earrings and a ring, with or without diamonds, transform the necklace into a stunning parure. Pierre Hardy disrupts the functional, elevates the object into something precious. The whimsical Gavroche becomes a most delightful jewel.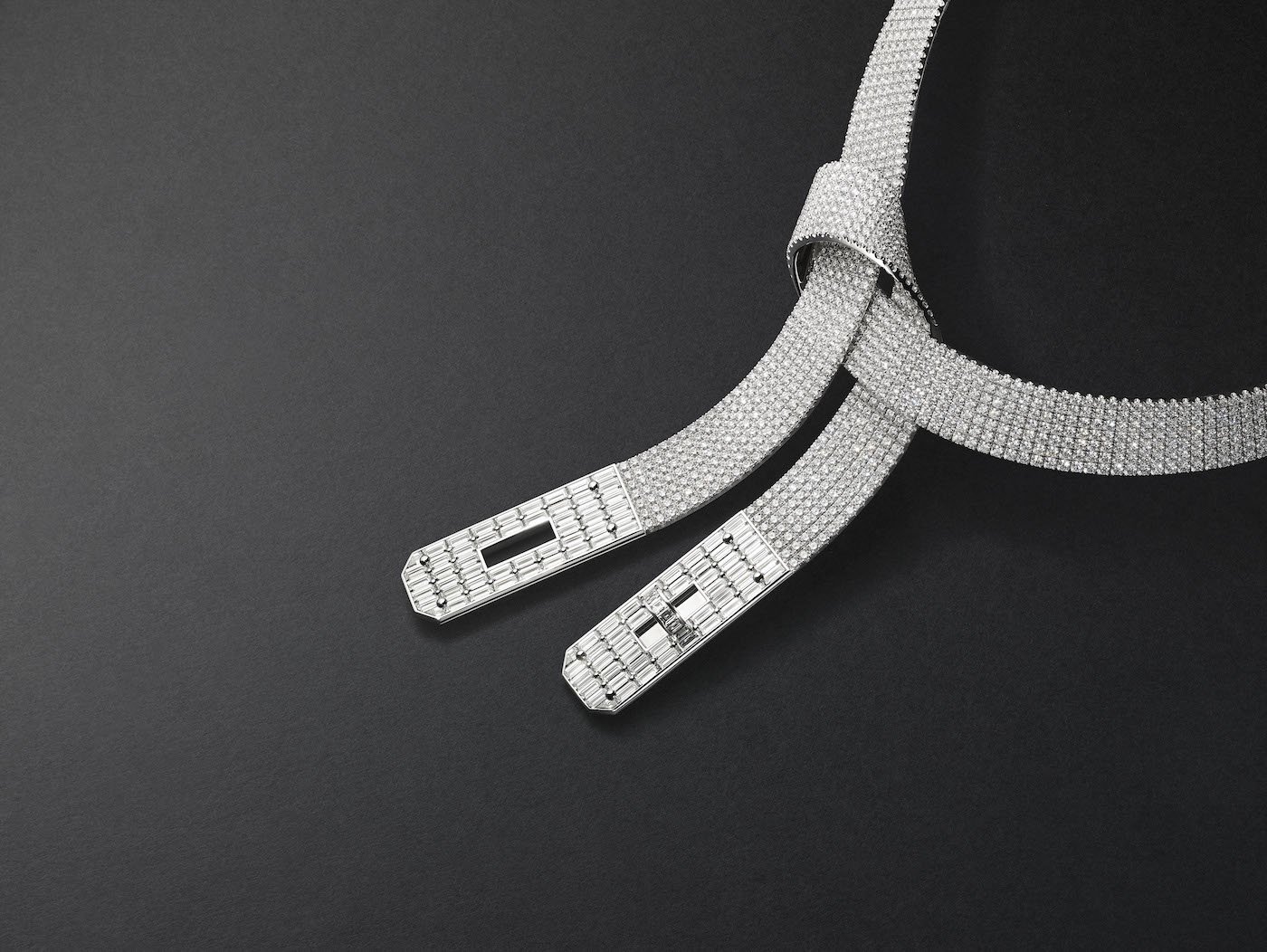 The collection grows in intensity with the Kelly Baguette. White diamonds or black spinels, all baguette-cut, illuminate these creations and bring new meaning to the iconic clasp. In rose gold or white gold, double-row rings alongside bracelets with one, three or five rows fascinate in black or white. Chokers are sleek, slim bands. With the additional esoteric touch instilled by the protective properties of this powerful and sophisticated black stone. The elegance and assertiveness of the iconic bag itself.


How to conclude such a profusion of symbols? With the Bijou Kelly: precious miniature versions of this object of desire. In silver and chainmail or in gleaming rose gold crocodile scales set with 1,131 red sapphires, these remarkable creations reflect many of the skills that Hermès masters.

Because every symphony has a last note, the exhibition ends with a nod to its alter ego with the Bijou Birkin bag. A high jewellery piece of exceptional rarity, it replicates that other icon in white gold encrusted with diamonds. More than 1,550 hours of meticulous handcrafting and 3,025 white diamonds transformed into a fully functional bag which can be carried and used as such. Made exclusively to order, it requires a certain amount of patience – at least 12 to 18 months.
The visitor leaves the exhibition enveloped in the magical scintillation from which the characteristic silhouette and particular details of the legendary bag still emerge. One of Hermès' greatest strengths is, after all, the ability to astonish without ostentation, by the sheer extent of its creativity.