S
amuel Gillioz first trained at the Ecole d'Horlogerie in Geneva before honing his skills with some of the most prestigious watchmakers, including Vacheron Constantin. He now treads his own path, following his dream of harmonising fine Swiss mechanics with a material seldom seen among elite watches: precious wood.
For Samuel, independence means being able to share his passion for watches and exceptional materials such as rare woods, combining the two to craft a unique and beautiful timepiece. Kauri is the platform on which he can transform his ideas into reality and his designs into a real object. There is no higher honour for a master craftsman.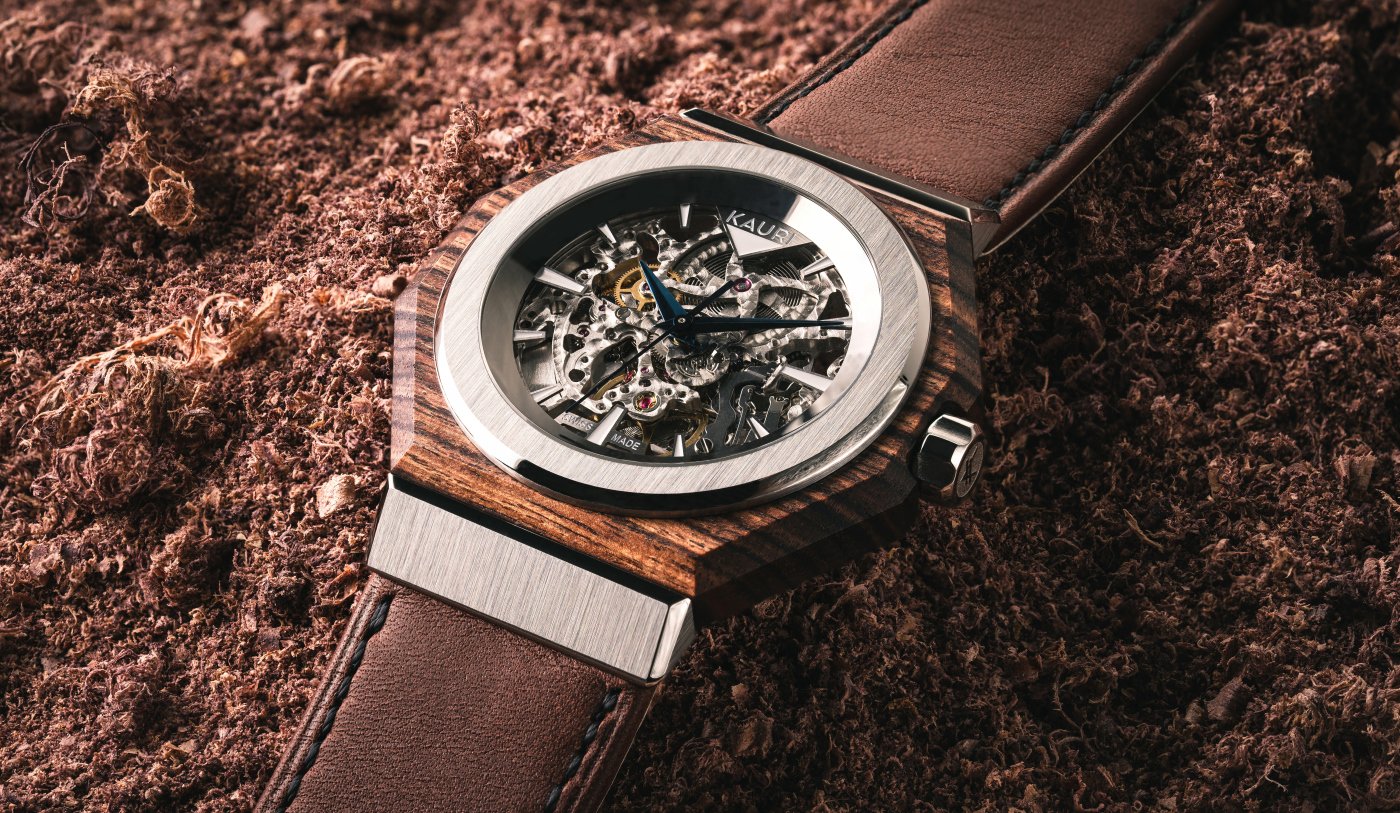 Wood and mechanics, an unusual pair
The idea had germinated and the first designs were ready. Next came the first machines: a 102 Schaublin lathe from 1949 and an Aciera F1 milling machine from 1973. With these tools, he could finally build his first prototypes.
It took many long months to finally create the first Kauri model, an automatic Swiss chronometer clad in a solid case made from precious or semi-precious wood.
Wood has for millennia been considered a truly noble material. Each species has its own intrinsic qualities and characteristics, offering the artisan a multitude of creative possibilities.
Every type of wood is fascinating, and can all be used to craft truly unique, bespoke objects. Even among different pieces of the same wood, the material used to create each Kauri case has its own unique character. It is for this reason that we select each wood meticulously, contemplating the veins, density and grain pattern to craft a watch of the highest quality.
Quality and traditional expertise are at the heart of this project, and it is for this reason that each Kauri watch is certified as Swiss Made.
More than 90% of the value of a Kauri watch comes from here, in Switzerland. This reflects a deep-rooted commitment to the highest quality finishes, made possible by close collaboration with Swiss companies whose skills and expertise have been proven time and time again.
The first timepiece
A distillation of passion, technique and craftsmanship
A Swiss-made, open-faced 316L steel mechanism pairs elegantly with a wooden exterior. Inside and outside, every detail of this maiden timepiece has been carefully selected and developed to guarantee the highest in quality, strength and water resistance. This watch measures 41.00mm by 43.80mm, and is 9.80mm thick.
The steel is carefully hand-finished to the highest level, with each visible steel part polished and satin-finished, contrasting the matte with the smooth. The leather straps are produced in Geneva by Protexo, a family business.
A timepiece of great character and personality, this first limited-edition model unites cold steel with the warmth of wood. Each watch in the series is numbered from 1 to 50, with the number of your choice engraved onto the back of your watch.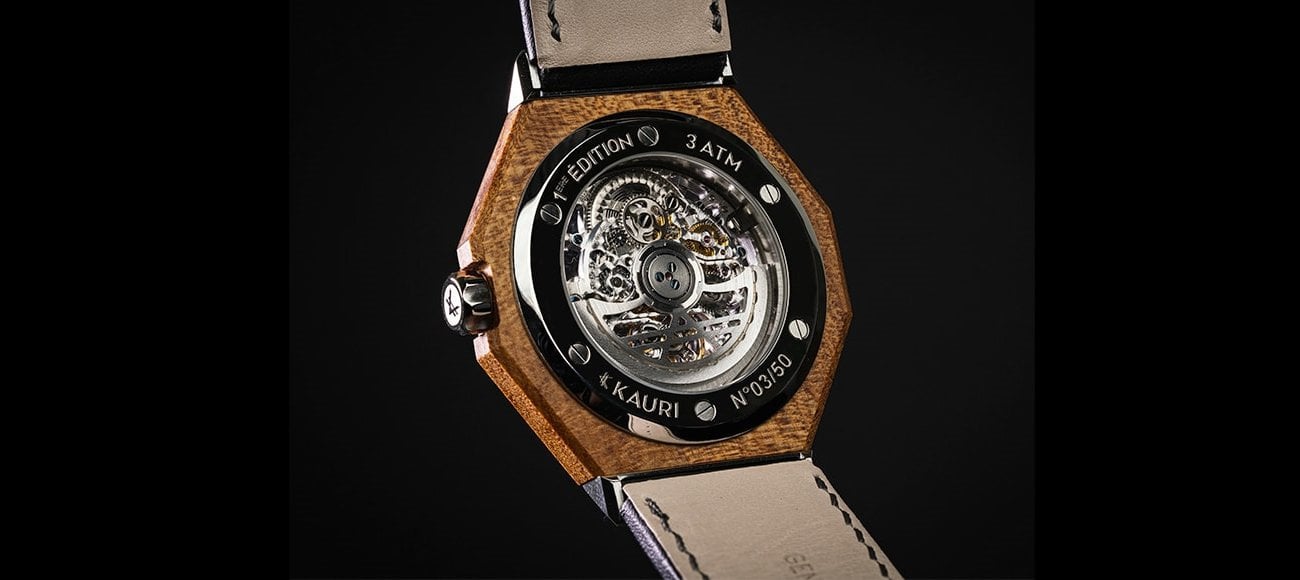 A new approach to the traditional case
From the beginning, this watch was designed to harmonise wood and steel into a coherent whole. Its manufacture reflects this, delivering a strong, robust watch which can be easily repaired if necessary.
The design is as follows:
A "capsule" made from 316L stainless steel, waterproof to 30m, to protect the watch mechanism,
A polished bezel fronting a skeleton dial, with black or white hands,
316L stainless steel strap inserts at 12 o'clock and 6 o'clock secure the strap to the waterproof case,
The octagonal wooden cladding reveals the unique character of each wood,
The steel and wood bevels follow each other around the dial, point for point and edge for edge,
The wood is treated with a drying oil for enhanced protection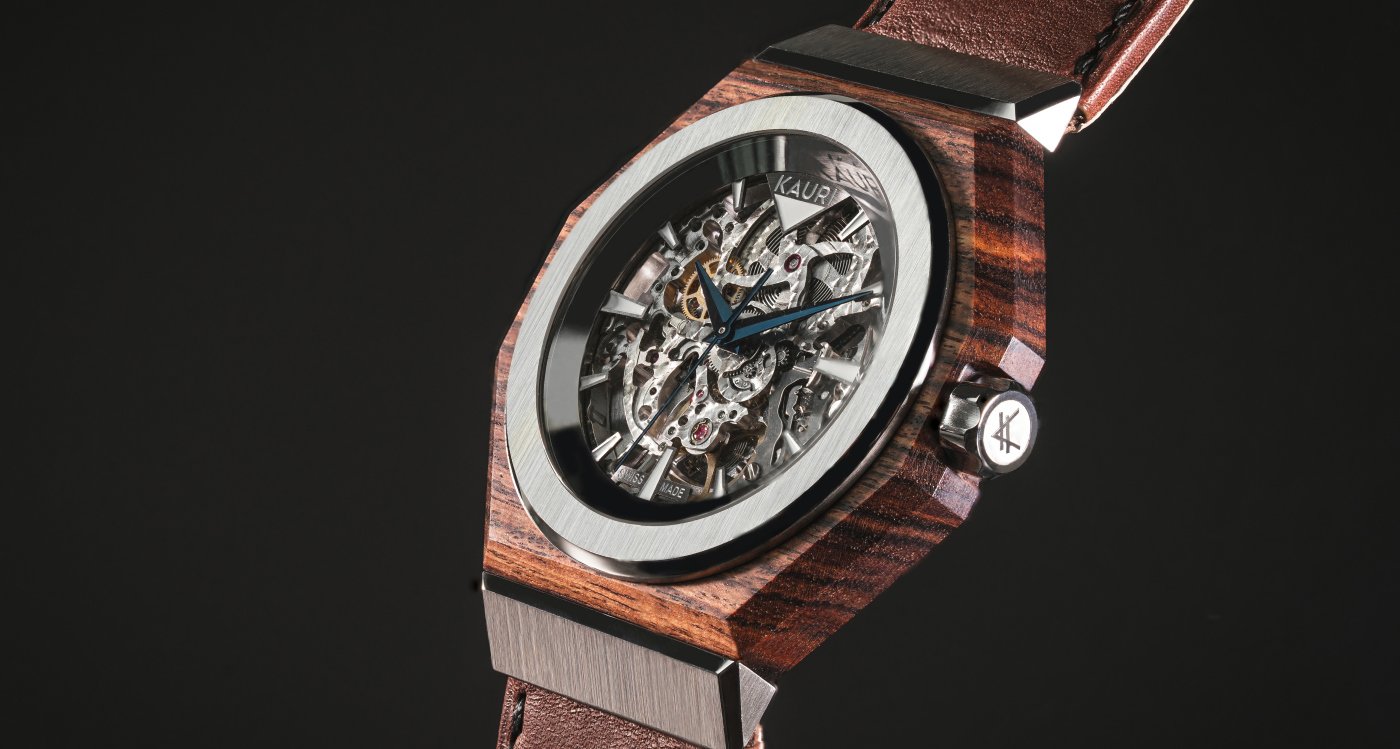 The possibilities are endless
The natural elegance of Macassar ebony will provide rich, dark tones, while an everyday watch may be better served by the contemporary tones of briar, a wood more commonly seen in pipes. Violetwood and its striking vein patterns are certain to draw the eye, and kauri wood can bring thirty to fifty thousand years of history to your wrist.
There is also a selection of hands, and an opaque dial can be set behind them. Here, each watch is tailor-made to the needs and desires of its new owner.
Crafting rare and precious wood
Pairing wood and steel to create a unique timepiece may seem outlandish, but the nec plus ultra of noble materials offers a wealth of opportunities for a master craftsman.
Precious woods are extremely delicate to work with, and many steps are needed before the final piece will see the light of day. This painstaking work is what sets these objects apart, what makes them each unique and is why they have been used to craft the most prestigious and valuable items since time immemorial.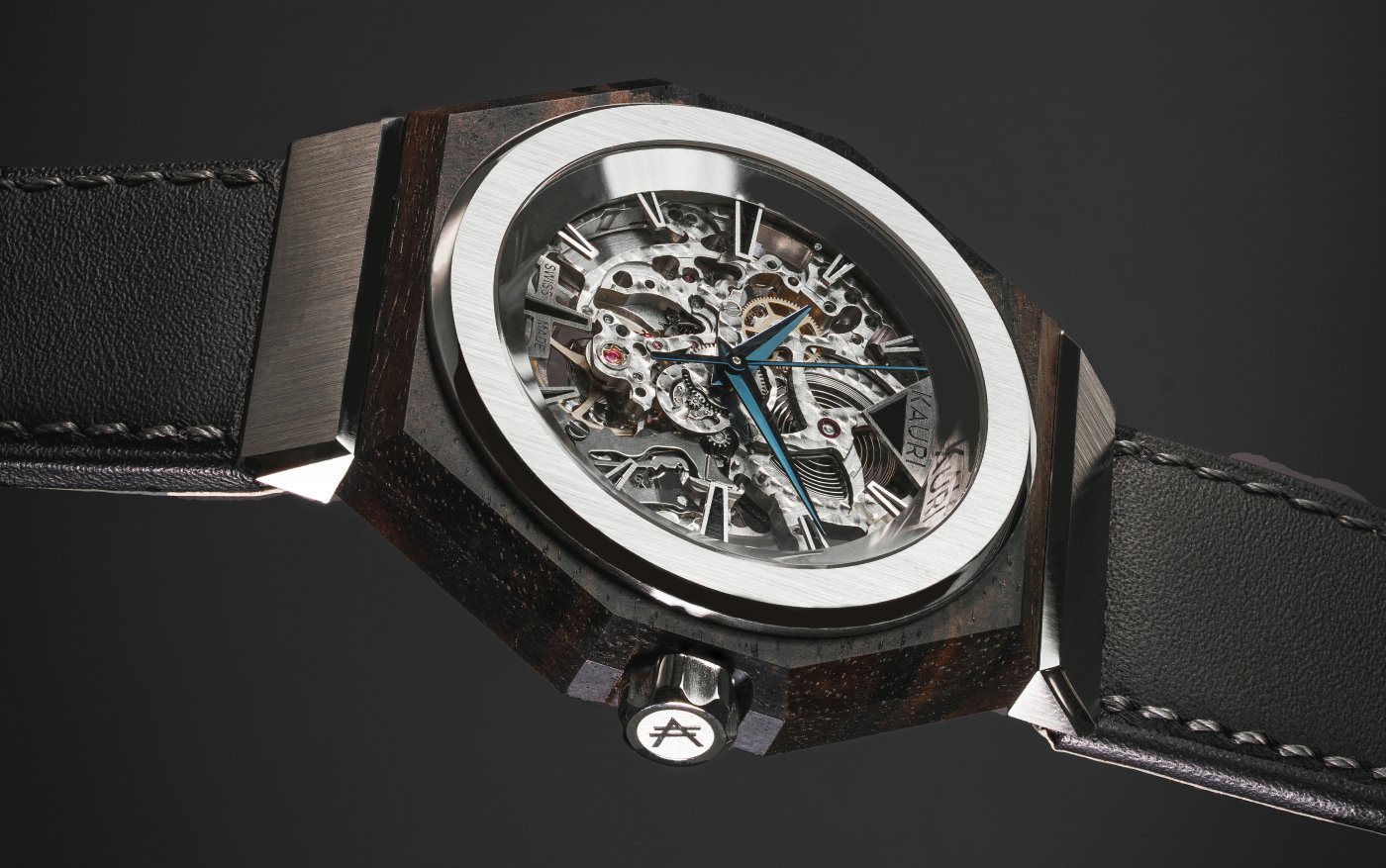 A careful selection process to ensure that each piece is unique
Each wood is unique, and from the colour to the grain, each has its own distinct character. This is what opens up so many possibilities to the craftsman, who can imbue each watch with character and personality. From selecting the wood to working it into its finished form, each step is handled with the utmost care.
First, the intrinsic quality and appearance of the wood are carefully studied and only the finest wood is selected. This is then cut to reveal the most interesting parts of the wood, which correspond to the design of the watch. The process requires powerful tools: steel-cutting tools are used to ensure the best possible finish on the cut.
Each side is then gently sanded to a flawless finish, before a natural drying oil is applied to develop a beautiful sheen and a stronger, more durable surface.