N
icolas Baretzki's career is one straight line, and that line bears the name of Richemont. It is with this group that he has spent the major part of his career.
After graduating from the HEC business school in Paris, he spent eight years at Cartier, which he joined in 1994, then from 2002 more than eleven years at Jaeger-LeCoultre where he worked under CEO Jérôme Lambert, to whom he has remained loyal for more than two decades. He followed him to Montblanc in 2013 and after having been the brand's international sales director has held the post of CEO since 1 April 2017.
In the role of orchestral conductor, Nicolas Baretzki directs overall business at Montblanc: its watches, made in Switzerland at Le Locle and Villeret, its writing instruments, produced in Hamburg, Germany, and its leather articles, accessories, perfumes and glasses, made in Italy.
Montblanc corporate headquarters in Hamburg
Since arriving, he has striven to raise the brand's appeal and by appointing Marco Tomasetta artistic director has succeeded in giving the leather division a much-needed makeover.
Nicolas Baretzki, CEO of Montblanc since 2017
In an interview, he talked about the strategy he has put in place both globally and for each line of business and looked back over the past six years at the helm of the company with the white star logo.
Europa Star: When you arrived at the head of Montblanc in 2017, what was the biggest challenge facing you?
Nicolas Baretzki: Apart from taking up the reins of a company, holding down the post of CEO for the first time and following in Jérôme Lambert's footsteps (smiles)? Montblanc's growth has always been the result of its CEOs' determination to develop and transform it and to innovate while at the same time cultivating its roots – culture and writing. The biggest challenge was to be capable of continuing in the same direction. Montblanc builds by looking to the future while not questioning the past, but leveraging it. That's what I've done since 2017 and what every successor will continue to do.
You head up a company of multiple businesses: writing instruments, leather goods and watches. What skills do you need to be able to orchestrate these different activities?
When you work somewhere like Montblanc, the most important skill is knowing how to get the right support. You can't be an expert in every field and my priority was to find the right person for leather goods, for marketing, and so on, and to have a strong team contributing their expertise. You have to have a certain humility. This is a company that demands a lot of energy: we have business activities in Switzerland, Italy and Germany and so it's important to be present. You also need a brand vision to avoid falling into a compartmentalised way of thinking. There's a strong link between the company's different business lines and that helps us harmonise our message and create global campaigns. Customers come for Montblanc first; they're attracted by certain categories after that.
1858 Automatic 0 Oxygen The 8000 41mm. 0 Oxygen watches are devoid of oxygen to enhance performance and precision over lengthy periods of time, even in extreme environmental conditions at altitude.
1858 Iced Sea Grey Dial
In 2021, you appointed Marco Tomasetta, previously of Dolce & Gabbana, Fendi, Prada, Dior, Gucci, Chloé, Givenchy and Louis Vuitton, as Montblanc's artistic director. What drew him to your brand, which is quite a far cry from the world of catwalks and fashion he was familiar with before?
We needed someone with a global approach, a transversal creative vision, capable of immersing themselves in Montblanc's history and origins. The company has dual positioning: hard luxury and soft luxury. When I interviewed the different candidates, I was won over by Marco and his portfolio which set out his perception of Montblanc. He was very attentive to its history, its icons; he thought about the company before thinking about himself. That's important at Montblanc: it's a company that puts not people, but the product at the forefront. What won him over is the potential he saw. He used the power of writing and its codes to build a message. Joining a company which is above the field of fashion and catwalks gives him a chance to work on both content and culture.
In October, Montblanc opened a temporary workshop in Geneva showcasing its different business lines.

Writing instruments are the original stars of Montblanc. What's your view of this line of business?
I take a very pragmatic approach. In world that's going digital, writing is a way of standing out and a real strength. As I travel around the world, I see how books, libraries, bookshops are regaining power. There's a growing number of blogs and Instagram pages highlighting the art of writing and calligraphy. Writing lets us express a skill, a manual art. An avenue has opened up in front of us. Our mission is to inspire and to convert all generations to the world of writing and to invite them into our world, which is that of luxury writing instruments. It's a beautiful mission. The Covid crisis helped us: lots of people found themselves stuck at home and rediscovered a taste for writing.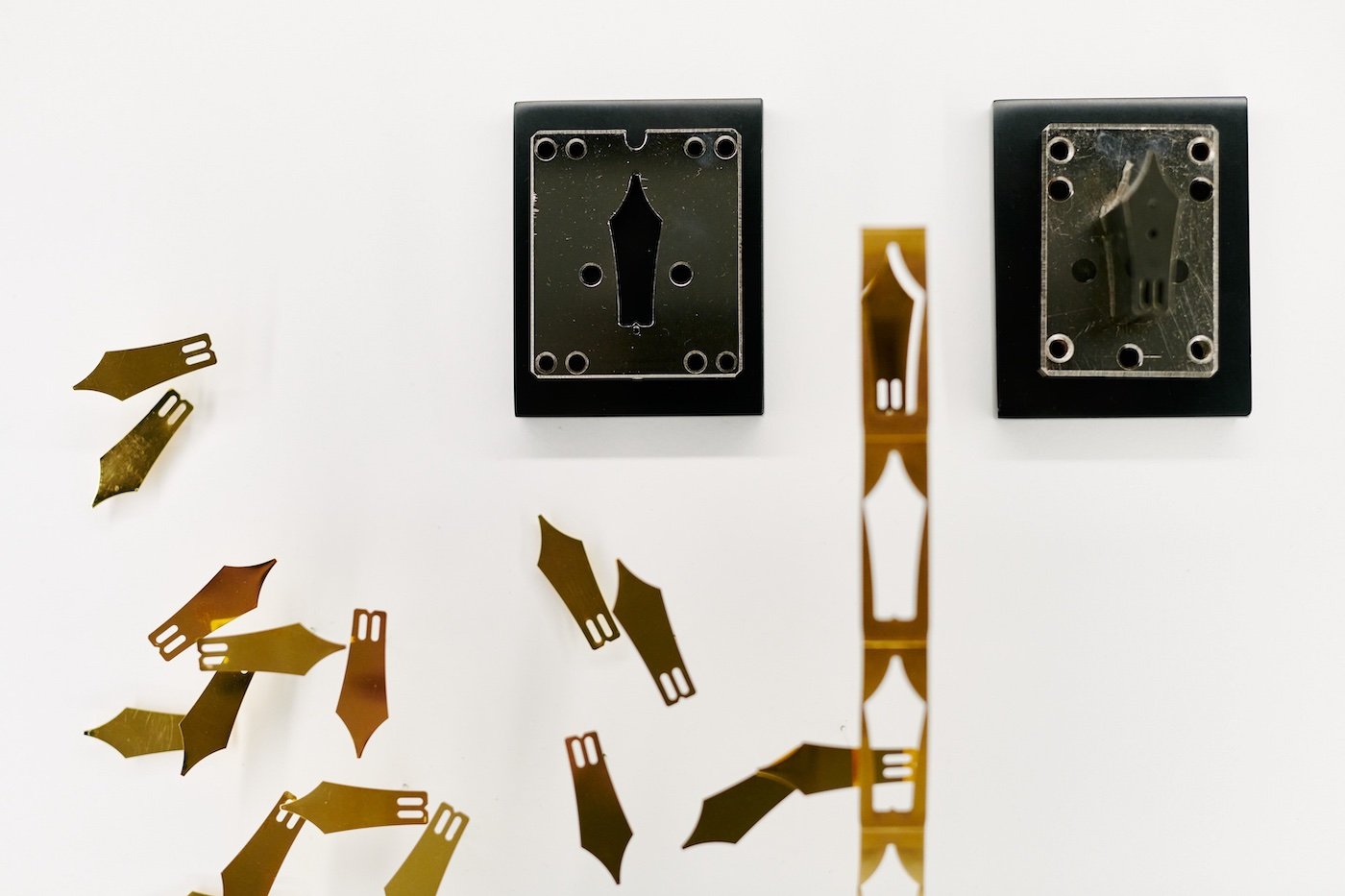 Is there a kind of "cross-fertilisation" between the different lines of business and if so, what form does it take?
That's what we're doing more and more thanks to someone like Marco, who supervises the whole creative process, both at the product and communications level. We work on themes that are very relevant to Montblanc. Take the mountain theme, for example; you'll find it running through our entire product range: in our watches, with the 0 Oxygen and Iced Sea collections, in our writing instruments, with the Meisterstück Glacier, and in our leather goods. The company's message is a brand message first and foremost: the categories come second.
High Artistry A Journey on the Orient Express Limited Edition 1 ink pen, a tribute to the eponymous train. Made in 18-carat gold, it takes its inspiration from the marquetry interior decoration of René Prou, with diamonds set in a floral pattern adorning the cap and barrel.

For your watchmaking business, you use different standards of movement. What qualities must a watch have to incorporate a Minerva movement?
To answer, let me go back to our original field of business, writing. We offer classic products, theme models and exceptional pieces, such as the High Artistry A Journey on the Orient Express Limited Edition collection, which we launched in Paris. We have two different creative teams, one creating the classic instruments and the other the limited editions. The skills and production processes are different. It's the same approach for watchmaking. It's a question of finish and price positioning. When it comes to Minerva, it's purely about fine watchmaking and innovation. By way of example: the 1858 Unveiled Timekeeper Minerva presented at Watches and Wonders, with a chronograph function that's triggered not by a monopusher but by the bezel itself, is a real revolution in the watchmaking world.
A historical Minerva model
The 1858 Unveiled Timekeeper Minerva has a chronograph function which is triggered not by a monopusher, but by the bezel itself.
Minerva is a gem, but not always very well-known. At a presentation of your watches at Bucherer in Geneva, no one present knew that Montblanc owned that manufacture. Are you envisaging giving it more of the spotlight, and if so, how?
I think we need to stop differentiating between Minerva and Montblanc. There's a watchmaking category at Montblanc, but not a Minerva watchmaking category. Our customers are perfectly clear about that. Minerva is a gem. It's a manufacture with a history reaching back more than 160 years and an exceptional heritage. It's a source of inspiration, well-known to a circle of collectors who buy all our latest limited-edition series and all our innovations. But it's a manufacture with limited capacity in production terms, and consequently in terms of value. Minerva is more than just a name: you're right that more emphasis needs to be placed on its history and technology. We're going there, step by step. We needed first of all to define the codes of a watch with a Minerva movement.
1858 The Unveiled Secret Minerva Monopusher Chronograph Limited Edition
What are the codes?
For the past eighteen months we've been using a fluted bezel in a precious material, which signifies that that timepiece has a Minerva calibre. With the 1858 Unveiled Timekeeper Minerva model, giving it a function is another way of highlighting the bezel. Little by little we're building strong elements, whether a specific design element or a function, by which you can recognise the quality of the calibre. We're lucky enough to have a circle of collectors who fervently believe in what we're doing with Minerva and who act almost as evangelists, helping us to talk about this bijou. But there's no hurry: we can't make a thousand Minerva movements a year.
1858 Geosphere Chronograph 0 Oxygen The 8000

For some brands, including yours, the Covid crisis boosted online sales. Are you in the process of rethinking the Montblanc boutiques and the customer experience across your whole product range?
At Montblanc the digital era began well before Covid: our first website dates back 12 or 13 years. But it's true that Covid moved things along faster. By creating an "ink bar", our aim was to get customers coming into our boutiques to test different types of pen, to take calligraphy courses. You don't come to Montblanc just to buy a product: you come to experience something. But inversely, we're more digitally engaged: in the US, we've set up a system of free calligraphy lessons so people can rediscover the joy of writing, and writing well. And every time we put a course online, 1,500 people sign up. Since the start of the operation, we must have reached out to over 200,000 people. I don't set one world against the other. We live in a digital world, but we organise unique experiences in our boutiques that make people want to interact, to go into things in greater detail and live their passion to the full. For example, we've developed an extraordinary tool that will allow customers to personalise their pens. It will be unveiled next year at the centenary of the Meisterstück.

What about you, do you write letters with a fountain pen?
Yes, I write exclusively with fountain pens. Not because I work for Montblanc, but because I've rediscovered the pleasure of writing in ink. My handwriting isn't very legible and with a fountain pen I can make it easier to read. It's so exciting to receive a handwritten letter today! It takes an effort to take a sheet of paper, write and post a letter, but it gives so much pleasure to the receiver. In fact we've installed letter boxes in our boutiques where people can write and send postcards. It brings writing back to the fore. There's vitality in writing. You can't help falling back in love with handwritten letters.
Iced Sea Set