P
aradoxically, the world's first quartz watch was developed in Switzerland by one of CSEM's founders, the CEH (which developed the famous Beta 1 back in 1967). Short-sightedly, the Swiss missed the industrial opportunity and were overtaken by the Japanese.
They vowed that history would not repeat itself; consequently, one of the roles of CSEM is to place its research skills directly at the service of horological industrialisation and, beyond that, to be "a genuine catalyst for the transfer of technology and know-how between the scientific and economic sectors".
Today, in effect, CSEM's activities go beyond the bounds of watchmaking and into microtechnology, serving the aerospace, medical, machine tools and even the automotive industries.
In this article, we present some of them to give an idea of this research centre's ability to innovate, starting with the "saga of silicon".

THE SILICON SAGA
Having been closely involved with electronic watches from the outset, CSEM developed the first processors and in doing so acquired no small expertise in the use of silicon. Twenty years ago, it occurred to researchers to investigate the properties of silicon in relation to horology.
While developing technologies for the space industry, among other fields of application, CSEM saw that some of the properties specific to silicon could prove useful in mechanical watchmaking, being elastic, but non-deforming (i.e. having shape memory), robust and antimagnetic.
Working closely with a research consortium comprising Rolex, Patek Philippe and the Swatch Group, they developed a silicon hairspring which, incidentally, necessitated another flagship innovation that rendered the hairspring in question insensitive to temperature (a crucial prerequisite for hairsprings, comparable to Invar for steel).
While developing technologies for the space industry, CSEM saw that some of the properties specific to silicon could prove useful in mechanical watchmaking.
Numerous developments have emerged since this first foray into the use of silicon in watchmaking, opening up new avenues for mechanical watchmaking, and regulation in particular – an area of ongoing research that has far from exhausted its potential.
And this goes way beyond the conquest of chronometry alone; it also opens up new perspectives for the design of movements and even watches themselves, including the time display (editor's note: we had the opportunity to view a confidential prototype showing a simple, obvious, unprecedented and fiendishly poetic manner of reading time, which just goes to show that even the most arid research can have fun results).
Here is a timeline of some of the steps in this ever growing saga.
2005
Patek Philippe: Silicon Escape Wheel
In 2005, Patek Philippe showcased their silicon escape wheel, a revolutionary step for this prestigious company, a guarantor of watchmaking orthodoxy, which ushered in the new technology. In a traditional lever escapement, 65% of the energy is consumed by the escapement mechanism. Consequently, the mass of the wheel is of paramount importance. Thanks to its extreme lightness, combined with its hardness and resistance to corrosion, a silicon escape wheel greatly improves the transmission of energy to the balance. Moreover, it requires no lubrication.
Silicon Escape Wheel
2012
Vaucher Manufacture: Genequand Escapement
Structures on flexure bearings are ideal for providing precise motion as they produce no friction, require no lubricant and are not subject to wear. Convinced that these advantages could benefit the micromechanics used in precision watchmaking, Pierre Genequand, a former physicist at CSEM, devised a mechanical watch regulator concept based on flexure bearings for the escapement and the oscillator.
The Genequand regulator
The great advantage of this regulator is that it drastically reduces the energy consumption of a watch movement. The challenge of integrating such an innovation at the scale of a watch can be overcome by combining, in both the escapement and oscillator, the use of silicon with pivots on flexible, completely frictionless couplings. A watch with a movement based on this type of regulator needs winding no more than once a month.
2013
Girard-Perregaux: Constant Escapement
Using a buckled, flexible blade in 14-micron silicon – six times finer than a human hair – Girard-Perregaux succeeded in building into the escapement an intermediate device that stores the energy up to a constant level bordering on instability, then transmits all this energy instantaneously, before beginning the cycle over again. This constant transmission of energy to the oscillator provides constant amplitude and power and, consequently unequalled precision. This watch received the Aiguille d'Or award at the Grand Prix d'Horlogerie de Genève.
Girard-Perregaux Constant Escapement
2017
Zenith Defy
By successfully integrating the 31 components of a traditional regulating organ into one single monobloc component made of 0.5mm-thick monocrystalline silicon, the Defy introduced a new approach to watch regulation. No need for assembly, adjustment or lubrication. Unaffected by magnetism and temperature, the regulator is claimed to consume far less energy and be unfazed by power variations or changes in the position of the watch when worn. According to Zenith, it is accurate to nearly 0.3 seconds a day and remains constant for 95% of its power reserve.
Zenith Defy
SURFACE SCIENCE: DECORATION AND TRIBOLOGY
Understanding the structural, chemical, and physical properties of surfaces is crucial in practice since numerous material properties, including aesthetics, friction, wettability and corrosion, are defined by how they interact. CSEM develops advanced technologies for modifying the nanostructure and chemical composition of various surfaces, as well as the associated upscaling platforms.

Inspired by colour effects previously developed for anti-counterfeiting (i.e. bank notes and passports), the technology has been extended to watchmaking for decoration and traceability applications. The colour effects and decorative patterns resulting from the unique nanostructures deposited by self-assembly based chemical processes are impossible to reproduce and can be tuned by varying both the lateral and vertical dimensions of the nanostructures. Surface modifications are also being investigated to improve the tribological properties of watch and medical components.
WITSCHI LASER-ASSISTED CALIBRATION FOR EXTREME PRECISION IN MECHANICAL WATCHES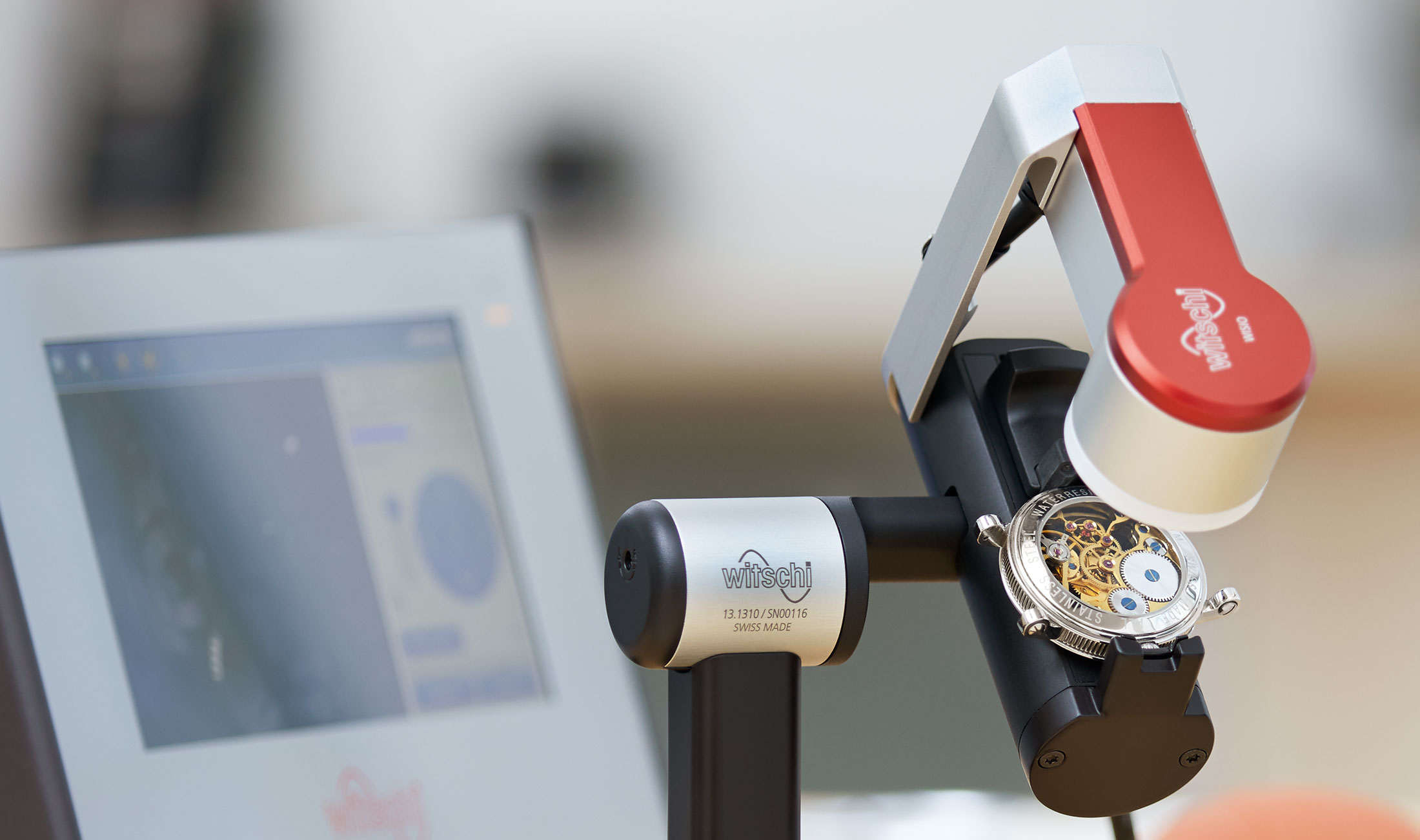 As mechanical watches become increasingly sophisticated and the movements quieter, watchmakers require more advanced instruments for timekeeping calibration. Whereas watchmakers usually regulate watches by listening to their ticking, Witschi wanted a solution for measuring "silent" oscillators.
The experts at CSEM took up the challenge by proposing to supplement the microphones already present in Witschi watch analysers with a whole new optical measurement system. "We were looking for the very best user-friendly and robust technology for optical measurements," explains Daniel Hug, Witschi Head of R&D.
"With its state-of-the-art laser technology, collaborating with CSEM was the obvious choice." The WisioScope S monitors oscillator amplitude with the aid of photodetectors that measure the beam of laser light reflected off the balance wheel.
MINIATURE ATOMIC CLOCK
Will we one day wear atomic wristwatches? At present, no one can say ("it would be very costly to produce," we were told. "And after all, do we really need one in everyday life?"). With such thoughts we leave the realm of civil horology, but not timekeeping, as we head for space.
The atomic vapour cell is the principal component at the heart of the Miniature Atomic Clock. The objective is to attain a thickness of 5mm. CSEM possesses all the know-how for the production and quality control of the essential components of a miniature atomic clock. But they have yet to achieve this at the scale of a watch.
Miniature atomic clocks could be useful timekeepers during interplanetary missions (rather like marine clocks for the first intercontinental sea voyages). More pragmatically, today the main applications of miniature atomic clocks are in instrumentation and telecommunications. CSEM is also a global pioneer in this particular field, working with the company Orolia Switzerland SA, a "world leader in Resilient Positioning, Navigation and Timing (PNT) solutions".
WEAR-A-WATT: TOWARDS ENERGY AUTONOMY
CSEM has developed high-performance photovoltaic cells on ultra-thin, supple silicon film. The goal is to achieve energy autonomy while offering an aesthetic compatible with luxury watchmaking.
In practical terms, this means finding the most efficient way of integrating photovoltaics, and developing active and even coloured surfaces – which can become totally invisible. One of the results of this research is the latest Tissot Connected, the surfaces of which are sensitive, active, and absolutely invisible (about this collaboration with Tissot, read our article here).
A CSEM prototype demonstrating, among other things, the flexibility of its solar cells. Here, they appear on the bracelet.
CSEM is also the leader in the field of very lowconsumption microprocessors (making it possible to either increase autonomy or add new functions for an identical charge).
BIOWAVE, ALL IN VEIN
The vein recognition system is located in the buckle of this prototype.
Another area of research is security technology. The BioWave project seeks to use the network of veins (unique to each individual) in a watch-wearer's wrist for authentication purposes. The vector is the watchstrap buckle (which means the system can be fitted to any wristwatch). Once the owner's vein network is identified and authenticated, they can gain secure, contactless access to a wide variety of devices (such as their computer), services (banking, medical, transport) and places (office, house, car).