I
n watchmaking circles, people tend to mock Rolex fans who buzz with excitement on social media because the brand with the crown logo has made some minute change – the shape of a hand, a touch of colour – to one of its iconic models. But they've got it all wrong. Because that is precisely the essence of innovation as practised by Rolex.
It is the very source of its undeniable, unabated global success. Take the case of the Submariner. Starting as a radical, disruptive innovation – the Submarine watch of 1922, the first step towards waterproof watches, then the Oyster in 1926 – its subsequent history is one of a slow, gradual accumulation of innovations, sometimes discreet, all of them stages in the steady improvement of a product which nevertheless remains virtually identical in appearance.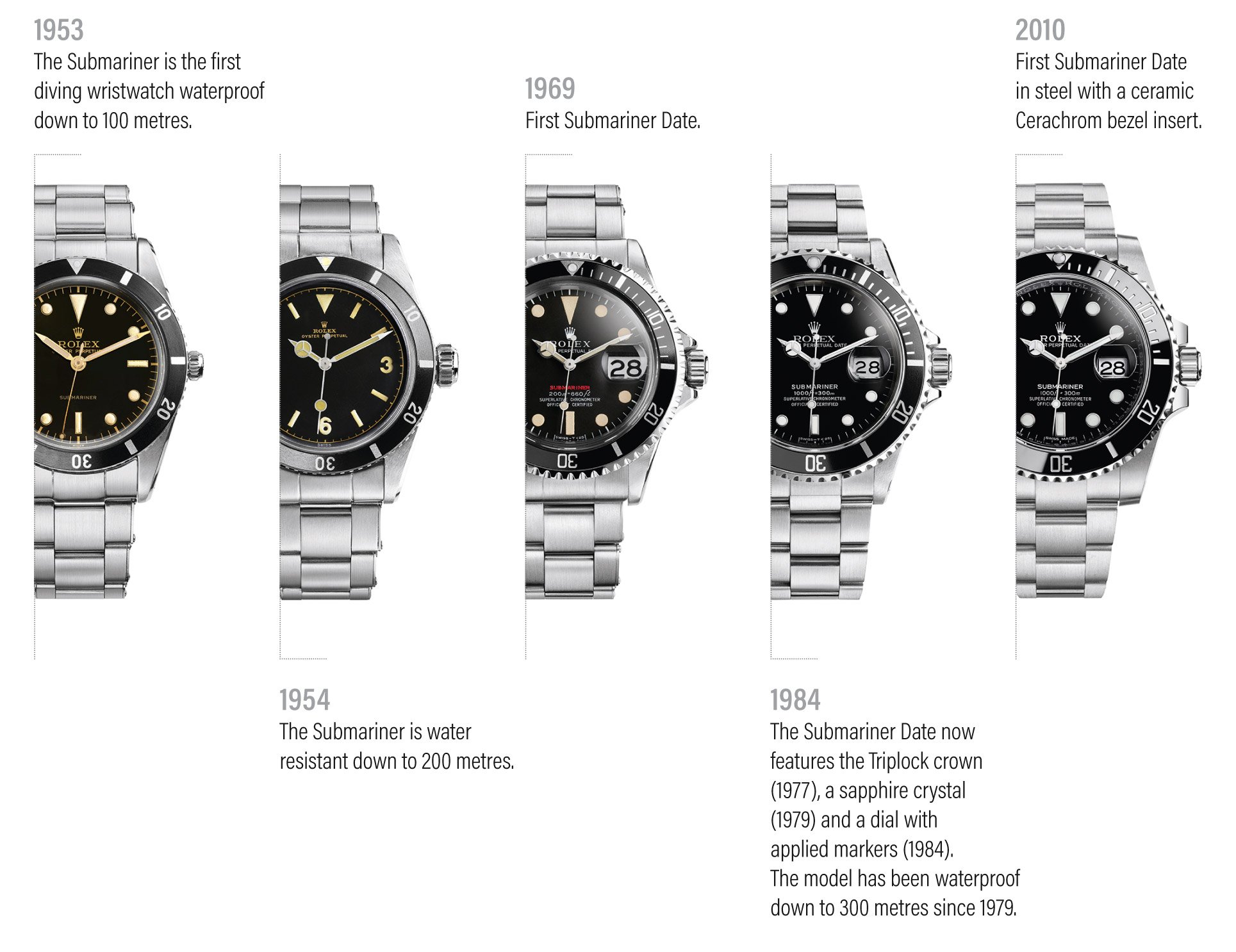 The recent 2020 iteration of the Submariner, the first watch to be waterproof down to 100m, launched in 1953, illustrates this perfectly. It is the "same" watch, yet quite different, the final stage in a very long succession of innovations.
It is the "same" watch, yet quite different, the final stage in a very long succession of innovations.
The new Submariner comes in Oystersteel, with a black dial and black rotating bezel with a Cerachrom insert. The Submariner Date in the yellow Rolesor version (a combination of Oystersteel and 18K yellow gold) has a royal blue dial and rotating bezel with a blue Cerachrom insert. Two versions of the Submariner Date, one in Oystersteel, the other in 18K white gold, have the unusual configuration of a black dial and green Cerachrom bezel, or a black dial and blue bezel.
These innovations concern not only the beating heart of the watch, with two new movements – the Perpetual 3230 and 3235 calibres, certified Superlative Chronometers, which offer fundamental gains in precision, autonomy, resistance to shocks and magnetic fields, ease-of-use and reliability – but also its exterior.
The case has been slightly enlarged, to 41mm, the contours and case horns subtly redesigned, the clasp of the strap rendered invisible and its proportions revisited, lending greater luminosity to the watch. Yet it is still the same Submariner. Innovation at the service of conservation.