W
ith its Octo Finissimo line, Bulgari has not only achieved the feat of setting six new world records for thinness in as many years, but of doing so with a watch that marks a major aesthetic disruption. It goes without saying that this result is the fruit of innovation in both the styling and the movement.
To get a better idea of how this interaction between aesthetics and engineering came about, Europa Star met Fabrizio Buonamassa Stigliani, Watch Design Senior Director, and Alfredo De Biase, Special Movement Project Manager at Bulgari Horlogerie.
Europa Star: How did the idea for the Octo Finissimo originate?
Fabrizio Buonamassa Stigliani: Ideas sometimes start with a completely original drawing, sometimes we rework something that existed in the past. That's how the Octo Finissimo originated. Immediately after the Daniel Roth and Genta workshops were integrated into Bulgari in late 1999 and early 2000, we turned our attention to the Octo, which was originally designed by Gérald Genta and made a huge impression when it was first issued as the Octo Grande Sonnerie Tourbillon in 1994.
From 2002-2003 we worked on the dial and case, mainly with external designers. We were particularly interested in the shape of watch, because the octagon is also part of Bulgari's history, notably in the Monete timepieces issued in the late 1960s. But during the Genta/Roth era, the design of the watches was largely about extravagance and colour. In 2004, we issued an initial version of the "new" Octo, the Bi-Retro, which we developed with the Gérald Genta manufacture at Le Sentier. The model featured complications, retrograde display and jumping hours on a cloisonné enamelled dial – still kind of extravagant.
But there came a point when we were looking to incorporate our own basic, three-hand calibre into the Octo. At the same time, we fully "rediscovered" the incredible capacity of the Le Sentier workshop. That made us think about the future of the Octo, combining Italian design codes with Swiss watchmaking skills.
The "Bulgarisation" of the Octo happened gradually. But it's the transition to ultra-thin that seems to have made the real difference...
Fabrizio Buonamassa Stigliani:: The name Bulgari first appeared side by side with that of Genta in 2010. But the new generation of Octo was issued in 2012. We kept the identifying octagonal shape intact, but reworked it, chamfering the edges for greater emphasis, and giving it a polished and brushed finish for better light effects. And then we completely redesigned the dial, paring it down to an oversized 12 and 6 and fine hour markers on a black lacquer base. That was the first revolution. Then in 2013, we presented a steel version with a steel strap. But at the same time, we were working on an ultra-thin model.
Alfredo De Biase: I'd already worked on movements with Gérald Genta. And I was well aware of our potential. When we were asked to work on thin movements, the thinnest in the world if possible, it was a huge challenge. To make the thinnest movements possible, we had to scrape every tenth of a millimetre. The advantage of the Octo case is that being octagonal, it's large. And so the size of the movement helped us gain those precious tenths that enabled us to set world records. Using thin movements in such a structured, architectural case was a second challenge.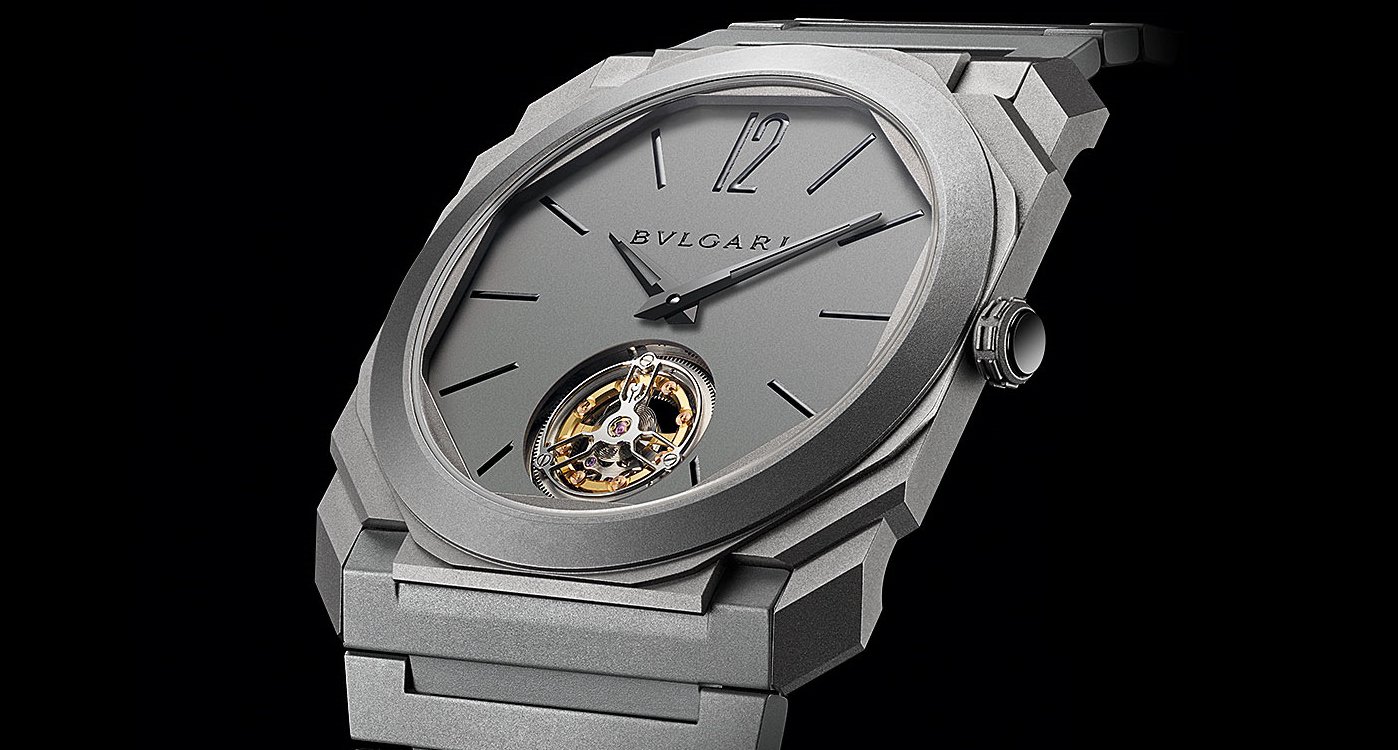 2014 OCTO FINISSIMO TOURBILLON MANUAL
The first Octo Finissimo appeared in a handwound tourbillon version in 2014. Not only did it set a world record, it also struck out in a whole new aesthetic direction that caused quite a shock.
Fabrizio Buonamassa Stigliani: Yes, this totally plain, grey platinum case and dial are unusual in high-end watchmaking, to say the least. This ultra-thin watch changed the way of wearing a watch with complications. That was what shocked. Paradoxically, it was the radicality of the approach that helped the watch take off. It marked a breaking point. And if its instantly recognisable, unique shape succeeded in establishing itself at all, it's also thanks to its single colour. Uniform colour, as seen throughout this mainly monochromatic collection, brings out the marked, layered architecture of the case all the more strongly. It means the dial and case are now one.
And since then, it's been one new record-setting watch a year. It looks like a calculated offensive!
Alfredo De Biase: Yes, a precise programme exists, of course, and it's still in progress. Each movement calls for three to four years of development. Today, we're already working on 2023-2024. And with a constant ratio of design to watchmaking skill, with no barriers. We work on all the details of each movement together – the bridges for example. There's an incessant back-and-forth between the design and the engineering aspects, yes, that's possible, no, that's not possible. We determine the functional areas and the "free" areas, so to speak.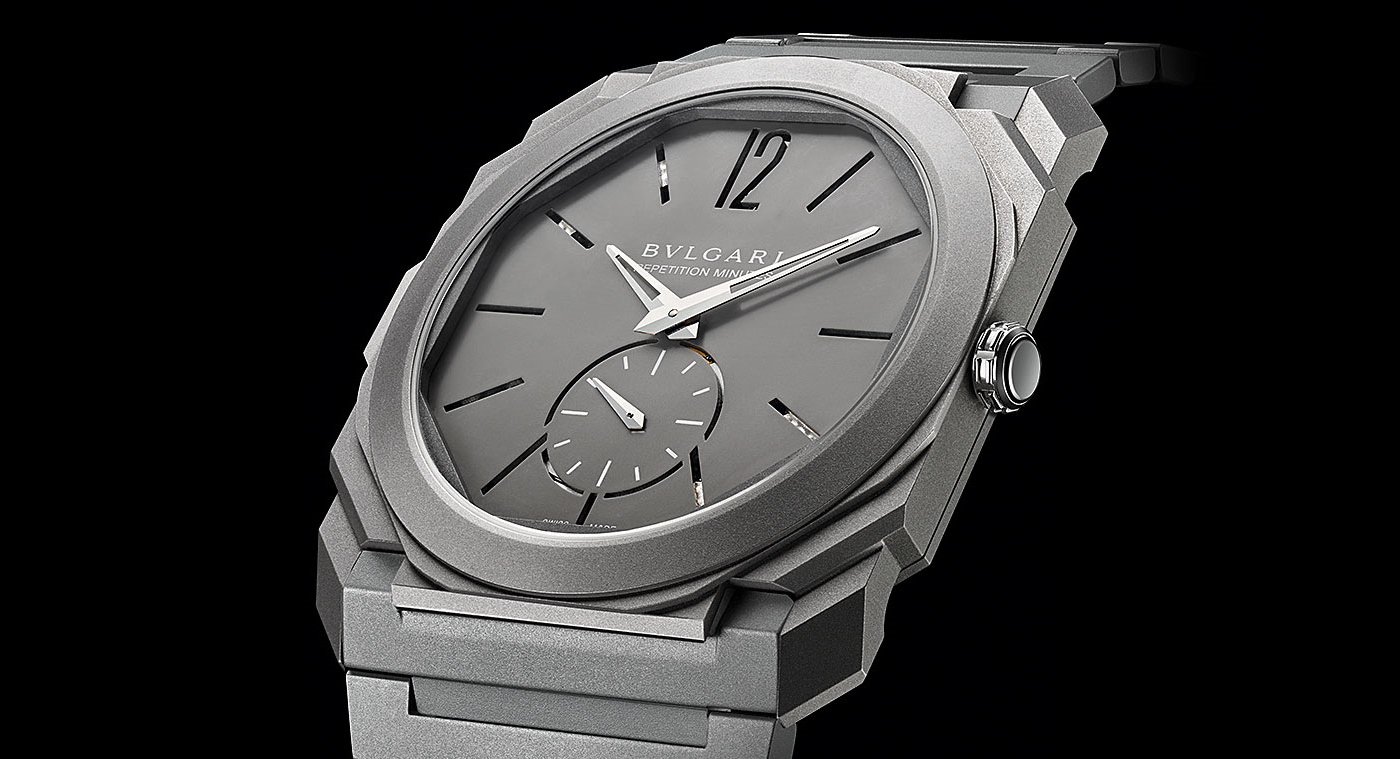 2016 OCTO FINISSIMO MINUTE REPEATER
We imagine that one of the difficulties of extra-thin designs is fitting the automatic movement in the case. You succeeded in 2017, then it took several forms.
Fabrizio Buonamassa Stigliani: Before that, in 2016, there was the Octo Finissimo Minute Repeater. A second record, with a repeater movement just 3.12mm high and an even more radical design, dictated by technical issues.
Alfredo De Biase: Yes, a platinum minute repeater presents a special challenge. And the solution for making the watch chime from the rear of the movement and amplifying the sound went hand in hand with the design; it meant open-working all the hour markers, which provide a view of the movement. The automatic version came the following year, in 2017, and that was our third world record, the thinnest selfwinding watch on the market, just 5.15mm high, with a calibre measuring 2.23mm. For that watch, we used a platinum micro-rotor.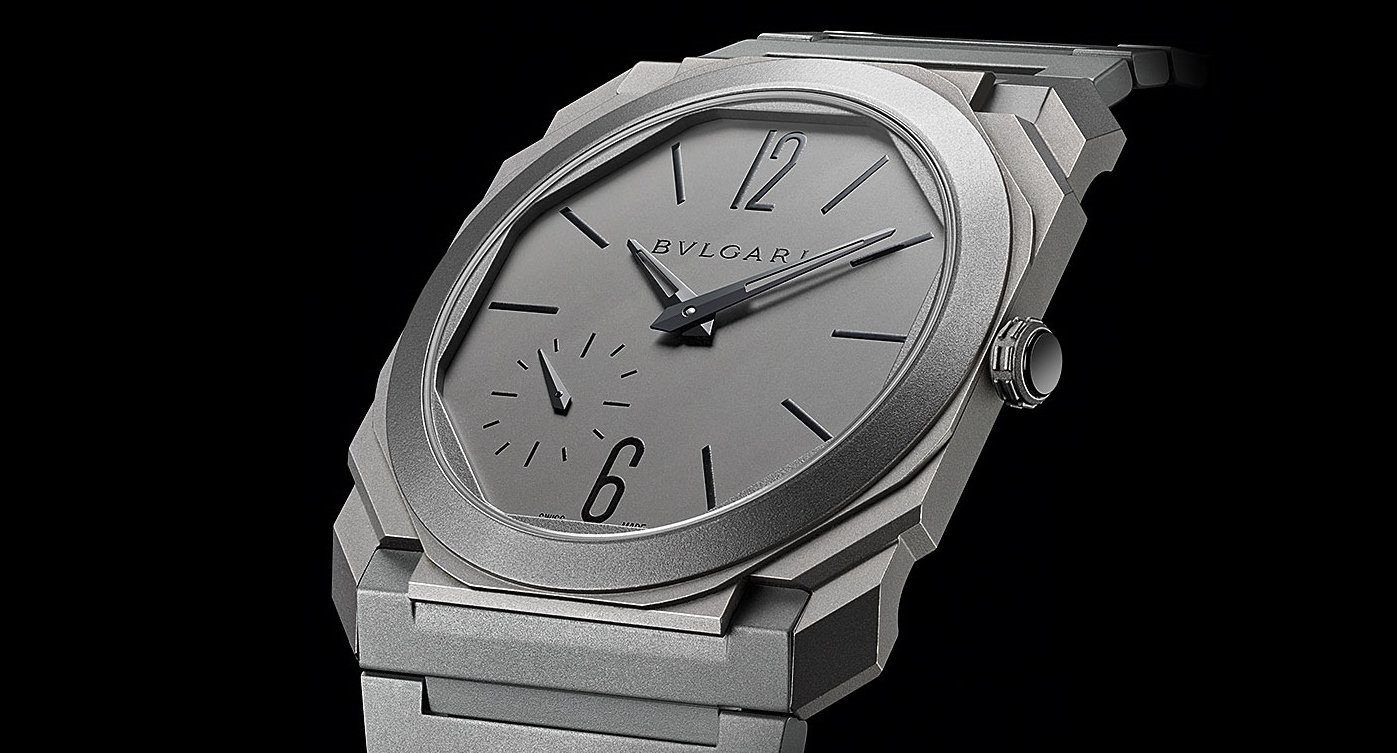 2017 OCTO FINISSIMO AUTOMATIC
Fabrizio Buonamassa Stigliani: Its strap is also one of the thinnest on the market. With the Octo Finissimo, we also wanted to offer something other than just complications. In the ultra-thin segment, there was nothing that could be worn whatever the circumstances, every day. An hours, minutes and small seconds hand. Absolute sobriety, with a unique formal identity.
The interesting thing about being both Italian and Swiss is that as Italians, we can more easily break watchmaking codes. We don't have this historic superego, this burden, while as Swiss, we're technically capable of accomplishing and mastering what we're dreaming of.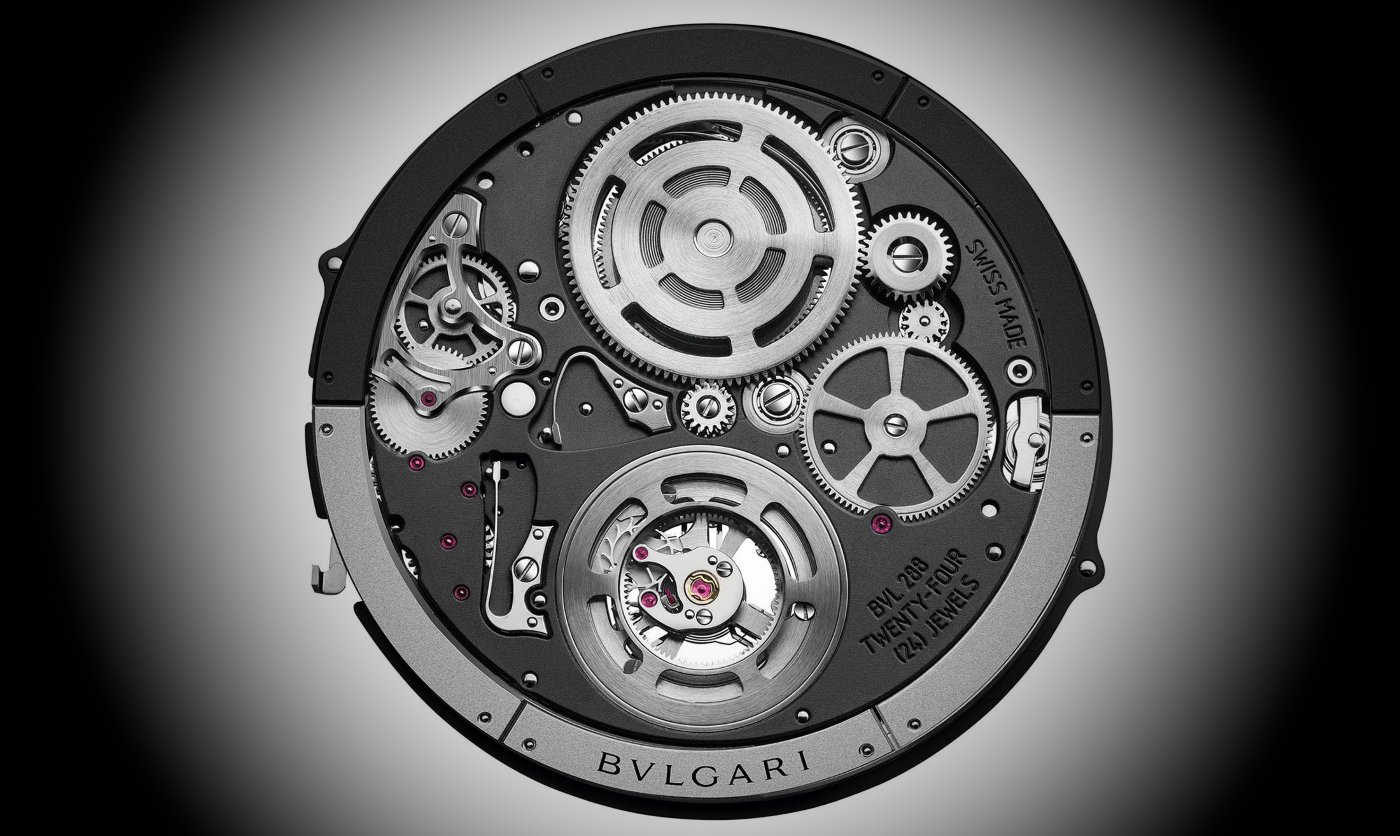 OCTO FINISSIMO TOURBILLON AUTOMATIC
With the Octo Finissimo Tourbillon Automatic, in 2018, your fourth world record, you changed the self-winding system and switched to a peripheral rotor, paving the way for the self-winding Chronograph GMT, a fifth world record, in 2019.
Alfredo De Biase: While the function of the peripheral rotor was to open up a completely unobstructed view of the automatic tourbillon, it was actually a technical necessity in order to create the thinnest self-winding chronograph ever made. The movement is only 3.3mm thick. We achieved this thanks to this peripheral automatic winder with a column wheel and horizontal clutch.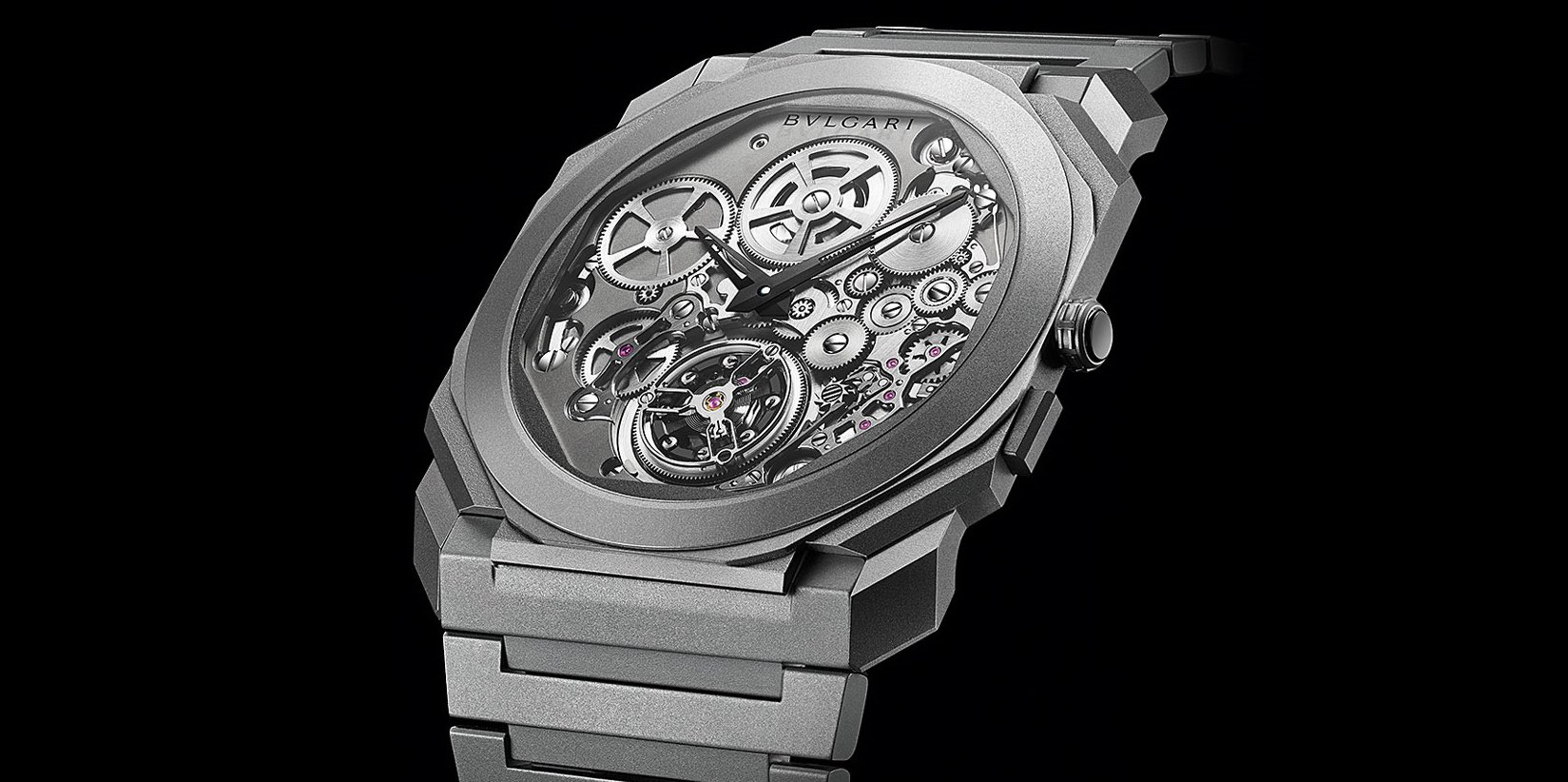 2018 OCTO FINISSIMO TOURBILLON AUTOMATIC
Fabrizio Buonamassa Stigliani: This chronograph, in a solid grey brushed titanium, also has a whole new face because its third counter, at 3 o'clock, is a 24-hour dial and is set by means of a pusher in the caseband at 9 o'clock. That lets you save your starting time or home time. Moreover, the pushers are totally incorporated into the layered, octagonal architecture of the watch.
Our objective with the Finissimo is to do the things that everybody knows – like a GMT – but in a totally different way, both in the styling as well as in the technical solutions related to the extreme requirements of ultra-thin design. And that's where the success really lies, in both these respects. The awards we've won, whether in watchmaking or design competitions, are testimony to that.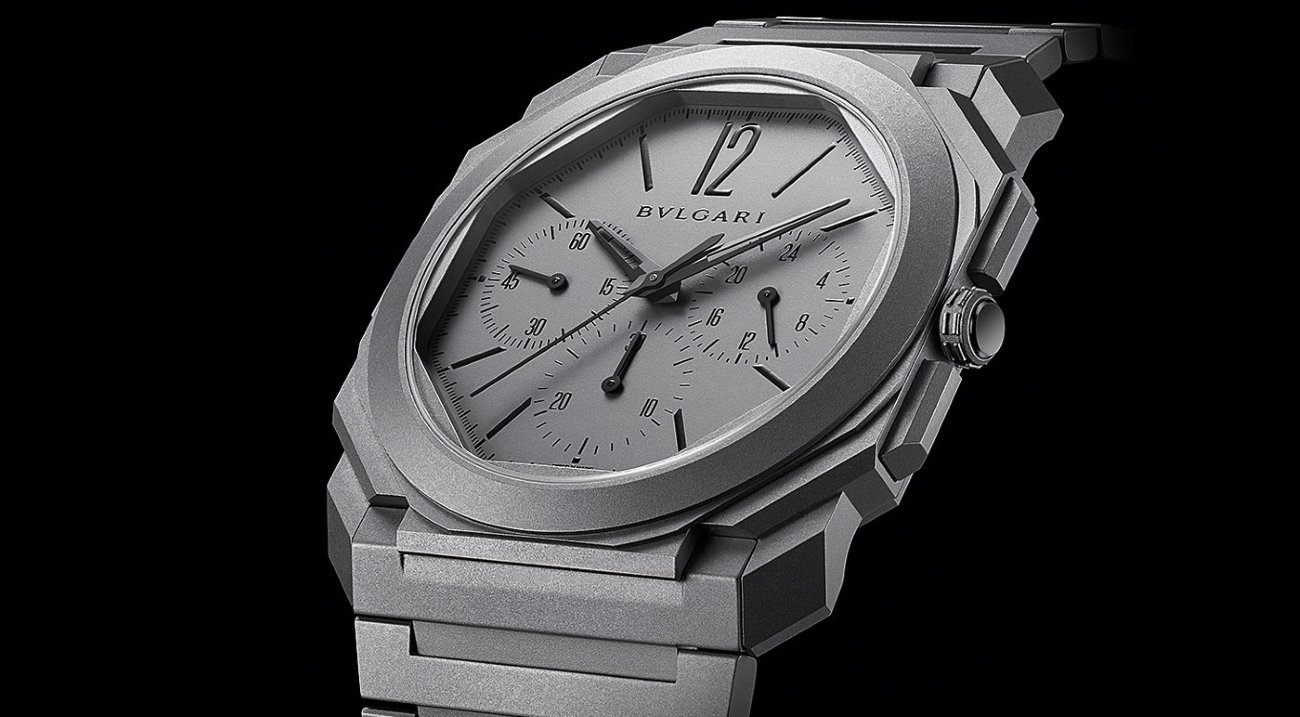 2019 OCTO FINISSIMO CHRONOGRAPH GMT
Alfredo De Biase: It should be noted that this succession of achievements, of records, was also made possible by considerably enhancing our industrial tooling. This evolution took place simultaneously, boosted by the success of this extra-thin line. The Genta Roth facility, which previously was devoted almost exclusively to parts for grand complications, has also been industrialised and its production made totally reliable. You can't have one without the other. These achievements were made possible by our expertise in complications, but they would never have had this styling without the Latin spirit of creativity.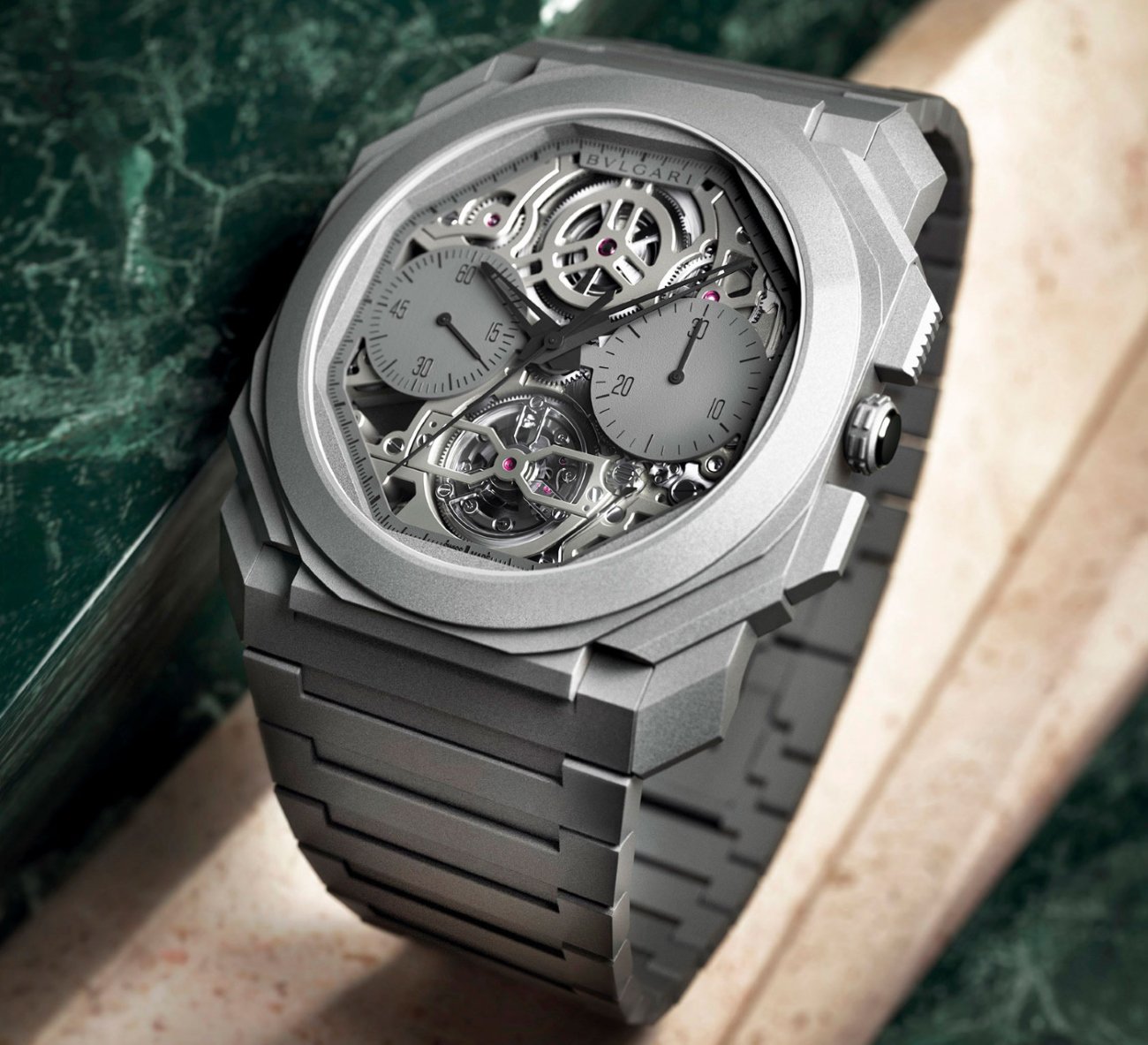 2020 OCTO FINISSIMO TOURBILLON CHRONOGRAPH AUTOMATIC
And you're continuing along the same path, because this year, alongside new monochrome finishes in ceramic, alternately polished and sandblasted, in pink gold or steel, you presented two new Finissimo models, the Automatic S for "Steel" and "Sport", and most recently, in Geneva, your sixth record, the Finissimo Tourbillon Chronograph Monopusher Skeleton Automatic. All that and just 7.4mm thick. A feat of virtuosity?
Alfredo De Biase: We don't do prowess for the sake of prowess. The most complex versions of this watch are aimed at connoisseurs of fine watchmaking, the codes of which it changed. But with these different iterations, in ceramic or sandblasted pink gold, for example, we also want to show that with each change of material, the look of the Finissimo completely changes too. It gives a different impression, but each and every time, its design is sublimated and enhanced. So it's no coincidence that it also attracts the interest of people sensitive to design and architecture.
But what is most important in our view is that the Octo Finissimo has totally changed people's perception of the Bulgari brand. We have very strong roots in jewellery, it's true, and that is the source of our creative strength and freedom, but we've also become fully-fledged, consummate watchmakers. We owe this evolution of the very image of Bulgari precisely to this dual process of innovation, both formal and technical.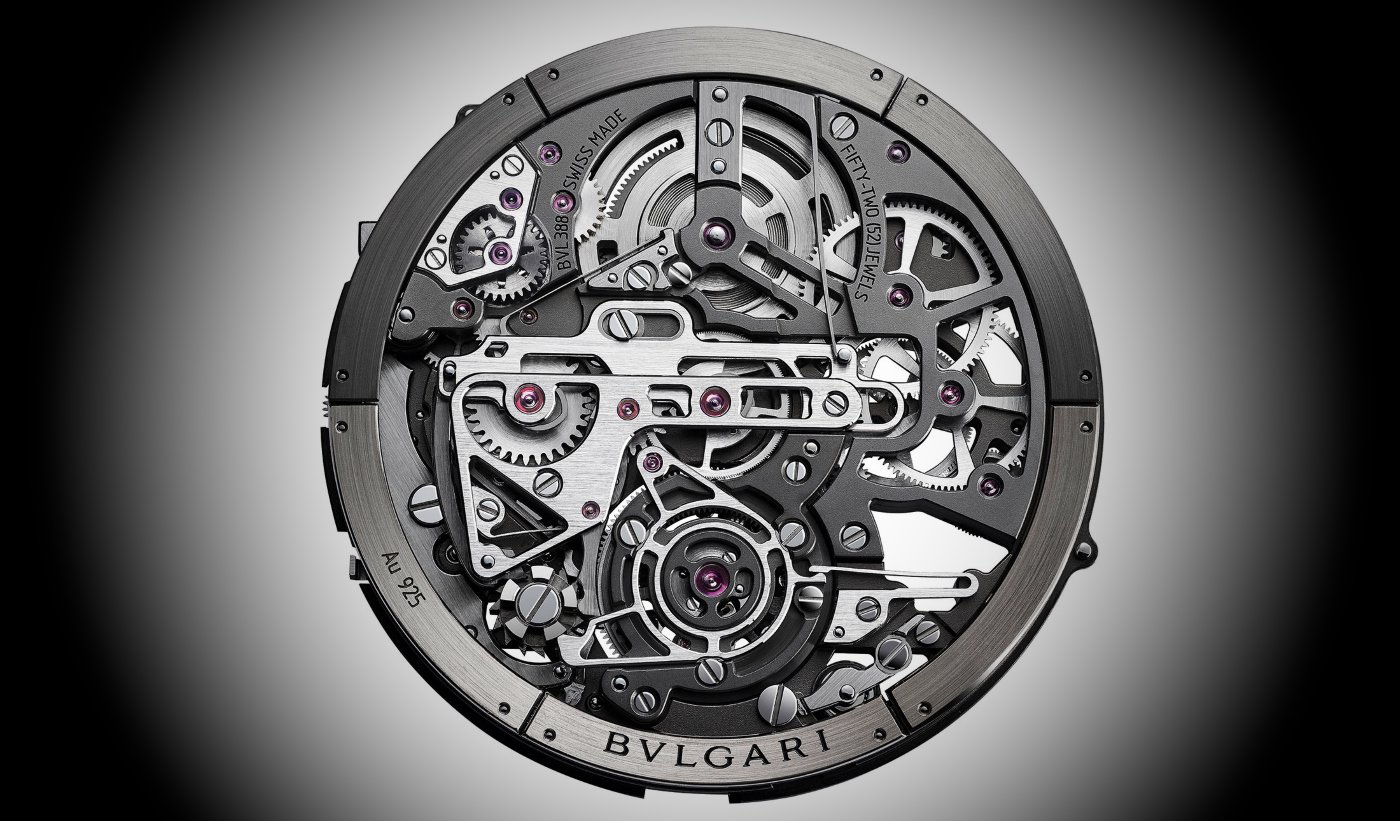 OCTO FINISSIMO TOURBILLON CHRONOGRAPH AUTOMATIC