F
or two decades, a wave of colour has swept through contemporary watchmaking. Innovation is no longer limited to the introduction of new materials – it also includes new colours, which can sometimes prove extremely challenging to apply durably.
The Physical Vapor Deposition (PVD) finishing process has also experienced explosive growth. This low-temperature surface treatment process enables thin films of material (chrome, titanium, aluminium, copper, gold or even silver) to be deposited under vacuum, using steam.
More precisely, a PVD treatment is created by coating items inside a pre-evacuated sealed chamber. A target is bombarded with plasma; atoms emitted from the target are projected onto the components, and a coating is created by stacking the layers produced. The chemically neutral environment of the chamber means that very pure, regular coatings can be obtained.
Another more recent surface coating technology is called Atomic Layer Deposition (ALD). This gaseous phase chemical deposition process is used to obtain low-stress layers. Initially used in the semiconductor industry, in 2014 it was adopted by Positive Coating for use in watchmaking, because of its decorative and anticorrosive properties. Compared to a traditional PVD coating, the advantage of this technology lies in the fact that the coating is perfectly compliant and uniform, with a precision of around one nanometre.
It is now possible to apply different shades of the same colour, or a rainbow gradient of several colours, to the components of a watch.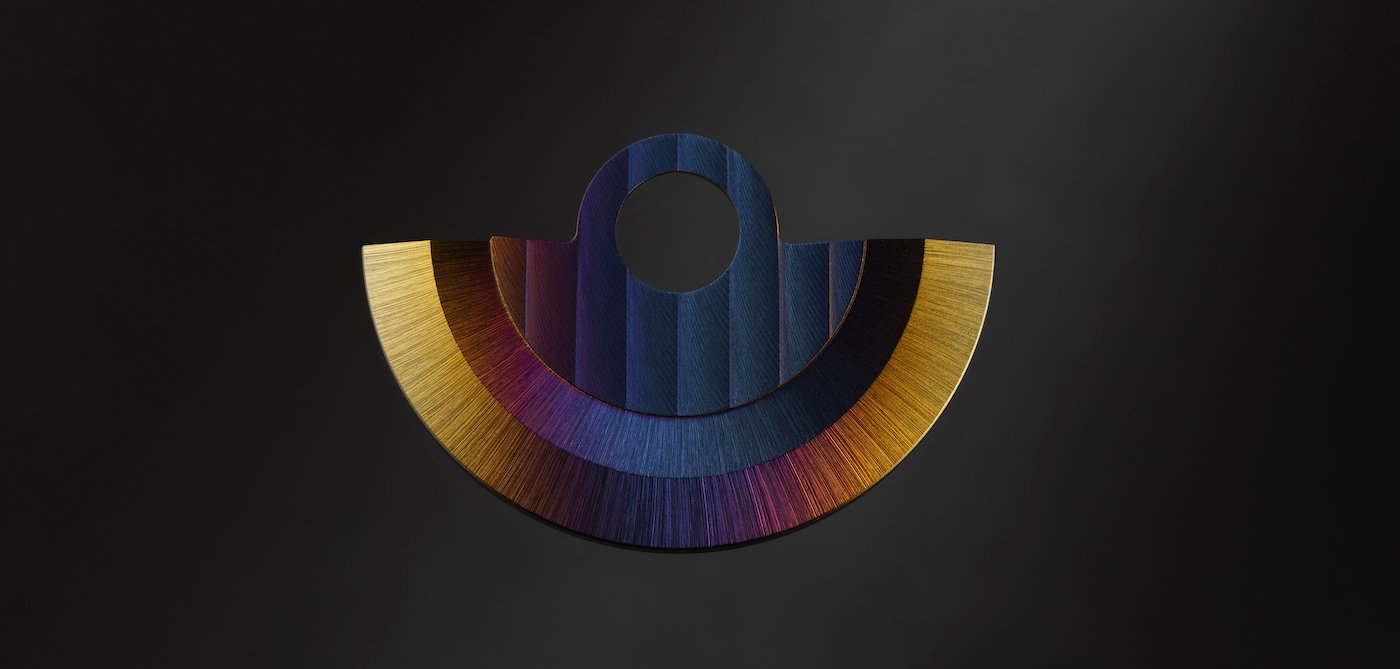 From industry to art
In 2021, Positive Coating introduced an innovation that enables rainbow shades to be created on watch components. It is now possible to apply different shades of the same colour, or a rainbow gradient of several colours, to the components of a watch. It is this second option that the first customer of this technology, Zenith, has chosen for its Defy 21 Felipe Pantone model presented in March 2021, with its three-dimensional PVD producing a spectrum of colours with perfectly smooth transitions.
The Defy 21 Felipe Pantone is the result of a collaboration between Zenith and the Argentinian-Spanish artist Felipe Pantone. This strikingly colourful creation plays with frequencies – both visually and mechanically – with its 1/100th of a second El Primero 21 chronograph movement beating at an extremely high frequency of 360,000 vibrations per hour, as well as with its rainbow-coloured coating on the bridges, central hands and parts of the dial. The limited edition of 100 is the first model to use this innovative three- dimensional PVD coating. Although the process has been standardised, each piece will take on slightly different colours, becoming a unique work of art.
With its hands graduating from blue to yellow and its bridges rom purple to red, this model opens up a new field of exploration for watch decoration, in an industry that is increasingly becoming an art. Felipe Pantone is an up-and-coming contemporary artist with Argentine and Spanish roots. Like many of his other creations, this timepiece, produced in a limited run of 100, plays with the notion of multicoloured frequencies, thanks to the technology developed by Positive Coating.
Although the process has been standardised, the colours of each piece will be subtly different. This technology will certainly be adopted by other brands that are keen on this new "horological rainbow art".