E
stablished in Sainte-Croix in 1865, Reuge is one of the last representatives of a dying art: the manufacture of music boxes and singing birds.
A piece of avant-garde technology in its day, capable of mechanically reproducing sound – the first phonograph didn't see the light of day until 1877 – over time the music box has been rendered obsolete. Of Reuge's 25 staff, only five veterans – a tuner, a cylinder pinner, a singing bird specialist, a specialist in "grosses musiques" and a design studio manager – have the combined skills to produce a traditional music box.
If Reuge still exists at all, it's thanks to the Saudi Al-Otaishan family who, for the past decade, have thrown themselves behind the company. Then, in February this year, this extraordinary and endangered art was thrown another lifeline when De Bethune, under master watchmaker Denis Flageollet, took a majority stake in the firm.
Reuge's new premises, in Sainte-Croix, inaugurated in 2016.
A takeover and a challenge
He is quick to admit the buyout is "a challenge, but more than anything, an emotional venture. We took this decision because it was heartbreaking to see that despite all the investments made by its former owner, Reuge was genuinely at risk of disappearing. I couldn't let that happen and I'm convinced there is no end of things we can do to prevent it."
Sainte-Croix and its region have for a long time represented something of a "biotope" for the mechanical arts. The town is also where Denis Flageollet, alongside automaton-makers Nicolas Court and François Junod, constructor Boris Masur, jeweller and components decorator Victoire Halter, cutler and art mechanic Renaud Lelièvre, and music teacher and arranger Jean-Michel Bolens, set up Mec-Art, a non-profit organisation whose purpose is to "safeguard the area's ancestral traditions, develop them artistically and technically, give them international exposure and reveal future talents and new entrepreneurs, thereby ensuring the continued cycle of Art Mechanics." This vast programme also extends to workshop classes and a Master's degree.
The takeover has come at a good time for these mechanical arts. Van Cleef & Arpels − whose Fontaine aux Oiseaux automaton was crafted by François Junod (read more on page 130) in Sainte-Croix, where the prestigious jeweller recently opened a studio − has become a partner to Mec-Art, which in May hosted its first art mechanics festival, with presentations, workshops, films and debates.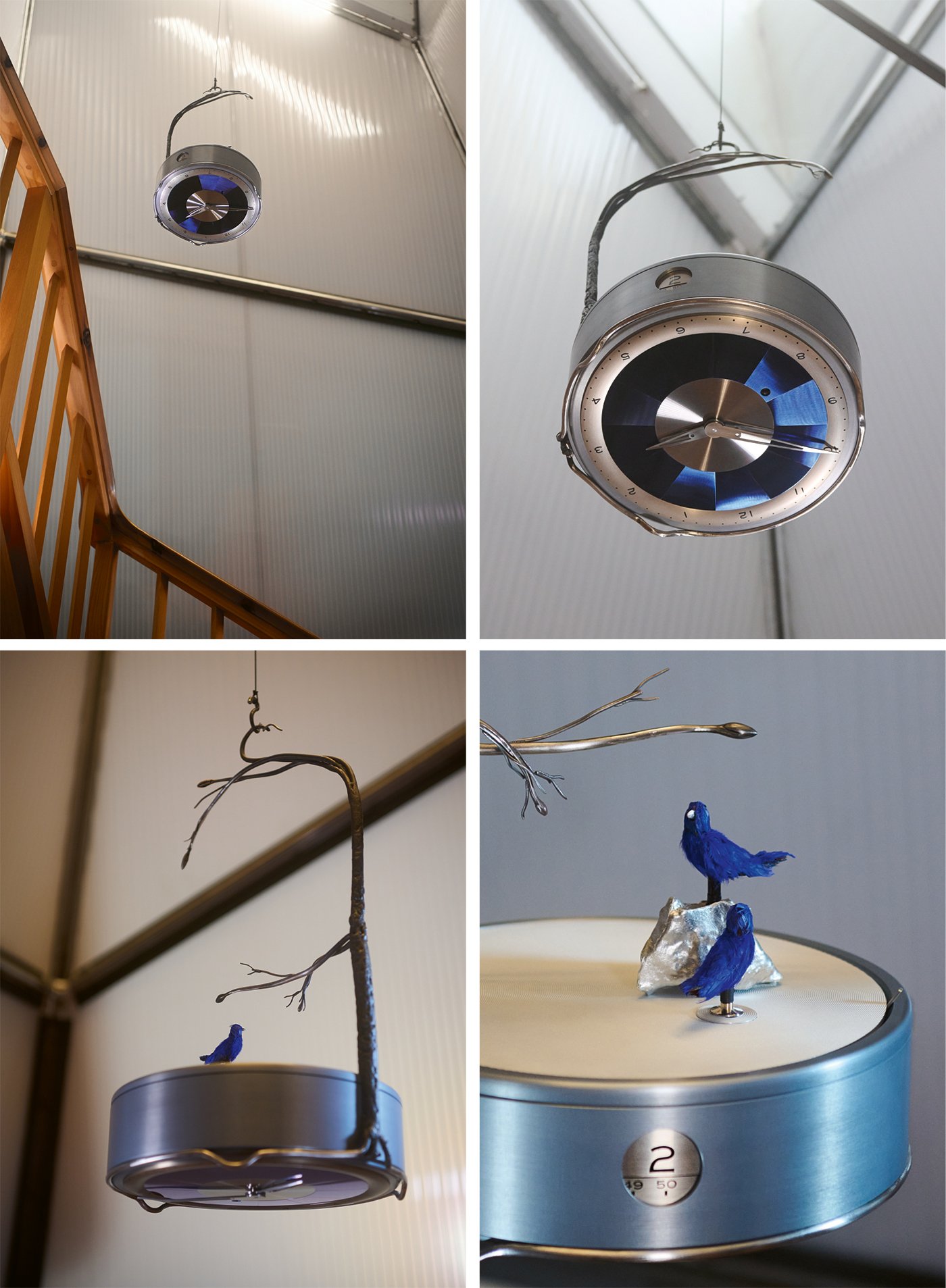 No more cages!
"Forty years ago, how many people would have bet on a revival of mechanical watchmaking?" asks Denis Flageollet. "Hardly anyone. I think the same is true of the music box in the widest sense: the art of producing sound mechanically."
His line of thinking is the same as for De Bethune, which builds its indisputably contemporary aesthetic on a profound knowledge and awareness of the past, and specifically, classical watchmaking of the eighteenth century. "We need to draw on a legacy of expertise and at the same time instil new emotion," he says. "The birds should be more in line with today; less flowery and more punk, if I can use that word. The sound needs to be more resonant and more audible. These should be fun, amusing, appealing objects − nothing like grandpa's music box yet carrying on a tradition nonetheless."
Vestibule clock, attributed to Pierre Jaquet-Droz, La Chaux-de-Fonds (circa 1750-1780) ©Musée d'Horlogerie du Locle - Château des Monts, Le Locle, Switzerland. Photo Renaud Sterchi
The first thing De Bethune has done since taking control of Reuge has been to "let the birds fly free" by metaphorically opening their cages, even removing them entirely. "I thought about the mechanical bird cages by Jaquet-Droz that I worked on when I was a restorer at the Musée d'Horlogerie du Château des Monts in Le Locle. They were designed to be hung above the staircase in large country houses. There was a dial in the base so that people could see the time while climbing the stairs," he told us.
"I set the birds free by getting rid of the cage, then hand-wrought a branch. I incorporated a numerical display into the circumference of the base and put a large dial underneath, so it can be hung over a staircase or placed on a table, letting you see what time it is wherever you are, while enjoying the sound of the birds singing."
The sounds of nature
"There is so much that can be done beyond cosmetics or tuning. Fundamentals such as how the object is used, whether it's suspended or sits on a table – or actually is the table. We also need to improve the quality of the sound by making it louder, richer, more resonant, working alongside instrument-makers, musicians and acousticians. We can make items that range from a few centimetres to several metres in size, and each time this implies a different treatment of the sound. But music is just one aspect; there is an entire world of living sound to explore, whether it's a beating heart, the sound of waves or the rustling of the wind. I'd like to work on organic themes."
"Slightly Windy" music box. Twelve gilt ears of wheat sway in the wind to the sound of music (a selection of tunes is available). Circular base in ash, soundboard in walnut with a tulip tree veneer to provide strength and tension. This is a genuine musical instrument, expertly designed to produce the best possible sound.
Denis Flageollet sees infinite creative potential for art mechanics which are both visual and audible, through objects that can be moving, funny, entertaining, even thought-provoking. His mind is filled with all kinds of animated tableaux. Working within the confines of a watch case is certainly interesting but he appreciates this freedom from the watch's "spatial constraints". Helping Denis Flageollet bring about this change will be Clara Martin, a young designer and graduate of Lausanne University of Art and Design (ECAL). She is passionate about the "textures, shapes and techniques" that she believes can introduce a "playful, intrepid quality" to these objects. Denis Flageollet's dream is to catch the attention of a younger audience. He's convinced, too, of the many possibilities that exist for collaborations with product designers, artists, architects, interior designers and luxury brands. He sees endless scope. Endless freedom.
Fertile terrain
Reuge left its original building (a living museum that we were able to visit) in 2016 for new premises at the entrance to Sainte-Croix. It also took over Mermod Frères in Sainte-Croix and Frères Rochat in Le Brassus, both makers of singing bird automata. With De Bethune at the wheel, management will become more horizontal and collaborative.
In addition to traditional music boxes in lacquered casings and collectible contemporary designs, Reuge has the competencies to handle large-scale production of what's known in the trade as "la petite musique". At the height of its success, Reuge was selling up to 3,000 of these small music boxes a month. Now it's more like a thousand a year, which takes nothing away from the fact that these invaluable skills must not only be preserved but expanded and brought up to date: continuity, modernisation and innovation are a complete package.
Rémy - a specialist in "grosses musiques" and Bertrand - a singing bird specialist
Sébastien, a tuner and Philippe - a cylinder pinner
The takeover by De Bethune (the Al-Otaishan family retains a minority stake and former CEO Amr Al-Otaishan has a seat on the board) also provides an opportunity to rationalise an outdated economic model and plan production around a master schedule − a takeaway from the watch industry. De Bethune's workshops in La Chaux, a stone's throw from Sainte-Croix, will take charge of materials procurement and manufacturing certain components.
Whether the music box and the singing bird can break free of their gilded cage is part of a vaster consideration.
In Sainte-Croix, De Bethune will be steering Reuge's fortunes in a most favourable context for the mechanical arts, which build on watchmaking but exist independently of it, too. This is undoubtedly fertile terrain for all manner of possibilities. A feast for the eyes and the ears.