"W
e always collect ourselves," the French philosopher Jean Baudrillard once said. Does this statement also apply to Patrick Getreide, whose OAK Collection (standing for "One of A Kind") is one of the most outstanding horological collections in the world? The answer is not ours to give, as the collecting bug nestles in the most private recesses of any collector's heart.
Europa Star was lucky enough to be able to browse the OAK Collection in Geneva, in a secure venue kept secret prior to its departure for London, where it is placed on public display for the first time at the Design Museum in Kensington from 19-25 May 2022. And it has to be said that the 160 or so watches exhibited (out of a collection of more than 500 items in total) form an extraordinarily homogeneous whole worthy of any museum.
All the watches presented are in an outstandingly good state of conservation, some never worn ("new old stock"). They are also in their original condition, because, as Patrick Getreide himself says, as a collector he abides by his own rules: he refuses to buy a timepiece, however important, if it is not in excellent condition, or if it has been over-restored or its case over-polished.
THE PATEK PHILIPPE CALATRAVA SECTION

Reference 570R in pink gold with matching two-tone rose dial and pink gold indexes. One of a kind.
If a collection always reflects the true heart of the collector, we can deduce at the very least that when Patrick Getreide latches onto something he doesn't let go, but pursues his obsession to the bitter end. The tables showing a line-up of 20 Patek Philippe Calatravas, including 12 vintage, four modern and three one-off items are jaw-dropping.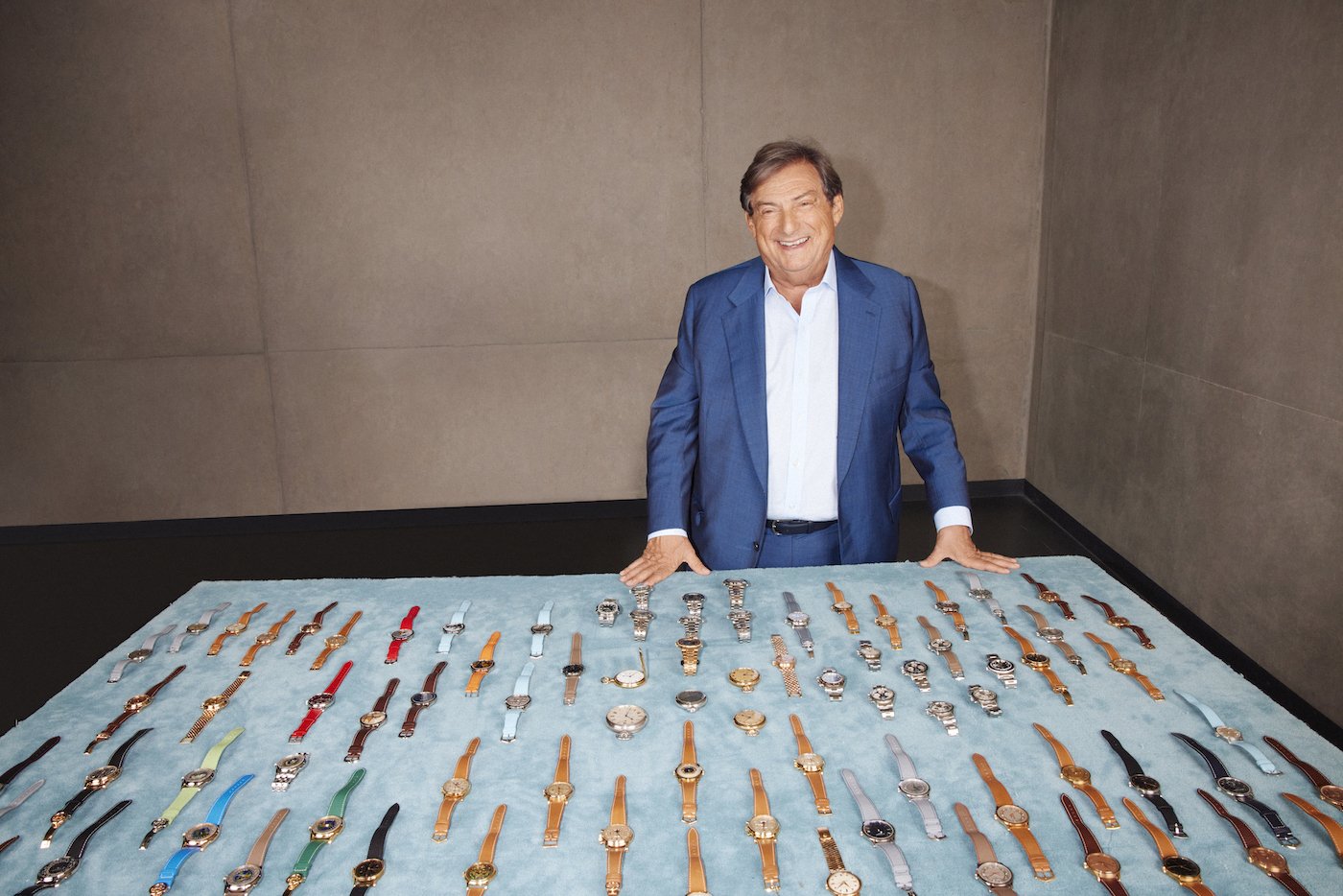 Right next to them, the Patek Chronograph section comprises 29 chronographs, including six of the world's rarest vintage items; the Nautilus section has 16 items, including three very rare Reference 3700 watches, driven by quartz movements made "by special request"; and let us not forget the large section of Perpetual Calendars and Complications, again by Patek Philippe, which includes one-off or extremely rare items; the section of much sought-after Patek Philippe World Time watches, several with the centre of the dial in different shades of blue enamel (Patrick Getreide's favourite colour), as well as the Patek Philippe Arts and Crafts section of enamelled, decorated and engraved pieces.
THE PATEK PHILIPPE CHRONOGRAPH SECTION

The unique Reference 130J, yellow gold case, single-pusher mechanism, two-tone mirror dial in silver marked with a tachymeter scale.
And, last but not least in this incredible constellation of star Patek Philippe timepieces, are five watches that once belonged to the famous American banker and collector Henry Graves Jr, and three to his grandson, Reginald H. Fullerton, collected between 1922 and 1951. This makes it the second-largest collection of Graves watches in the world, the largest consisting of 13 items owned by the Patek Philippe Museum.
But besides this vast collection of Pateks – accounting for seven of the exhibition's eleven sections – there is also a large collection of Rolexes, made up of three sections: the Rolex GMT-Masters, the famous dual time-zone watches initially designed by Rolex at the request of the Pan-Am company, of which eleven perfectly conserved examples are displayed; the Chronograph section, comprising 13 items including eight vintage chronographs, among them a few rarities including a 1961 Cosmograph designed for the Peruvian air force, and a Daytona Cosmograph with a "Paul Newman" dial, worn by the astronaut Walter Cunningham who piloted the Apollo 7 lunar module; and lastly a Rolex Sports Watch section comprising nine of the most sought-after models in the world, all the more so since all are in outstanding condition, as if they had never been worn.
THE ROLEX GMT-MASTER SECTION

The Reference 6542 GMT-Master with a rotatable bezel calibrated into a 24-hour display. Nicknamed the 'Pussy Galore' after a character in the 1964 James Bond movie 'Goldfinger.' Bezel in steel with a plexiglas insert.
Lastly, in the New Age Independents & Steel Sport Section the collector hosts two contemporary watchmakers who are considered to be the modern masters of their craft, François-Paul Journe and Kari Voutilainen. By François-Paul Journe you can view the "Ruthenium Set", dating from 2002, with the Chronomètre à Résonance, the Octa Calendrier, a Tourbillon Souverain, an Octa Chronograph and an Octa Auto. Five designs by the Finnish master are presented, including one one-off piece with a GMT movement, itself also a one-off piece. Kari Voutilainen donated this to the Only Watch charity auction, where it was purchased by Patrick Getreide.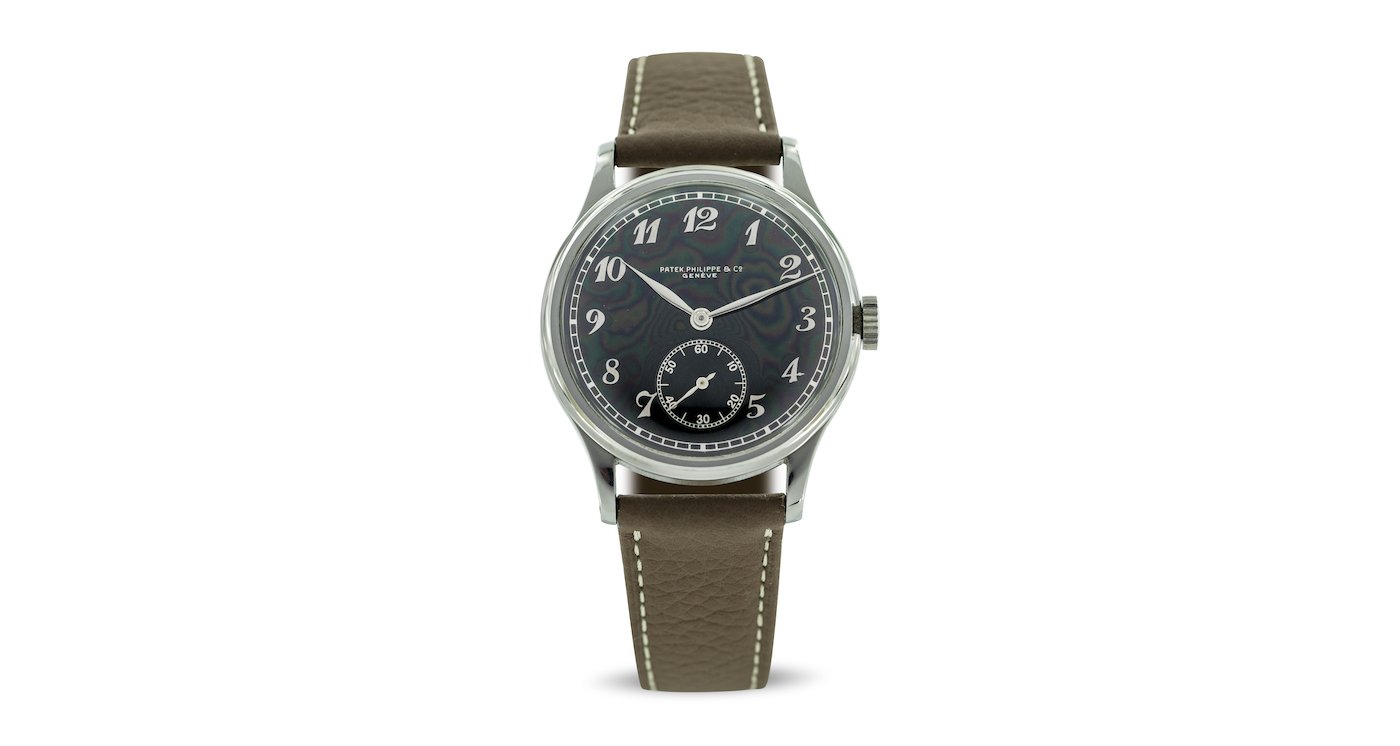 "The honour of ownership, the obligation to share"
What motivates a collector? A thousand things and each to his or her own. But there is always some connection with their youth or childhood. In a corner of the exhibition is a Tank by Cartier. In a way, this is patient zero, the source of the "virus", the first watch he bought after a winning flutter on the horses. After that, one thing led to another.
The final blow was the love at first sight that threw him headlong into the purchase of a Patek Philippe 3970, a perpetual calendar chronograph that he took several months to pay for, but which "doomed" him to continue. But to continue required the means to do so. He himself says that he suffers from the "Count of Monte Cristo syndrome" – he is driven by a determination to achieve a level of success "that gives me the freedom to do the things I love". After becoming a successful entrepreneur, Patrick Getreide was able to fully embrace his passion. And collecting was also a driving force for his success.
THE PATEK PHILIPPE NAUTILUS SECTION

Reference 3701, the only known Nautilus to have been fitted with a 'special request' quartz movement.
The decisive moment during this period of rising fever – although always within reason – was a personal meeting at a cocktail party with Thierry Stern, to whom no one happened to be talking at that moment. He confesses that when he talks watches, he's "in paradise". So they got talking and Thierry Stern invited him to come and visit his manufacture in Geneva. From there, a close relationship was established that gave Patrick Getreide the privilege of gradually building up his collection of unique Patek Philippe watches.
While considerations of investment value did not come into play in constituting his museum-quality collection, he readily admits that it "seems I bought the right pieces at the right time". To see him buzzing with enthusiasm and all smiles, he seems genuinely happy and proud to be on the point of taking his collection out of the vaults and into the open at last.
THE NEW AGE INDEPENDENTS & STEEL SPORTS SECTION

FP Journe. Tourbillon Souverain.
In his eyes, this exhibition, which is to be shown in several cities around the world, is a "reward to myself for creating it. But it is also a unique opportunity for me to share it with everyone who like me has a passion for watches but is not as fortunate as me in having the time and means to acquire so many important pieces. It's an honour to own them, and with that comes the obligation to let others enjoy them."