« W
hoever learns to observe acquires art. » These words, taught to young Michel Parmigiani by his father, summarize the philosophy of the Parmigiani Fleurier manufacture. The Tonda 1950 Moonbow draws inspiration from two phenomena only apparent to a careful observer and re-imagines a lunar rainbow, or moonbow, on the bezel and a spiral galaxy on the dial.
Its flying tourbillon is reminiscent of a spiral galaxy and dances amid celestial beings on an aventurine sky, carefully placed at seven o'clock, a nod to Michel Parmigiani's birth on December 2, 1950 at 7:08 am. The development of an ultra-thin tourbillon movement is a challenge for any watchmaker. Parmigiani Fleurier found a solution by integrating a platinum micro-rotor into the plate of the movement, resulting in a caliber only 3.4 mm thick. In addition, it is hand-finished with the most admirable decorations in the brand's manufacture.
This magnificent example of mechanical engineering is further highlighted by a bezel featuring a colorful array of precious stones representing a moonbow, a nocturnal weather phenomenon rarely seen. Incredible care went into the selection of the finest stones, each in the perfect hue, to offer a truly gradient rainbow, with subtle changes in between colors. The meticulous art of setting them required dozens of hours of painstaking and precise craftsmanship. Blue, pink, orange and yellow sapphires, rubies, tsavorites, and amethysts make up the 40 baguette-cut gemstones seen on the bezel and weighing 2.59 carats.
When Michel Parmigiani founded his restoration workshop in 1976, he did not imagine that, 20 years later, it would be at the heart of a watch brand bearing his name. Parmigiani Fleurier's achievements continuously inspired by lessons of the past, and offer new solutions to historical, technical challenges.

The restoration of a songbird cage, with fountain and flute sets, dating from the early 19th century, is a great example. The cage is suspended in the air by a clock on its base and features a dial that can only be seen from below. According to historical records, aventurine glass was once used to decorate the panels of this clock but went missing in the past and was replaced by blue metallic paint. As a result, and in order to avoid similar damage in the future, Michel Parmigiani decided to use this beautiful material for its dials only. The sapphire crystal acts as its keeper and protector.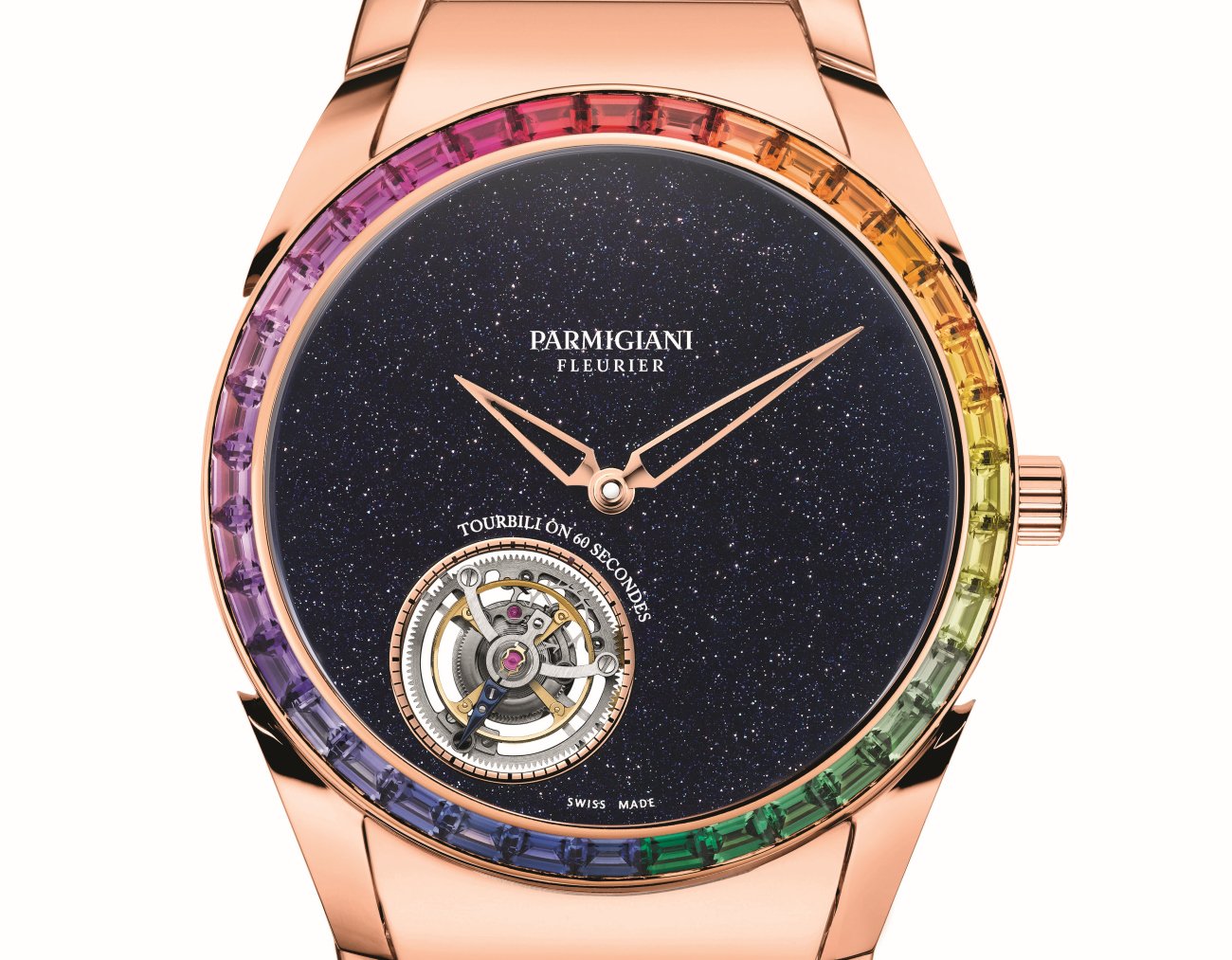 The Tonda 1950 Moonbow is available with a red, blue or gold Hermès leather strap.
Explore the Europa Star archives - Join us as a Club member
New: 40'000 pages added, since the year 1950!
Our data base contains over 100,000 pages and 70 years of fully searchable back issues, up to the most recent publication. A treasure trove for all knowledgeable professionals and aficionados.