S
ince the beginning of the year, we have seen an increasing number of announcements from watch companies using recycled steel. Among them are newcomers ID Genève and Cédric Bellon (read our article here), and of course Panerai which, at Watches and Wonders, presented both an experimental model, the Submersible eLAB-IDTM, made of 98.6% recycled materials, as well as a more commercial model, 58.4% (by weight) of which is made of recycled materials, the Luminor Marina eSteelTM (read our interview with its CEO Jean-Marc Pontroué).
Suppliers of recycled steel include the German and French giants ThyssenKrupp and Ugitech, as well as a Swiss SME, Panatere*, based in Saignelégier in the Jura. In addition to supplying recycled steel to ID Genève, the pilot brand for its output, Panatere has one particularly prestigious client who is happy to be named (other clients still prefer to remain discreet): Kari Voutilainen. The master watchmaker does not use standard recycled steel; he chose a specific grade of steel forged using solar energy for a new series of models (which were featured on the front page of the latest issue of Europa Star).
With its concept of "circular watches", the start-up ID Genève was the first company to use recycled 4441 steel from Panatere.
These examples are symptomatic of a global reflection taking place within the Swiss watch industry, about its supply channels. There are a number of reasons for this development: the pandemic has shown the risks of overly fragmented and complex logistics; ecological awareness is growing and new environmental standards could become sine qua non conditions for watch production over the long term; the prices of non-recycled raw materials have exploded as a result of the pandemic; alternative offers are being put together; and finally, the new calculations for the "Swiss made" label have led to the repatriation of certain activities, even as the total production volume of the Swiss watch industry continues to decline.
Liselotte Thuring, project manager, and Raphaël Broye, CEO of Panatere
It is in this favourable context that Panatere is finding momentum for its recycled steel production. But its journey has been far from easy, and the concept of the circular economy is only just beginning to be truly embraced in horology (this is also illustrated, incidentally, by the explosion of the secondary market that gives timepieces a second life). Will recycling become the new normal, both for raw materials and finished models? Panatere's CEO, Raphaël Broye, tells us more.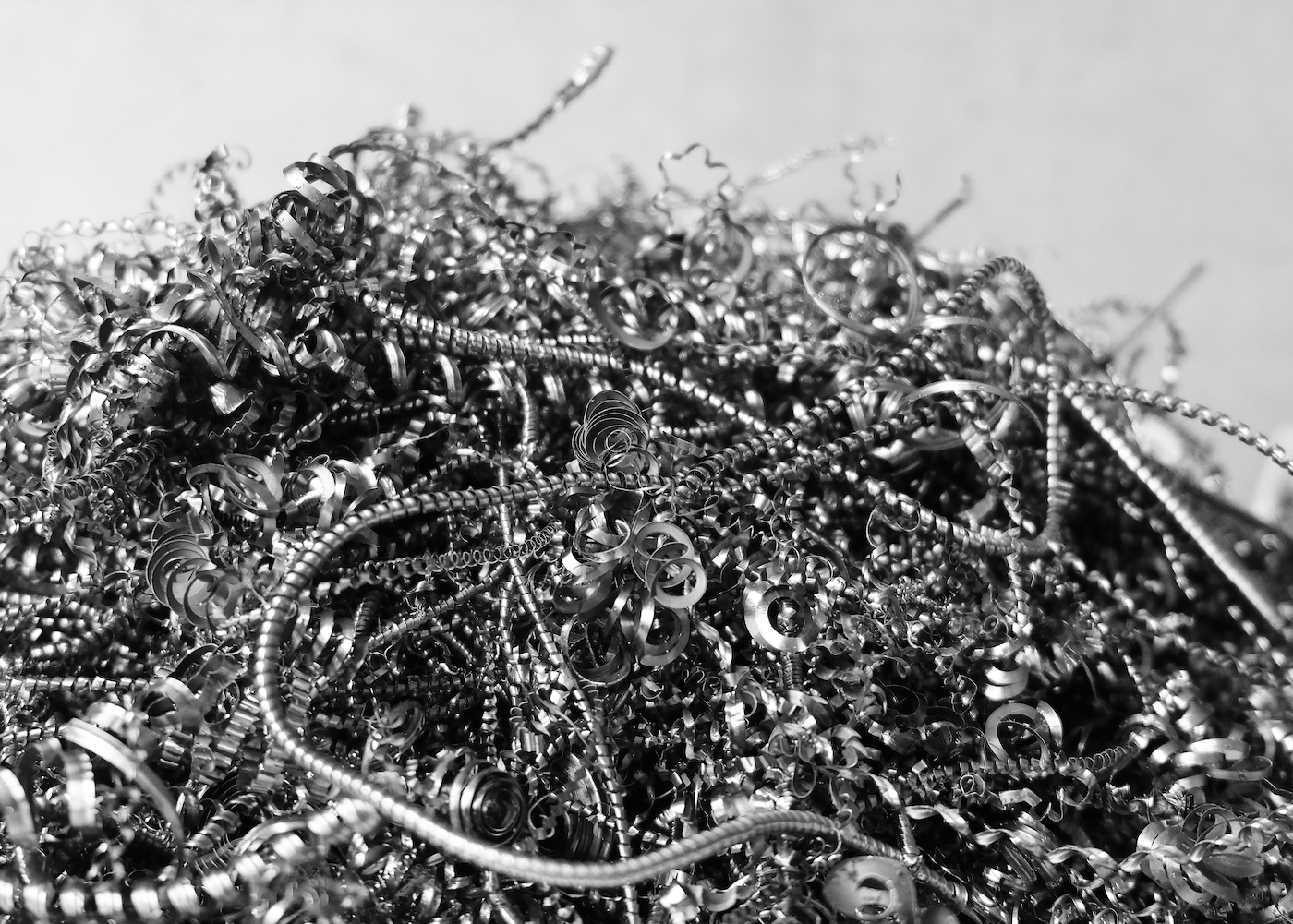 Europa Star: What is the history of Panatere?
Raphaël Broye: In 2012, I bought the Jura-based company Wiser SA, a watch case manufacturer, which was threatened with bankruptcy. It was a traditional supplier. I was interested in watchmaking because I had worked in the industry myself. The idea was to take over the company with the existing team, but give it a different positioning. For the past five years, we have been focusing on recycling materials.
Where did this new direction come from? It is very popular today, but less so back then.
As so often, it all started with a problem! We were dealing with a lot of defects caused by micro-bubbles in watch cases, made from steel from all over the world. Many of them were not up to the standard of Haute Horlogerie. As a result, we started to take over the steel production process in Saignelégier. This has worked well: we now have a team of 40 people and the company is expanding.
"As so often, it all started with a problem! We were facing a lot of defects caused by micro-bubbles in the watch cases, made from steel from all over the world."
Panatere headquarters in Saignelégier in the Swiss Jura
How did you manage to repatriate production to Switzerland?
In order to reduce our dependence on supplies of stainless steel from China, we took the initiative to recover steel from the skips of industrial sites in Switzerland. We set up a network of 40 partners and installed sorting bins of different colours at their sites, which allow us to select different grades of steel. At the same time, we equipped our transporters with barcode guns, enabling them to identify the colour code of each steel. In this way, we sort the different types of steel as far upstream as possible.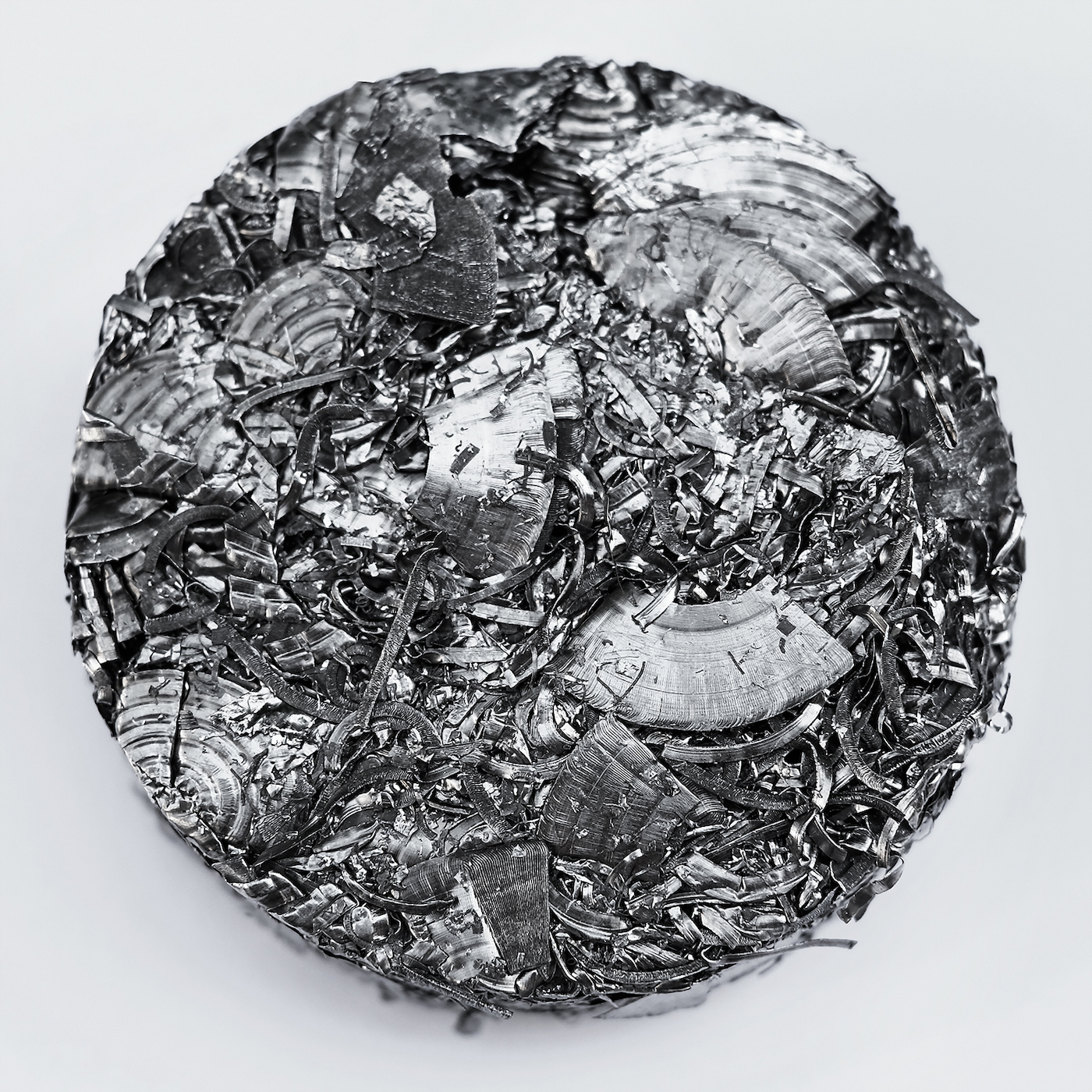 Did you face any particular challenges in this process?
The major difficulty with this project is the quantity of steel recovered. We had to achieve sufficient volumes to interest the steelmakers [whose role it is to melt and process the recovered steel – Ed.]. We wanted to produce in a closed loop, with a radius of 50 km2 on both sides of the Jura, but it took us a year and a half to collect enough material in the grades we wanted, and then send it to a production site. The result was a first micro-series of 50 tonnes of steel. That may sound like a lot, but it's a drop in the bucket for an industrial steelmaker. To give you an idea, processing 50 tonnes takes only 14 minutes in a steel mill.
"On the first production run, we had to downgrade three batches of recovered steel to achieve the right recipe for 100% recycled steel."
Panatere's local steel recycling bins. The company works with some 40 Swiss factories, mainly in the watchmaking and medical sectors.
Is this recycled steel production certified?
Yes. We had a notary come to the production site to ensure that it was our own, and that the journey was less than 300 kilometres from the steelmaker to our premises. The last thing we wanted was to be accused of greenwashing. External auditors were present throughout the process, notably from the Metallo-Tests laboratory in La Chaux-de-Fonds.
What are the characteristics of your recycled steel?
On the first production run, we had to downgrade three batches of recovered steel to achieve the right recipe for 100% recycled steel, mainly because steelmakers have a habit of adding chromium or other materials. We wanted perfect sorting with full traceability. It's like going to a chef who works with products he knows; it usually results in a tasty meal!
Even if the material is correctly recycled, there are still a few surprises, notably the cutting oil, which can represent up to 10% of the total weight of the steel. We have to dry the shavings in the sun to obtain pure steel – and, by the way, we sell the recovered cutting oil, again in accordance with the principles of the circular economy. Then we raise the temperature to 1,530°C, which is the melting point of steel. The result is "blooms", large steel plates, each weighing a tonne.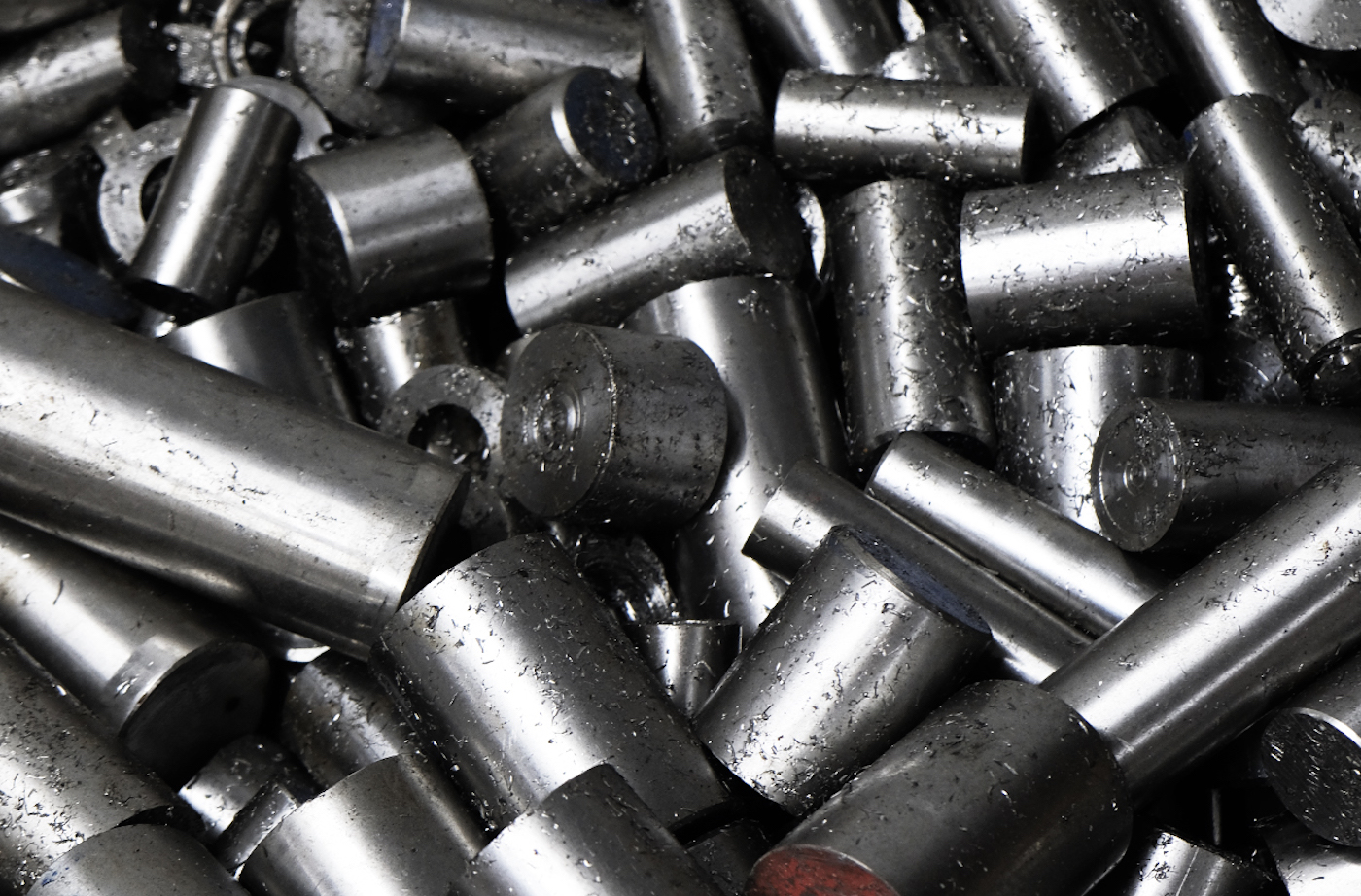 Are brands following you in this effort?
It's been 18 months since we released our first 50-tonne production of recycled steel, which has allowed us to demonstrate our expertise to watch brands and convince them that recycled steel is not a degraded material! It is a material that can be easily polished and machined; it has undergone the same certification tests as steel of the same performance; it's anti-allergenic and biocompatible. Moreover, we have managed to recycle the same steel eight times without adding ore, before degradation occurs.
There was a lot of interest in our project, especially among groups that have huge potential for collecting steel. ID Genève was the pilot brand for the application of our recycled steel, and has based part of its brand concept on it. Other brands want to make an initial model in recycled steel in a low-key way, as a test before going further – and to avoid having both recycled and non-recycled materials in their lines at the same time. I think this is going to be one of the next big revolutions for the watch industry. Eventually, the word "waste" will disappear from our vocabulary because everything can be recycled! Already, "new" gold is actually almost exclusively recycled gold today.
"Recycled steel is not degraded! It's a material that can be polished and machined very well."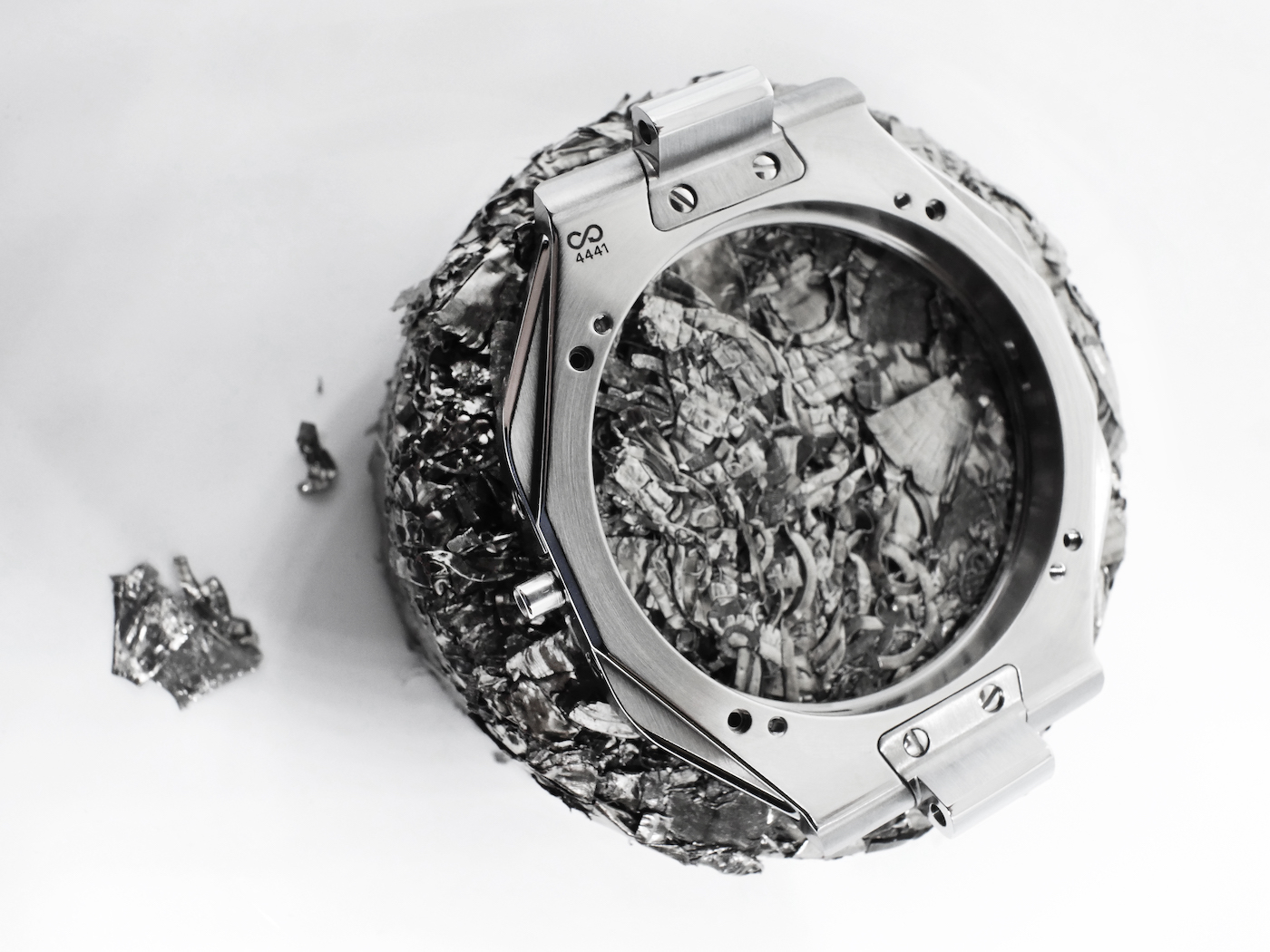 With master watchmaker Kari Voutilainen, you are going even further for a pilot project: the recycled steel is forged in a solar furnace!
Yes, we have known each other for a long time and I asked him if he wanted to do an experimental series. Unlike the big brands, he can afford to create a dedicated series. The idea was to produce 100% recycled steel using a solar-powered steel processing furnace in the French Pyrenees. This is a world first with Kari: locally sourced steel, without any use of fossil fuels in its production.
In the long term, my dream is to install a solar furnace in the Watch Valley. We have set our sights on building a first furnace with a diameter of 12 metres by next year, and then 30 metres by 2024-2025. Standard recycled steel has one-tenth the carbon footprint of non-recycled steel; with solar recycled steel, it's 1/165th (to find out how a solar furnace works, watch this video).
Panatere aims eventually to install Switzerland's first solar furnace. In the meantime, it has already supplied Kari Voutilainen with recycled steel processed with solar energy in a similar installation in the French Pyrenees.
Could the entire Swiss watchmaking industry switch to recycled steel?
At present, Swiss watchmaking consumes 900 tonnes of stainless steel per year. In terms of the European market for recycled steel, this is merely a trickle, as other industries consume hundreds of thousands of tonnes. As far as we are concerned, since the implementation of our local steel sorting system, we have found it much easier to collect it. We can now collect 50 tonnes of steel in less than three months, compared to a year and a half when we started. The main sources of supply are medical and watchmaking companies – and for the moment that's enough for us. We hope that recycled steel will become a standard and that an ecosystem will be formed.
"Eventually, the word 'waste' will disappear from our vocabulary because we will be able to recycle everything."
What is the price of recycled steel compared to standard steel?
There are three main families of steel: 4404, 4435 and 4441, which is the "Rolls-Royce" of steel. The latter is treated in a vacuum to eliminate any impurities. The difference in price between the first and third types of steel is 4 to 5 francs per watch. In our case, we began our research with laboratory 4441 steel at... 20,000 francs per kilo. Today, we offer recycled steel at 22 francs per kilo.
Because the price of raw materials has risen enormously due to Covid, we are now cheaper than non-recycled steel. As we produce locally, our Swiss wages are compensated by the absence of transport costs and port taxes. But this is probably temporary, as it is a stock market effect.
We were afraid of a price gap, but even if the price of standard steel falls in the future, we will still be close. I think we are at the end of a cycle in terms of the globalisation of the last decades: supply chains are being shaken up and we are seeing relocation, or rather, 'regionalisation'. And the circular economy is of great interest to young people: these closed loops generate new jobs while helping the planet... It is also a message of hope, because we are all fed up with standardisation!
"The price of raw materials has risen enormously because of Covid, so we are now cheaper than non-recycled steel."
Do you still produce non-recycled steel in parallel?
Yes, we continue to produce standard steel cases, because it will take time to convince everyone to switch to recycled steel. Today, 20% of the steel we work with is recycled, but we are aiming for 50% by next year. The construction of our own solar furnace will be an important step.
*A "panatère" is a wicker basket used for collecting and storing fruit.