E
uropa Star: What, for you, is the definition of an environmentally responsible watch brand?
Jean-Marc Pontroué: At company level, everything starts with governance. We can all pay attention to what we do on a daily basis, to minimise our impact. And as soon as this way of thinking becomes automatic, many positive signals are generated without giving the impression that we all have to fundamentally change our lives. There are many examples: encouraging cycling and the use of public transport, avoiding waste. At the company level, it is really a matter of incorporating these approaches into the brand strategy itself, just as we do in production, marketing and distribution. The worst thing would be to turn it into a marketing ploy. This would inevitably end up backfiring on the brand.
ESG policy is impossible without transparency. What constraints do you impose on this exercise, which runs largely counter to the tradition of the watch industry?
Transparency is one of the rules of the [Richemont] group. The management demands that all information be verifiable. It is a duty. At Panerai, we show that we are open to all through our open-source approach: at the launch of our eLAB-ID™ model in 2021, we invited all brands wishing to do so to come and discover our processes and suppliers (read our article here). This type of collaboration is a huge potential time-saver.
We believe that taking an eco-friendly approach is a serious enough matter that we should stop wasting time. We want to collaborate as widely as possible to benefit from best practices across the industry. This is the real breakthrough in the way we operate today. The intrinsic methods of watchmaking have not changed drastically, but the ESG approach is forcing us to rethink our business models. We take this very seriously. For example, we are removing PVC from all of the group's products and minimising air transport. Every decision counts and must be made transparently.
Jean-Marc Pontroué, CEO, Panerai
"When we launched our eLAB-ID™ model in 2021, we invited any brand that wanted to do so to come and see our processes and suppliers. This type of collaboration is a huge potential time-saver."
Which processes cause the highest environmental impact for Panerai, in concrete terms? And what are you doing to reduce their impact?
Production of course; transportation of people and goods; and our buildings. We have set up the "Panerai Ecologico" programme to address these issues. It outlines a five-pillar framework for our ESG approach: property, processes, products, partnerships and people. The Panerai building in Switzerland sets the tone by using only renewable energy for production (1.8 GWh per year, 100% hydro-electric) and by recovering 225,000 litres of rainwater per year. We also recover energy from our machines to heat water. Solar panels provide 15% of our heat. This saves us 65,000 litres of fuel per year. All our new boutiques will be designed in an environmentally responsible way, using recycled materials. Already, 96% of the energy used in our stores comes from renewables.
In terms of products, our eSteel™ was originally intended to be only a capsule collection. But by 2025, 75% of our watches will be made from recycled steel! Similarly, our packaging will be 72% recycled by 2023 and we will reduce the weight of our shipments by 53%, thus saving around 4kg of CO2 per product, i.e. 48% of our emissions on this item. Finally, our recent partnership with UNESCO's Intergovernmental Committee to develop the Ocean Literacy programme will enable Panerai to launch a global information and engagement campaign with 100 universities on the key theme of ocean preservation. This creates a strong commitment to plastic collection programmes around the world.
The restrictions due to Covid have radically changed the way companies operate. Will some of these changes become permanent?
The pandemic has shown that we can significantly reduce travel without impacting business. The use of teleconferencing continues today. We have reduced transport between our sites in Neuchâtel, Geneva and Milan by 90% and we favour green modes of transport across the board. Above all, this has shown that meaningful changes can be made very quickly. As soon as you initiate a process in a conscious and authentic way, you get the whole value chain on board.
"The Panerai building in Switzerland sets the tone by using only renewable energy for production (1.8 GWh per year, 100% hydro-electric)."
There are many challenges associated with the transition towards a new way of doing business. Which are the most serious?
The most difficult is bringing about a deep-seated change in habits and mentalities. But innovation can create rapid progress. The more you look, the more you find! There are still many areas for improvement, but we feel that the will to change is there. The number of collaborations is also increasing, which is very new for our industry.
Panerai Submersible QuarantaQuattro eSteel™
Wouldn't a more global approach at the industry level accelerate change? For example, will you join the 2030 Initiative (see article)?
Of course we have to do everything we can to make sure that the industry as a whole evolves as quickly as possible. Our open-source model is part of that. All initiatives are important and welcome. Panerai is considering this great initiative but it is too early to confirm our participation.
Do you feel genuine pressure for change from the end customers, or does the initiative come from the brands?
The pressure from customers is obvious and real! Especially among the younger generation. When we visit universities as part of our Ocean Literacy programme, students ask us: "Your actions are positive, but why are you only taking them now? Why isn't everything recycled already?" For them, products must be environmentally responsible, especially in the luxury sector. It's a standard for this generation! They're consciously seeking out products that are healthy, local and sustainable. The industry must acknowledge this as soon as possible.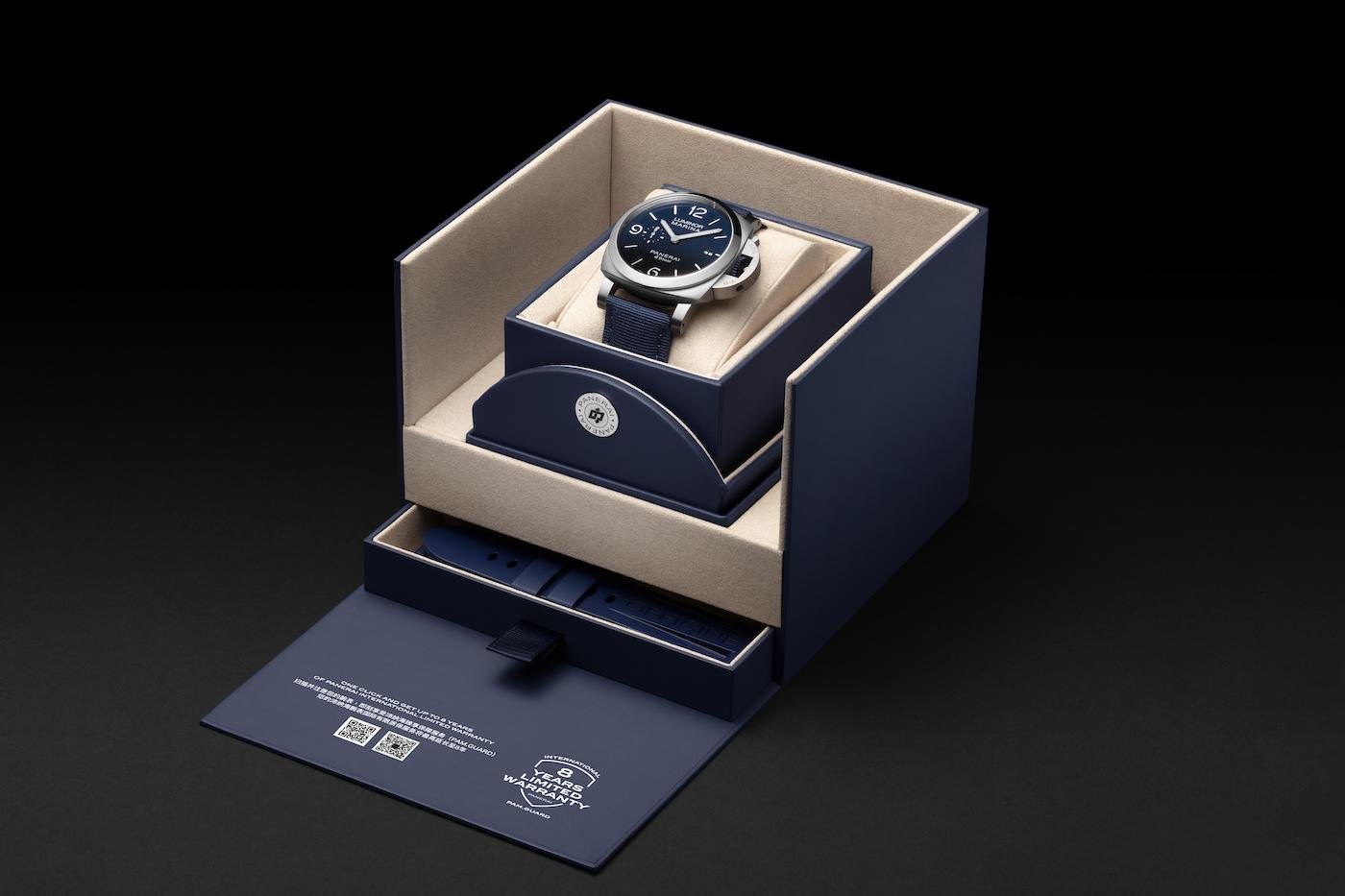 Does this have an impact on the customer experience in luxury?
This is a debate from another time, a question asked by the older generation. Today, the real customer experience is about environmental responsibility. In other words, it's about the pleasure of knowing that you are consuming a sustainable product, with a minimal impact on the environment and society. This is the change in mentality that we need to achieve.
"When we visit universities as part of our Ocean Literacy programme, students ask us: "Your actions are positive, but why are you only taking them now? Why isn't everything recycled already?"