I
n 1998, aged 24, the American superstar Leonardo DiCaprio set up his own foundation, now known as Re:wild, which is aimed at preserving the last wild places on earth and finding ways of restoring a harmonious relationship between man and nature.
Twenty-five years later, the foundation has invested over 100 million Dollars in numerous projects chosen for their intrinsic values to help, among other things, in the fight against global warming, enable communities to navigate the energy transition, and safeguard natural resources and biodiversity, etc.
However, Leonardo DiCaprio's investments go further than that. The following infographic highlights some of his many "sustainable" investments that fight all forms of bias in a bid to increase positive impacts.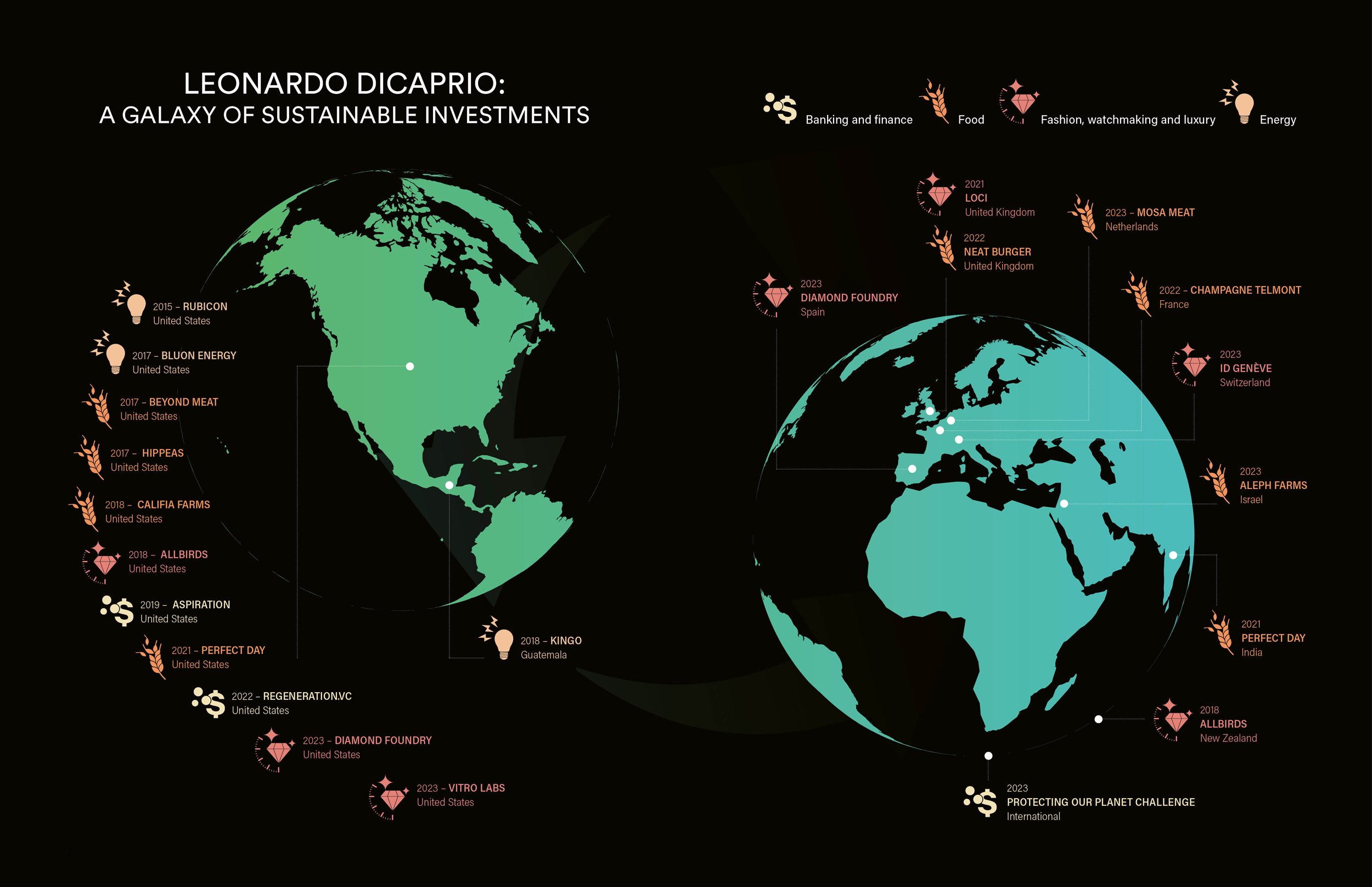 Finance and investment funds
In 2019, Leonardo DiCaprio invested in Aspiration, an online bank that guarantees its customers' money is not invested in the fossil fuel industry.
In 2022, the actor chose to support theRegeneration.VC initiative, a venture capital fund that invests in sustainable innovations, advocating the principles of a circular, regenerative economy. The initiative initially raised more than 45 million Dollars.
In 2023, he teamed up with Amazon founder, Jeff Bezos, to donate towards the Protecting Our Planet Challenge fund, which aims to protect the lives of the indigenous peoples of the Amazon and to preserve its wildlife over the coming years. Around 200 million Dollars were raised to set up the fund.
The aim is to ensure zero deforestation, save 58 million hectares of non-designated public land in Amazonia, strengthen the management of existing protected areas and protect the indigenous populations. Seventeen percent of the Amazon Forest is thought to have already disappeared and scientists fear catastrophic consequences should this figure reach 20 - 25%.
Leonardo DiCaprio at the World Economic Forum in 2016

WORLD ECONOMIC FORUM/swiss-image.ch/Photo Monika Flueckiger
Food
Leonardo DiCaprio also supports numerous projects aimed at raising public awareness and directing its attention towards a more responsible diet. Back in 2017, he invested in the sector by acquiring stakes in companies such as Beyond Meat (2017), Hippeas (2018), Califia Farms (2018), and others besides.
In 2021, the start-up Perfect Day, which produced the first non-dairy ice cream, appointed Leonardo DiCaprio as "Sustainability & Health advisor".
He boosted the sector again by investing in Israel-based Aleph Farms->https://aleph-farms.com] in 2021, and in 2023 he invested in Mosa Meat in Maastricht in the Netherlands, both of which produce lab-grown meat from the cell culture of living cattle, presenting it as a more ecological alternative to meat obtained from cattle farming.
In 2022, he invested in Neat Burger, a London-based vegan fast-food chain founded by the Formula 1 driver Lewis Hamilton, to strengthen its development in the United States.
Again in 2022, the America film star acquired an equity stake in the hundred-year-old family-run champagne house, Telmont, controlled by Rémy Cointreau. The company likewise shows its commitment to the planet through its organic cultivation practices.
Fashion
In 2018, the Titanic star invested in an eco-responsible sneaker and sandal brand called Allbirds. As he wrote at the time: "Creating sustainable consumer products requires a deep commitment from brands that understand the role they have in helping solve our environmental crisis".
A staunch defender of animal welfare, he also directs his attentions toward technological advances, such as manufactured leather from animal cells. In 2023, he invested in the Californian start-up VitroLabs Inc. to set up the first pilot production of leather cultivated from animal cells. He also has a stake in the vegan shoe company, LØCI.
The actor has recently given his backing to the Swiss watch company ID Genève, which is wholeheartedly committed to the sustainability cause.
ESG & Energy
Leonardo DiCaprio also takes an interest in technologies that can aid the ecological transition. Thus in 2015, he invested in Rubicon. The B Corps-certified Kentucky-based American firm developed an app to help businesses manage their waste and recycling more efficiently. Its customer base has risen from 60,000 in the United States in 2015 to over 8 million around the world today!
In 2017, Leonardo DiCaprio also joined the board of Bluon Energy, which proposes replacement solutions for energy-intensive refrigerants.
In 2018, he started backing photovoltaics by investing in Kingo, a Guatemala-based company which installs solar units in remote places where electricity is rare or non-existent.
Laboratory diamonds
Upon the release of his film Blood Diamond in 2006, Leonardo DiCaprio took an interest in possible alternatives and invested in the American firm Diamond Foundry on its founding in 2012. It is now the largest producer of synthetic diamonds in the United States.
In 2023, the activist actor helped finance the construction of a giant plant for the firm in Estremadura, in Spain, which will be powered solely by solar energy, thereby further reducing its environmental impact.

Films and documentaries
By dint of his profession, Leonardo DiCaprio also has a high degree of leverage in the films in which he takes part and co-produces. Examples of "impactful" films in which he has taken part include: The 11th Hour (2007), Cowspiracy (2014) on intensive cattle farming and its devastating impact on the environment, Virunga on Netflix (2014), a documentary about protecting mountain gorillas against poaching and oil drilling, Before the Flood with National Geographic (2016) and more recently in 2023, The Loneliest Whale.
A total of thirteen documentary films deal with the preservation of animal species and biodiversity, and a responsible diet. He is also currently co-producing the animated feature film Ozi, Voice of the Forest, which will be released in 2024 to raise awareness of environmental causes among younger children (and their parents).
United Nations
Leonardo DiCaprio, a public figure highly invested in all environmental issues, enjoys close ties with institutions who work in this field. In 2017, he was designated as a UN Messenger of Peace with a special focus on climate change.
During his acceptance speech at the Climate Summit, he stated: "I feel a moral obligation to speak out at this key moment in human history. It is a moment for action. How we respond to the climate crisis in the coming years will likely determine the fate of humanity and our planet."
Influence on social networks and elsewhere
Leonardo DiCaprio also uses his fame to spread his environmental messages. As early as 2012, he publicly denounced poaching on Facebook. He promotes the vegan and eco-responsible initiatives in which he invests.
In 2009, he was honoured with the "Big Green Help" prize at the Nickelodeon's Kids Choice Awards for his tireless work on raising awareness for the environmental cause, mainly among young children.