I
n recent years, the watch world has seen the arrival of a growing number of start-ups. Some of them have managed to establish themselves over time. But they remain rare, as long-term management is just as problematic in the time measurement industry as it is elsewhere. Projects on Kickstarter show as many opportunists surfing a trend as more measured and sustainable approaches.
All of this helps to place the start-up Semper & Adhuc (which means "since always and until now" in Latin) in the second category. The initiative is in fact part of a phenomenon that goes far beyond watchmaking: local consumption, and the added value of a relationship built on proximity. In this model, we know personally both the person who sells us leeks at the market, and the craftsman who will make us a watch, preferably a mechanical one. It's a far cry from globalised standardisation.
Semper & Adhuc Immédiate Originale

Vintage movements, contemporary vision
After training in watchmaking in Morteau and working in Switzerland for Patek Philippe, Colin de Tonnac brought together several ingredients to achieve his dream of an artisanal and independent (but not inaccessible) watch brand: it would be Made in France, with vintage inspiration and above all using genuinely old mechanical calibres.
Colin de Tonnac, founder of Semper & Adhuc
The concept is not entirely new in watchmaking. The Swiss brand Armand Nicolet has been putting it into practice for several years, as has Vortic in the United States (the latter bringing down the wrath of the Swatch Group, which has brought a lawsuit against it for the use of vintage Hamilton movements and components).
Semper & Adhuc avoids legal hassles by employing old "orphan" calibres from timepieces melted down for the precious metals in their cases, whose movements ended up in drawers. During his years of studies, Colin de Tonnac started scouring the markets for old mechanical movements: "In the beginning, it was to only to practise, but it quickly became much more, a real passion for these calibres that had been left aside and yet were still in working order," he explains.
Most of the calibres used are old Schild movements (from the 1930s to the 1970s). The watchmaker is also trying to find vintage calibres produced by France Ebauches, the French movement manufacturer that disappeared in 1994.
Semper & Adhuc Inopinée Classique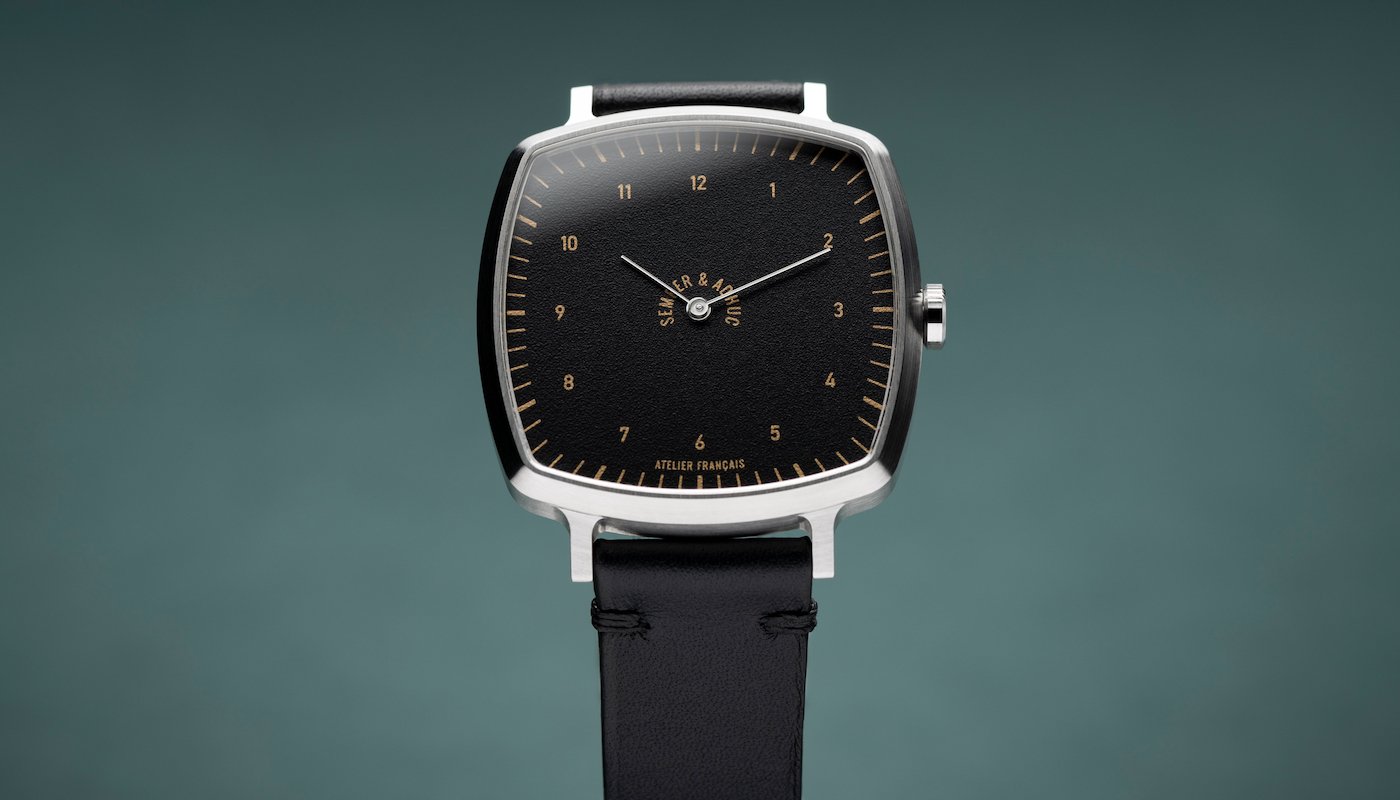 A network of "recycled suppliers"
"French watchmaking lost its splendour after the quartz crisis, from which Switzerland was able to recover much more effectively. But there has been a better dynamic in recent years: many countries around the world are rediscovering a 'proto-watchmaking' industry that had fallen into oblivion," notes Colin de Tonnac.
Establishing production in Bordeaux, far from the Franco-Swiss Jura arc and its vast fleet of machines, was not an easy choice. The entrepreneur set up a regional network of suppliers, which he convinced to divert a few hours a week from their traditional activities producing micromechanical components for the aerospace, defence or medical sectors, in order to manufacture watch parts for Semper & Adhuc.
Most of Semper & Adhuc's French component suppliers did not previously work for the watch industry.
With 150 pieces manufactured over the past year, the watch brand's project is part of a wider renaissance of regional craftsmanship. The Nouvelle-Aquitaine regional government helped the start-up to purchase equipment. The brand was also able to count on a Kickstarter campaign, which by September 2018 had raised a little over 100,000 euros.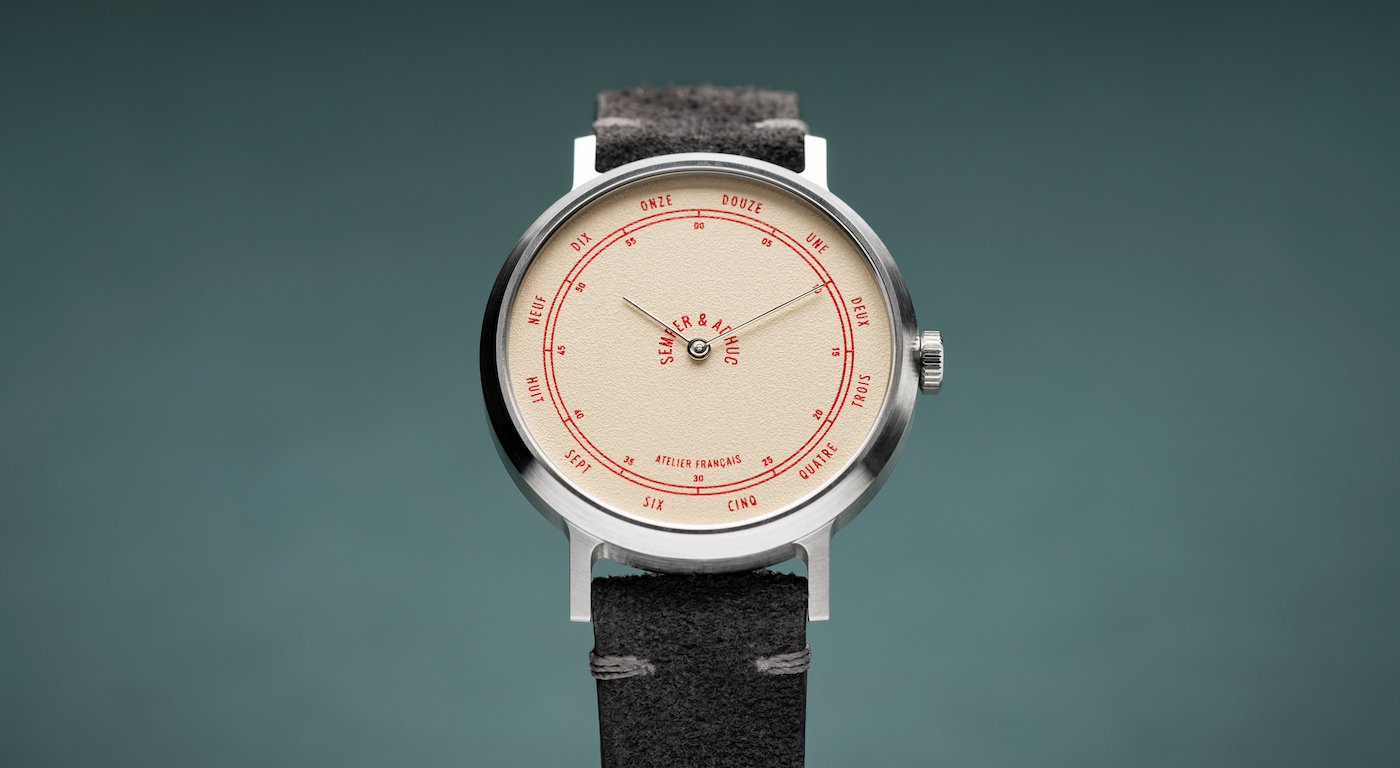 Better than recycling: upcycling
"With all the recent debates, the Swiss made label may not be as powerful as it used to be," says Colin de Tonnac. "This allows alternative offers to be developed in other countries with strong regional roots."
The concept of upcycling, i.e. making new objects even more valuable with the use of old components, also strikes a chord, which the frugal lifestyle imposed by the confinement linked to the coronavirus is likely to strengthen still further. Semper & Adhuc's ethos is completely in tune with the increasingly popular emergence of a circular economy.
Semper & Adhuc Inopinée Originale
The design of the watches echoes the calibres that inhabit them: in a word, vintage, with original shapes and dials. "I'm not a designer by profession, but I surround myself with a network of graphic designer friends to bring these watches to life," explains Colin de Tonnac. "In particular, I draw inspiration from old maps and archives to design the models."
A vintage Schild AS 1012 movement used in the Semper & Adhuc models
The models, priced at 1,500 euros, are only available online. As for many watch start-ups, the business model was based from the outset on direct sales. This is perhaps fortunate, given that e-commerce is the only channel that still shows some signs of life in these times of isolation.
"The margins I offer may not be sufficient for traditional watch retailers," the entrepreneur says. "Instead, I envision an innovative system, which is beginning to be increasingly used in watchmaking, in which customers themselves become salespeople and brand ambassadors, earning a commission on the new customers they bring in."
Selling a timepiece equipped with a recycled movement, inspired by archives and made by reconverted craftsmen, to a friend: in terms of circular economy, you can hardly do better!
Explore the Europa Star archives - Join us as a Club member
New: 40'000 pages added, since the year 1950!
Our data base contains over 100,000 pages and 70 years of fully searchable back issues, up to the most recent publication. A treasure trove for all knowledgeable professionals and aficionados.