A
t number 23 of Place Vendôme, in the very heart of Paris and the temple of High Jewellery, Bulgari unveils its redesigned and historically restored flagship store. Here architect Peter Marino has created a new concept and architectural identity for the brand that draws on its Roman roots and cultural heritage, and which emphasizes a distinctively Italian approach to modernity.
For the occasion Bulgari brought together world-renowned designers and artisans to realize this jewel of a store while sealing the extraordinary encounter between Rome and Paris – officially twinned in 1956, during the era golden era of Dolce Vita, and since then in a mutual exchange of artistic heritage, know-how and unrivalled sense of beauty.
The iconic location of Place Vendome, the creative vision of Peter Marino with a focus on materiality, color, and historicism – an interplay between old and new - together with Bulgari's magnificence and skillful craftsmanship distinguish this new flagship store. An evocative journey from Rome to Paris experienced through the language of architecture, interior design and the poetry of traditional artisan techniques.

The love affair between Bulgari and Paris begun in 1979, when the Roman Jeweller opened its first Parisian store at the legendary Hotel Plaza Athénée. Now, more than 40 years since, Bvlgari inaugurates its new Parisian "maison" in what is the most illustrious address of High Jewellery since 1898, year when the Ritz Hotel opened on the north-west side of the square.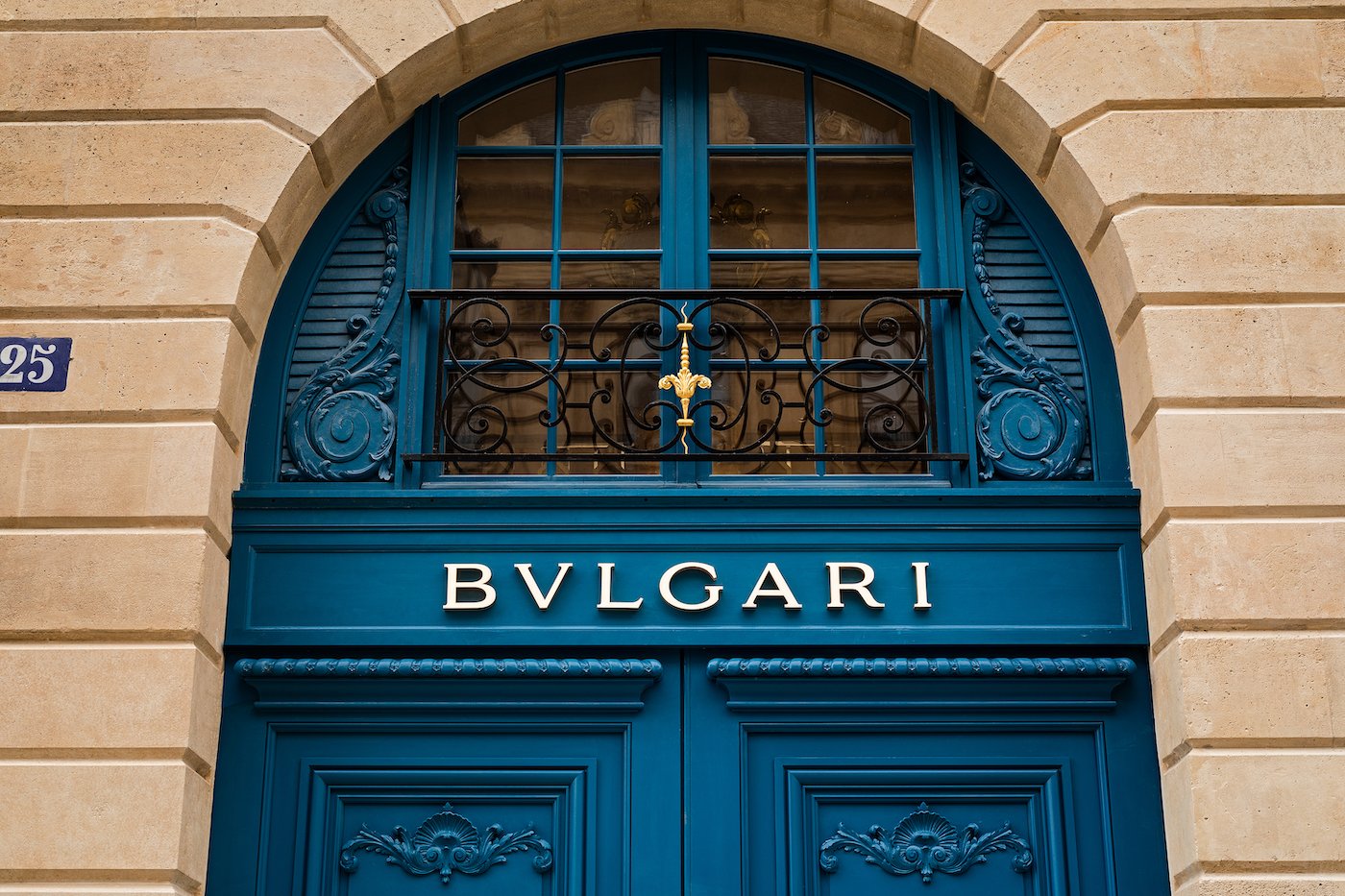 Four were the artisan laboratories accredited to return the age-old grandeur to this architectural jewel. Atelier Chevalier has restored and reintegrated all the stone elements of the façade including the sculptures, recreating its original geometry through careful study and work. Atelier Perrault, a real institution in the craftsmanship of wood since 1760, took care of all wooden windows as well as of the creation of the eye-catching blue wooden door of the main entrance, entirely faithful to the original. The highly intricate and iconic decorative locksmiths and ironworks were realized by VLD Paris, while with an incredible eye for detail, Art Mural has restored the paintings and gilding on the wooden windows and wrought iron elements.

Those who will come through the doors of Place Vendome 23 will be dazzled by more than "just" the jewels. Flooded with radiant light from its 13 windows and impressive skylights, one of which decorated with a motif that echoes the famed Piazza del Campidoglio by Michelangelo in Rome. All materials are enhanced with natural sunlight that in Rome has it warm radiance and apricot color tones. Indeed, the archistar's motto "The largest luxuries in life are light, space and time" is here truly translated into reality.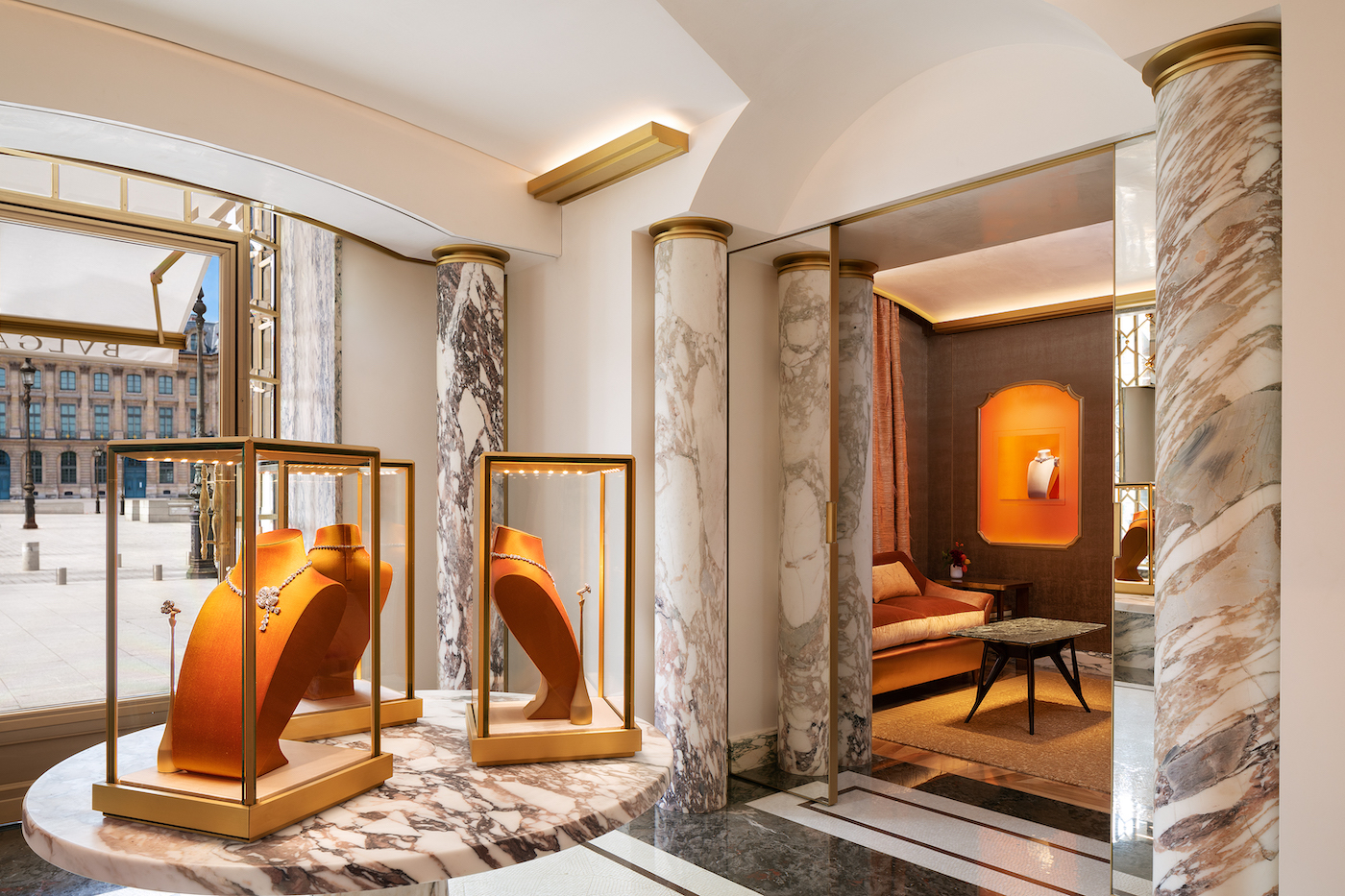 Many different materials have been selected by Marino to convey a touchable feel of Rome's radiance, warmth and joy. "Painting" with spectacular marbles from Pavonazzetto to Breccia di Seravezza, ultra-refined walnut wood, glowing iron and brass, opulent silks and velvets, Italian artisans have put their individual skills at the service of this masterpiece of creativity and craft. The parquet floor, for example, not only boasts a special degradé effect achieved by exposing the wood for different time lapses under the sun, it is also assembled in a magnificent star pattern. Technique, savoir faire and an all-Italian sense of aesthetic, for a simply magical final effect.

Some of the selected pieces, have literally travelled from Rome to Paris. A pair of columns placed at the entrance of the boutique, two red porphyry vases and an inlaid console table initially planned for Rome's flagship store in via Condotti 10, have found a new life within the walls of Place Vendôme. The inspiration that comes from the Eternal City and Italian design is everywhere, from Rome's images immortalized by Canadian photographer Nicolas Ruel to the spectacular chandelier by Giò Ponti, an original piece from the Sixties.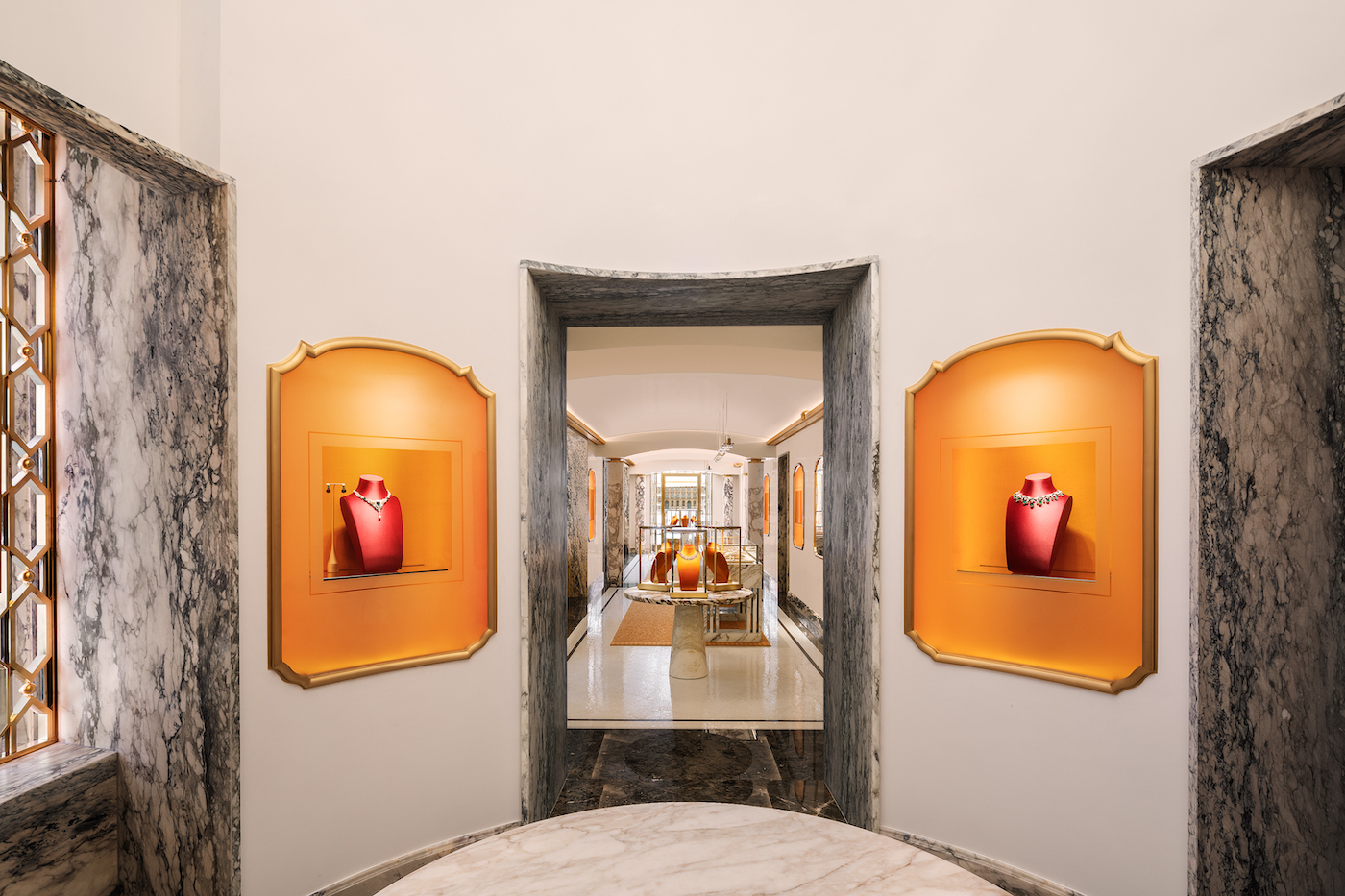 There is no shortage of references to the realm of jewellery: the faceted floating staircase, composed of geometrical marble steps, is framed by a hexagonal mesh in brass and stainless steel inspired by a Bvlgari heritage bracelet of the 30' and dotted with rounded elements inspired by the smooth cabochon rubies and brilliant cut diamonds that embellish the jewel.
The boutique's diamond is the enchanting mosaic of the ground floor laid by Italian specialized artisans. Several pieces of fixtures are a tribute to the best of Italian design (Scarpa, Mangiarotti, Borsani, Ponti). Architecture, Design and art are Bvlgari source of inspirations.
"Bulgari was born as the Roman High Jeweller 137 years ago and our unchanged mission is to continue to amaze the world with our unrivalled mastery in making magnificent creations. We are proud to have built a new home within the global home of High Jewellery, and to be present here as the only Italian jeweller expressing a style, a know-how and a creative spirit like no other," said Jean-Christophe Babin, Chief Executive Officer Bulgari Group.