T
he new Chronomètre FB 2RE by Ferdinand Berthoud reinterprets the architecture and design of this Marine Clock. Fitted along its middle with a large panoramic window, the round 18-carat gold case frames a grand feu enamel dial with a complex two-tiered construction.
Beneath this traditional, uncluttered display lies an exceptional mechanism: the Chronomètre FB 2RE combines the emblematic fusee-and-chain transmission with a one-second remontoir d'égalité mechanism. A model charting a course towards a new world of mechanical precision entirely in keeping with the lifework of Ferdinand Berthoud.
The early 18th century was marked by the conquest of the oceans. England and France were engaged in an all-out battle to develop a means of calculating longitude during sea voyages: literally a garde-temps or timekeeper. Many renowned watchmakers experimented with new techniques in order to develop a reliable and accurate measuring instrument, whose operation had to withstand the pitching and rolling of ships as well as changes in temperature.
In 1770, following the success of the sea trials in 1768-1769 of Marine Clocks No. 6 and No. 8, Ferdinand Berthoud was awarded the envied title of "Clockmaker and Mechanic by appointment to the French King and Navy" under Louis XV and received a royal commission for 20 Marine Clocks which were to be used during the numerous cartographic and hydrographic surveys that were undertaken in the late 18th century.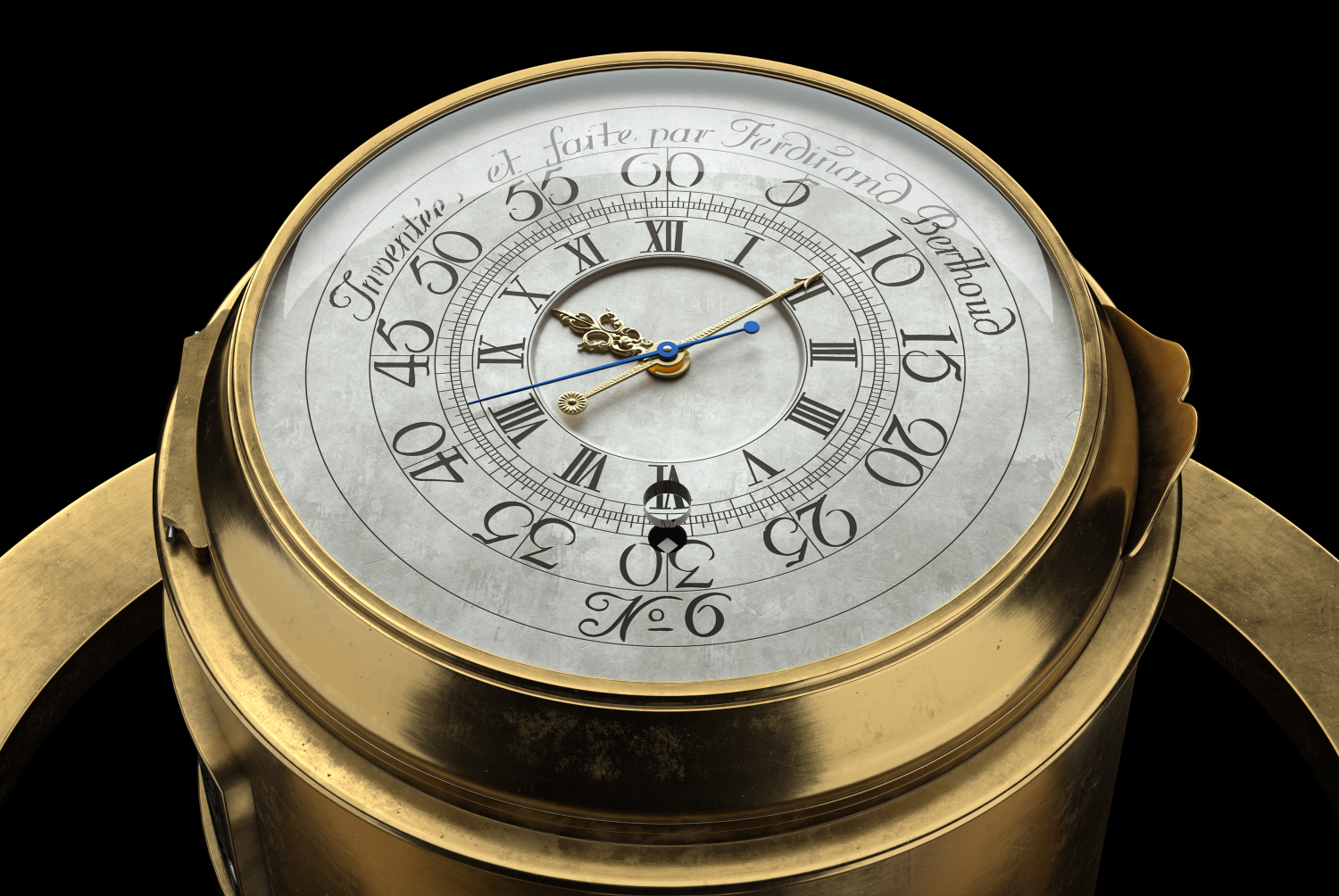 To celebrate the 250th anniversary of this major scientific breakthrough that has left an indelible imprint on history, Chronométrie Ferdinand Berthoud presents a new emblematic collection: the Chronomètre FB 2RE. This model pays tribute to the genius of Ferdinand Berthoud, as revealed in the extraordinary Marine Clock No. 6. Inspired by its architecture and design, it introduces a new movement, a symbol of excellence and chronometric precision: Calibre FB-RE.FC with remontoir d'égalité, often referred to in English watchmaking parlance as a remontoire.
Once again, Chronométrie Ferdinand Berthoud is creating an exceptional contemporary timepiece deeply rooted in Ferdinand Berthoud's legacy. This new top-of-the-range wrist chronometer benefits from the latest technological advances, while paying tribute to the master watchmaker, a trailblazer in his own era.
As described by Ferdinand Berthoud in his "Traité des horloges marines" (Treatise on Marine Clocks) published in Paris in 1773, the mechanisms of Marine Clocks are protected by a cylindrical copper drum, itself held in a horizontal position by a gimbal suspension system that he invented.
The case of the Chronomètre FB 2RE picks up the shape of these Marine Clocks and this modular construction. The movement is installed in a cylindrical container made of 18-carat gold and water-resistant to 30 metres. Short, tapering all-of-piece lugs are solidly secured to the case by stylised bolts and ensure the Chronomètre FB 2RE smoothly moulds the contours of the wrist. A large panoramic window appears at 10 o'clock along the case middle in a screw-down frame and reveals the movement's pillar-type architecture, as well as the barrel and its chain.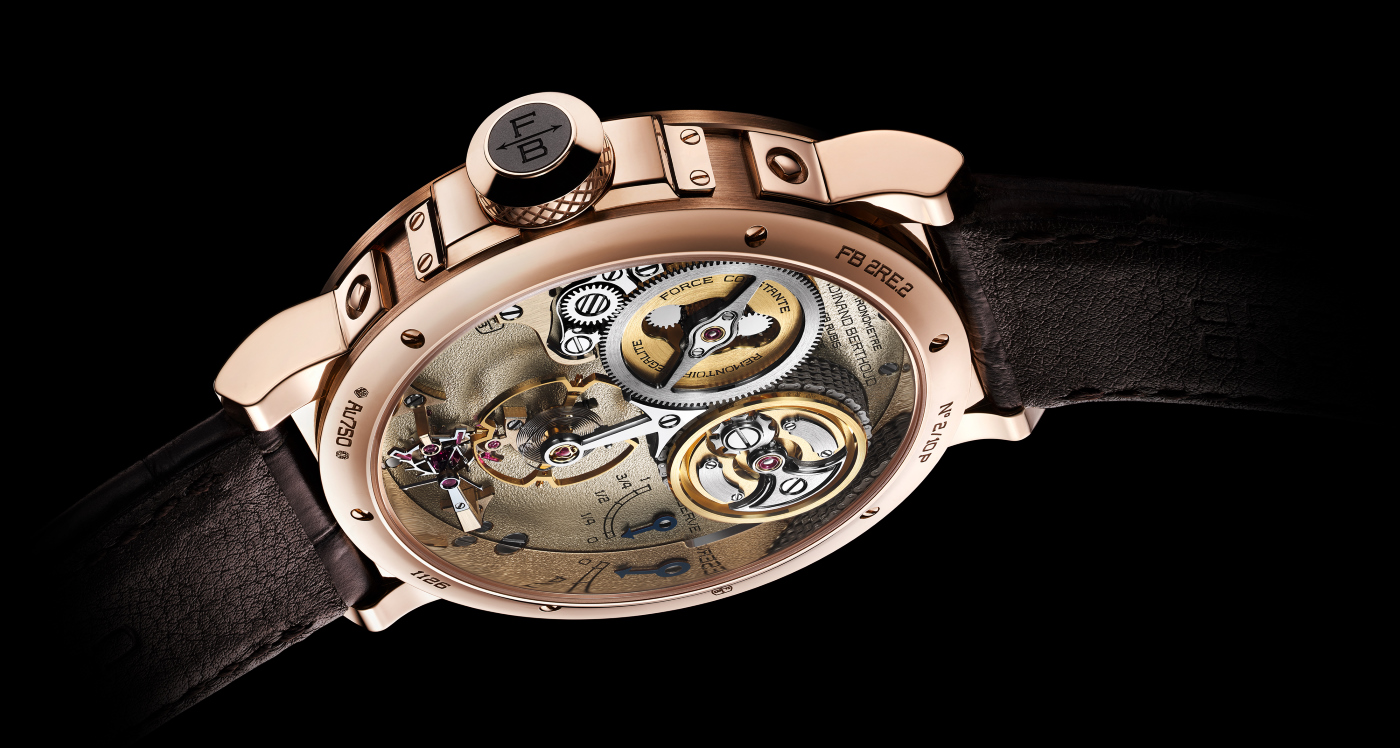 The round case, 44 mm in diameter and 14 mm thick, is enhanced by a curved bezel fitted with a strongly domed "chevée" glareproofed sapphire crystal. The caseback is also fitted with a sapphire crystal enabling one to admire the incomparable beauty of the movement.
The large diameter of the knurled crown makes it easy to grip, thus facilitating movement winding. Integrated into the case middle by an applied screw-in crown guard, it features a dynamometric system that disengages as soon as the barrel is fully armed.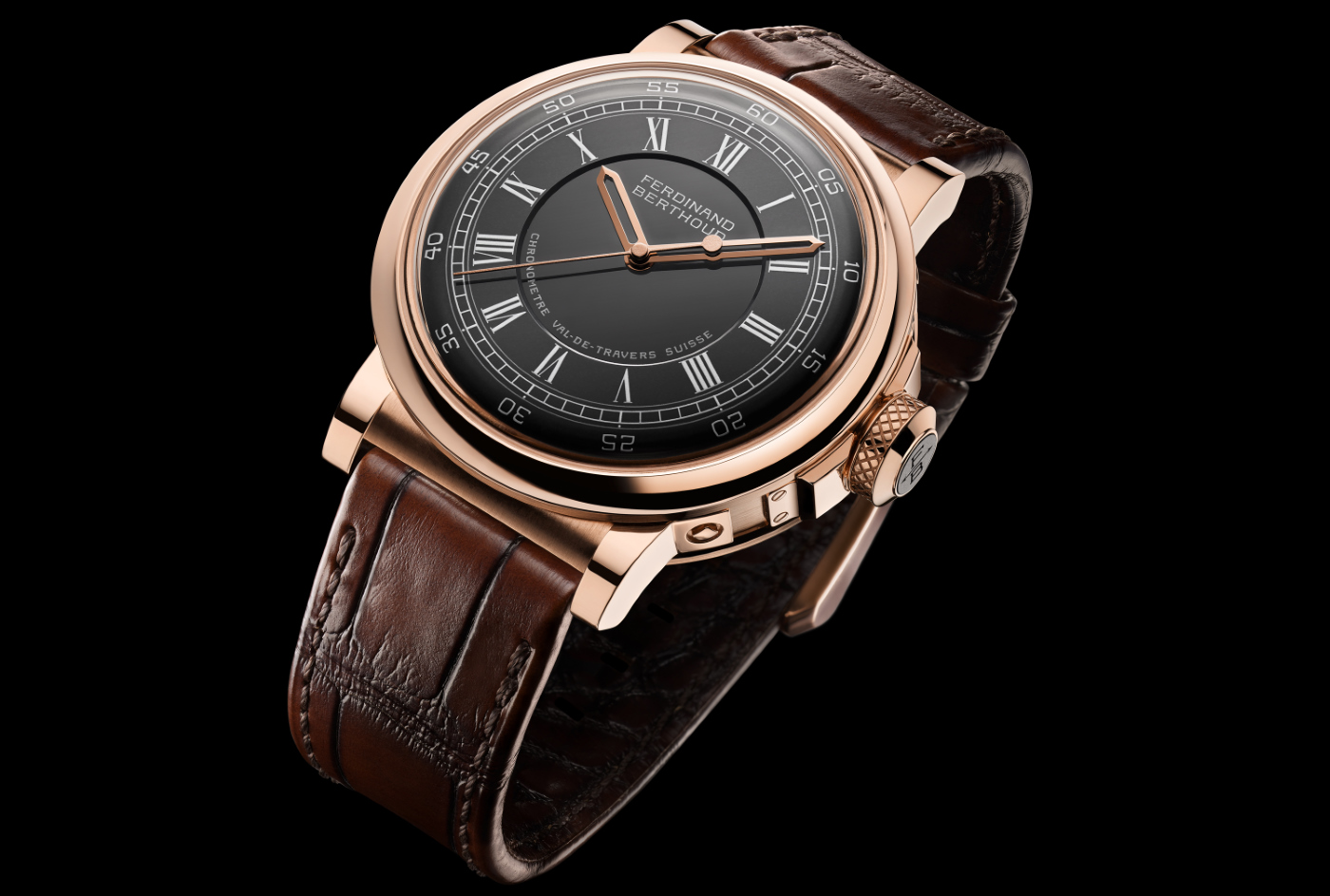 The gold used in the manufacture of FB 2RE chronometers comes from the ethical sourcing system set up by Karl-Friedrich Scheufele – President and founder of Chronométrie Ferdinand Berthoud – at Chopard, of which he is also Co-President.
The Chronomètre Ferdinand Berthoud FB 2RE with remontoir d'égalité is available in two 10-piece limited and numbered editions: one in 18-carat rose gold with a black enamel dial and the other in 18-carat white gold with a white enamel dial.