T
he success story of timepieces launched by Bucherer BLUE and Panerai now finds a new chapter with the Panerai Luminor GMT Bucherer BLUE special edition.
This close collaboration is the celebration of a true Panerai icon. In fact, it is the celebration of the one of the most iconic creations of Panerai and the perfect occasion to debute with Bucherer iconic blue in a Panerai dial to celebrate this longlasting partnership.
The elaborate functionality of the Luminor collection fuses with Italian design genius to create a sports watch with additional unique blue details such as the rubberized crown in electric blue and blue stitching on the watch strap.
The Panerai Luminor GMT Bucherer BLUE is limited to 288 pieces, available exclusively at Bucherer.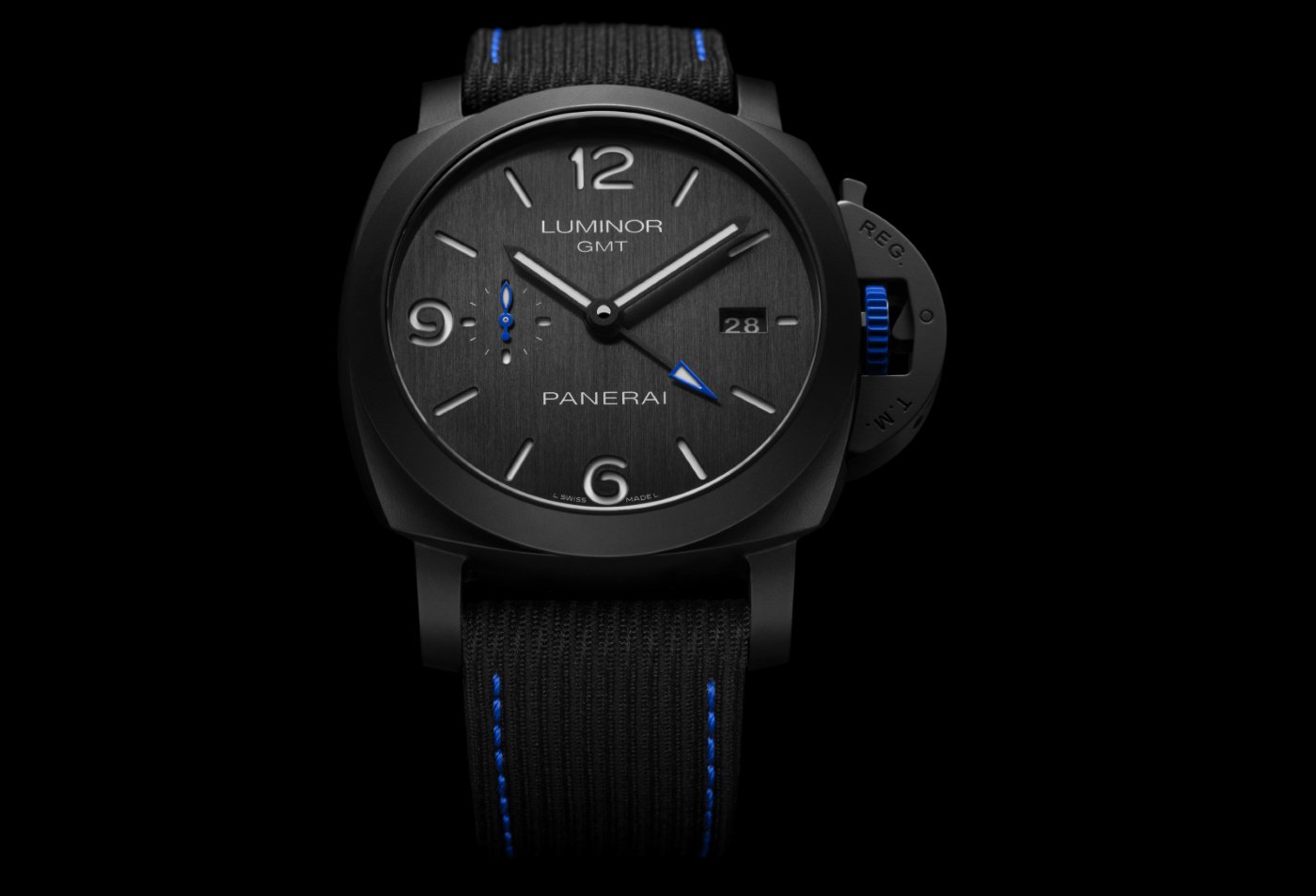 Despite their rich history, the watchmaker Panerai and Bucherer BLUE are always in quest for innovation to amaze true watch connoisseurs around the world. Both brands love to play with expectations, pushing their limits and encouraging each other to forward thinking and unexpected creations. Panerai was one of the few partners to debute two creations for the original launch of Bucherer BLUE in 2016, followed by a third timepiece in 2019.
Their fourth and newest collaboration, based on the PAM01176 reference, sets out to conquer the world of fine watches and aims to thrill Panerai fans worldwide.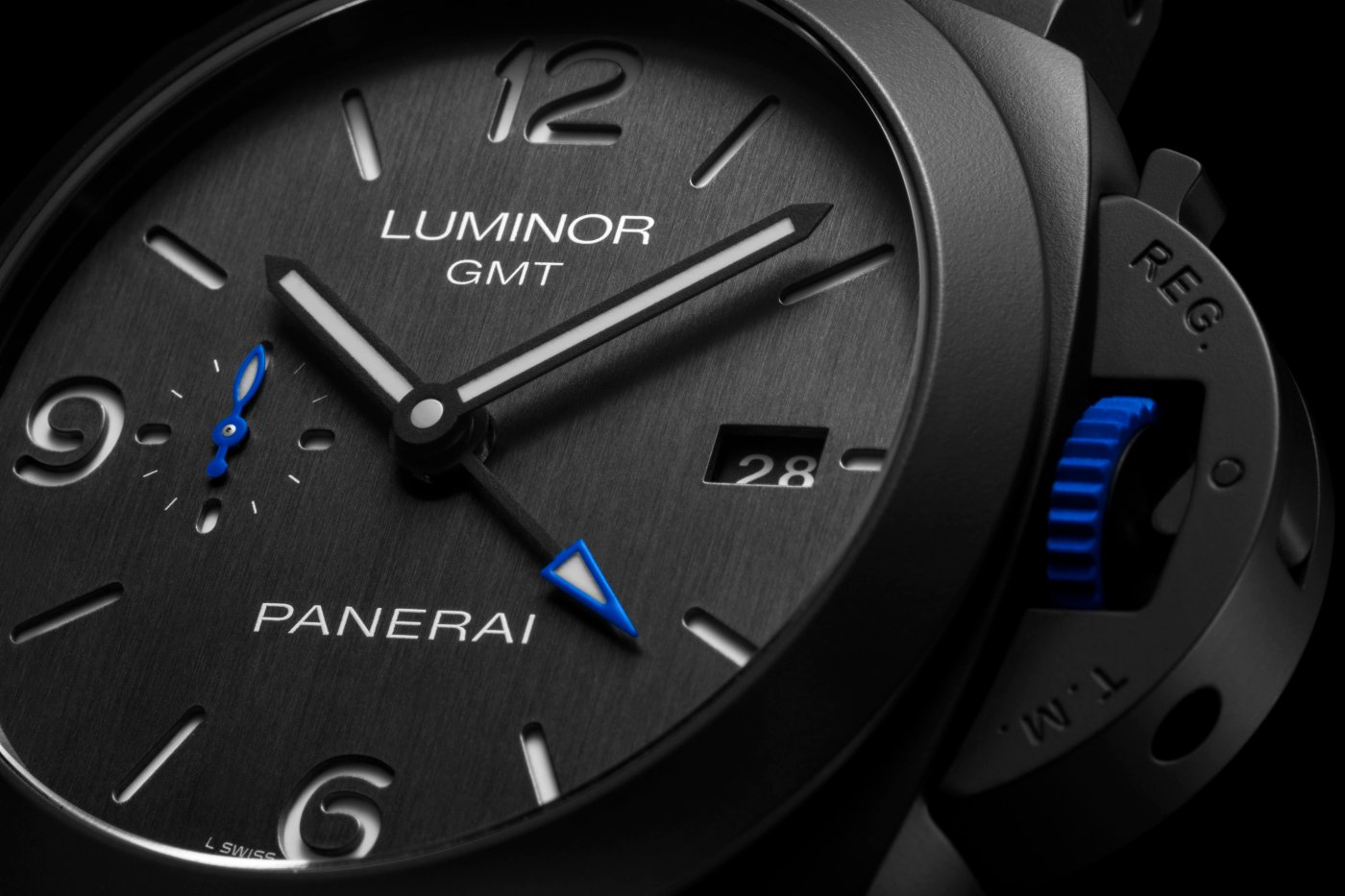 The Panerai Luminor GMT Bucherer BLUE showcases a timeless appeal of the iconic Luminor family with a new audacity, or as Jean-Marc Pontroué, CEO of Panerai states: "It is a pleasure for Panerai and its Laboratorio di Idee to create this unique piece dedicated to this color, illustration of the Bucherer heritage. We look forward to enrich and strengthen our collaboration even more!" The limited special edition for Bucherer BLUE reflects Swiss watchmaking art paired with Italian design and Panerai's maritime heritage.
The sophisticated technology of a precision instrument with its masculine roughness featured in its ceramic case, pairs with elegance and cosmopolitan thrill thanks to a GMT function, one of Panerai's most popular travel complications.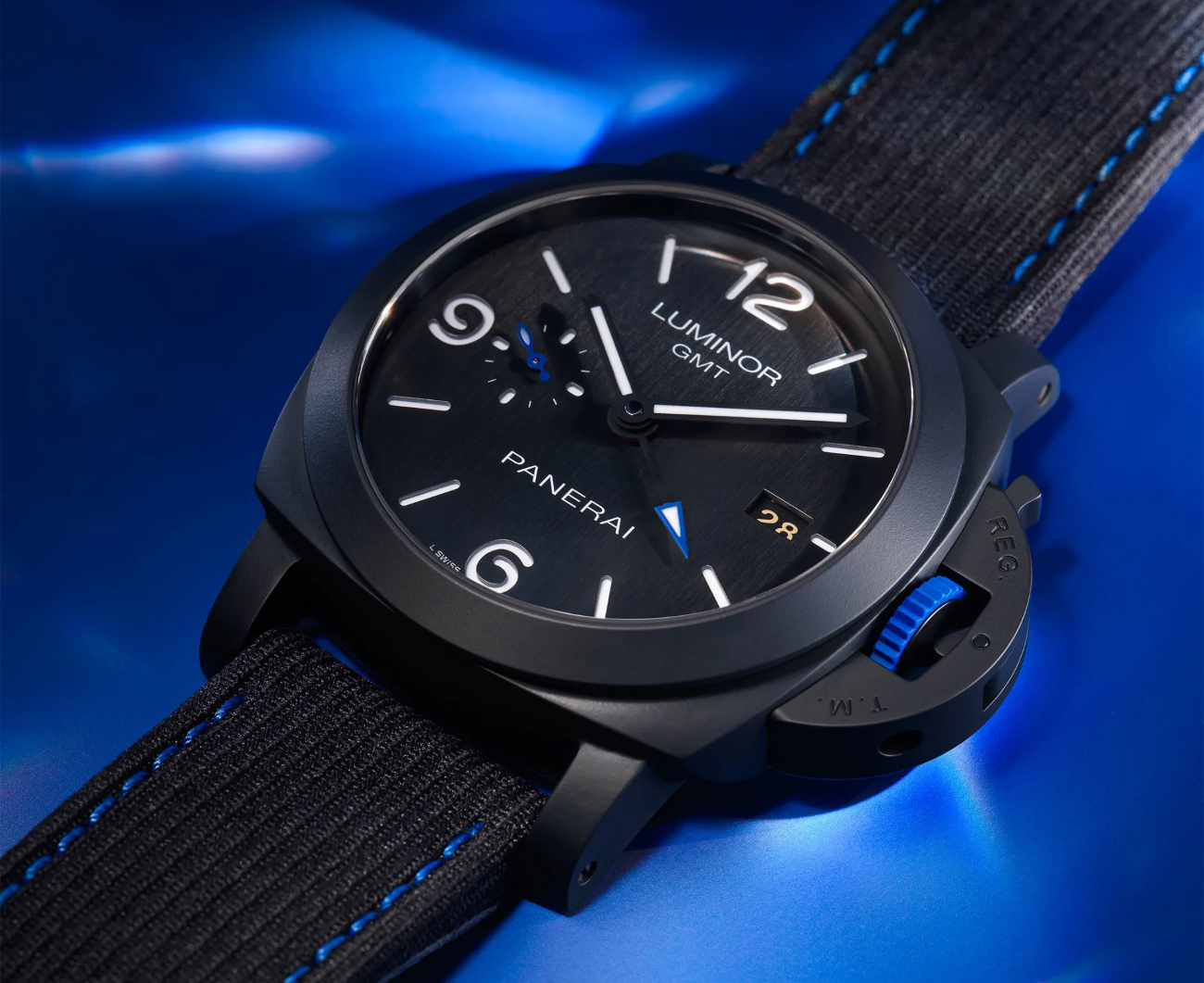 A true highlight of this Panerai Luminor GMT Bucherer BLUE special edition is the exclusive Bucherer BLUE touch included in various subtle details of the timepiece: small seconds hand, GMT hand and the stitching on the writsband – have all been accentuated in electric blue. The rubberized blue crown is an eyecatcher in itself, showcasing Panerai Italian design and a Bucherer BLUE exclusive feature. The numbered caseback adds an additional touch of exclusivity to this durable and functional timepiece.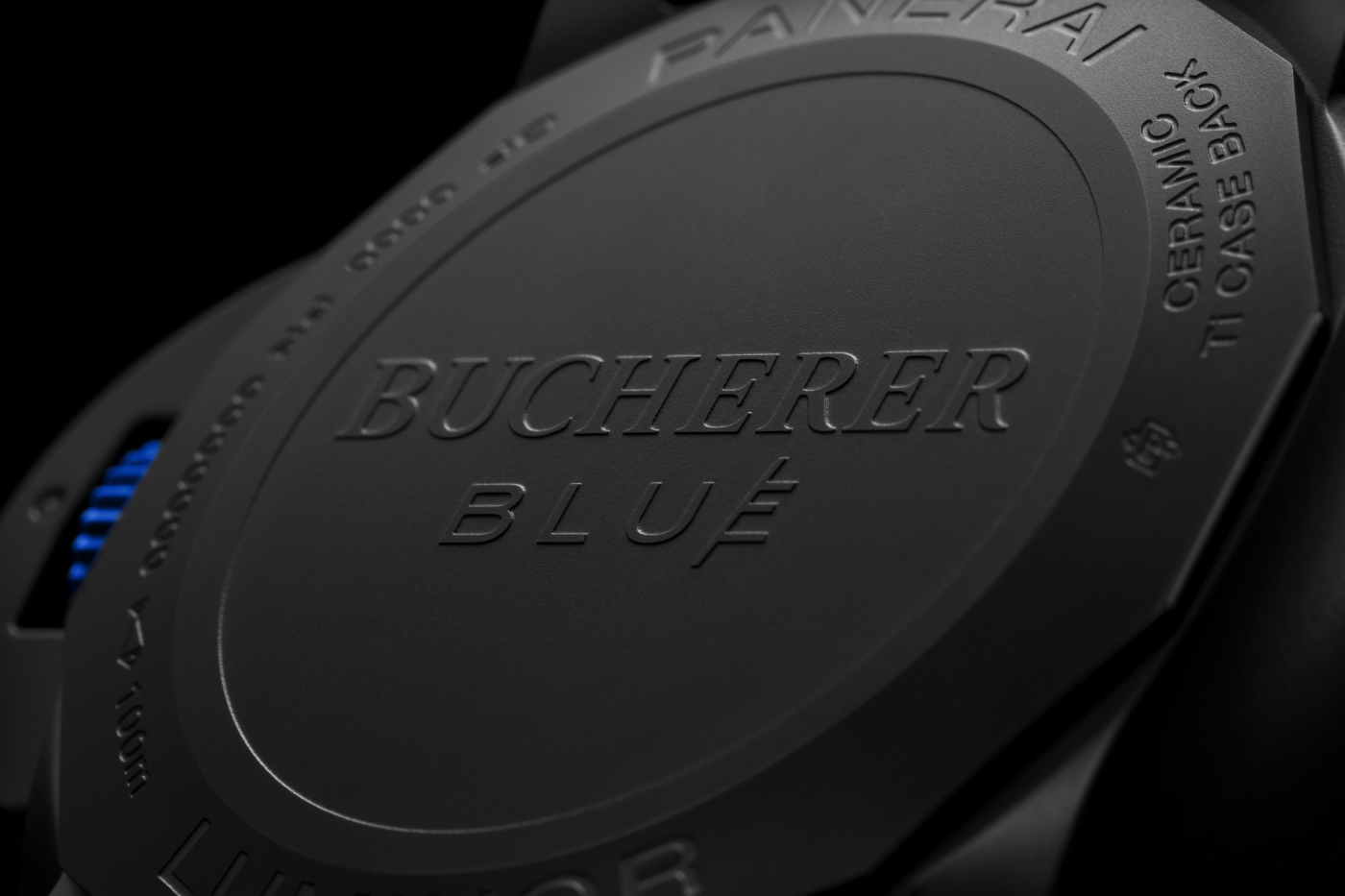 Lovers of Panerai sports watches, leading an active and exciting lifestyle have the option to switch to an additional hard-wearing coutchuk rubber strap included alongside the Panerai strap-changing tool.
Panerai has strong associations with the color blue, reflected its maritime heritage and timepieces the company has created for different types of marine activities. To honor and protect this legacy, Panerai is developing new, ecological friendly products under the Panerai Ecologico project, such as both Panerai Luminor GMT Bucherer BLUE straps obtained from recycled PET bottles and a recycled ABS packaging shell, underlining the Maison's commitment towards sustainability.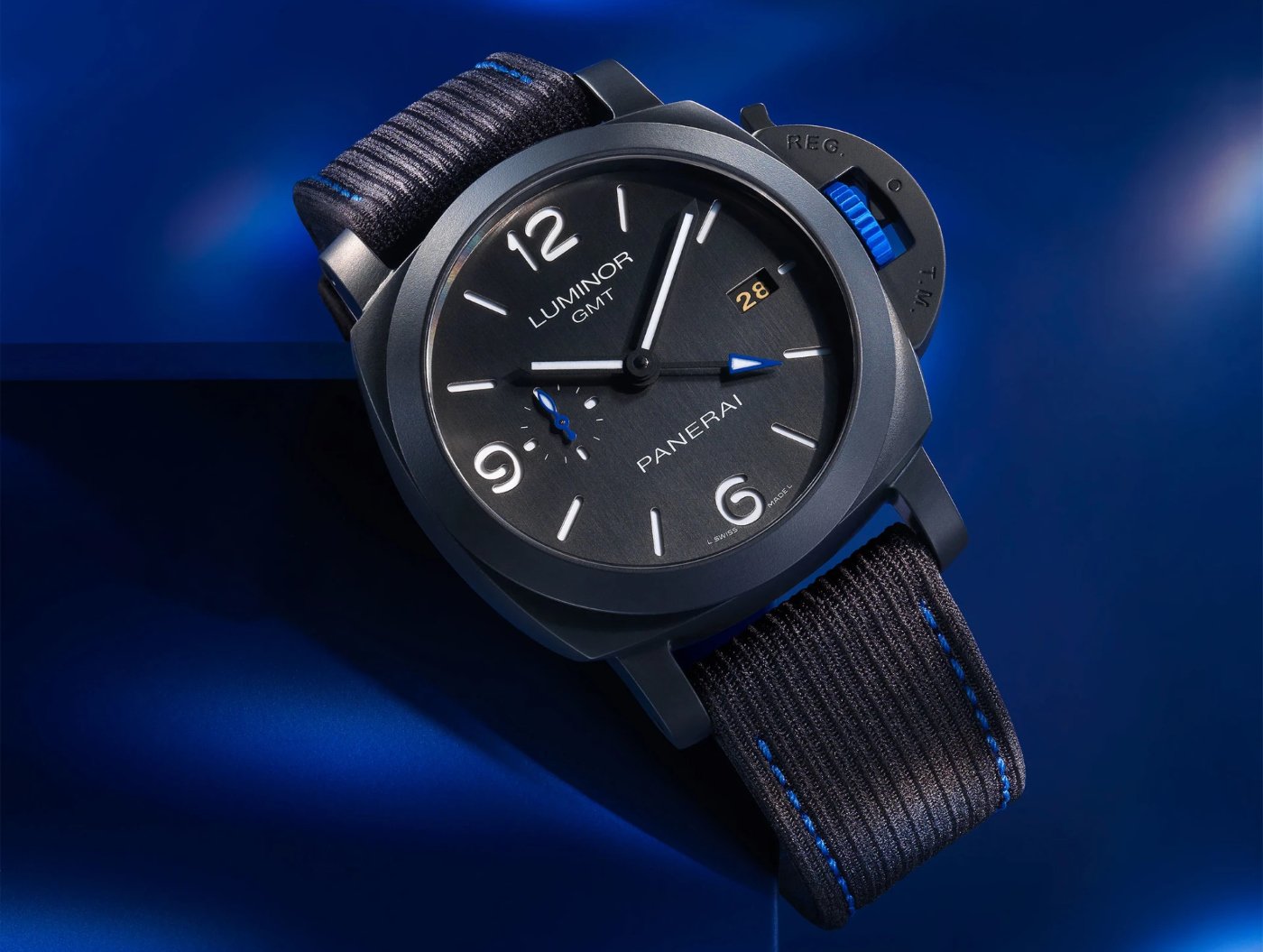 The exclusive details of the Panerai Luminor GMT Bucherer BLUE give their wearers a visual statement and constant reminder to search for new horizons in lust for adventures.
The new masterpiece of the Bucherer BLUE collection will appeal to experts who appreciate the reinterpretation of one of the most iconic Panerai model, combining contemporary design with traditional features.
It will further excite watch lovers with a special affection for the unique history and heritage of watchmaker Panerai, who first created the Luminor Marina's predecessor decades ago for the Italian Navy's divers and submariners.
Available exclusively in Bucherer boutiques and online at bucherer.com from November 2020.
Price: CHF 13'900