U
lysse Nardin has been the undisputed master of silicium since 2001. Continuing its trajectory, it has once again turned a material originating from the electronics industry into an authentic medium of artistic craftsmanship. Ulysse Nardin now presents an astonishing new Freak X model, embellished with a decorative technique that had hitherto been almost totally undiscovered: silicium marquetry. A revolutionary material par excellence, silicium had already proved its worth in Ulysse Nardin's watch movements. It now exhibits its virtues on its watches' dials for the second time.
A totally new revelation in the world of watchmaking, silicium marquetry involves assembling slivers of silicium cut into segments with a plasma accelerator. The subtlety of this technique lies in the craftsman's dexterity, given that the silicium used is extremely flaky and fragile when moved.
Slightly superimposing the segments one on top of the other (rather than interlocking them) would be enough to chip their edges. It thus represents a veritable feat of "technological craftsmanship" - assembling by hand a collage of segments needed to create these astonishing mosaics. The end result delivers a unique impact as the eye is dazzled by the glittering marquetry, which resembles a galaxy of interacting laser beams.
For this new Freak X, Ulysse Nardin used an advanced technology, still in silicium, to produce a matt effect on the blue part of the decorative plate, thus creating a visual contrast with the green "X" in silicium marquetry. Silicium marquetry offers a spectacular display of reflections of unmatched brilliance, with fragments in different sizes illuminated as the light sweeps around the watch like the beam of an X-ray!
The Freak X watch makes its debut as the entry point into the Freak collection. The sizing, 43mm, makes the watch easy to read and operate. It has a crown for time correction, which breaks with one of the most iconic aspects of the crown-less Freak Vision which correct time by the bezel. The movement is a carrousel, turning once on itself every hour to indicate the time.
It has no dial and no hands - the central bridge acts as a minute hand and one of the wheels indicates the hours. Inside and clearly visible beats a super-light balance wheel in silicium, extra-wide, with nickel flyweights and stabilizing micro-blades The movement itself, the UN-230, is a fusion of the manufacture calibers UN-118 and Freak Vision UN250. The case, nicely rounded with curved lines, is seriously transformative.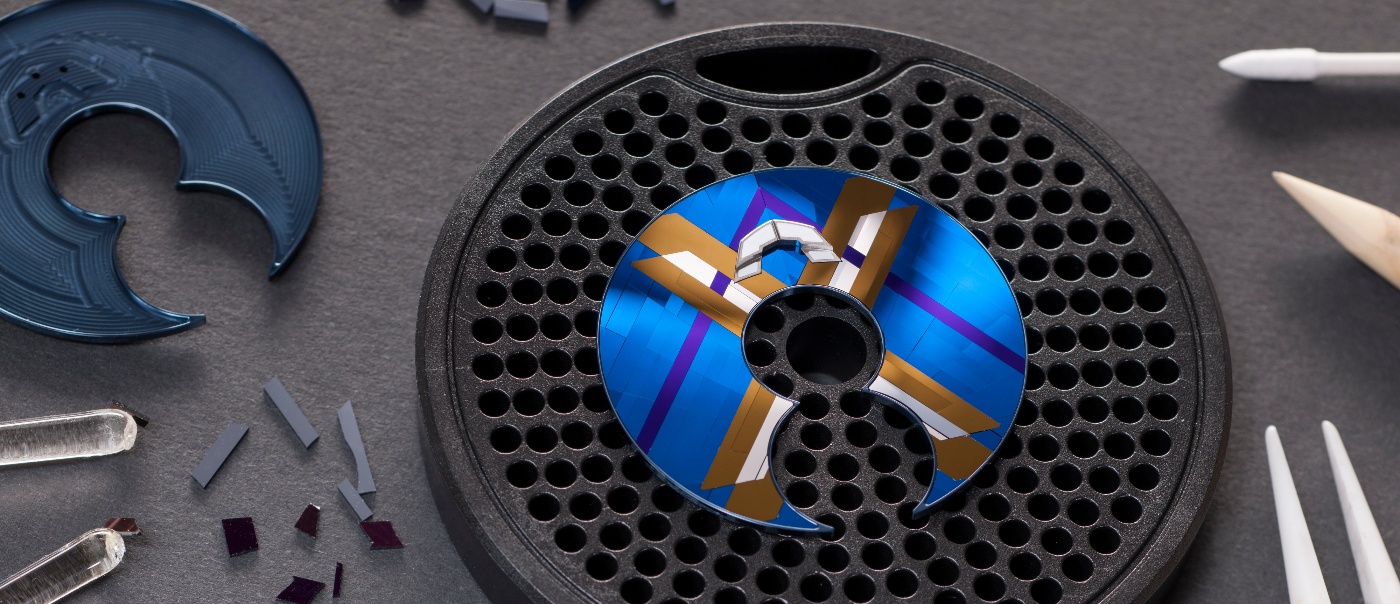 TECHNICAL SPECIFICATIONS
Reference: 2303-270LE/03-MARQ-BQ
Movement: Caliber UN-230, self-winding movement
Oversized oscillator with Silicium technology
Wide-diameter 3Hz silicium balance-wheel with nickel inert masses
Index & Bridges in Vivid Blue with Superluminova
Case: Titanium with Blue PVD
Case-back: Open Sapphire crystal
Strap: Blue alligator leather strap
Decorative plate: Cutting-edge Métiers d'art with Silicium marquetry decorative plate (bottom of the movement)
Limited edition: 30 pieces – Boutique Only